A distant cousin of Elvis Presley is running as a Democrat to be governor of Mississippi. And much like the King of Rock and Roll, Brandon Presley can't help falling in love — at the most politically expedient times. 
Just days before his campaign season wedding to Katelyn Mabus was scheduled, he scrambled to let invitees know that his show will not in fact go on.
Presley, a lifelong bachelor, has been running for office since he was a young man. He was elected mayor of his North Mississippi town at twenty-four years old and has served as an elected energy regulator since. 
In December 2022, just twenty-four days before announcing that he'd be challenging Governor Tate Reeves in an attempt to turn Mississippi blue, he had an even more special announcement. (Featuring an Elvis quote from "Can't Help Falling in Love"; did he mention he's related to Elvis?)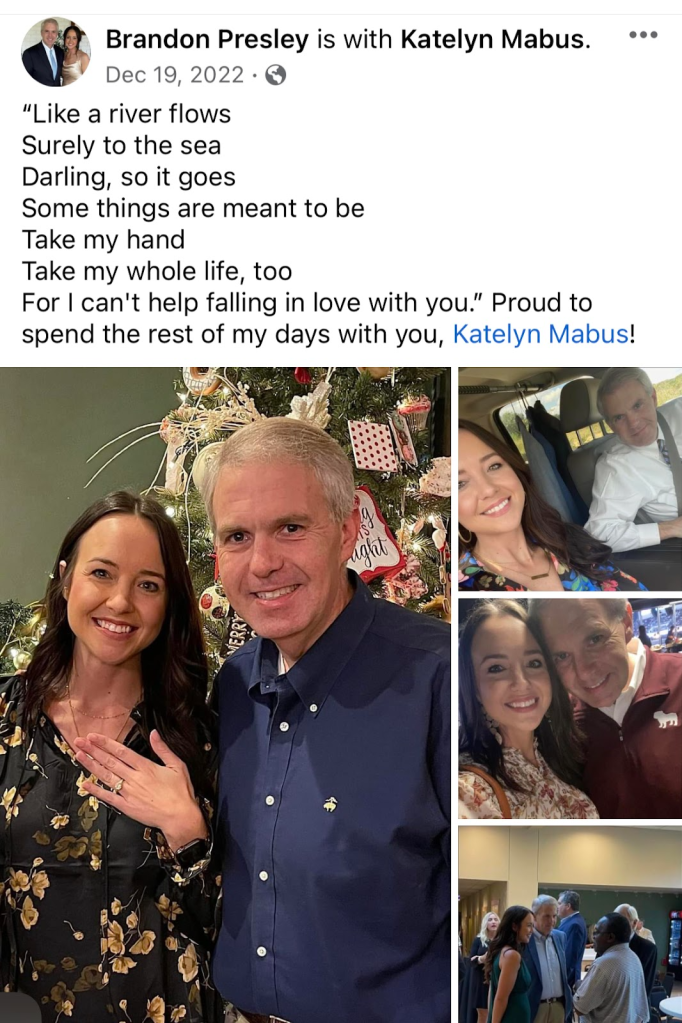 Presley had finally found love and was going to be married! And he was to be wed to Democratic royalty in the state — Katelyn Mabus, a relative of the state's former Democratic governor, Ray Mabus.  
Alas, it was not meant to be.
According to messages reviewed by Cockburn, the lesser-known Presley scrambled to call off his wedding over Memorial Day Weekend, just a week before it was scheduled to happen. The nuptials were set for June 3, today.
While planning a wedding isn't a walk in the park, Presley did notably have time to get engaged just prior to the start of the campaign, surely knowing that he'd have to see this through to completion, right?
Wrong. Sources from Presley's hometown tell Cockburn that Mabus moved out last weekend. She also recently deleted her Twitter account and removed his image from her profile pictures online. 
In an awkward Facebook post that did not make it to campaign accounts — unlike Presley's other gushing pre-wedding content — the candidate tagged his inamorata, writing that things have changed.
"It turns out that the commitments and pressures of a statewide campaign, house renovations, plus some serious illnesses on Katelyn's side of the family, have turned this timing into something more stressful than special," he wrote. "We are going to postpone our wedding until a time when we can really relax and enjoy the celebration."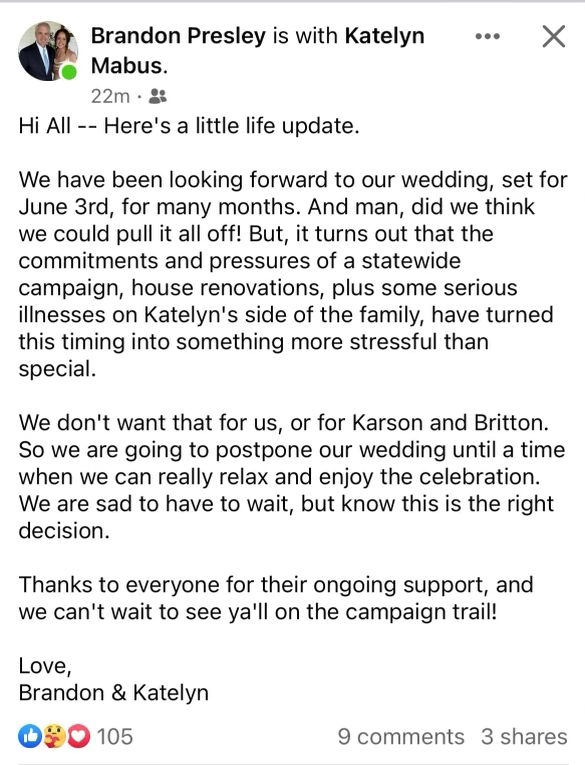 Presley's now-postponed marriage is a loss for him politically, as well. Katelyn's cousin, former governor Ray Mabus, is still widely regarded by many Democrats across the state. Cockburn does not expect her family to help Presley out too much now that there's no wedding. Beyond the awkwardness, Presley is losing a valuable surrogate — he posted repeatedly with Mabus throughout his campaign. 
Longtime Presley observers note that they have seen this movie before. In 2015, when Presley was campaigning for his first reelection, he was briefly engaged then as well, before calling that off, locals tell Cockburn. That wedding never came to fruition, but it did give him a wingwoman for much of his campaign season.
"It's the same story with him every time. He runs for office. People ask why he's never married. He gets himself a blushing bride. And then they don't go through with it," one local political observer told Cockburn.
In 2019, Presley was running for reelection again. This time, however, he was unopposed — so no engagement seemed needed.
However, now that he's facing an uphill battle against Reeves, it was apparently time for a new proposal. Presley's problems prompted some Mississippians to actually place bets on how long his engagement would last; the smart money bet that he would call off the nuptials.
Despite the odds being against Presley following through on the marriage, the cancellation seems to have come out of nowhere. Last week, Presley was posting pictures with his fiancée, tweeting about how excited he is for the "#finalcountdown" to end.
Given Presley's wedding scheduling history, we can expect his next one to be around June 2031; this time, however, Cockburn expects an invitation! 
As this high-hoping Democrat's cousin once eloquently crooned: "It's one for the money, two for the show, three to get ready now go, cat, go."