"For the bravest in the group. Exit Flow from the back."
"We've found it. It is insane."
"This is the best thing I've ever done."
The WhatsApp messages came through thick and fast. Then, a video of pitch darkness, rising steam just visible, festoon lights swaying in the wind. The unmistakable trill of "Bohemian Rhapsody" bleated out by drunken strangers. Separated on the last night of "The Flow," Helsinki's biggest music and arts festival, I'd lost my comrades to Sompasauna, a twenty-four-hour lakeside guerilla sauna-cum-DIY community space where anyone is welcome, and (almost) anything goes. For the uninitiated (me), getting naked and jumping in freezing waters seems a bizarre end to an urban music festival. For the Finns, it'd be bizarre not to end the night this way.
"Finnish summer madness," a local friend nodded. "Soon the snow comes."
I'd touched down in the land of rice pies and reindeer stew with no expectations. Copenhagen's café culture and Stockholm's embarrassment of architectural riches are well-documented. But Helsinki? Less noise. Ironic, given that 90,000 people land for the most ambitious event in the Nordic summer calendar every August. Blur's Sunday headline spot was enough to get me there, following an eight-year hiatus.
"Pan-Nordic" trends don't seem to dilute Finnish culture, with the exception of locked booze fridges in supermarkets come 9 p.m. A friend and I redirected to Biggie's bar; locals daring us to tick off every Finnish liqueur on the "Shotit" list, proffering a private crayfish party invite upon completion. We grimaced over licorice-laden Salmari ("absolutely rancid") and Mustikka, "Baby Guinness… with… Arctic berries?"
We charged on to Suvilahti, a defunct power plant in the student area Kallio. Literally going with the Flow, an army of Instagrammers led us to the festival's front gate, dozens lining up to stage photos in front of the garish pink signage.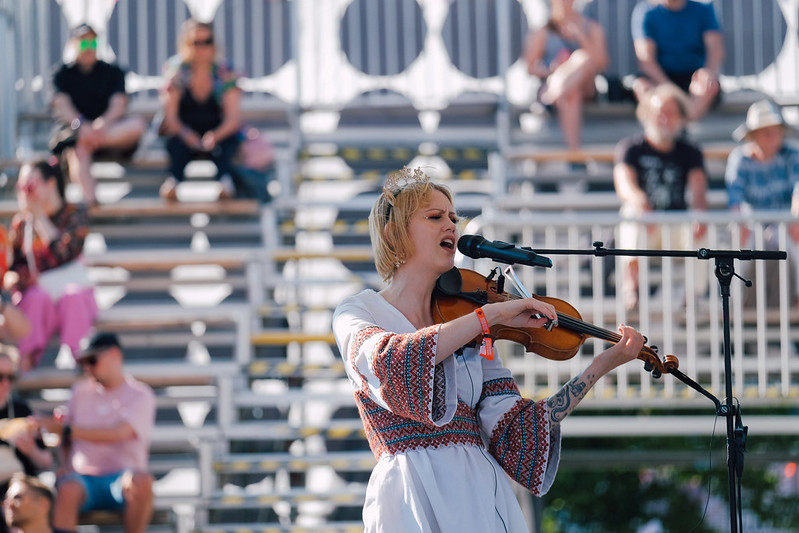 Looks were exchanged, eyes rolled. But the festival quickly sets itself apart from other money-printing events conglomerates through "Sustainable Flow," its evolving environmental responsibility program. Food stalls feature zero red meat or poultry, and each offers at least one vegan dish. Few festivals would show off their yearly impact report, but Flow's waxes lyrical about recycled materials and renewable diesel. Carbon debt is paid off through donations to the Finnish Natural Heritage Foundation. Social responsibility is top of mind, too; the festival supports nonprofit Startup Refugees, helping asylum seekers and immigrants find hospitality training and employment.
The lineup was a smörgåsbord of cultures, setting the standard in this part of the world with 157 artists spread across ten stages and tents. Huge Finnish acts like Paperi T, Anna Puu and Yona & Tapiola Sinfonietti drew the locals, while international artists spanned the likes of violin-toting American domme Sudan Archives and Jamaican reggae legend Horace Andy. Blur's frontman Damon Albarn closed out the weekend in a yellow feather boa cheekily borrowed from a fan, spitting feathers as he took a bow. The early hours were lost to our own blur of tequila bars, techno clubs and in-vain attempts to bump into Britpop legends in hotel lobbies.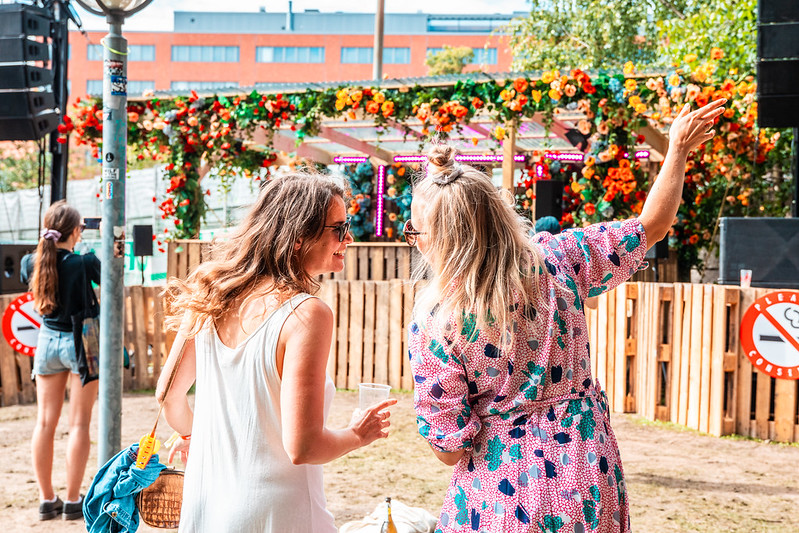 Three days of going with the Flow is enough for anyone's liver; after a punishing hangover spent mooning over Artek furniture, Marimekko and Moomins, we took aim for the tranquility of Helsinki's 330 surrounding islands. In the spirit of sustainability, we rented a zippy Mini Cooper convertible via the car sharing app GoMore. Soaking up the last of the summer sun and the scent of pine on the impossibly smooth hour's drive to Bärosund, Inkoo, the decision felt like a great one.
The Bäro hotel offers a stylish base for a few days of forest life, namely the Elisaari area, carpeted with miles of natural oak. Sauntering across a network of magical wooden walkways flanked by trees, we threw bags and bodies onto the bed in our cozy room, Hycklesund. Named after the bay stretching out in front of the hotel, its lively waterway can be crossed via ferry year-round. Floor-to-ceiling windows make it feel like you could reach out and touch the trees mid-slumber. Reach out the other hand and you could order room service, make a cup of tea or check the weather via the in-room iPad.
Eyes peeled for white-tailed eagles and seals, we disappeared into the woods on electric bikes, backpacks stuffed with reindeer sausages, fresh fruit and coffee. Sunburnt and spent (sunscreen somehow hadn't made it onto the Finland packing list), we wheeled over to Scola restaurant, minutes from home by bike and ferry. A bright red school building marked the perfect sunset spot; a cracking waterside view taken in with traditional sandwich cake, smoked fish and pickled cucumber, plus fresh sparkling water from a private spring.
"Ah. The Finnish air force," our server wryly gestured, as we swatted at mosquitoes. He poured us glasses of Prinz von Hessen, a white wine from Rheingau, Germany named after the unlikely Finnish prince of 1918. An unexpected addition to this 'outdoorsy" section of our trip — world-class food and drink. Back at the Berg, the seasonal Nordic restaurant within the Bäro, the next day's supper began with a glass of fizz from the house of Ruinart, the oldest Champagne house in the world. Then, traditional archipelago bread; dark, sweet, and dense, drizzled with hot butter. Duck confit was cooked in its own fat, then grilled with a flamethrower and served with Icelandic wasabi. For breakfast, fresh porridge and bento boxes, filled with boiled eggs, cheese and the freshest cooked salmon I can remember tasting.
Mornings at the Bäro start with a free sauna session at the edge of the eerily still lake, a glass wall offering uninterrupted views of the water — and those brave enough to jump in. Adventitious new friends take turns to pour water onto the coals, firing up an appetite for the morning's feast. I started our last day with an early jog, my feet taking me to the jetty. Glancing around, I saw no one (not uncommon in this sparsely populated country) and without hesitation, peeled off my steaming running gear. After a week in Finland, not jumping in indeed starts to feel like the more bizarre course of action. Emerging from the chilly waters, swearing loudly, I could just make out some figures watching from the warmth inside. I was shivering, but I felt alive, my head the clearest it'd felt in weeks.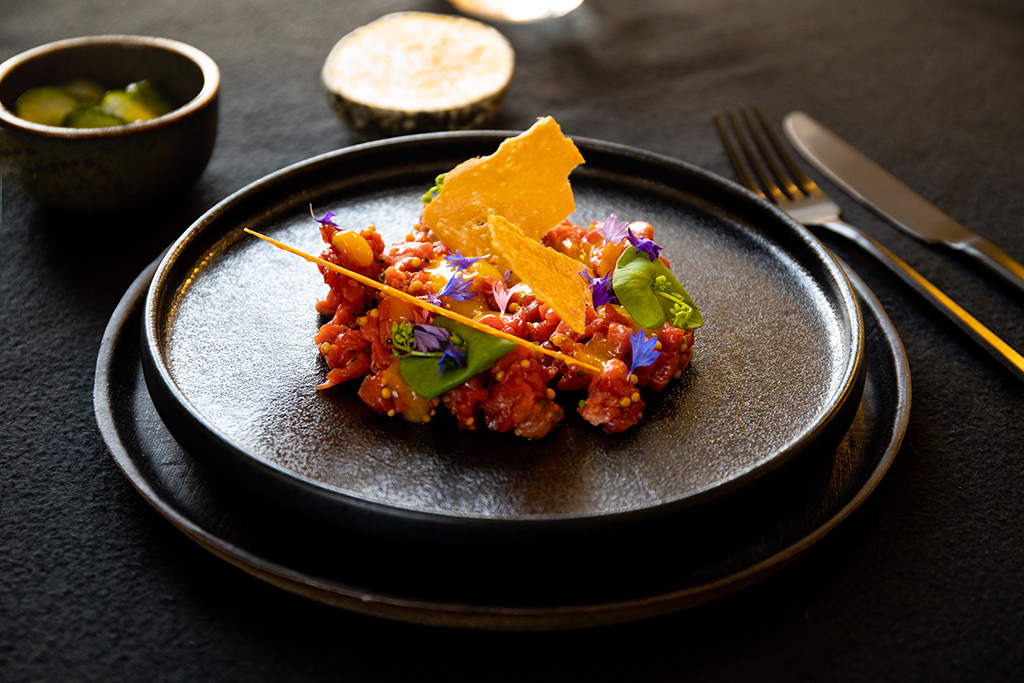 "The löyly," a Finn nodded gruffly, handing me the ladle when I ducked into the sweatbox. I later Googled the term. It describes the sauna's steam, loosely translating to "spirit of life." I resolved to flow with the mad Finns more often.