Cockburn gave up on love after his last affair, but as of this week there could be hope again. Sanna Marin, Finland's thirty-something, fun-loving, partying prime minister announced Wednesday that she is divorcing her husband Markus Räikönnen after nineteen years as a couple. His loss is our gain.
On Instagram Marin wrote: "Together we've filed for divorce. We're grateful for the nineteen years together and for our beloved daughter."
"We're still best friends, close to each other and loving parents. Going forward we will still spend time together as a family and with each other. We wish you will respect our privacy. We won't comment further on this."
"We have lived our youth together, entered adulthood together and grown into parents for our dear daughter together," Marin added.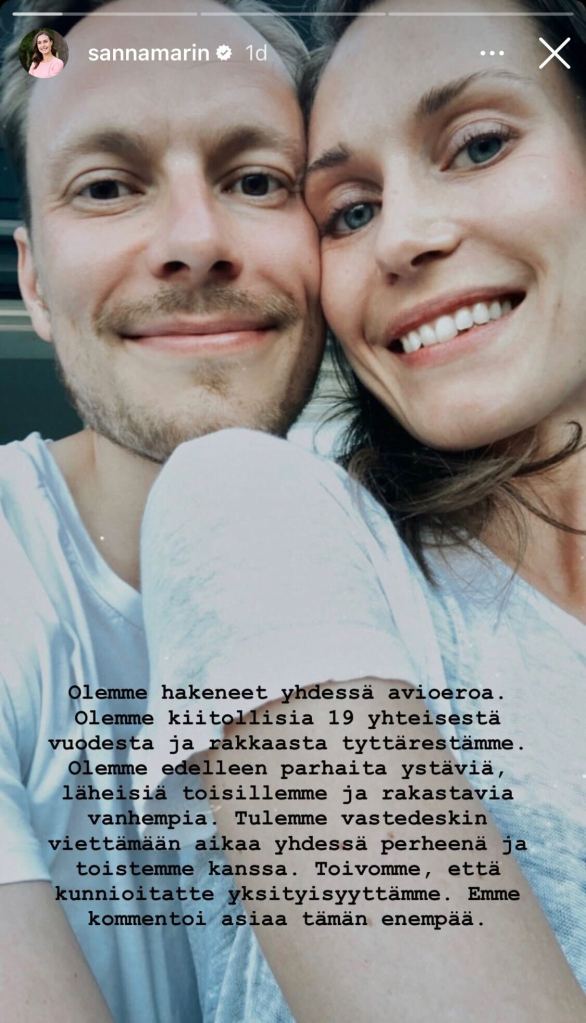 They tied the knot during the pandemic in August 2020. Two years later Marin earned herself a reputation for being a party girl, after leaked videos showed her drinking and dancing with friends at a house party, and in an intimate dance with another man in a nightclub. Her friends, many of whom are Scandi Instagram influencers (because obviously), were heard chanting "flour party" in the background of one of the videos — which some interpreted to be a reference to cocaine.
Marin, who at age thirty-six is one of the youngest heads of state in the world, defended herself and vehemently denied using drugs.
"I have not used drugs myself, or anything other than alcohol," she said. "I've danced, sung and partied and done perfectly legal things."
After the clips were leaked Marin was hailed "the coolest prime minister in the world." After Wednesday's announcement, Cockburn is sure that pretty much every eligible bachelor has priced up a one-way trip to Helsinki. Sanna, if you're reading, perhaps we could discuss options at the next totally innocuous "flour party": cockburn@thespectator.com.