A custody battle over the child of two former Trump campaign staffers is unfolding in a Miami-Dade Court — and now in public.
According to the public docket, both parties have now requested mental health evaluations of the other. Jason Miller, Donald Trump's former communications director, is seeking 50-50 custody, though he and the child's mother live in different states. He initiated custody proceedings in July shortly after the mother, A.J. Delgado, aka Trump's "most visible Latina supporter," gave birth to the child.
Vanity Fair recently reported that Trump himself would like to see Miller back in the White House in some sort of communications role. To date, Miller has demurred. Gabriel Sherman reports he has been telling people "he needs to earn a private-sector income to make child support payments to Delgado."
According to financial affidavits filed in the custody case, he is paying $1,500 per month — an amount a White House job could probably cover (read the court document here). The filings show that Miller spends more monthly on car payments and eating out than on child support. Asked about this, Miller declined to comment.
A motion requesting the court consider a mental health evaluation for Miller states that Miller has refused to even meet face-to-face with Delgado, and declined to communicate either by phone or email. His visits with the child seem to have been scripted to an unbelievable degree:

In these meetings, according to Delgado's motion requesting the court consider a mental health evaluation, Miller has used an intermediary to hand over the baby to Delgado, who is less than a year old, at public locations. The same filing also states that Miller twice requested that she abort the baby, a claim Miller denied last August. Delgado has claimed in multiple interviews that she thought Miller was separated from his wife at the time of their relationship. At least one interview might give that impression: speaking with MSNBC the day before election day, 2016, Miller was asked about his post-election plans. He mentioned his second-grade daughter, but not his wife, who would have been heavily pregnant at the time.
Financial affidavits filed in the case show that Miller made more than $600,000 per year in 2016 and 2017. Miller has a net worth of just under $800,000. As well as his private work for Teneo, he's also a political contributor on CNN. According to Delgado's financial affidavit, her net worth, given college debt, is negative.
Delgado doesn't think this is a fair fight. She told Cockburn:
I find the [family law] legal system highly unjust, as it is completely rigged to favor the wealthier party in custody cases. Look at this litigation — it's been going on nearly a year, non-stop. That's abhorrent, considering the time (and funds) it takes away from a child. My monthly legal fees have been at least $20,000 a month. Even on a decent salary, what mother can afford that, much less on a protracted basis? The case has not even been set for trial. There is no end in sight. … The system is structured to allow the wealthier party to make the other party — usually the mother — surrender due to financial inability to keep up. This is the kind of thing one sees in a third-world banana republic — it should not be the case in America.
Delgado doesn't seem to be just imagining that the system is against her. On January 30, Judge Valerie Manno Schurr, the first judge the case was before, recused herself after granting a motion from Delgado demonstrating a pattern of bias. The judge granted the motion without responding to any of the specific instances of alleged bias, but that in itself is atypical. In one instance before she recused herself, Miller's expert witnesses were allowed to testify, but not Delgado's. In another instance, the judge seemed to sympathize with Miller's wife, who called Delgado a "fucking slut" in an email entered as evidence (read the motion to disqualify the first judge here). According to transcripts included in Delgado's motion seeking recusal, the judge said:

The second judge, David Young, shares a television background with Miller. Young is best known as the first gay judge with a television show, and currently hosts a show on Sirius XM.
Miller declined to comment on any specifics pertaining to the case, but provided a statement to Cockburn:
"No child should have to see family matters played out in the public eye, and that is why I have refrained from responding even when attacked. I love our son very much and have been a constant presence in his life, as has my wife and two daughters."
What a child should or should not have to see is open to debate, but the risk of the custody battle becoming public was one Miller took when he filed a motion for a scientific paternity test the day the child was born. She was served with the paternity test demand the next day, before she had even left the hospital, along with a notice that a hearing had already been set for July 18. Delgado attempted to delay the test by showing Miller's lawyer a letter from a pediatrician saying a paternity test would not be in the best interest of the child until he was two months old, but they insisted anyway. This photo was taken as a part of the paternity test on July 25. Delgado says she was still in so much pain that she wasn't able to sit in a normal chair.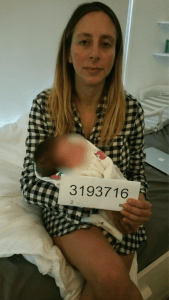 Miller's first job in the 2016 race was as senior communications advisor to arch-conservative Ted Cruz, part of what National Review called Cruz's "brain trust." Two months after Cruz suspended his campaign, Miller was working for Trump. Like many others, Miller is a johnny-come-lately Trump supporter. He was not a fan of Trump's gestures toward a more restrained foreign policy on the campaign trail. In a now-deleted tweet highlighted by ThinkProgress, Miller insinuated that Trump's foreign policy speech at a Center for the National Interest event was under some sort of foreign influence.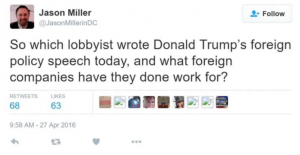 This was one of several tweets bashing Trump, with numerous others containing the hashtag #SleazyDonald. Tweets like this that are awkward, to say the least, for a person reportedly often mentioned for a White House communications role.
Delgado, on the other hand, was a Trumpist even before Trump. As McKay Coppins wrote in a profile of Delgado, "her particular brand of politics veered from Republican orthodoxy in ways that would, years later, come to define Trumpism. Writing in venues like National Review and The American Conservative, she railed against the 'war-happy' interventionism of GOP foreign policy, and championed immigration restrictionism."
The fact that Miller is two steps from the White House and Delgado is living at her mother's house in Little Havana is one of the more shameful staffing errors of the Trump administration.