With the recent release of the "Twitter Files," we've learned what so many of us already knew. Or I should say, strongly suspected. The government has been colluding with social media companies — in this case Twitter — to censor people and content that do not support the agenda of the Democratic Party.
The primary focus of the Twitter Files thus far has been on election interference and the banishment of President Trump from the platform. Multiple government agencies — including the FBI and the Department of Homeland Security — were involved in tracking individual citizens and pressuring Twitter to de-platform them.
What remains to be clearly laid out is why and how more than 11,000 people were banned for questioning Covid policy: lockdowns, masks and vaccine mandates.
I, like so many others, am eager for transparency on this one. For me, it isn't just a theoretical discussion about freedom of speech; it's also personal. In April, my husband, Daniel Kotzin, was "permanently" banned from Twitter for this tweet: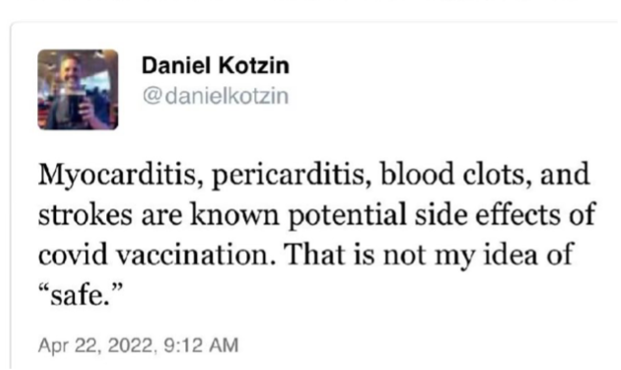 These are well-established facts: myocarditis, pericarditis, blood clots and strokes are known potential side effects of Covid vaccination. And then he stated an opinion: "That is not my idea of 'safe'." Facts cannot be misinformation. Opinions cannot be misinformation. So why was he kicked off? And did the government order it?
He was granted amnesty and let back on the platform on Christmas Eve, with no explanation, though his tweet is still marked as "misleading."
Why? The facts about side effects are true; the opinion is an opinion. What's misleading?
Given that we know that the FBI directed Twitter to remove users for what was called "election misinformation" or "foreign influence," it seems reasonable to assume the government directed Twitter to do the same for those sharing what was deemed "Covid misinformation."
But supposition is one thing; we want and deserve to know exactly what happened. Because, at this point, what seems blatantly obvious is that individual citizens were de-platformed for challenging Democratic Party propaganda.
Even if social media content is not protected by the First Amendment, and even if Twitter, as a private company, can create its own "terms of service" and just decide to banish whomever they want, a key question posed by the Twitter Files is: what if the government is telling this private company to do so?
Isn't that just an end run around the First Amendment's protections of our right to free speech? I'm no lawyer but it sure seems so.
And, even worse, what if the cozy relationship between government and social media evolves to the point that platforms censor users without needing to be specifically asked to do so by the government? Like a Mafia don ordering a hit with a sideways glance, no words are ever spoken, but the order is made clear.
Just like that, an unholy alliance has been created, with government and private companies working in lockstep to censor our guaranteed right to free speech.
There's a name for when private companies and the government work hand in hand: fascism. Benito Mussolini said that "fascism should more appropriately be called Corporatism because it is a merger of state and corporate power."
As indicated in the Twitter Files, access to Twitter's bureaucratic censors, de-boosters and outright platform banners was equal opportunity — Republicans could make a call just as easily as Democrats. But what is also made clear is that the Democratic Party loyalties of Twitter employees are close to 100 percent.
So who was being censored? Anyone who challenged Democrats. Which goes a long way towards explaining why those 11,000 people who questioned Covid lockdowns, masks, vaccine mandates and vaccine effectiveness were given the boot.
When social media companies engage in censorship, it has far-reaching implications given the "public square" status of these platforms, especially during pandemic lockdowns when we were legally barred from congregating. Entire subject matters can be muted or eliminated outright by silencing anyone who challenges or simply asks questions, thus manufacturing an illusory consensus. Those wanting to initiate anti-lockdown rallies in 2020 often found their announcements deleted by Facebook. Good luck getting people to show up when you can't publicize a protest. And just like that, it appears that no one objects to lockdowns!
Challenge government Covid policy on Twitter, like Dr. Jay Bhattacharya from Stanford University, and you might find yourself "blacklisted" the very day you join the platform. While he technically retained his right to free speech, he was relegated to speaking in the equivalent of an empty room. People interested in what Dr. Bhattacharya had to say were denied the ability to hear his message, unless they actively sought him out by name. This esteemed doctor was censored because random, anonymous Twitter employees decided his views were just too dangerous, which really meant they were in opposition to Democratic Party Covid policy.
It's happening in companies beyond the social media sector as well. Perhaps the impact of these instances of censorship is less far-reaching and without the same reverberations, but they are just as much a violation of our right to free speech.
It happened to me when I worked at Levi Strauss & Co. Not only was I not allowed to criticize school shutdowns and school mask mandates, I was not allowed to criticize government officials from the Democratic Party.
Political speech is the most protected form of speech under the First Amendment. Nonetheless, when I was an employee at Levi's, I was pressured to remove any Twitter posts about the recall election of California governor Gavin Newsom.
I received this text from the head of corporate communications in June 2021, in the run-up to this special election to be held in November: "You might consider avoiding Newsom recall mentions on your Twitter feed. I'm thinking of both government relations and Haas Family connections."
Let's unpack this one, shall we? First off, ignore the language of gentle suggestion — "you might consider." This is akin to the sideways glance from the Mafia boss, but in the California corporate lingo of passive aggression. Make no mistake: it's a demand, not something to be considered.
"Government relations": at Levi's and other companies, this is an arm of corporate communications working in tandem with the government to achieve mutually beneficial outcomes — for both the government and the company. You scratch my back, Gov, I'll scratch yours might be a better way to articulate the job description. If Levi's wanted to retain favorable treatment by the governor of California, it would be in their best interest to ensure that high-profile employees' criticism of the administration was quashed.
"Haas family connections": this is where it gets weird. Governor Newsom's director of protocol, Becca Prowda, previously worked for Levi's for thirteen years. She is also married to the son of Levi's largest shareholder, Mimi Haas. Might Prowda place a call to Levi's to say, "hey, maybe tell Jen to cut it out. She's making my boss look bad"? Seems feasible. Might Prowda not even have to place that call, Levi's being all too eager to make sure their largest shareholder wasn't offended by the company's brand president expressing support for firing her daughter-in-law's employer? Seems more than feasible.
And this is where you get to the completion of what Mussolini called Corporatism: the merger of state and corporate power.
When private company leadership carries out the will of the government, with or without being explicitly asked to do so, we no longer live in a free country. Ask questions about lockdowns? Not only will you be censored, you may be out of a job.
Democrats shriek fascist! at anyone challenging the edicts of the Party — anti-lockdown protesters, the unvaccinated, Trump supporters. Meanwhile, corporations are doing the bidding of Democratic Party elites as they ruthlessly censor and sideline dissenters. In fact, this is what real fascism looks like.