The pandemic-era immigration policy known as Title 42 came to end alongside the nation's public health emergency Friday. Its expiry is expected to throw the southern border into further chaos.
Title 42 refers to a portion of US code that gives the federal government the authority to curb migration during public health crises. The Trump administration implemented the policy to quickly eject illegal border crossers, including those who claimed asylum, amid the Covid-19 pandemic. Administration officials at the time warned that border crossers could both spread the virus to American citizens, as well as to each other if held in close quarters in detention facilities, at a time when the US was mostly prohibiting travel from other countries.
"It was a measure that was used at the time to address an emerging problem to try to protect the American people from a public health standpoint and defend our borders at the same time," said Gene Hamilton, a lawyer and former DoJ and DHS official who helped usher in the policy in 2020.
The Biden administration attempted to lift Title 42 at one point but was blocked by the courts — and instead allowed it to sunset with the ending of the federal government's declared public health emergency. Migrants were expelled more than 2.8 million times under Title 42, but about an equivalent number of illegal immigrants were still able to enter the country under the Biden administration.
The expiry of Title 42 left the tens of thousands of migrants waiting to cross from Mexico to the US with something of a dilemma. Although they faced swift removal under Title 42, they could try again as many times as they pleased to sneak past border agents into country's interior. About 10,000 migrants per day leading up to Friday went with this approach, hoping that the sheer mass of people would overwhelm border agents. Tens of thousands more mulled making their way over once immigration policy reverted to a normal state of affairs, under what's known as Title 8. Under Title 8, illegal crossers who are caught by border agents can lodge an asylum claim and hope they are released into the US while they await trial.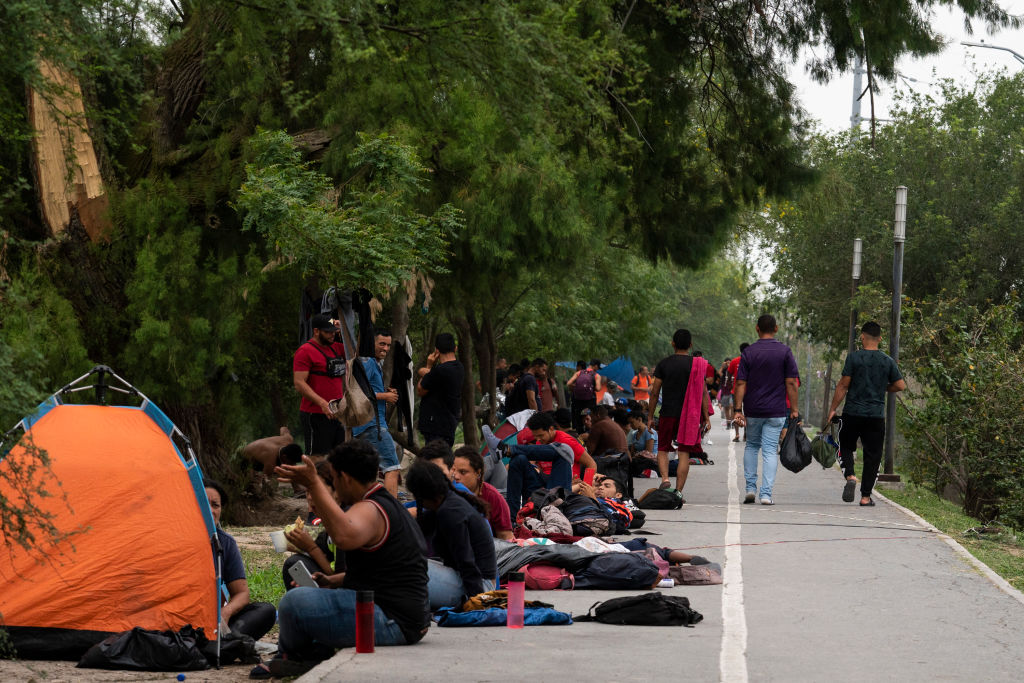 Under Trump, there were major risks associated with this approach thanks to his administration's re-engineering of asylum policy. Trump immigration officials sought to hold as many migrants in detention centers as possible until their claims were adjudicated. If their asylum claims were found to be illegitimate, they were subject to deportation and were barred from attempting re-entry for five years, lest they face criminal prosecution.
In addition, the Trump administration sought expedited removal for asylum seekers who did not present themselves at ports of entry or declare asylum in a safe third country that they may have passed through on their way to the US. Many asylum seekers were also sent to "Remain in Mexico" while their claims were adjudicated.
Trump said these policies were necessary to dissuade migrants from taking advantage of the asylum system and catch-and-release policies; indeed, Transactional Records Access Clearinghouse (TRAC) data found that the denial rate of asylum claims in fiscal year 2020 was at a stunning 72 percent. Data from 2018 shows that nearly 40 percent of migrants from the Northern Triangle countries (Guatemala, El Salvador and Honduras) did not show up to their court dates despite claiming "credible fear" — the first hurdle to cross when seeking asylum — when crossing the border.
But the Biden administration reversed many of these asylum-related policies and, outside of Title 42, has mostly refused to utilize expedited removals and deportations to mitigate abuse of the asylum system.
"Between safe third country agreements, Title 42, quicker adjudications of immigration cases and other policies, the Trump administration really did have the wheels turning in the right direction for the first time in our modern history as a country," Hamilton said. "The Biden administration took it and burned it all to the ground.
"It brings us to this place today where people realize that they're not going to be prevented from coming to the country or rapidly expelled. And instead, all they have to do is set foot on American soil, lodge some claim, and they'll be able to stay here and be released into the United States."
'People realize that they're not going to be prevented from coming to the country or rapidly expelled'

Gene Hamilton
Ahead of Title 42 expiring on Friday, Department of Homeland Security secretary Alejandro Mayorkas warned migrants they would be removed from the United States if they tried to enter illegally. But Mark Morgan, the former commissioner of US Customs and Border Patrol, said that Mayorkas's words don't match his actions, and that the Biden administration's guidance to border agents will turn the crisis into a "tsunami."
Morgan criticized the Biden administration's use of "parole" status to give the perception that illegal crossings are waning. Parole status for migrants is historically limited to special circumstances, but Biden has opened that system up to hundreds of thousands annually, effectively granting legal status to what would otherwise be illegal border crossers. An earlier version of the parole program released migrants into the country without a court date; that was blocked in Florida by US District Judge T. Kent Wetherell. A newer version requires the parolees to have a sponsor in the US.
"Rather than Secretary Mayorkas replacing Title 42 with a strong and proven deterrence and consequence strategy, giving the border patrol a fighting chance to regain operational control of our borders from the cartels, he's chosen to re-write law; abuse his authority; and continue to transform the statutory mission of DHS law enforcement agencies away from their national security responsibilities," Morgan told The Spectator. "Make no mistake, as T-42 goes away, more dangerous narcotics, criminals and potential national security threats will pour across our borders, as agents are preoccupied fulfilling their new mission as a 'processing enterprise.' We're going to see the unmitigated, self-inflicted persistence hurricane of a crisis become a tsunami."
'Make no mistake, as T-42 goes away, more dangerous narcotics, criminals and potential national security threats will pour across our borders'

Mark Morgan
The current border patrol chief said Thursday in a memo that agents would be authorized to release illegal immigrants into the US with parole status if detention centers became overcrowded upon the expiry of Title 42. But the Florida courts said that plan flouts their earlier ruling against issuing parole to migrants writ large, even though the Biden administration is facing down an emergency situation.
"In both instances, aliens are being released into the country on an expedited basis without being placed in removal proceedings and with little to no vetting and no monitoring," Judge Wetherell ruled as migrants gathered at the southern border Thursday night.
When asked about the ruling during a press briefing Friday, White House press secretary Karine Jean-Pierre claimed it was an act of "sabotage" and claimed it was false that migrants would be release en masse. She also claimed that Immigrations and Customs Enforcement was prepared to add more beds to its detention facilities.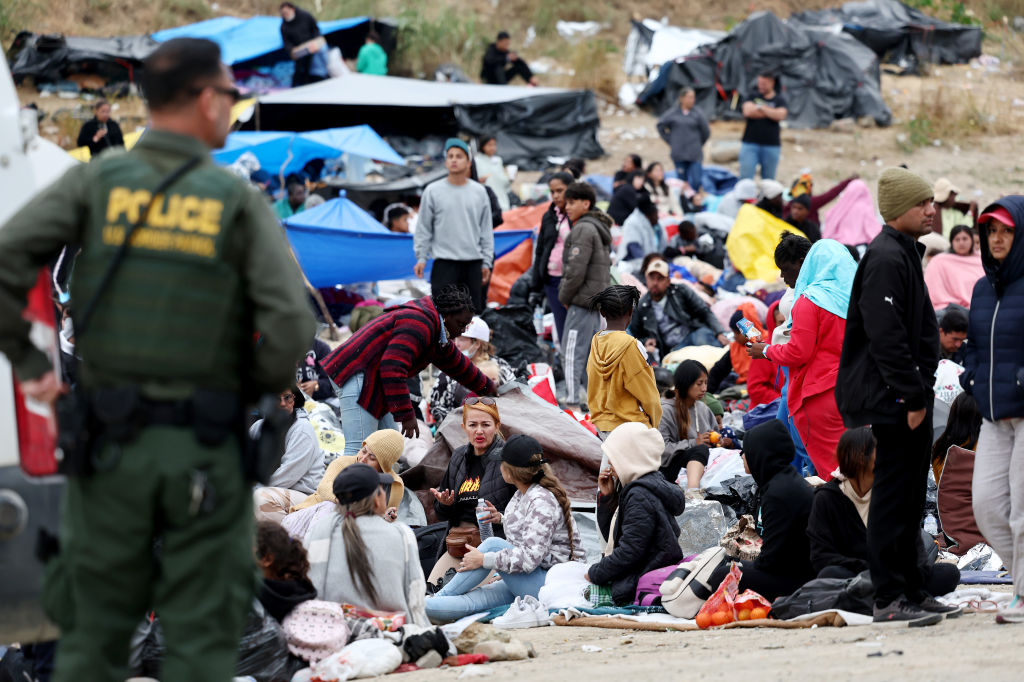 Hamilton alleged that the chief problem facing the Biden administration as Title 42 comes to a close is that they want open borders, but they don't want to deal with the chaos that comes with it. They ultimately want to avoid images of "kids in cages", caravans overwhelming border agents, or stories about migrants baking to death in the back of hot tractor trailers.
"All that they're trying to do is create a system where they can let in as many people as they want or large numbers of people, but it gives at least the image of not having chaos at the border itself," he explained.
But if the last two and a half years have made anything evident, it's that they can't have it both ways at the border. The expiration of Title 42, which was America's one remaining safeguard against unfettered illegal immigration, ensures even more mayhem to come.