The State Department sent an all-staff email Friday apologizing for misgendering people with its new pronoun system and offered counseling to parties who may have been offended by the systems error.
The Spectator is exclusively publishing a copy of the email: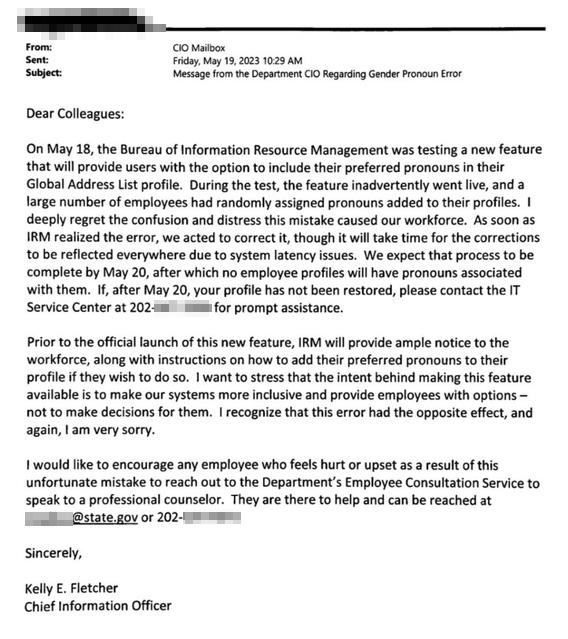 The Washington Free Beacon first reported that the State Department's plan to allow employees to add pronouns to their emails backfired spectacularly.
Apparently, the State Department's system began randomly assigning pronouns to employees rather than allowing them to choose their preferred pronouns. This "unfortunate mistake" led to "hurt" and "distress", according to the State Department's chief information officer Kelly Fletcher.
"On May 18, the Bureau of Information Resource Management was testing a new feature that will provide users with the option to include their preferred pronouns in their Global Address List profile," the email says. "During the test the feature inadvertently went live, and a large number of employees had randomly assigned pronouns added to their profiles. I deeply regret the confusion and distress this mistake caused our workforce."
"I want to stress that the intent behind making this feature available is to make our systems more inclusive and provide employees with options — not to make decisions for them… I recognize that this error had the opposite effect, and again, I am very sorry," Fletcher asserted.
The email went on to say that the State Department will "encourage any employee who feels hurt or upset as a result of this unfortunate mistake to… speak to a professional counselor."
In a separate email directly from Information Resource Management, staff were told, "Unfortunately, in some cases, gender pronouns are being displayed incorrectly in Outlook. Engineers at IRM have remediated the issue, but a reset of the incorrect pronouns may take up to 1 hour."

The State Department was asked about the error during a press briefing on Thursday by Associated Press reporter Steve Lee.
Lee noted that the pronouns system was "arbitrarily imposed" and "a lot of them or at least some of them so far, as I've been able to tell, are wrong. They're giving the wrong pronouns. So men are being identified as women and women as men… It's ridiculous."
A spokesman for the department replied at the time that the "phenomenon" had not made its way to his email system.