For anyone seeking direct proof that woke capitalism is nothing but a scam, look no further than Sam Bankman-Fried, founder and former CEO of the now bankrupt crypto exchange FTX, who says as much in a direct message exchange with Vox reporter Kelsey Piper. He calls "ethics" a "dumb game we woke Westerners play" — presumably to avoid any scrutiny from journalists, employees, investors and consumers.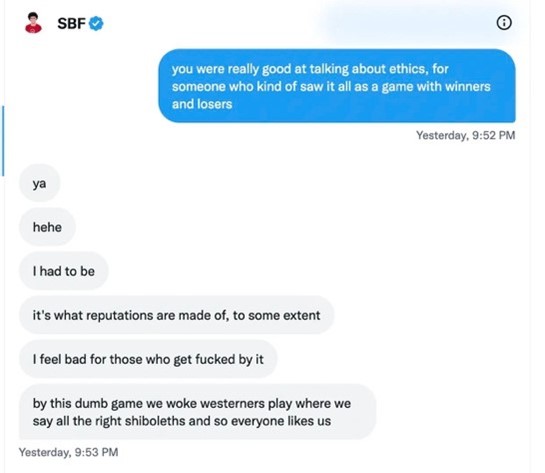 I've worked for and with these people for decades. They want to convince you and the employees in their company that they are in it out of the goodness of their philanthropic hearts. They are just trying to make the world a better place, you see.
In reality, today's very trendy woke capitalists assume the pose of do-gooders while filling their bank accounts with outsized wealth. And the world is charmed by their charade, which not only allows them to get away with fraud and theft, but prompts cheering from those whom they are stealing from. It's quite the trick!
The simple truth, as Caitlin Flanagan has written, "is that you cannot simultaneously dedicate yourself to making untold fortunes for a giant corporation and to championing a social good."
A few examples:
Purdue Pharma (and the rest of Big Pharma) made billions telling those suffering from chronic pain they need suffer no more! There was a non-addictive cure! Only it was addictive, and the "non-addictive" label was merely a marketing slogan used to drive up sales. It worked. And it also contributed to addicting and killing as many as one million people from opioid addiction and overdose since 1999.
Nestle: In the early 1970s this company marketed baby formula in Asia, Latin America and Africa to impoverished mothers living in squalor and struggling to survive. But these poor women couldn't afford the price of formula, many diluted it to stretch it out for longer and starved their babies.
WeWork: Adam Neumann claimed to be striving to "elevate the world's consciousness" with his business model of shared office space for young upstarts. His gibberish somehow bolstered the valuation of the company to $47 billion. But when the company disclosed the actual facts about the true financials in an S-1 submitted for an IPO in 2019, the valuation fell by almost 80 percent. Neumann was ousted as CEO, but not without negotiating a more than $1 billion package for himself. That'll elevate his consciousness!
Any CEO who tries to convince you that they are primarily championing a social good, while raking in gazillions, is lying. Companies behave like psychopaths and, all too often, they are also led by narcissists exhibiting psychopathic tendencies: superficially charming, egocentric, incapable of shame, impulsive with a grandiose sense of self-worth and obsessed with their legacy and their role in the world as saviors.
I worked with an executive who opened a sales meeting once by reading snippets of a poem by Walt Whitman. The purpose of the meeting was to prepare salespeople to go into the world and sell our new line of jeans to department stores like Macy's. How was this helpful?
All the past we leave behind,
We debouch upon a newer mightier world, varied world,
Fresh and strong the world we seize . . .
I worked with another corporate leader who opened meetings by singing "Times They Are A-Changing" by Bob Dylan.
If your time to you is worth savin'
And you better start swimmin'
Or you'll sink like a stone
For the times they are a-changin'
I rolled my eyes and looked around expecting everyone else to be doing the same. They weren't.
Back to Sam Bankman-Fried. He said he practiced (and often humble-bragged about) "effective altruism." He said he wanted to make gobs of money so he could give it all away. He gave close to $40 million to Democratic candidates in the 2021-2022 election cycle.
He also made a big show of living humbly with ten roommates — but it was in a $40 million penthouse in the Bahamas.
All of Bankman-Fried's virtue-signaling merely obscured his obscene greed and helped him to avoid any challenge from the business press. Instead of analyzing whether or not his business was financially sound, they wrote puff pieces hailing "the conscience of a crypto billionaire" (Fortune).
Over this past spring and summer, when investors began to pull their money out of cryptocurrencies, Bankman-Fried began to bail out some of these firms. CNBC's Andrew Ross Sorkin said,"They call him the J.P. Morgan of crypto!" referring to J.P. Morgan's bail out of banks in 1907. No challenge. No questioning. Just fawning.
Bankman-Fried's woke pose also hypnotized employees and investors into unquestioning belief in his stated mission to make an indecent amount of money and then just give it away to save the world from climate change and the next pandemic. In reality, he was just the same as a Ponzi-scheming cult leader. He most certainly was not the boy-genius business wunderkind with a heart of gold that the press made him out to be.
He stole billions of dollars from employees and investors. And still, right now, he's listed as a featured speaker for the New York Times's Dealbook Summit, presenting him as one of the most "vital minds" in the world today.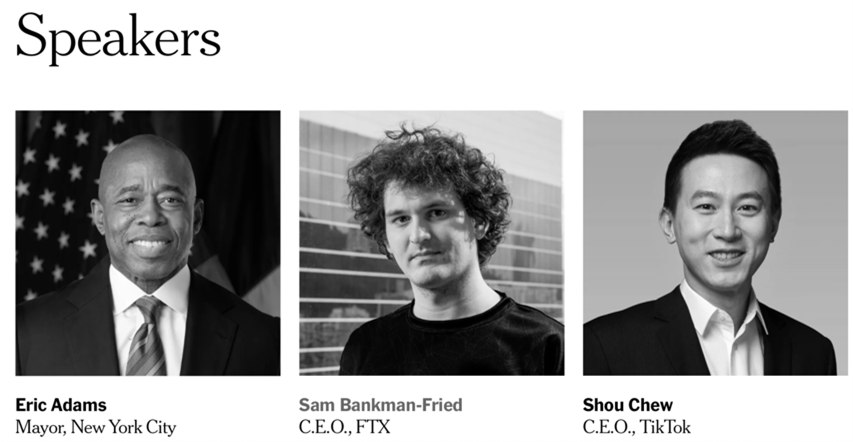 Why do we believe these scamming snake-oil salesmen? It think it's because we have an innate desire to believe in something. Something bigger than ourselves. And given the religion-sized hole in our ever-increasingly atheist hearts, we choose this garbage.
My advice: if a CEO tries to convince you with cult-like enthusiasm and double-speak that they are not just selling stuff, but that they are changing the world — run. Do not pass go. Do not buy what they are selling. Do not feature them on magazine covers. You will regret it.
And this goes for non-founder business types as well. Because the only difference between these founders like Holmes and Bankman-Fried and the everyday business leaders in established companies who sell a side of social justice with their t-shirts is that the founders are a bit braver and crazier.
Listen to the business leaders who just want to make a great product, sell it at a fair price, pay employees a fair wage. Anything "more" than selling great stuff is sure to be a scam.