When Donald Trump ran for the presidency in 2016, he took on a very well-funded politician who had been a successful governor of Florida. And he destroyed him. Trump humiliated "low-energy" Jeb Bush, son of one president and brother of another, and trashed his family's legacy so comprehensively that the Bush-era Republican party is now widely regarded as a disaster.
Jeb messed up again last week. Speaking to Fox News, he semi-endorsed Ron DeSantis, the current Florida governor and Trump's strongest challenger for the 2024 Republican nomination. "I think we're on the verge of a generational change, kind of hope so," said Jeb. "Who better to do it than someone who's been outside of Washington, who's governed effectively, who I think has shown that Florida can be a model for the future of our country?"
Talk about the kiss of death. Jeb soon clarified that he was "praising, not endorsing" DeSantis — too late. Trump's fanatical army had the line they wanted: the old rotten establishment want Trump out and DeSantis in. "Generational change" actually means the elite taking the party back to the pre-Trump era of politics-as-normal. No chance.
How will DeSantis cope with the barrage of abuse he's about to receive? He may be punchier than "please clap" Jeb, but he appears to suffer from a similar inability to exude charisma. He is just under six foot and has been mocked for wearing cowboy heels to make himself appear taller. "Tiny D" is reportedly one of the nicknames Trump has been "workshopping" — whatever that means — along with "Ron DisHonest" and "Ron DeEstablishment." He tried "Ron DeSanctimonious," but keen students of Trump's nominative determinism considered that diss sub-par. Still, you get the gist. Don makes people laugh; Ron, not so much. Some sources suggest he has a touch of Asperger's.
"DeSantis is an introvert in an extrovert's world" is how Roger Stone, the Trump ally who knows Floridian politics inside out, puts it. "He gets irritated whenever faced with a difficult question or situation." "He's good company," adds Nigel Farage, another Trump confidant. "But you know when Donald Trump walks into a room. I'm not sure the same could be said of DeSantis."
How things change. A few weeks ago, the Florida governor could do no wrong. After the November midterms, when various high-profile Trump-backed candidates lost races they should have won, DeSantis, who'd won re-election by almost twenty percentage points, emerged as the red-hot Republican favorite. When Trump made his long-anticipated campaign announcement, it fell flat.
The mega-money donors, many of whom had never been comfortable with the Don, turned towards the Ron. Fox News, and the wider Murdoch media empire, embraced "DeFuture." DeSantis appeared to be "Trump with brains," a candidate who could ride the bull of America First populism without scaring off moderates everywhere.
The trouble is, 2024 is fast approaching, and as "DeSantis: Make America Florida" moves from pleasing idea to actual campaign, it has to confront the mind-twisting reality of twenty-first-century right-wing politics. The polls show that, for all the talk of Trump fatigue, the Donald is extending his lead among Republican voters: the latest Morning Consult survey puts him on 53 percent compared to DeSantis's 28. Another poll suggests that, in a match-up against President Joe Biden, Trump leads 46 percent to 42 percent. DeSantis, by contrast, trailed Biden by four percentage points.
Political experts tend to forget what a canny campaigner Trump is. Two weeks ago, he stole a march on all his opponents by visiting East Palestine, Ohio, the site of a massive train derailment and toxic spill, and acting presidential. This week he's been punching from the left, insisting that unlike DeSantis he will protect our great "social security system" or "Medicare." DeSantis denies the charge, but his voting record suggests it's true. This will damage him among Republican primary voters, who are increasingly old and poor.
Trump's supporters would be foolish to dismiss DeSantis's appeal as a media-inflated bubble, however. DeSantis hasn't officially started his presidential campaign and he's already won over a substantial chunk of the Republican electorate. The New York Times's psephologist Nate Cohn has calculated that DeSantis is doing better in early primary polls than Ronald Reagan in 1980, John McCain or Barack Obama in 2008, Mitt Romney in 2012 and Joe Biden in 2020.
"DeSantis has got a lot of assets," admits Stone. "He's disciplined and he understands that the center of political gravity has shifted and Trump was responsible for that. That makes him a far better adversary than anyone Trump faced in 2016."
DeSantis may be awkward, but he's intelligent — a graduate from Yale and Harvard Law — and a quick study. Lots of Republicans have tried to reinvent themselves in the Trumpian mold: none has been as successful as DeSantis. Back in 2018, in his first run for governor, he knew he couldn't win without Trump's support. He successfully sought out his endorsement by praising him on Fox News. He did a campaign advertisement in which he read Trump's Art of the Deal to his baby: "Then Mr Trump said 'You're fired!' I love that part."
DeSantis has since developed his own political brand. He has been compared to Richard Nixon: a gauche and cautious man who is nonetheless willing to take great risks. During the pandemic, he stood out by opposing what he called "the biomedical security state." Florida was the first state to be released from its lockdowns and mask mandates as so-called scientists screamed blue murder. He successfully gave the state the image of a Freedom Eden during the pandemic years: hundreds of thousands of liberty-loving Americans moved to Florida and its economy thrived. He's arguably the most successful governor of the twenty-first century. DeSantis is now internationally recognized as someone who fights the culture war and wins. His catchphrase is "Florida is where woke goes to die," and that's something aging boomers love to hear. DeSantis always says these silly lines with a straight face. He owns the cringe.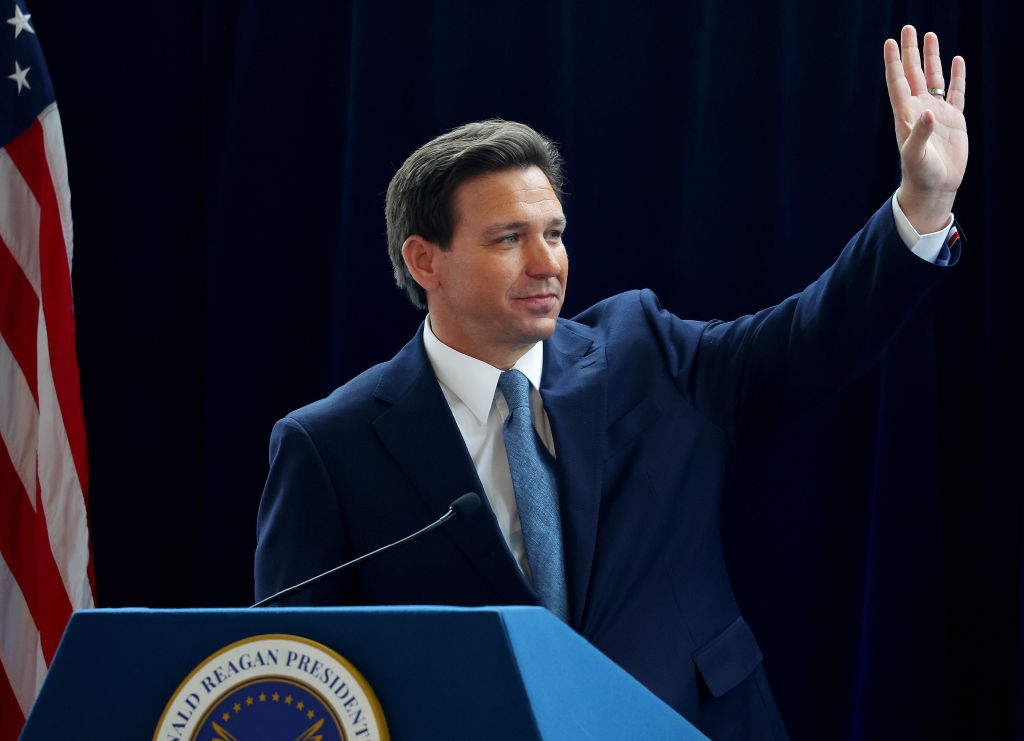 DeSantis is only forty-four, which is very young by America's gerontocratic standards. The safer course for him would have been to bide his time as the seventy-six-year-old Trump embarked on his last tilt at the White House. Political insiders in Florida suggest that he would have been content to wait, but has been pushed by his wife, Casey, a highly attractive former TV presenter, who's taken to dressing like Jackie Kennedy. The DeSantises have an old-school campaigning family style: they aren't reluctant about showing off their snappily dressed young children for the cameras.
There's a pesky Floridian "resign to run" rule, which requires elected state officials to quit their job before seeking federal office, but that is expected to be repealed any day. Meanwhile, DeSantis has been doing everything you'd expect a presidential candidate to do. He just brought out a tedious memoir, The Courage to Be Free, and is using that as an excuse to tour the country making speeches.
On Sunday, he spoke at the Reagan Library in California, and he's visiting the early-voting states of Iowa and New Hampshire. He's honing his anti-woke message by talking about law and order, denouncing gender madness and outlining how his low-tax agenda in Florida could be a model for the country as a whole.
Another point often made in DeSantis's favor is that, as a Republican nominee, he could successfully move the Republican conversation on from Trump's bitter obsession with the "stolen election" of 2020. As governor of Florida, he addressed the concerns that many voters — Republican and Democrat – have about electoral integrity, made reforms to the process, and duly won an uncontroversial majority.
But therein lies perhaps Ron's greatest problem. Americans, particularly Republican Americans, are still in the mood for controversy — and that's where Donald Trump comes roaring back in. His conspiracy theorizing about what happened in 2020 is not nearly as unpopular as most pundits like to think. Even the conversation around January 6, that day of infamy which Democrats believe should mean Trump is forever banished from public life, has started to change. This week the Fox News host Tucker Carlson began releasing hitherto unseen footage from that day – provocatively describing the scenes as "mostly peaceful chaos."
The international media will chortle at Carlson and call him a far-right fantasist. But there's no denying that the evidence he is airing paints a very different picture of what happened in Washington that day. For instance, why did police officers gently escort the so-called "QAnon Shaman" — the man who became the wild face of the storming of the Capitol — around the building as if giving him a tour? What's even more troubling is that none of this footage emerged from the Congressional Select Committee on the January 6 attack. This blatant bias neatly supports Trump's incendiary rhetoric about the evil of the "Deep State."
Trump's 2024 pitch is, essentially, an ever more belligerent war on the American deep state at home while he casts himself as the "peace through strength" candidate abroad. In his speech to CPAC, he said: "Before I even arrive at the Oval Office, I will have the disastrous war between Russia and Ukraine settled." To anyone who accuses him of being soft on Russia, he insists that as president he told Vladimir Putin that he would bomb Moscow to smithereens if he dared invade Ukraine. Such talk puts his less experienced opponents in a bind: either they go along with his outlandishness and become persona non grata in polite society, or they toe the NATO line about defending freedom and face being lumped in the "war-monger neocon" camp. It's notable that DeSantis lost his cool again last month when pressed on his Ukraine position.
On top of that, Trump has been busy on his Truth Social platform posting pornographic videos of Joe Biden's son. He's also pumping out wacky populist proposals, such as giving cash bonuses to American women who have babies and building futuristic Freedom Cities with "vertical takeoff and landing vehicles for families and individuals." "He's unpredictable and he's innovative," says Roger Stone. "Flying cars? Come on, who doesn't like that?"
Are you not entertained? DeSantis has none of that aberrant juju — he offers a sober return to Republican sanity. Trump promises new-frontier wildness and biblical revenge. "For those who have been wronged and betrayed, I am your retribution," he told CPAC. That taps into something deep in the American psyche. And he hasn't even started tweeting again.
This article was originally published in The Spectator's UK magazine. Subscribe to the World edition here.