Wedding bells are ringing! President Joe Biden's granddaughter, Naomi, was treated to a White House wedding to Peter Neal over the weekend. The ceremony was the nineteenth White House wedding — and the first for a presidential family member held on the grounds since the Clinton era.
Naomi's nuptials come just a week after Tiffany Trump's private wedding in Mar-a-Lago. And the pair have more than November weddings in common: Tiffany and Naomi overlapped at the prestigious University of Pennsylvania, the Ivy League college that Donald Trump attended. Cockburn's spies claim they even used to be spotted at the same parties.
The Biden wedding was also a strictly behind-closed-doors affair. Here's Cockburn's round-up of the best pictures he could scrounge together: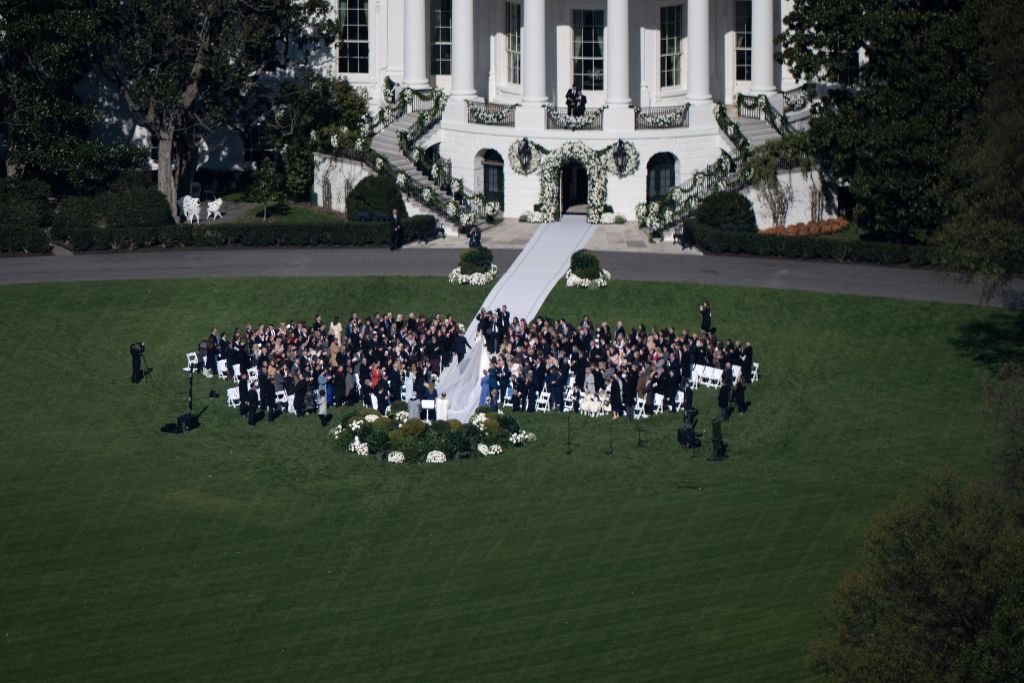 The bride wore a custom Ralph Lauren Collection gown made of Chantilly lace and Tiffany & co. jewelry.
There were around 250 guests. Somehow, Cockburn wasn't invited — but even if he was, there's no chance he'd pass the background checks needed for invited guests to get in. Also, smoking is banned (how dare they).
Several images from Naomi Biden's wedding have been posted to her event planner's instagram page: pic.twitter.com/jwbKomkNpS

— Kate Bennett (@KateBennett_DC) November 19, 2022
At least Joe Biden's presence in the White House is beneficial to someone. But the wedding has faced criticism with the main question of "who's paying?" According to the FLOTUS's spokeswoman, the answer is the Biden family. Reports suggest the bill comes to around $300,000.
More images from the planner's page, including shots of Naomi Biden's massive, cathedral-length train. Her gown, though unconfirmed by the White House as yet, was by Ralph Lauren: pic.twitter.com/cz5dCgbZql

— Kate Bennett (@KateBennett_DC) November 19, 2022
Today for Naomi Biden's wedding, @FLOTUS wore a custom couture @Reem_Acra silk chiffon vintage blue dress with draping details along with a teal double face wool crepe coat, according to the designer. pic.twitter.com/7geIDDwihb

— Kate Bennett (@KateBennett_DC) November 20, 2022
FLOTUS Dr. Jill Biden wore a custom couture Reem Acra silk chiffon vintage blue dress.
Biden's granddaughter Naomi is getting married at the White House. It is noted that weddings on the territory of this building were a very rare event. pic.twitter.com/8z7V9ANkU3

— SpriterInfo (@SpriterInfo1) November 19, 2022
View this post on Instagram
Hunter Biden was noticeably absent from the pictures, but according to CNN he and his ex-wife Kathleen Buhle walked their daughter down the aisle to "Bitter Sweet Symphony" by the Verve, a song which opens with the following couplet:
'Cause it's a bittersweet symphony, that's life
Tryna make ends meet, you're a slave to money then you die
How romantic!