Rep. Matt Gaetz is requesting a meeting with Israel's ambassador to the US, Gilad Erdan, to discuss the alleged extortion plot of the Gaetz family, according to a letter obtained by The Spectator.
As previously reported, days before news broke that the FBI was investigating the Florida congressman for sex trafficking allegations, Jake Novak at the Israeli consulate in New York told Dilbert cartoonist Scott Adams about the probe.
'I come as a friend to Israel. Supporting the US-Israel relationship is very important to me and to my constituents,' Gaetz writes in the letter. 'Jake Novak is the Broadcast Media Relations Director at Israel's Consulate in New York. It has come to my attention that he has exchanged a series of messages with American political commentator Scott Adams regarding me and my family. I request an in-person meeting with you to discuss this matter at your earliest convenience.'
Read the full letter below: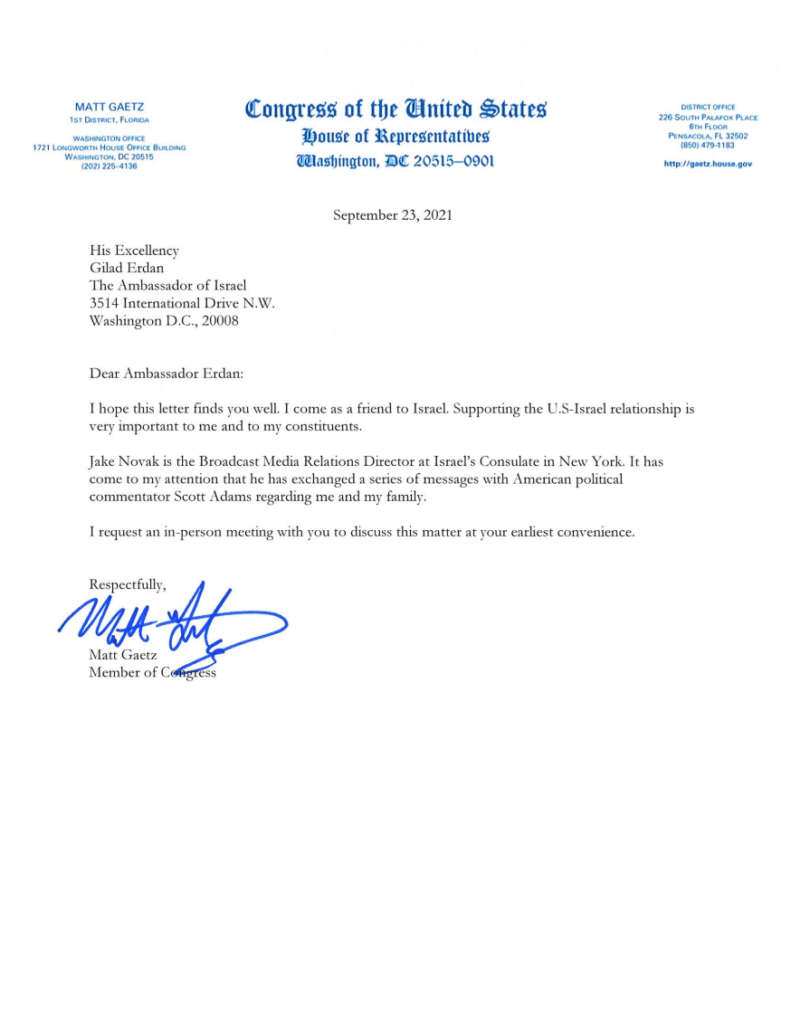 'Scoop I can't report: Rep. Gaetz is the subject of a secret Grand Jury probe of sex with minors and possibly murder conspiracy,' Novak said in a message to Adams on March 23, a week before the investigation came to light. 'I trust the source. Charges/accusations apparently "very credible."'
Gaetz is presumably wondering why US-based Israeli officials were aware of the investigation before it was widely reported.
Earlier this year, Gaetz claimed he and his father, Don Gaetz, had been extorted by convicted fraudster Stephen Alford along with a former Air Force intelligence officer and a retired DoJ prosecutor. At the center of the alleged plot was an attempt by the group to free an ex-American spy, Bob Levinson, who was captured in Iran in 2007 and believed to be dead.
Novak told Adams the extortion allegations are 'screwing up my efforts to free Bob Levinson.' In another conversation, Novak implicates himself in the matter, claiming, 'The real documents do not extort… And we only asked for $25 million as an estimate at first. We came way down.' The conversation was independently verified and covered by The Spectator earlier this month. Novak did not respond to multiple requests for comment.
'Gaetz's dad was secretly finding [sic] us,' he adds. 'So I'm very much wanting this to be untrue. I've got a commando team leader friend of mine nervously waiting for the wire transfers to clear.'
Last month, a grand jury charged Alford on wire fraud and the attempted prevention of an electronic device's seizure. Gaetz claims his father wore a wire in one of his meetings with Alford at the direction of the FBI.  If convicted on all charges, Alford faces up to 25 years in prison.
Levinson disappeared in Iran over a decade ago during an off-the-books mission for the Central Intelligence Agency. The CIA never revealed the full scope of Levinson's assignment or why they hired a former FBI agent to spy on the regime in the first place. Levinson's family, moreover, received a $2.5 million annuity from the intelligence organization to stop a lawsuit revealing details of his work. The agency reportedly fired three veteran analysts and disciplined seven other employees for bungling the unknown operation.
Update 2 p.m. ET: Following this report, the Israeli Consulate in New York released a statement distancing themselves from Novak and condemning his behavior:
'The Consulate General of Israel in New York and the State of Israel are not involved in any way, directly or indirectly in this issue. Jake Novak is a staffer at the Israeli Consulate in New York, and is not serving in any official diplomatic capacity. His correspondence mentioned in this story was not in any way, shape or form a part of his role at the consulate. After this matter was brought to our attention, it was made clear to Mr Novak that this is not acceptable by the Consulate General and he must never be involved in such matters again.'