Congresswoman Terri Sewell hasn't been deterred by court injunctions against President Biden's vaccine mandates; instead, the Democratic representative for Alabama's 7th district has instituted her own.
Only vaccinated persons may meet in-person with Representative Sewell or her staff, according to an email obtained by The Spectator.
Representative Sewell's scheduler recently sent out an offer for congressional staffers to nab some free peanuts from Alabama. For those not in the know, congressional offices regularly receive free promotional products from their state and share or trade with other offices.
A note at the bottom of the "FREE SNACKS" email, however, suggests the unvaccinated might not be able to get their hands on those tasty peanuts.
"PLEASE NOTE: Proof of COVID-19 vaccinations are required for every in-person or in-office meeting with the Congresswoman or with Staff," the email signature reads.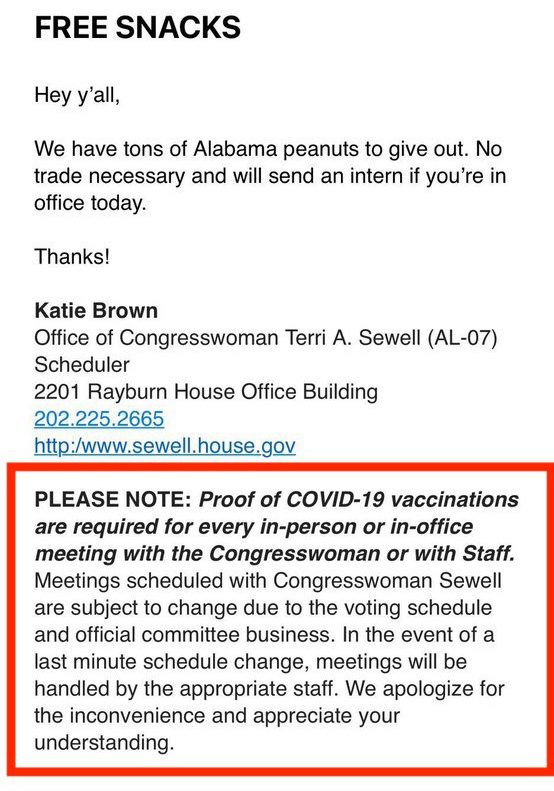 While the District of Columbia has one of the nation's strictest vaccine mandates, Congress is not bound by the rules of the city in which it is located, and does not have one.
According to CDC data, 49.5 percent of Alabama residents are fully vaccinated, well below the 64.1 percent of overall Americans who are fully vaccinated. Congresswoman Sewell's vaccine mandate is thus limiting access to her office for at least half of her constituents.
The Spectator reached out to Sewell's office with some questions about the mandate:
What is Representative Sewell's reasoning for the vaccine mandate in her office when we know that vaccinated individuals can still catch and spread the virus?
Can you confirm that the rule applies to constituents? Will there be any exceptions?
We did not receive a response in time for publication.
UPDATE (9:43 PM):
Rep. Terri Sewell's office clarified to The Spectator World that the congresswoman has likely met with unvaccinated constituents during outdoor events in her district or during virtual Zoom calls. They confirmed, per our reporting, that Rep. Sewell's office has a vaccine mandate for official visits and in-person meetings. They also informed us that her district offices in Alabama have the same policy.