After a quiet swap in the United Arab Emirates, Brittney Griner is out of a Russian prison while the Russian arms dealer and presumed intelligence asset Viktor Bout is out of a US one. A little glimmer of humanity amid Cold War 2.0, or a dangerous hostage exchange with Moscow getting the best of the deal? Sadly, this is more the latter.
Viktor Bout, a former Soviet army officer and alleged military intelligence asset, emerged as both an arms dealer and a gonzo cargo agent in the chaos that followed the collapse of the Soviet Union. His fleet of ex-Soviet aircraft and pilots were notorious for their willingness and ability to fly anything anywhere. Sometimes, this meant shipping guns into war zones — Bout was reportedly the inspiration for the Nicholas Cage film Lord of War. Occasionally, it might mean delivering aid to Rwanda and Afghanistan when others dared not.
In 2008 though, the US Drug Enforcement Agency caught the so-called "Merchant of Death" in a sting operation in Thailand, where he thought he was negotiating selling weapons to the FARC, the Revolutionary Armed Forces of Colombia. When told that the anti-aircraft missiles he was offering would be used to shoot down US pilots, he reportedly replied "we have the same enemy."
Moscow tried everything it could to stop it, but eventually he was extradited to the US in 2010, where he was tried and sentenced to twenty-five years in prison.
Any hopes that he would be willing to spill the beans on his underworld contacts and intelligence activities in the world's hotspots were in vain, though. Bout maintained his innocence and kept quiet.
After all, today's Russian intelligence community has inherited a strong tradition from the Soviet KGB: a commitment to getting its own back home, however long it takes. In part, this is to reassure agents working in the field, and in part to encourage those who are caught to endure in silence.
To this end, Moscow has been ceaseless in its efforts to repatriate Bout.
In 2018, Paul Whelan was arrested in Moscow, charged with espionage and given a sixteen-year prison sentence. A Canadian-born former US Marine with US, UK and Irish citizenship, a job as a corporate security director and a presence on Russian language social media website Vkontakte, Whelan may have genuinely been considered a spy by the Russians. Either way, they began suggesting he be swapped for Bout. But Washington wasn't willing to deal.
Then in February, star basketball player Griner was detained on entering Russia. She was discovered with cannabis-derived vape cartridges in her luggage. Griner didn't deny the claim, simply saying that said she had not meant to bring them with her. They are illegal in Russia, but the nine-year sentence she received was clearly at the extreme end of any sentencing scale.
And the haggling began again. This time, though, Moscow had a much higher value card to play, as Griner had a powerful and vociferous fan base clamoring for her release. In July, President Biden had suggested he would support swapping Griner and Whelan for Bout, but Moscow was going to force a hard bargain. First it tried to have Vadim Krasikov included in the deal. A contract killer turned state assassin, Krasikov is serving a life term in Germany for killing a Chechen rebel organizer, but Berlin was reportedly uncomfortable with letting him go free.
As it was, the drawn-out negotiation appears to have come to an end in the past two weeks. Poor Whelan, with no strong lobby behind him, remains in prison camp IK-17 in Mordovia, while Griner is now free.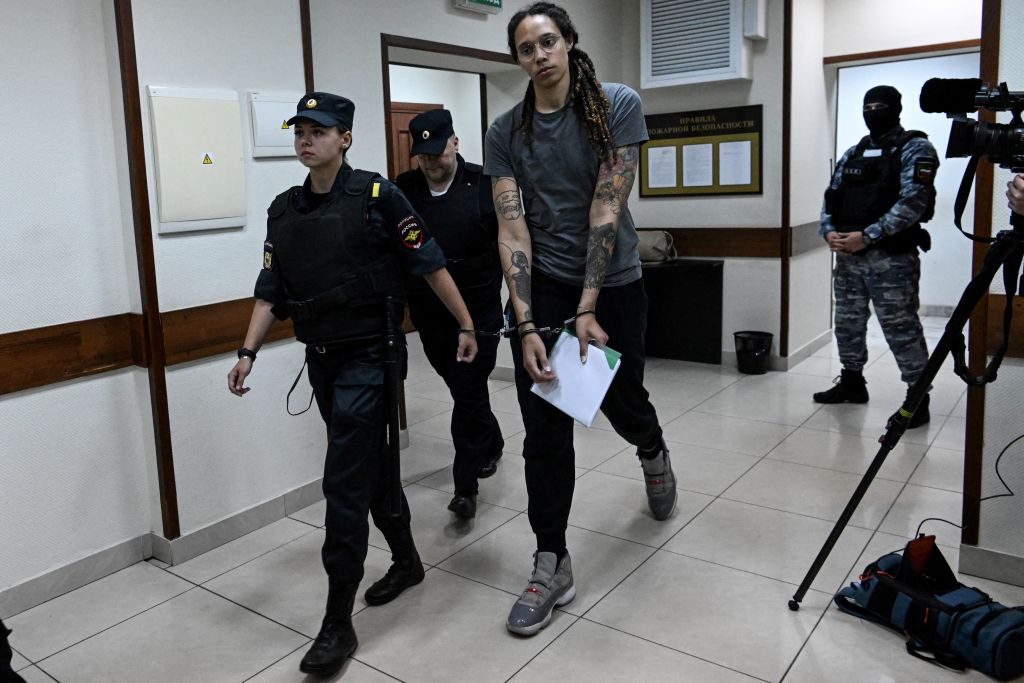 It is almost impossible not to see this as a case of state hostage-taking. To be sure, Griner gave Moscow the perfect opportunity, but what in other circumstances would have been handled by a fine, deportation, or a short sentence at most was elevated into a serious case to give the Kremlin leverage. And it worked. Other westerners take note (especially, perhaps, if they are German) — if you are still going to go to Russia, do at the very least stay squeaky clean.
Bout has no more real value to the Russians as a source or asset: his contacts are long-blown, his insights dated, his capacity to travel nil. He may get some sinecure lecturing agents or simply be allowed to disappear into comfortable retirement. However, he will now become a symbol of Moscow's commitment to its own, and its capacity — even in the current environment of confrontation — to get what it wants, by fair means or foul.
It is hard to begrudge Griner's wife, family and fans the delight they must feel at her release, but it is equally hard not to feel that the Kremlin got a good deal. It has few things to be happy about these days, but this will be one.
This article was originally published on The Spectator's UK website.