Who to copy: #Resistance TikTok, Matt Walsh or Ivanka?
Donald Trump has been indicted — and you have to post an opinion about it. Cockburn is sorry, he doesn't make the rules.
Need inspiration? Well, if you're too online, in late middle-age and elated about the possibility of Drumpf in the slammer, why not crib from TikTokker @wepickld and shoot a video of you cracking open your "porn star hush money" bottle of Champagne?
On the other hand, if you're outraged at the maligning of President Trump at the hands of Soros-funded DA Alvin Bragg, you can do as the Daily Wire's Matt Walsh did, borrow from the Northern Irish Unionists and cry "NO SURRENDER."
There is of course, the middle path, which you can follow Trump's daughter Ivanka down. "I love my father, and I love my country. Today, I am pained for both," she wrote on her Instagram Story (not even a grid post for Daddy?). "I appreciate the voices across the political spectrum expressing support and concern." Ivanka is savvy: both-sidesing it means you're still invited to that dinner party this weekend. Cockburn applauds her for listening to Buddha.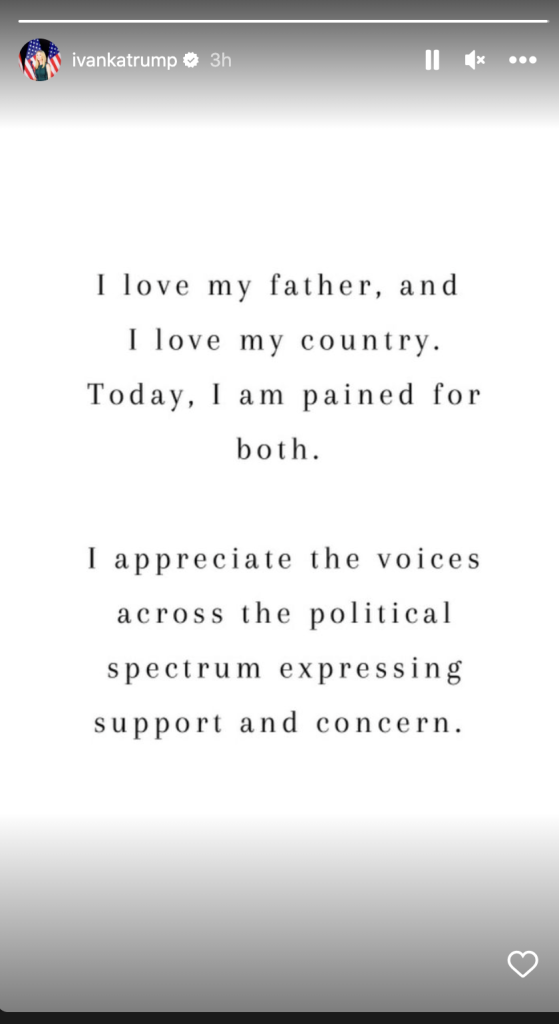 Sale-force winds for Stormy
Stormy Daniels, one of two recipients of hush money from Candidate Trump, and the subject of the Manhattan DA probe, is taking a leaf out of her fling's book: by milking the Get Trump cash cow. The porn star tweeted gratitude for the support and said that "merch/autograph orders are pouring in, too! Though apparently fans should "allow a few extra days for shipment."
The best deals Cockburn spotted in her store (aka her husband Barrett Blade's Shopify):
For racier readers, there are also explicit signed photos — and she's running a 30 percent off promo on her OnlyFans, as no doubt presidential historians will note in the years to come.
Yet another TikTok bill?
Before the carnage unleashed by Trump's grand jury indictment, DC's biggest story was the spat over banning TikTok and government overreach. Rand Paul locked horns with Josh Hawley on the Senate floor over the Missouri senator's "No TikTok on United States Devices" Act. There was brewing resentment over the RESTRICT Act, which Senator Lindsey Graham learned he was cosponsoring from Jesse Watters, live on Fox News.
In an attempt to put the TikTok issue to bed, and in response to the RESTRICT backlash, Cockburn understands that a Republican on the House Energy and Commerce Committee is set to put out a new anti-TikTok bill, as early as next week. It's not known whether Senator Graham will cosponsor in the Senate — by anyone, including him.
Sinema's ActBlues
Late to the party as ever, Politico finally paid attention to Arizona senator Kyrsten Sinema's fraught fundraising situation this week.
Since December, The Spectator has had an eye on how Sinema, now an independent, was still using ActBlue in an apparent breach of the site's rule that "only Democrats (not Republicans) can use our tools to fundraise." As Matthew Foldi pointed out last year, ActBlue was quick to enforce this policy against Byron Brown, a Democrat-turned-independent running to be mayor of Buffalo.
ActBlue gave a series of statements to Politico contradicting their own rule, and seemingly giving a free pass to Sinema to use their platform as she is "an independent with a record of caucusing with Democrats." The Democratic base would probably counter that Sinema has more of a record for "tanking the legislation they voted for."
"It would be inappropriate in any way for us to be first movers bearing who is on the platform versus not," new ActBlue CEO Regina Wallace-Jones told Politico. In other words: sure, we might kick her off, but only if other people force us to.
Cockburn emailed Sinema's Democratic opponent, Congressman Ruben Gallego, to see what he thought. He'll update you as soon as he hears back…