Rocker and guitar legend Eric Clapton recently held a fundraiser concert for Robert F. Kennedy Jr., raising a whopping $2.2 million for the Democratic presidential candidate. The Cream and Yardbirds alum previously took heat from the media for coming out against the Covid vaccine mandates after claiming to experience adverse reactions that may have prevented him from playing guitar ever again. Cockburn can't say he's shocked that Clapton found a friend in RFK, who has similarly taken plenty of heat for his position on the jab.
A Democrat in need is a friend indeed
Sometimes it helps to have friends in high places — and in this case, control of Congress may hinge on one New Yorker's push to get his buddy elected.
Cockburn has learned that Gideon Bragin, the executive director of Democratic leader Hakeem Jeffries's office, is a longtime friend of Nebraska state Senator Tony Vargas, who's challenging Republican Don Bacon a second time after losing in 2022; Vargas is one of the only Democrats Bragin has ever donated to. While he's currently a cornhusker, Vargas spent almost all of his life in the Empire State; Vargas has spent much of this week in DC, and those tracking the race tell us that Jeffries is plugged into it.
A source familiar with the matter flagged the relationship to Cockburn, noting that "Jeffries is getting more involved in the race." Vargas's New York pals wouldn't have impacted the election last time he lost because Nancy Pelosi was running the show.
While increased attention from one of the most powerful Democrats in America is helpful on some level for Vargas, those working on the race say that it is a double-edged sword, reminding Nebraskans that Vargas was born in New York, went to high school in New York, went to college in New York, and went to graduate school in, you guessed it, New York.
For years, Bacon has used Vargas's New York ideology to argue that he's out of step with his prototypical purple district.
2024 will be an interesting test to see just how helpful old friends can be.
Tony P in DC goes Hollywood
Cockburn would like to issue an apology on behalf of everyone here at the Speccie.

A few months ago we wrote about an up-and-coming influencer called Tony P. We were the first to cover the Tony P phenomenon and when we discovered him had an Instagram follower count around 4,000.

Since then, he's shot past 70,000, been featured on two local news segments, had a profile written on him in the Washington Post style section, does 30+ paid Cameo videos a week, and has secured a sponsorship deal with Subway. Now, Cockburn regrets to see he's gone Hollywood and announced that he's signed with a talent agent.

We remember when Tony P when just a young, cockeyed optimist slinging overseasoned salmon and doling out tips on matching your tie to your shoes. We apologize for helping to create a social media monster.

We'd also like to apologize in advance to Tony P for playing a part in his newfound fame — Cockburn is certain it's only a matter of time before the Internet does what it does and turns wholesome, loveable Tony P into the latest cancellation victim.
Then in August, Kennedy wrote, "The treatment that Britney has endured over the last fourteen years surely has to have lasting mental effects on the star's health. And her latest antics on social media imply that she is still dealing with the fallout of being controlled by her family members for the last decade."
David Brooks's bad burger
New York Times columnist David Brooks apparently didn't get the memo that wealthy writers shouldn't complain on the internet about how much things cost, lest they reveal how out-of-touch they truly are.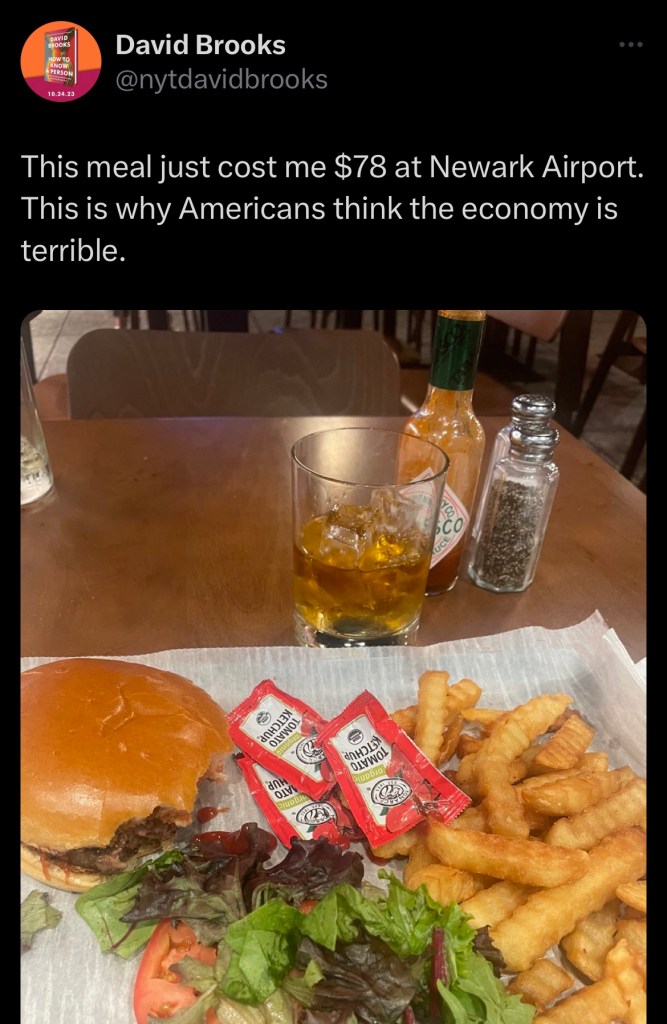 The conservative commentator decided to "empathize" with the masses struggling with inflation by copping to spending $78 at an airport restaurant in Newark. He posted a picture of the offending meal, which featured a serviceable burger, crinkle cut fries, and … a double bourbon. Cockburn can probably guess where your mark-up came from, Dave.

Brooks proceeded to get a heavy ratio on X (formerly Twitter) for his absurd attempt to relate to normal humans. Even the restaurant he dined at — which identified itself as 1911 Smokehouse Barbecue — asserted that they weren't sure why Brooks was complaining since his "bar tab was almost 80 percent," adding "keep drinking buddy." They later jokingly added the "D Brooks Special" to their menu: a burger and fries with a double shot of whiskey, marked down from $78 to $17.78. Amazing.