"Stinky. Sweaty. Hairy. Pimply. Totally Normal."
That's the seemingly innocent tagline of the "Puberty Issue" of the New York Times for Kids, which appears in the print newspaper on the last Sunday of every month.
The kids section, which was started in March 2017 as a part of the New York Times magazine department, often looks harmless at first glance. The cover typically boasts colorful and engaging artwork, while inside, children are greeted with cartoons, games, puzzles and mini articles about cool accomplishments by other kids. Past issues covered how kids could spend their summer vacations, interesting facts about bugs and other creepy critters, and how to start growing a garden.
The "Puberty Issue," which ran in print on April 30, is no exception — it contains tons of useful information kids might need to know about their changing bodies and assures them that being uncomfortable throughout the process is normal.
It's also filled with radical ideas of gender, dismisses attempts by parents to remove pornographic content from school libraries as anti-LGBTQ "book bans" and falsely claims that "medical care" for children experiencing gender dysphoria "saves lives."
"Talking about puberty is fraught for lots of reasons, but there's one reason we don't care much about: that it makes some adults uncomfortable," the intro, by New York Times for Kids editor Amber Williams, reads. "If an adult tells you they have a problem with this issue, send them our way."
Just a few pages into the "Puberty Issue," the NYT encourages its readership — which Williams says mostly includes kids between the ages of eight and fourteen — to "explore" their gender identities.
"Finding spaces to be your true self can help you feel more comfortable… A supportive space with friends or a counselor can help let you safely explore what feels best, like changes to your name, pronouns or style of address. If you can approach a parent or guardian with what you're feeling, you can talk to them about seeing a provider who can help your family explore the range of gender-affirming care that's available."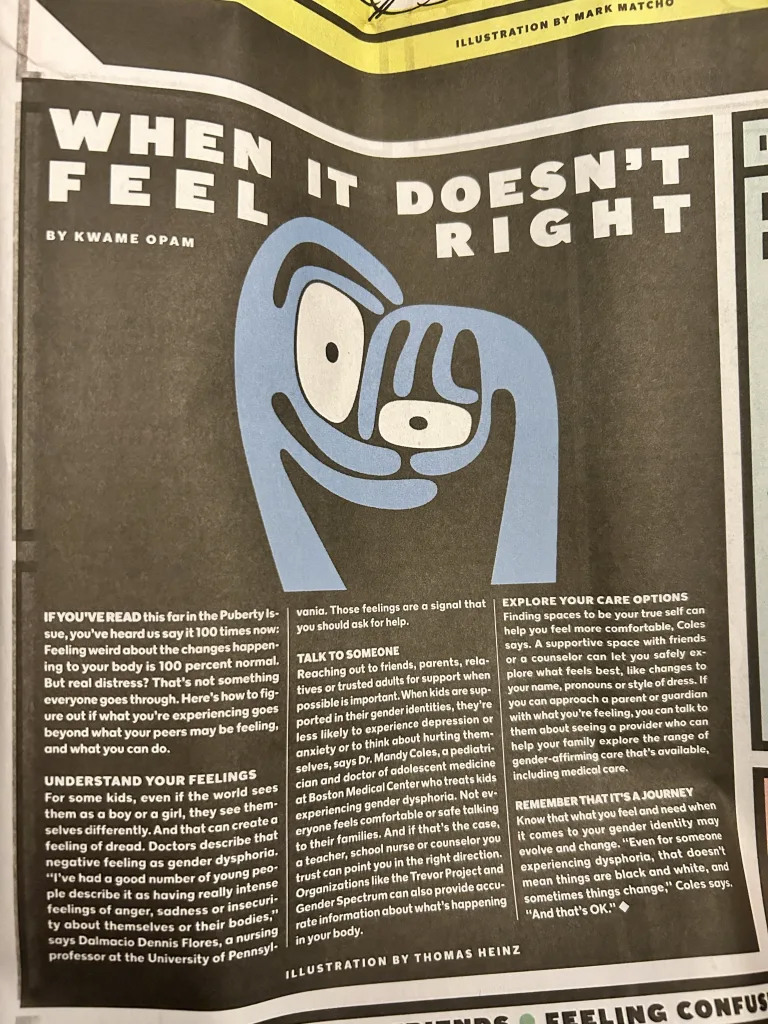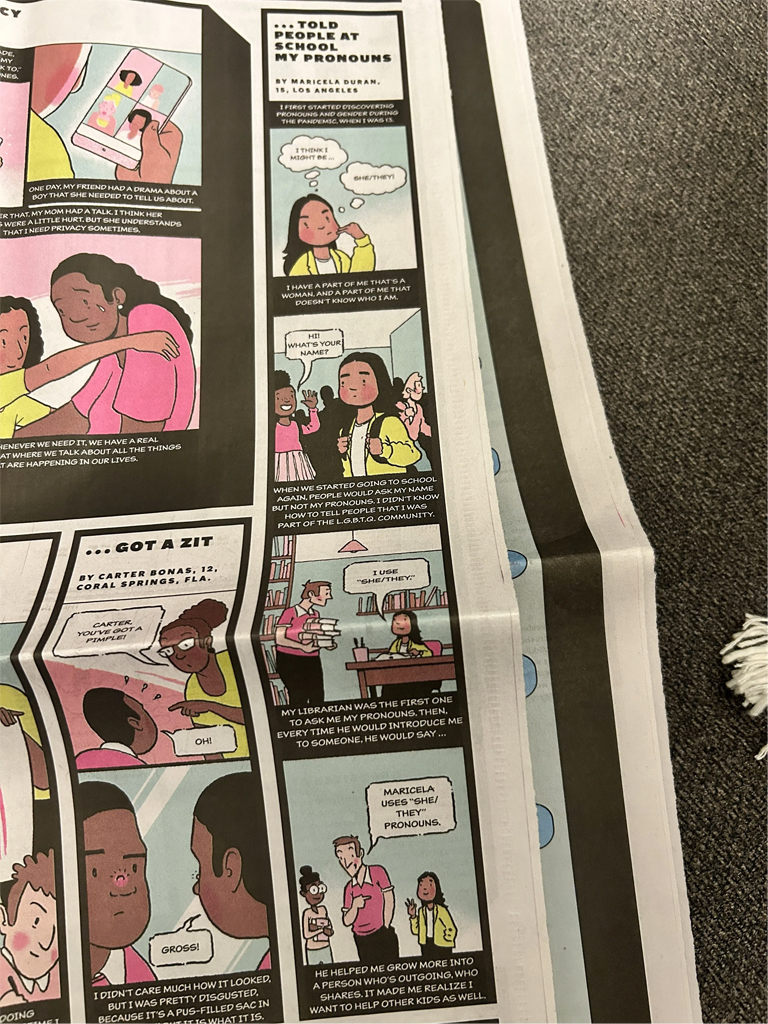 Another way kids can explore their identity, the NYT suggests, is by watching a television show to "learn about society's not-real gender binary and some vocabulary that will help you support others."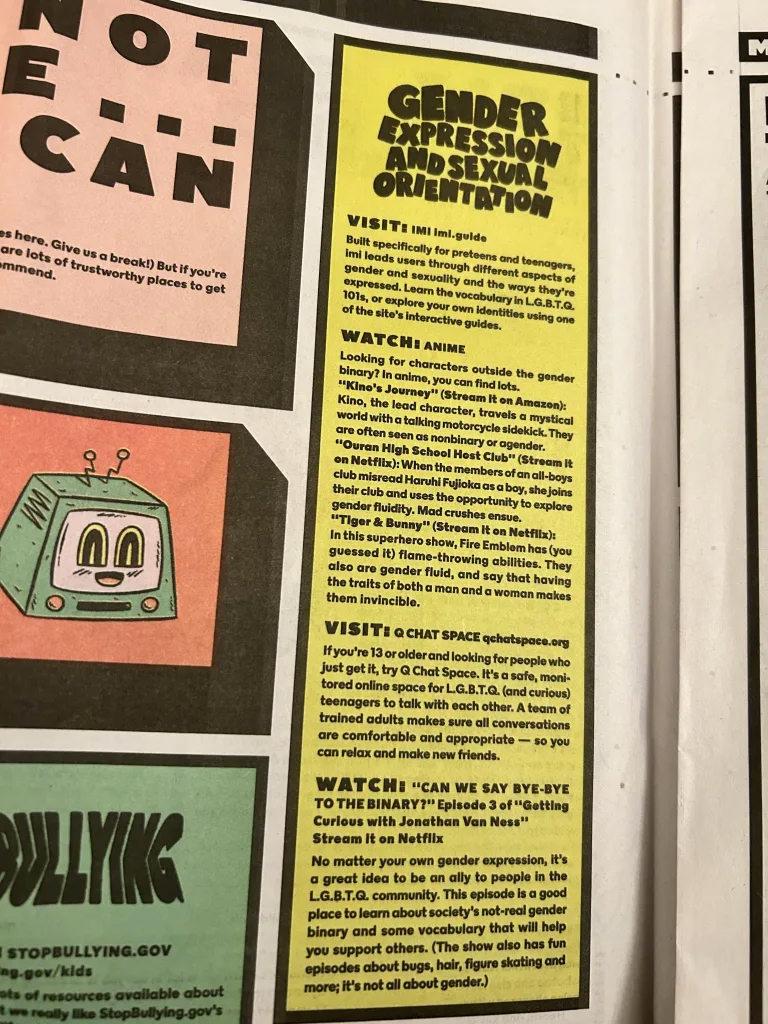 "No matter your gender expression, it's a great idea to be an ally to people in the LGBTQ community," they add.
The NYT also pushes the children to explore gender through anime shows that feature "gender-fluid" and "nonbinary or agender" characters.
The kids section reinforces its obsession with non-gender-conforming children by sharing stories from kids who identify as nonbinary, gender-fluid or transgender.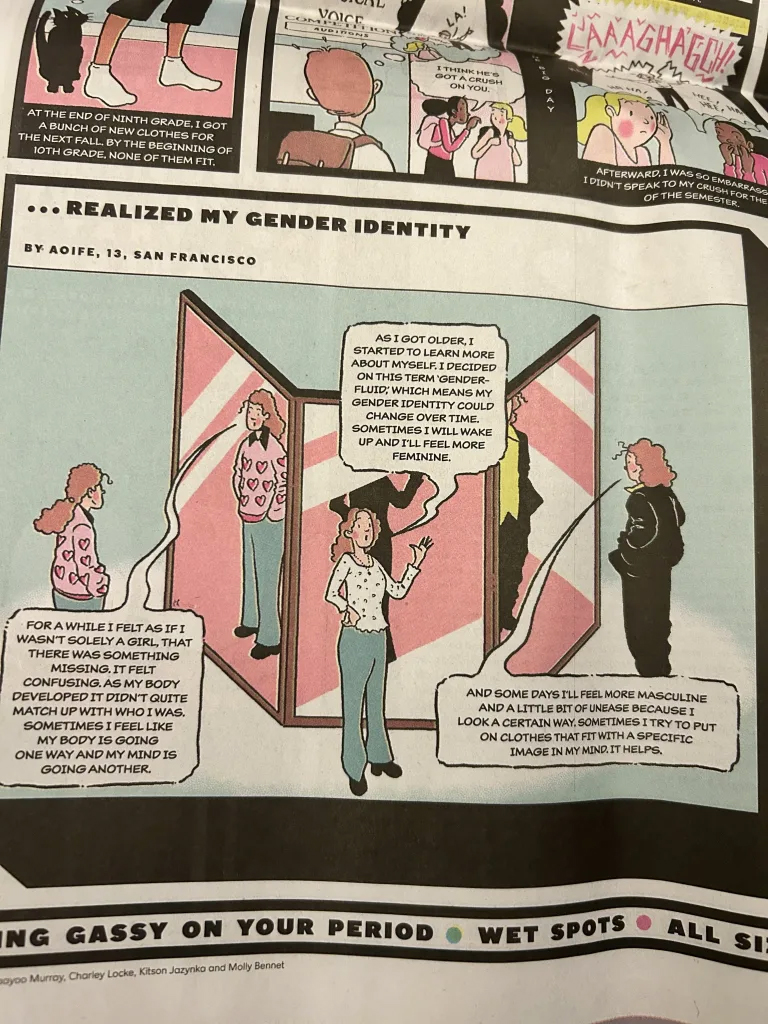 One of these kids is Desmond Napoles in Brooklyn.
Napoles is probably better known by his stage name, "Desmond is Amazing." Sound familiar? That's the "drag kid" who started strutting at Pride festivals when he was just eight years old. By the age of eleven, Napoles was performing on stage while adult men threw money at him. At the height of the media's obsession with his "LGBTQ advocacy", Napoles appeared on a podcast with a former "club kid" who spent seventeen years in prison for murder. The podcast set included a sign advertising the date rape drug Rohypnol. In another interview, the pre-teen Napoles joked about sniffing ketamine.
The NYT cites Napoles, who is now fifteen, as a role model for its young readers.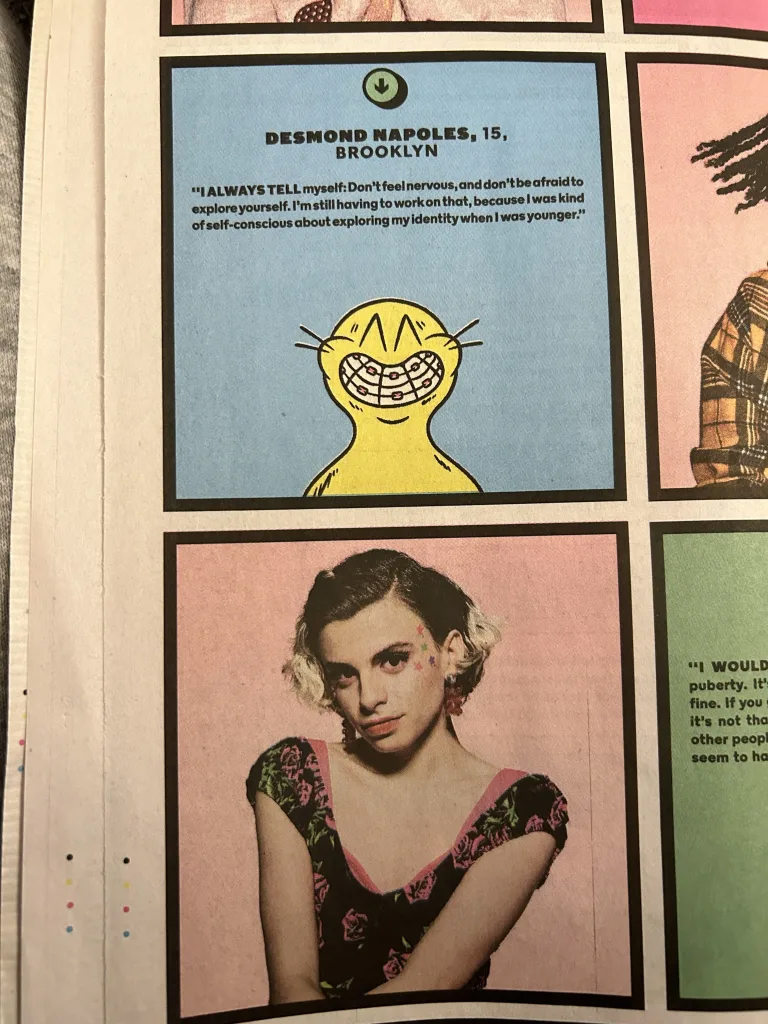 "I always tell myself: don't feel nervous, and don't be afraid to explore yourself," Napoles says in the "Puberty Issue." "I'm still having to work on that because I was kind of self-conscious about exploring my identity when I was younger."
Elsewhere in the "Puberty Issue," the NYT accuses laws banning gender transitions for minors of "keep[ing] trans kids from getting the treatments they need" and catastrophizes that transgender kids are "in trouble."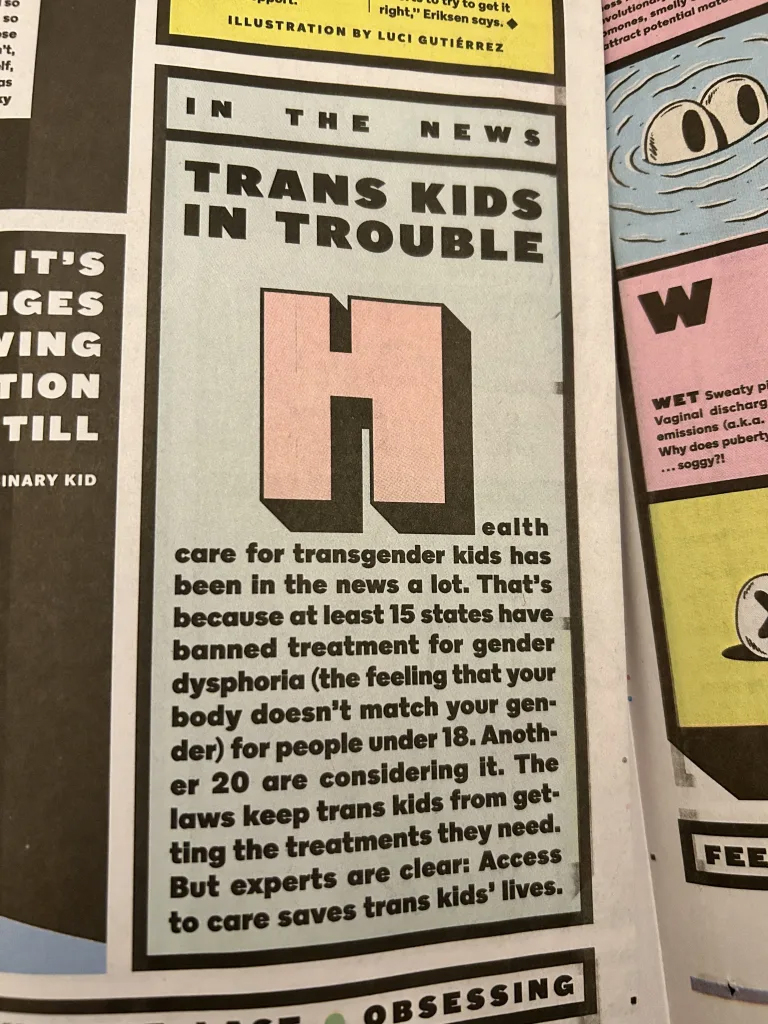 "Experts are clear: access to care saves trans kids' lives," the NYT claims.
This assertion is anti-science. A collection of studies on "desistance" finds that about 80 percent of kids who suffer from gender dysphoria will end up feeling comfortable in their bodies by the time they reach adulthood. One study championed as proof that "gender-affirming care" saves lives actually finds that hormone therapy and puberty blockers don't lead to better mental health outcomes. Other modern studies similarly find that children who have access to "trans health care" still have incredibly high rates of suicidality and depression — and that blockers and hormones provide minimal, if any, relief. Put simply: there is no scientific consensus that "gender-affirming care" saves lives.
An Instagram post from the NYT for Kids account in April 2021 previously made the claim that "medical research" proves that the benefits of hormone therapy for minors outweighs the risks. In order to drive the point home, the NYT quotes Sam Brinton, the nonbinary former Biden administration official who was later arrested after stealing multiple pieces of women's luggage from various airports. At the time, Brinton was the vice president for advocacy and government affairs at the Trevor Project.
"These types of bills endanger young trans lives," Brinton said about bills banning gender transitions for minors.
The NYT for Kids's insistence that "gender-affirming care" is the only acceptable answer for children struggling with gender dysphoria stunningly also ignores other NYT reporting. A June 2022 feature in the New York Times magazine, the same department that houses the NYT's kids section, acknowledges that the medical community is "deeply divided" on how to treat transgender minors.
This type of fatalistic fear-mongering is common in the NYT for Kids.
On its Instagram page, the NYT regurgitates a UN report that claims "it's no longer possible to stop the effects of climate change from getting worse over the next thirty years." This means "severe droughts, heat waves and flooding… will get more intense over that time."
"Climate change demands action," the NYT for Kids asserts in its Climate Change issue, which came out in August 2022. "Scientists say we'll need to cut greenhouse-gas emissions (which warm the planet) in half by 2030 in order to avoid some of the worst consequences of climate change."
The NYT for Kids took a similar approach to the Covid-19 pandemic by repeatedly warning kids that they needed to get vaccinated in order for the world to return to normal, even though kids were far less likely to get seriously ill from Covid and did not spread the virus as much as adults.
"More Covid cases are coming," the section said ominously in November 2022. "Please remember: the pandemic is not over."
"Having a vaccine for kids is important to help keep everyone safe and to get life in the United States back to normal," the NYT said in an Instagram post.
So is the idea that kids should reject what their parents say in favor of what they read in the newspaper.
Each kids section bears a cheeky editor's note that says, "This section should not be read by grown-ups." That could be shrugged off as a cute joke if it weren't for the weighty and politically charged topics covered in the pages within: gender identity, school shootings, the January 6 riots, climate change, pandemic health policy and more.
Williams said of the New York Times for Kids subversive tagline, "This is a joke for adults but a signal for kids."
"For me, editorially, I couldn't care less what adults think," Williams explained in a podcast appearance. "I don't think about them. I don't think about teachers. I don't think about grandparents. I only think about my readers, which is kids."
Again, this could be taken to mean that Williams is merely trying to make content that is relatable to and useful for her audience. But over and over the NYT for Kids instructs children to ignore or hold contempt toward opinions held by well-meaning adults.
"Many adults are used to assuming that gender is binary — that everyone is either a boy or a girl — and that boys and girls are attracted to each other," the "Puberty Issue" says, for example.
The same issue also rejects concerns from parents that children may access sexually explicit material in their school libraries, writing that "lots of kids, parents and librarians" are telling those who want to remove such books to "grow up."
"Last year, politicians and other groups tried to get hundreds of books banned from schools. Even more bans are expected this year," it reads. "Some adults are arguing that books about puberty aren't appropriate for preteen readers, because they mention topics like sex and sexuality. Others are against books that mention LGBTQ issues."
It continues, "Lots of kids, parents and librarians are fighting back. Their message to would-be banners: Maybe you're the ones who need to grow up."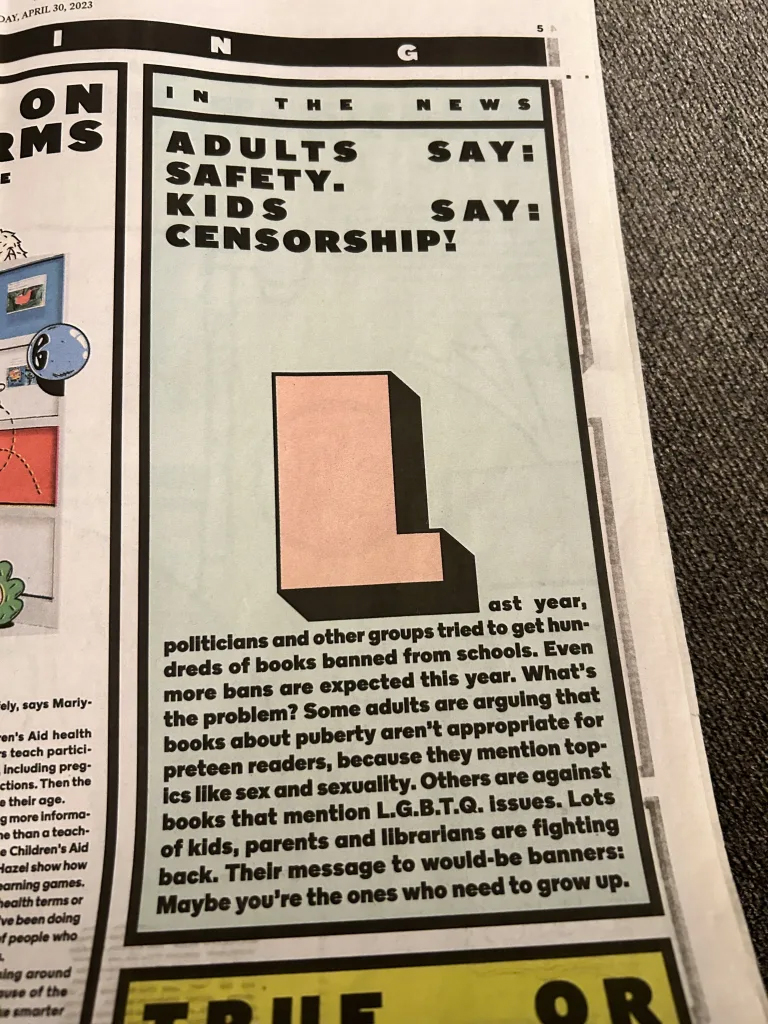 As I wrote last week, dismissing so-called "book bans" as attacks on LGBTQ content is a deliberate and dishonest spin on the issue. The most commonly removed books from school libraries contain explicit discussion of sexual kinks and fetishes, graphic descriptions of sexual abuse and cartoon depictions of minors engaging in sexual acts.
Williams, who, according to LinkedIn, has been running the NYT for Kids since March 2018, explained in a podcast appearance last summer that she does not want to "patronize" kids. To fulfill this goal, the Kids section often "explains" fraught and divisive political issues. What that means in practice is that the NYT for Kids routinely fills in the spaces around normal "kid stuff" with left-wing propaganda.
Kids are presented with a story about Buenos Aires limiting gender-neutral language in schools that positively frames terms like "Latinx," despite being wildly unpopular with Spanish-speaking people.
In response to the Black Lives Matter protests and riots in the summer of 2020, the NYT defined terms like "microaggression" and "colorism" for kids.
President Joe Biden's Inflation Reduction Act was shared as an objectively positive piece of legislation that will lead to "more clean energy" and "cheaper… electric bills." The bill will also supposedly be "fixing farms and forests." There was no mention of serious concerns that the IRA could lead to higher energy prices for American consumers who use natural gas and oil to heat their homes or drive gas-powered vehicles. Nor does it point out that "green energy" is less reliable, more expensive, and has its own environmental impacts.
Kids were told that Florida's Parental Rights in Education Bill (the NYT repeatedly uses the activist-created "Don't Say Gay" moniker, as well) "target[s] LGBTQ youth" and would ban "discussions about people who don't conform to gender norms… or people who have two moms". The NYT also published an opinion essay from a "queer" student that described the law as "dangerous."
On issues of race, the NYT for Kids encourages its young readers to take in Stamped: Racism, Antiracism and You by Jason Reynolds and Dr. Ibram X. Kendi, a book that rejects the notion that America is a meritocracy and that the concept of the American Dream is "rooted in whiteness." Racism, the book argues, is "woven into the fabric of American institutions." Other recommended reading by Williams is Nikole Hannah-Jones's spin-off of the 1619 Project, Born on the Water, despite Hannah-Jones's work being challenged by historians for its major factual errors.
"We've worked with Nikole-Hannah Jones and others who are working on the 1619 Project to bring some of those stories and pages to the New York Times for Kids and to keep those stories alive we did a race package last summer when there were all the protests," Williams said.
The New York Times did not respond to a request for comment.
The New York Times for Kids section has likely avoided scrutiny up until now because it is not archived online and therefore is only accessible in print once a month (Williams explains that this is due to online privacy laws regarding the collection of data on minors). Approximately 800,000 people subscribe to the Sunday edition of the New York Times. No doubt that means plenty of parents are passing off the colorful Kids section to their young ones, allowing them access to this insidious left-wing agitprop.