"There's no snow. Nothing."
The week after Christmas, 2023. Eager to ski, I'd phoned an old friend living in a French resort at low altitude. I hoped she'd make me feel better about the headlines splashed across the newsstands. "There's Snowhere To Ski!" "Europe Ski Resorts Close Due To Lack Of Snow." "Record Warm Winter In Parts Of Europe Forces Closure Of Ski Slopes." It was true, she sighed. Birds were chirping as if spring had arrived, heavy rain washing away whatever dusting of the white stuff had settled. "You're going to have to get high".
An admittedly fairweather skier, I usually take aim at European resorts in March. When I'm lucky enough to go, my trips happen to span International Women's Day. Our longtime ski group wryly clink a demi peche, and bomb down red runs to Erykah Badu. Spotify's shared audio function links our AirPods, making it feel like we're in a 2000s music video; the brands tripping over themselves to celebrate hashtag-strong hashtag-girlbosses. They could never.
There are always a couple of stragglers secretly pleased when the weather is bad; more time for lazy lunches, chasing blockheaded snowboarders and dancing on tables. I channel their energy and book anyway, hedging my bets with the highest ski area I can think of: Verbier. The biggest resort in Switzerland gets around twenty feet of fresh powder each season. Slopes at 10,800ft are about as snow-sure as you can get.
I enlist Harry, an ex-instructor friend who I'll follow (and have followed, with varying consequences) down pretty much anything. If there's something skiable, he'll find it. And if not, we'll revisit an old pastime: heavy drinking. In my early twenties I managed both with ease; now I fear without his "help" it'll have to be one or the other.
I select Experimental Chalet, a Wes Anderson-adjacent, vintage-inspired boutique hotel with a nightclub at its base. To cover all eventualities, you understand. It's not the seedy type of establishment you're imagining, but Farm Club, a glitzy resort institution. The website namechecks David Bowie, Diana Ross and, er, Roger Federer as fans. I know the eponymous hospitality group's bars like STEREO and Da Henrietta mix a wicked drink back home in London. So I'm confident they'll keep us jolly should the snow gods activate their Out Of Office.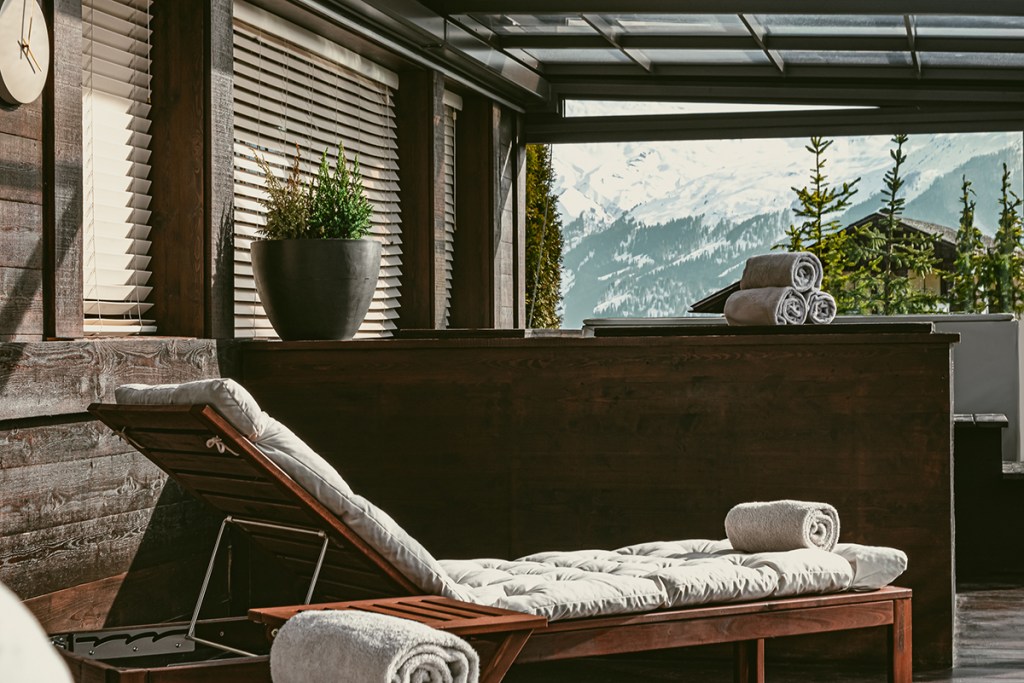 Pegging it through Geneva airport late on a Sunday night, we can't believe how quiet it is. Saturday's usual changeover crowds are gone — and it takes five minutes to organize a last-minute transfer up the mountain (I always forget to do something). A couple of hours later we're checked into our spacious room, with wraparound balcony views. An ice rink twinkles with festooned lighting beyond the snowless streets below.
There's something really magical about the peaks peering through the darkness beyond, haloed with stars. We drink it all in before crashing out. The irony of these lush digs isn't lost on us, after a decade of renting together in grimy London. "We've made it!" Harry jokes. "This is living! We're getting the first lift up."
We order poached eggs by the crackling fireplace to a soundtrack of East Coast hip hop, then pull on our thermals for the moment of truth. Having snoozed our alarms (it's confirmed, we're not young anymore; the late transfer knocked us sideways), we're grateful for the Médran rental shop literally next door — and a private bus taking us straight to the lifts. We tumble onto the gondola, bleary-eyed.
I'm cheerily informed that there's no snow, so we're going all the way up to Mont Fort — the highest point in Verbier. A "proper adventure," to make up for the late start. "Max gradient of seventy-seven!" Harry whoops, before shooting off over the edge to traverse insanely steep sheets of ice. He doesn't look back. I pull my goggles off to blink at the glaciated peaks of the French and Italian Alps. I think I'm looking at the Matterhorn, Dent Blanche and the Mont Blanc massif, but it's too late to ask. I've no choice but to drop in, and no time to consider whether it's a good idea. Probably for the best, as the next two hours are dicey. I skid around rock hard icy moguls and plow into randomly thick snow drifts until my legs shake. I fend off tears, at points. Come 4 p.m., I'm done. "I'm going home!" I whinge, soaked from head to toe. "They bring cocktails to the jacuzzi", Harry winks.
We drowsily head down for dinner. Big name Parisian chef Gregory Marchand heads up the hotel's cushy restaurant, Frenchie. Think unapologetically hefty French classics like puffy gougère and veal cordon bleu. We go for 'Chicken from Gruyère', stuffed with Swiss Sbrinz cheese and yuzu kosho, a cult Japanese spice blend. A thick walnut paste is smoothed under the skin. Some bone marrow jus drizzled all over. Cocktails follow in the smart bar, then we dance 'til late downstairs. Snowless forecasts stop bothering me altogether.
Next day, gray skies and high winds up top. This time I pack extra layers, and a hip flask to take the edge off. The hangover is heavy, as are my skis — heavier than usual, I realize. I've somewhat bizarrely switched my rentals with someone else, my boots fitting so well I hadn't noticed. We quickly plot a mission to Siviez (very quickly — the German owner is angry) and speed to the far end of the Nendaz valley against the clock, to make the swap. It's cold and hard-going, but we get it done.
Flopping into plush armchairs at 67 Pall Mall, we toast the end of an unexpectedly epic day — and what better way to do that than at this genteel member's club with artisanal beers made from fresh Alpine water? A talented young sommelier walks us through Swiss wines to pair with our kilogram of forty-five-day dry-aged Hereford Cóte de Boeuf. Switzerland is famed for lots of grape varietals, and "you can really taste the altitude" she informs us. I'm just glad all my limbs are still attached; at points on this trip it hasn't seemed likely to stay that way. We cheers my survival too many times, and get terrifically drunk, again.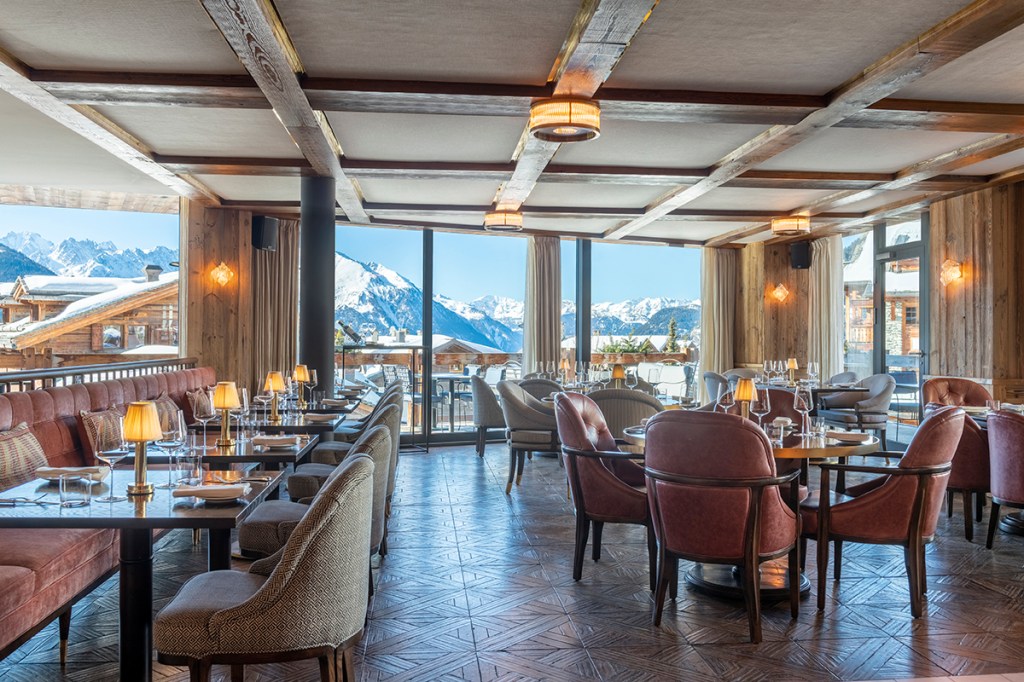 Day three, and we wake up in a new place, just to add to the confusion. It takes a second to remember that we re-packed our bags the previous morning, the concierge kindly moving them to our next hotel for the purposes of this article. Hotel de Verbier is our new home, and she's a beauty. Fur throws, calming music, alpine-themed decor and an excellent gym — whoever's using it after a day's skiing, I salute you. The spa is luxurious, a large jacuzzi, steam room and sauna beckoning the weary. Breakfast is taken in rustic yet modern Italian restaurant Nonna; still tipsy, we have a lot of fun hand-making waffles and Italian hot chocolate. Omelettes, hams, cheese, yoghurt and breads mop up the booze. I steal a banana for later, which of course smushes into every crevice of my bag, when I tumble for the eighth time that day.
I've booked our last dinner at Le Rouge, a renowned après venue down in town, reached by a slushy run at the bottom of the hill. We're told the route is closed due to lack of snow, and take that as a green light to drink as much as possible; skiing clearly done for this trip. Somehow one lunch beer turns into three, then, a realization: it's Wednesday, the seasonairres' day off — and the biggest night out of the week. We emerge from the restaurant exhausted, full of red wine and French onion soup. But few could resist the call of 200 skiers belting "your sex is on fiiiiirrreeeeeeeee" from Farinet, the infamous live music bar yards from our new hotel. We go in till God knows when, following crowds to speakeasy Rabbit Hutch and other places I'll never know the names of. We emerge, trashed, to lashing rain. Rain that, high up, will be thick snow.
Harry is gleeful. I know that evil glint in his eye. "First lift, no excuses."
"You're relentless," I grumble. Bien sûr: that's why I invited him.