Give a man a fish, and you feed him for a day. Teach a man to fish, and you feed his esteem for a lifetime. There are few miracles greater than what rod and reel will conjure from the deep. So it has been for me as I cast away my cares in this uncertain year.
In early spring, I delighted for the first time in the freshwater lake fish of New England. In the cooler months, bluegill, pumpkinseed, yellow perch and largemouth bass all swim close to the Connecticut lakeshore. Fishing from the shore in one such lake in Litchfield County, I found that a simple spinning jig or, better yet, a nightcrawler on a hook and bobber are all that is necessary for a strike. These frisky creatures can be as colorful as their names.
The largemouth bass, the leaping gamefish that gives title to a chain of eponymous 'pro shops', is best returned to the waters to leap again. The others are excellent panfish — plentiful and delicious. To make the most of them, I scale and gut the fish dockside and fry them whole, minus the head and gills, breaded and seasoned however I fancy.
Fishing is the great social leveler. The sport-fisher hauling in some bluewater beast is no greater than the dock-fisher or ice-fisher. Or so I like to believe. I take a special pride in my humble rod and tackle, perhaps 20 to 30 dollars all said and done. What wonders they still deliver. Abbondanza!, I say at 'fish on', as the lazy line goes tight, playing out the drag.
In late spring and through the summer months I moved from freshwater to salt. I would take the fishing grounds of Atlantic New England over just about any other. Fluke and black sea bass populate the seafloor. The meaty, muscled stripers that feed off the rips of Montauk, New York and Block Island, Rhode Island are ample evidence of divine creation. When the fish are running, and the tides are just right, sea creatures of all stripes, from sharks to blues, will just about leap onto your boat. I last fished off Montauk with the artist Joe Zucker, trawling with umbrella lures from his boat, The Rodfather. I named my prized catch of the day 'Mahmoud A. Bass'.
I grew up surfcasting off Block Island. In the late afternoons, my father, grandfather and uncles would drive giant rods with equally giant spoons and poppers out to Sandy Point, past the then-derelict North Lighthouse, on the northern tip of the Island. As the sun set over the western shoreline of Block Island Sound, with a beach fire of driftwood crack- ling in the background, they would cast and reel into the breakers with tremendous speed. We grandchildren meanwhile feasted on fire-roasted hamburgers and hot dogs, and our grandmother's picnic of beans and slaw, all spread across the tailgate of their tan Chevy Suburban, which we called 'The Gentle Giant'.
Sometimes the men came back empty-handed. Other times the stripers ran up the shoreline in packed races. In one picture, my six-foot-tall grandfather holds two of his catches stretching from beltline to floor. Then the stocks went down, the levels of PCBs and other chemicals in the fish went up, the state limits went sky high and there were very few gamefish left to catch in these shoreline waters.
Fortunately, stripers are not the only fish in the sea for surfcasting. My first casts in life were for fluke, otherwise known as summer flounder. Today these cockeyed bottom feeders can still be found around the sloping channel sands of Block Island's Coast Guard Beach, at the cut to New Harbor. Rarely do they now reach the minimum 19 inches for keepers. It has been several summers since I brought one home to fillet and fry.
Yet with the same simple spinning rod and a weighted rig baited with cut strips of frozen squid, another fish now makes its appearance. It is the abundant porgy. The reason for its abundance is its disdain among sport anglers. This is not a gamefish. At just a foot or so in length, it produces no meaty fillets. I was brought up to believe its bony flesh was inedible. And yet, done right, as I learned this summer, porgies can make for a delicious family meal, grilled every day of the week.
The New England porgy is otherwise known as the scup. It cuts a jaunty, almost tropical profile. Pound for pound, it can also put up a fight with the best of them. Chefs have started to discover its merits and have added porgy to their locally sourced menus. You might now see it called Montauk Seabream or some similar iteration. To me it remains porgy, happily pulled in by my entire family. Not everything went remote last summer. Along the harbor coves inside Block Island's New Harbor channel cut, away from the surfcasting multitudes, we found a school of these fish regularly in session.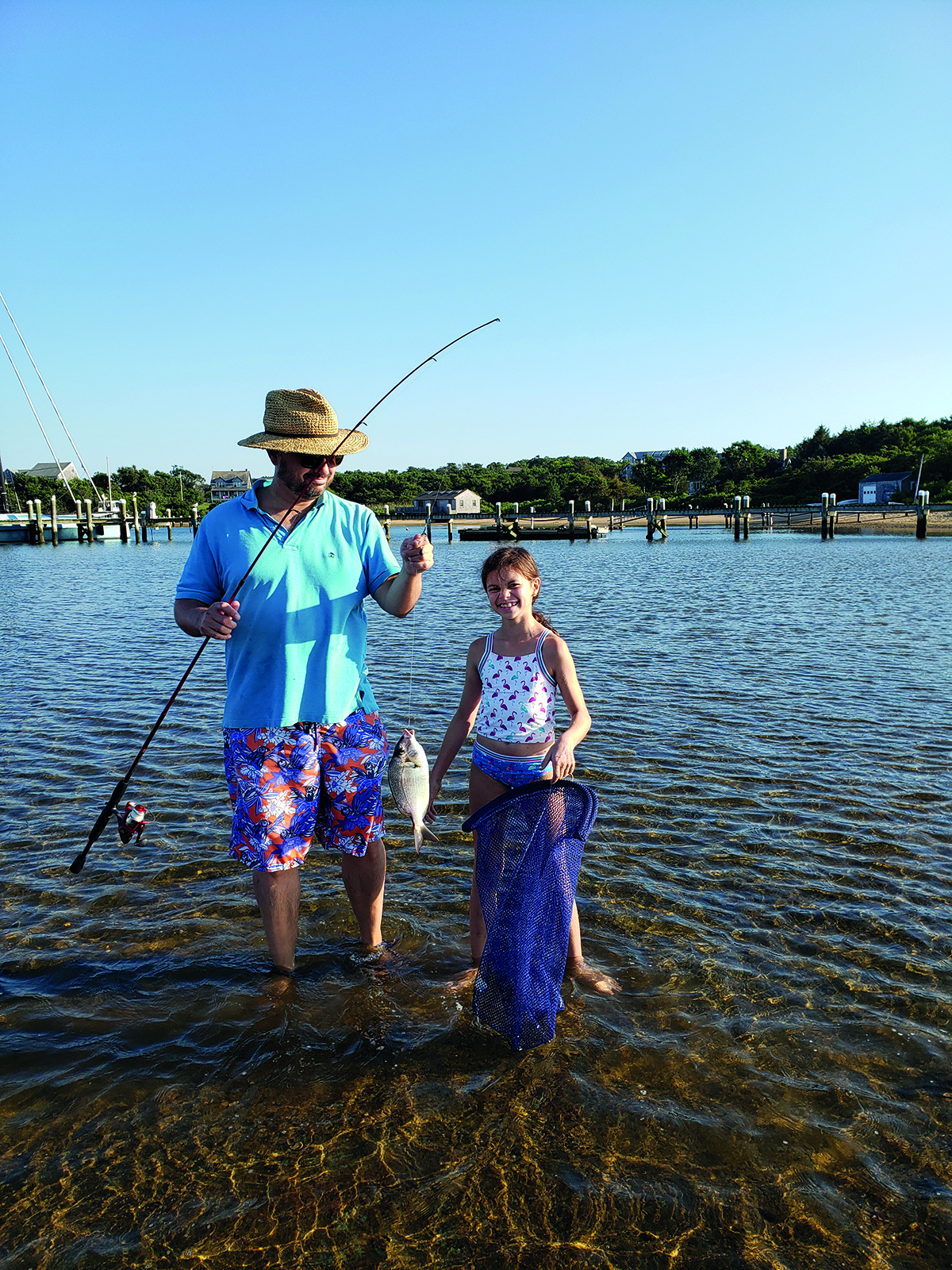 It helps that this same cove supplied our summer share of clams and crabs, along with a marine biologist's haul of aquarium-worthy specimens. There was always something fresh to prepare for supper, from chowders to linguine vongole to crab fritters.
For us the porgy always ended up grilled whole. That's the secret, to prepare it much the same way as the lake panfish. We catch a handful. Then back home I scale and gut and clip the fins on my deck, hosing off the guts into a bucket as the kids get lessons in piscan anatomy. I hear a grill basket helps prevent sticking and keeps the flesh together, although I have yet to get one. No matter: once removed from heat, this flaky fish looks divine any which way when dressed in a topping of summer vegetables and fruits stewed in vinegar.
You can also prepare your porgy escovitch-style with onions and peppers pickled in malt vinegar, or seasoned with Magic Blackened Redfish Seasoning; just always do them whole. Once done, pull the spine up and out, and the meat falls off the bone. Nothing remains but a head attached to a cartoon-like skeleton. How I count my blessings bringing this fish to table. Like the miracle of the loaves and fishes, the porgy is small but feeds multitudes.
Grilled Porgy
1. Catch your porgy or some similar abundant panfish. Scale it, gut it, clip the fins and wash out the cavity. Leave the head on, remove the gills2. Score the skin and stuff the bodies with lemon wedges, then salt and slather with olive oil. As an option, season additionally with hot powder, or prepare a topping of grilled fruits or vinegar-soaked vegetables3. Grill on high, 5-6 minutes a side for the larger ones. Baste with more lemony oil or your preferred sauce or seasoning, with the grill lid open to dissipate the flames4. Serve fish whole for full effect. Separate the meat for any fishbone-fearing guestsThis article was originally published in
The Spectator's November 2020 US edition.