Quizzed on how best to assimilate a new culture, travel writer and celebrity chef Anthony Bourdain once uttered the famous line: "Drink heavily with locals whenever possible." I never met the man, but still I miss him and his deft writing. The Opening a Bottle series is about getting pickled with people far cooler than I am, in whatever city I've washed up in.
Lisbon to Berlin, December 2022. I was amazed to fly away unscathed as Storm Efraín reared its ugly head, with more than three inches of rain falling in twenty-four hours. Germany's capital welcomed me with a cool 32 degrees Fahrenheit, dropping to a bone crunching thirteen degrees by the end of my stint. I kept my puffer coat on in techno clubs and danced in front of lit fireplaces. Hungover, I found myself at Michelin-starred Nobelhart & Schmutzig, alone on a Friday night. An important work call had prized my plus-one from my (freezing) cold hands.
A ten course meal, solo. Where phone use is strictly verboten. Sitting at the counter. Eating a world-class meal and drinking wine for work purposes is categorically not a hardship, but frankly, I'm daunted. "Bitte Klingeln," the doorbell tells me, the only distinctive feature of an unassuming doorway in gritty Kreuzberg. Windows are hung with plain white curtains. A small sign confirms I got off the bus at the right stop.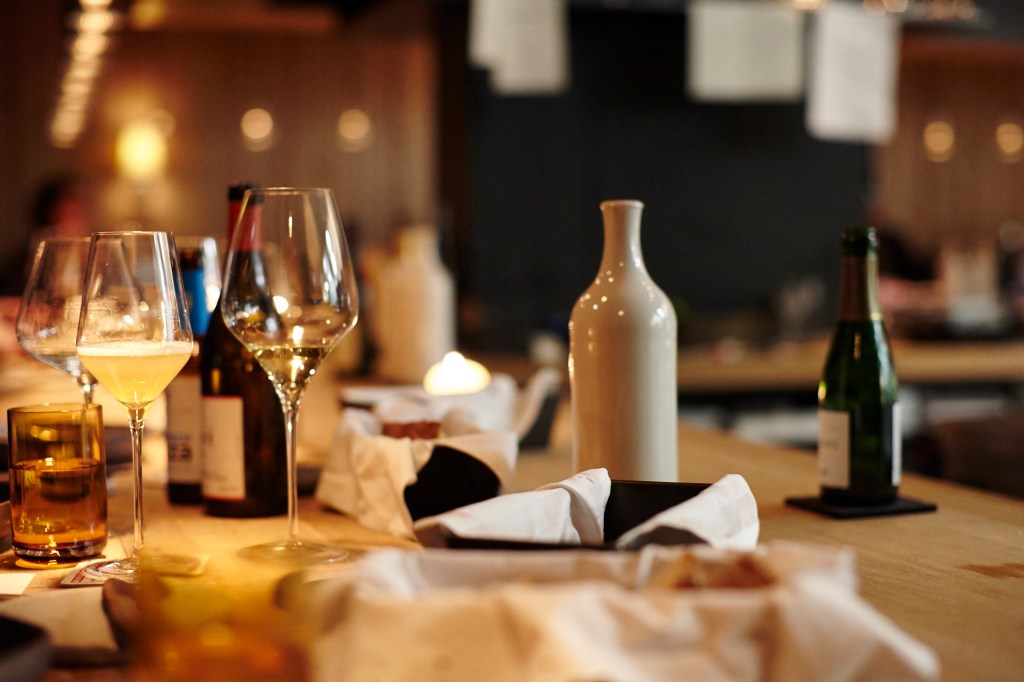 "Come in!" welcomes the effusive Billy Wagner, former German Sommelier of the Year and the proprietor of this low-lit, low-key, intrinsically cool spot. I shrug off five layers and slide onto a coveted counter seat, hip-hop crackling from a record player by the open kitchen. A loved-up couple to my right and left. I need a drink.
"What are you in the mood for?" I'm asked politely. "Champagne." Why not, I figure. When in Berlin, something funky. Head sommelier Alexander Seiser pours a drop of Champagne Bulles De Comptoir #10 "Tchin Tchin," which turns out to be just the ticket. A blend of Chardonnay, Pinot Blanc and Pinot Noir, with an impossibly cute cartoon label. I'm into it. "We're focusing on a more approachable way of drinking," he tells me.
The evening will continue like this; unflashy, unobtrusive, but heavily knowledgeable staff flitting by just when you need them, armed with a top-up or a suggestion. I try a glass of Fallet-Crouzet. Then a Wachstum Kōnig. Later, some Graham's Tawny Port with my (perfect) crème caramel.
If staff notice you enjoying a bottle in particular, they might leave it with you on the counter. It's not about poring over menus, pointing out a Pinot Grigio you faintly recognize to impress your significant other. Billy wants to tune into how you're feeling that day, what you need in the moment, rather than what you feel you should order.
"Most restaurants don't ask what you like to drink. It's difficult for some people. They're not used to being included," he maintains.
"It's like listening to music. It's OK to listen to pop rotations, listen to what popular radio plays. But there are radio stations that don't do that, who play something different to give people the opportunity to listen and experience something new. That's part of the deal with Nobelhart & Schmutzig. I'm always joking, the reason people need myself and Alex and Elena to have a work permit is so we can get into conversations and make recommendations. Anyone can serve a Dom Perignon."
I ask Alex what he prefers to drink himself. "At the moment I love the wines of Auvergne, Savoie, Jura. The first two especially from Henri Chauvet and Bastian Goddard. Two winemakers with the same philosophies. Working precise and close to nature but in a very open-minded environment. Let's see what the region will serve to us in the future."
The restaurant shares this philosophy, winning the Villa Massa Highest Climber Award in 2022. Not least for its efforts to connect with customers, but a strict dedication to local ingredients, too. Everything that hits the table hails from the greater Berlin region. Everything. That means no olive oil with your Brotzeit. Instead, a slab of butter the size of a pack of cigarettes, churned in-house and slapped onto your plate from the urn. No meat flown in from overseas. "Brutally local" and for the community. Zero footprint, die Gemeinschaft.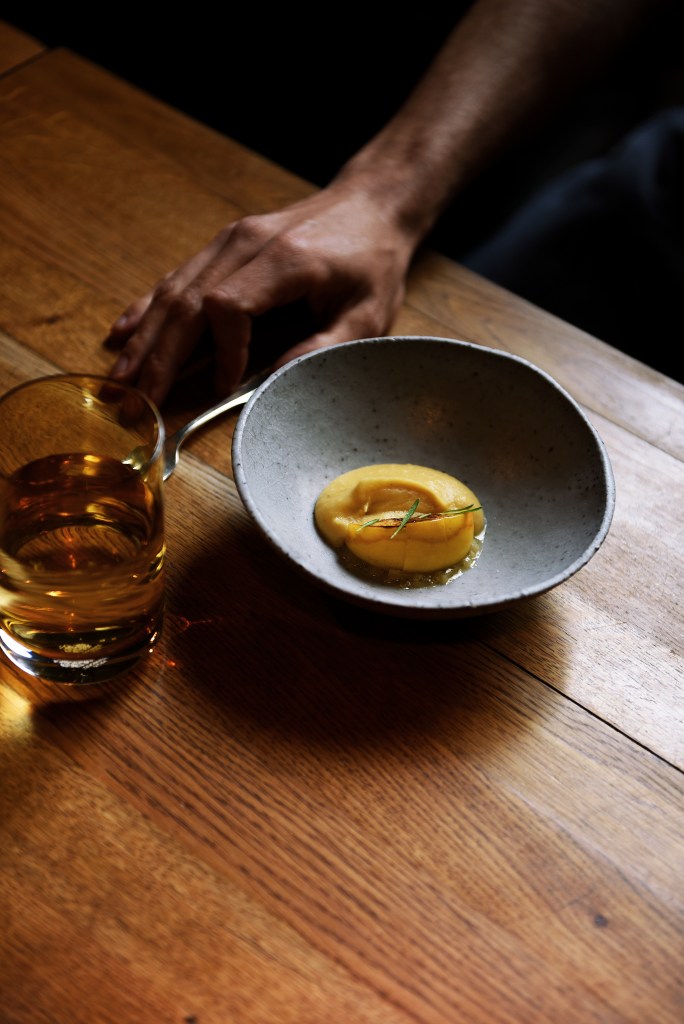 "People expect something new, something different, at the forefront of what is possible. But at the same time it has to be a good thing," says Billy.
Saffron bell pepper soup comes in a gorgeous but slightly impractical ceramic vessel. The half I don't spill down my shirt is exquisite. Next, shallots and dried rose, with buttermilk leftover from my rye sourdough's spread. Local duck next, and cherry fizz wine. "Get that in your mouth then have a sip of that," my server giggles. I oblige, and it's beautiful.
Billy makes me laugh with his direct (and correct) assertions. "If you don't like the style of what we're serving, then please, tell us. You wanna get wasted, and you wanna get wasted with something nice! Not just with something I recommended."
"Some restaurants serve soy sauce to enhance the dish. We serve Champagne all night," Alex adds. The Egyptian man to my left lifts his glass to toast me, entertained by how much fun I'm having. "Where I'm from, it's good luck to drink every last drop," he advises. Hard to argue with that.
My first-ever Semmelknödel dumpling comes with pointed cabbage. An obligatory Pale Ale Blonde by La Brasserie du Mont Salève is plonked on an old-school beer mat. "You have to drink beer with dumplings," I'm told. Lovely touch. Even going to the bathroom is fun. I spot a condom machine, and a bowl of tampons elicits a giggle: "Grab her by the pussy" printed on the wrapper.
"Parting provisions" are proffered when it's time to face the cold. I walk out with a party bag of hazelnuts — and, is that a condom? A nod to the "schmutzig" (dirty) part of the restaurant's name and a fitting finale to a considerate yet naughty night. This is the only city that could tempt me "out out" in such frigid temps, and I'm still hungry for recommendations.
Billy name-checks Beckett's Kopf, Buck & Breck, Tier and Lovis to hit next. Want more wine? Then I must go to Freundschaft, Konträr or Jaja. Alex adds Kink, Cordo, Wax on Bar, Nomi and Barra.
"I like the diversity of bars, restaurants, stores and food places in Berlin," Alex chimes in.
They're not afraid to point out competitors (in fact, they have an Instagram highlight dedicated to them). "It makes so much more sense to do that," Billy adds. "Community-building is super important, especially for a young restaurant. I don't want to eat at Nobelhart & Schmutzig all my life. It's good that there are different restaurants with different backgrounds and styles. And it's the same the other way around!"
They're confident customers will keep coming, either way. After accidentally taking myself out on the best date ever? So am I.