Quizzed on how best to assimilate a new culture, travel writer and celebrity chef Anthony Bourdain once uttered the famous line: "Drink heavily with locals whenever possible." I never met the man, but still I miss him and his deft writing. The Opening a Bottle series is about getting pickled with people far cooler than I am, in whatever city I've washed up in.
"What is it, love?"
A British lady, tanned deep walnut, is curious, as are most passersby. I'm standing outside the imposing red façade of Red Chalet in the sleepy town of Armação de Pêra, in Portugal's Algarve. She's the third septuagenarian to greet me since I touched down. I smile to myself — some stereotypes exist because they're true. I'm fiddling with the electronic gate key which, incredibly, I've been given in the name of work.
"It's a holiday villa. Beautiful, isn't it?" I reply.
"Oh, not sure they'd let our lot in!" she jokes, gesturing at her (perfectly nice-looking) husband.
"I don't know how I managed it, to be honest."
I enjoy the moment of British humor after months on the road. Just like this couple, my grandparents moved to the Algarve when I was a teenager. Things have come a long way since then: stunning new hotels, incredible fine dining and nomadic young workers targeting the area, alongside the soccer training camps and retirees.
The Belle Époque-style mansion behind me had piqued my interest. Painted an unmissable fire-engine red, the listed historical building can be seen for miles around. Its huge wraparound terrace — where guests take yoga classes and sunbathe — is built into the seawall, overlooking the glorious stretch of beach below. A private passageway leads down to the water. Inside, Moorish influences create a regal feel, but fixtures and fittings are hyper-modern. A large open kitchen is stuffed with brand-new appliances, and chandeliers glint in the sun.
I can hardly believe my luck, not only staying here a few days but now jumping in a classic car to two-Michelin-starred Ocean Restaurant, set within Vila Vita Parc close by. I've traveled from Brussels to check out this five-star resort (spanning fifty-four acres) and Red Chalet, both part of the epic Vila Vita Collection, a group of luxury residences scattered across the Algarve.
I'm going to meet Austrian-born Hans Neuner, captain of the ship, and try his bombastic twelve-course menu, "Memories from Brazil." I know, I've had worse days at the office.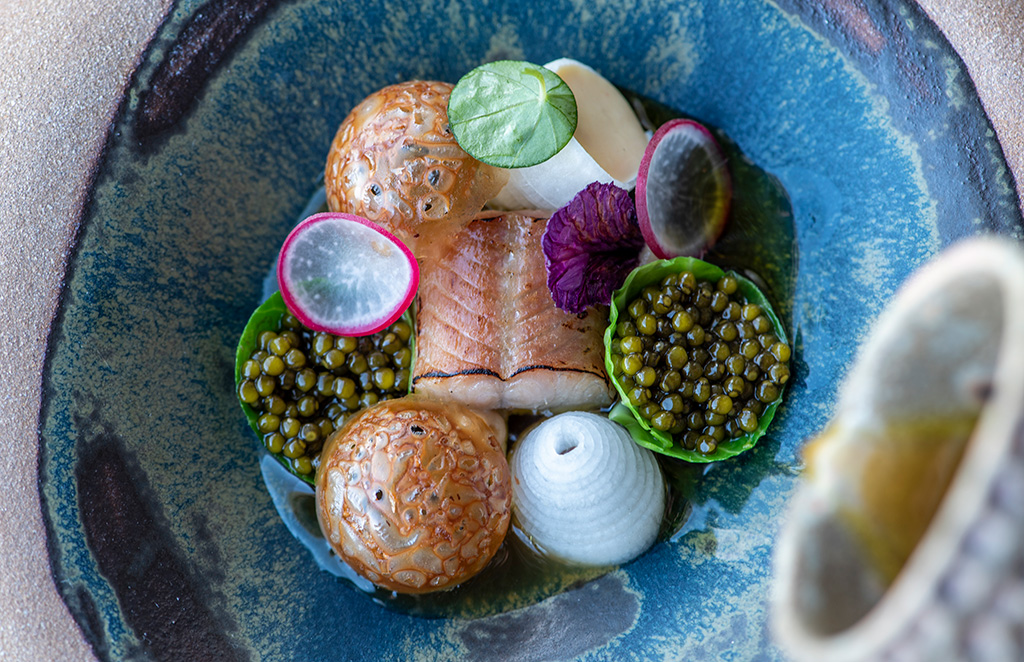 We start with imperial caviar and smoked eel, followed by my all-time favorite, pau de queijo (a naturally gluten-free cheese bread). Next, an unctuous plate of lobster, chorizo and pork belly. Neuner of course loves to work with what he's got — Southern Portugal heavy with fresh crustaceans and high welfare pig. He talks me through it.
"Coming from Tyrol in Austria, the produce I currently find in the Algarve is very different. This region is the right place to be if you love to cook with seafood, as you have easy access to a diverse variety of fish and seafood.
"In our menus we try to use as much produce from the region as possible, alongside specific ingredients that are linked with the menu's concept. This year it's Memories from Brazil —which need to be sourced elsewhere."
And he's having a lot of fun. I'm served seaweed bread with butter carved into the shape of a sea creature (weird, and delicious) alongside my 2017 Ried Grassnitzberg Reserve of Sauvignon Blanc. Countless bottles are opened over the course of this meal, most notably a wonderful Goivaens Dop Branco from the famed Douro region.
Neuner's hyper-detailed menu tells the story of Portugal's colorful culinary heritage, this being the fourth in a series.
"It started with the discovery of the country, from the south to the north of Portugal, in 2020, then we passed to the Portuguese islands, followed by a deep dive into the influences coming from Africa and India brought by the caravels, back to the Portuguese Discovery Era.
"Now it's time to highlight Brazil. The team and myself went on an inspiration trip to Brazil, where we visited local markets and chefs, sampled typical dishes, got to know the ingredients. Then the idea for the menu began to take shape.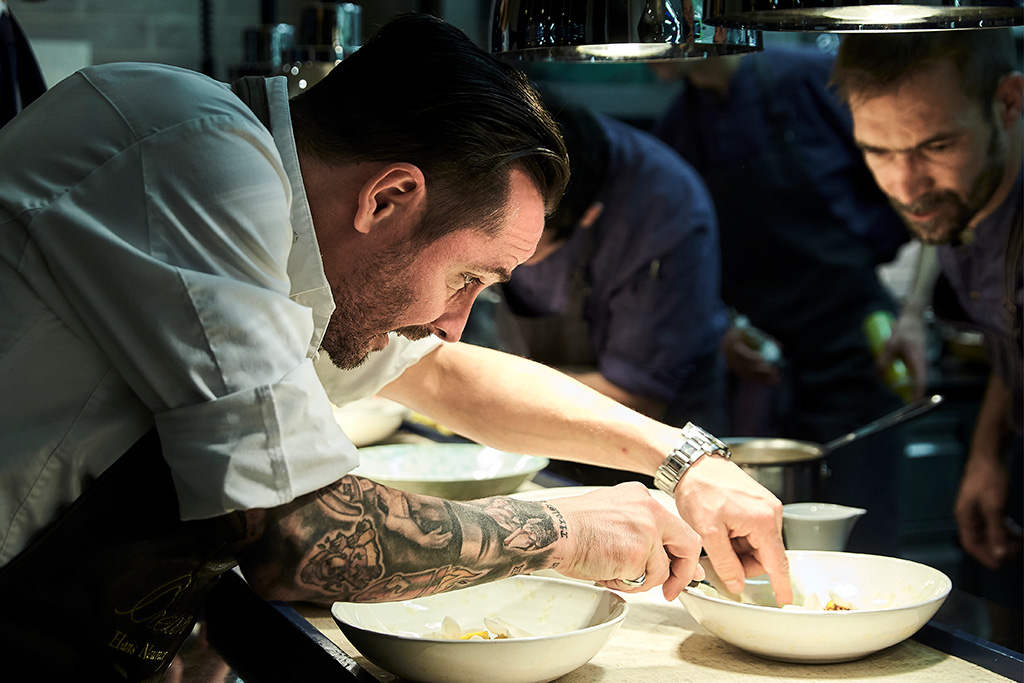 "When we got back to Portugal, we brainstormed with the whole team and got stuck into the creation and experimentation side of bringing our ideas to life."
Many (many) courses later, we spot a "Night Walk in Copacabana" at the menu's tail end. Smiley waiters circle our table with hawker-style displays of bright sweets, from which we're encouraged to choose a final treat. Our group leans back, almost defeated — but we each can't resist at least one.
Cooking in Portugal has forever been excellent in its simplicity. But food like this explains how the relatively small country has pulled up a seat at the table in the world of fine dining. The number of Michelin star restaurants in Lisbon and Porto is shooting up, and there are now a total of forty-five stars awarded to thirty-eight restaurants countrywide. 
Add this to the balmy climate, pristine nature, cheap prices and gorgeous luxury digs, and it's easy to see why Portugal has been named the world's best retirement destination in 2023. As we say ciao to Chef Neuner, I think: I could get used to this.
I ease into the gentle rhythm of the week. We board a Vila Vita yacht cruising along the coast and eat al fresco at every opportunity. As recommended by Chef Neuner, I'm itching to see the Benagil Caves, cycle the forests of Monchique and to get to Guia, known for its frango piri-piri. But for now, I'm settling into life as a retiree, and I'm grateful for a break in my mile-a-minute schedule. Relaxing isn't half bad.
The trip ends with a memorable morning boat ride to Ria Formosa lagoon.
"Are you ready to go to the best beach in the world?" our guide André Philips asks.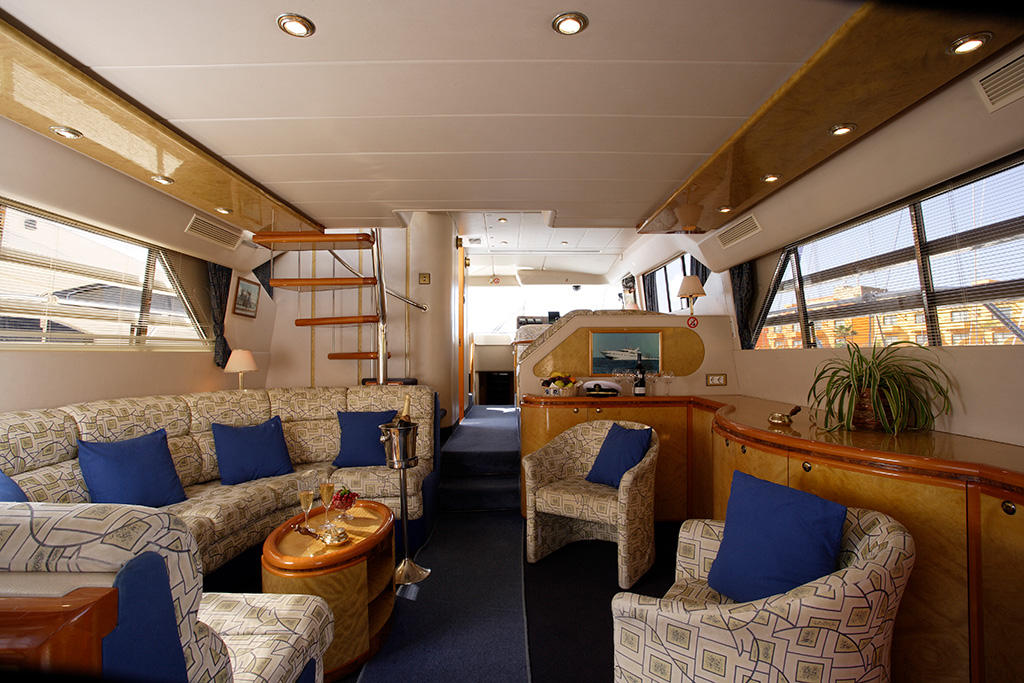 We board a small boat and soon stop in the middle of three fishing villages. Olhao produces the best fish in the Algarve; we see the fishermen drop their winnings into two red houses. We pass a deserted island, where one lone fisherman lives ("he loves it!").
A single tree sticks out from the sand on an island far in the distance. "See that tree? I planted it about twenty-five years ago," Philips tells us. "If you have your own boat, sometimes your own desert island will magically appear."
Imagine, for three magical hours or so you can rock up and sunbathe before your island melts away beneath you. All you'd need is a beer, and this place is heaven, I think. "There's a bar," and he points to a tiny blue shack where you can pootle over and buy a Super Bock.
A fisherman shucks oysters straight out of their cages and proffers raw prawns dipped in soy sauce. We toast the feast — and the good life — with a little champagne. I hop on the bus to Lisbon, where I already live part-time, head full of dreams — and plans to retire as quickly as possible.