When we talk to guests on The Spectator's food and drink podcast, Table Talk, school dinners never fail to elicit strong opinions: from those who loved spam fritters, stodgy crumble and vats of custard, to others who shudder at the mere thought of a gloopy, tepid rice pudding. One dish that seems to have the fewest detractors is cornflake tart: a cheap and cheerful pudding, that required little more than store cupboard staples to make, and satisfied generations of children with its sky-high sugar levels.
Food has the power to evoke nostalgia like almost nothing else. Dishes can be a shorthand to memory, to shared experience — good and bad; smells and tastes bringing back things we thought we'd forgotten. But those memories are informed by context, by where we were and who we were with when we ate the dish, by who we were back then. Our memories can blunt the less attractive parts of dishes: I have fond memories of my granny's gravy, even though I know that it had so much red wine in it that it made you wince, and I know objectively that the 'pizzas' my Mum would make on wholemeal pitta breads that we loved as kids likely wouldn't hold up to adult scrutiny.
So when it comes to nostalgia and recreating those dishes, it's a tricky balancing act to retain the essential elements that we remember and love, while heading off the less appealing parts. I know that much of the appeal of school dinners or childhood dishes like the cornflake cake was its unabashed sweetness: but that sweetness that we delighted in as sugar-hungry children can now seem overbearing and undesirable. So, in bringing this dish back to life, it has to be close enough to the original that it delights in the same way but not so saccharine that you consign it to the past.
Cornflake tart is a very sweet pudding, of course it is: it's got it all going on, jam, golden syrup, brown sugar — so a simple, unsweetened pastry is needed as the base. A good layer of jam should be spread onto the pastry: at my school, it was always raspberry, but I know many favored strawberry jam. But actually, if you're not wedded to nostalgic authenticity, a layer of marmalade would be fantastic, bringing in a contrasting bitter note, and a lift from the winter citrus.
And then, the main event, the cornflakes. Traditionally, these are just tossed with melted butter and golden syrup before being piled into the tart case. My version has a layer of cornflakes slightly deeper than those we used to have at school, so you get both crunch and chew. To avoid the pudding just being a bulldozer of sugar, I use a trick that I've borrowed from New York's Momofuku Milk Bar, where they're famous for their cornflake flavored milk, ice cream and panna cotta. They use milk powder to bring out a deeper, more complex flavor in the cornflakes as they cook (Heston Blumenthal does a similar thing by using milk powder on his roast chicken) as well as a slower, longer bake on the cornflakes to increase their caramelization. This, plus browning the butter that the cornflakes are tossed gives a real grown up flavor to the childhood cornflake tart, without compromising any of the elements we remember and love.
This tart should be eaten with thick, school-style custard. At my village infant school, it was always served with green custard — it being the early Nineties, that green hue was created by nothing more sophisticated than a bottle of food coloring — but that seems to have been a peculiarity enjoyed just by us.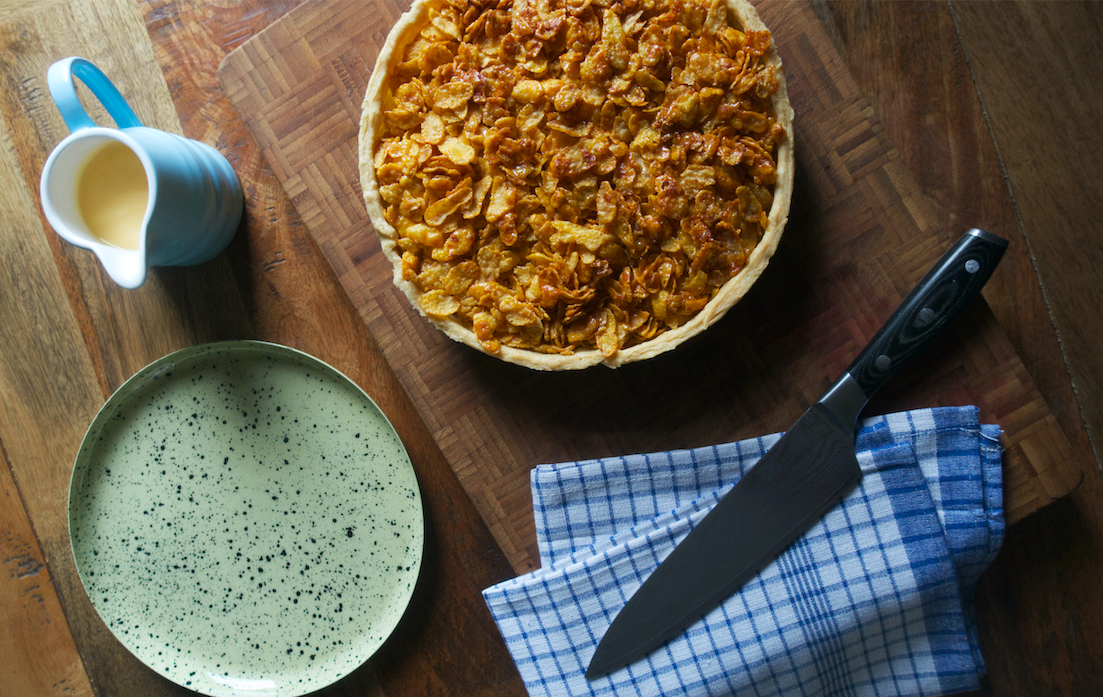 [special_offer]
Cornflake Tart
For the pastry
160g plain flour
¾ teaspoon salt
120g butter, cold and cubed
60ml very cold water
For the filling
200g raspberry jam
½ tablespoon lemon juice
150g cornflakes
50g butter
½ teaspoon salt
20g milk powder
75g golden syrup
20g light brown sugar
1. First, make your pie crust. Mix the flour and salt together in a large bowl. Add the butter, and rub the flour and butter together until the butter is in pea sized lumps. If you're nervous about over-mixing, or warming up the butter too much, you can use a pastry cutter or two forks to cut the butter into the flour. Add the very cold water slowly to the pastry, until the dough comes together; you may not need all the water. Knead very briefly with floured hands until you can push the dough into a thick disc; wrap in clingfilm and refrigerate for an hour
2. Once the pastry has rested, remove it from the fridge, unwrap, and place on a lightly floured worktop. Preheat the oven to 350°F. Using a lightly floured rolling pin, roll the pastry out into a circle until it is about the thickness of a pound coin, and about 10 inches in diameter.
3. Flour the top of the pastry, then roll up onto the rolling pin and unroll over the pie tin. Gently ease the pastry into the tin so it sits flush against the sides of the pan. Prick the pastry all over with a fork. Line the pastry with oven-proof clingfilm, tin foil or baking paper, and fill with baking beans or dry rice. Bake for 20 minutes, then remove the baking beans and lining and return to the oven for a further five minutes, until the pastry has taken on a golden color and is dry to the touch. Remove from the oven and set to one side. Reduce the oven temperature to 280°F
4. Brown the butter: place it in a small saucepan and heat over a medium-high heat. The butter will melt, then foam up. As the foam subsides, you will see flecks of brown in the foam, and the melted butter will have turned from translucent yellow to translucent hazelnut. Remove immediately from the heat, and stir through the golden syrup, salt, sugar and milk powder
5. Place the cornflakes in a large bowl, drizzle the syrup butter mix over the cornflakes and stir to evenly distribute
6. Place the jam in a small bowl and loosen the jam with the lemon juice. Gently spread the jam evenly across the tart pastry: it will be fragile, especially if it's warm
7. Spoon the cornflake mixture on top of the jam and gently pack into a level layer. Bake for 20 minutes. Serve warm with thick custard
This article was originally published on Spectator Life.