I have always been a bit of a stew-pusher; it tends to be my answer to any of life's dilemmas, culinary or otherwise. Friends coming round? Stew. Cold and dark outside? Stew. Feeling sad? Stew. To be honest, it doesn't matter whether or not the weather demands it, I am always in the mood for stew. I'd eat mince and dumplings in June, a slow-cooked sticky oxtail ragu in high summer. But once fall arrives, and my obsession is legitimized by the cold and the dark evenings, there's no stopping me. In our household, it's casseroles from now until spring. I struggle to think of something more comforting and cosy than a big, generous dish of braised meat, tender vegetables and a beautiful sauce arriving at the table.
Chicken forestiére is chicken poached alongside mushrooms in a cream-based sauce: it's a simple dish, but one that punches above its weight. It's rich and satisfying, and deeply autumnal. Like many stews and casseroles it is profoundly unphotogenic, showing off between one and four shades of brown, but in real life it is lustrous and inviting.
Unlike loads of my other favored stews, this one doesn't take hours on the stove or in the oven. I can't pretend it's a 10 minute start-to-finish dish, but it is one you can start after work and comfortably finish in time for dinner – and after the initial time investment, you can leave it to do its thing.
Recipes differ as to the cut of chicken you use: I've used fillets here which are not normally my favorite cut, but here it helps the quick cooking process, and means that you don't have to faff around with bones when eating. The 'forestière' in the dish title means 'of the forest' and is really a reference to the mushrooms in the sauce. I've gone for a double mushroom hit here: sliced mushrooms, fried off so that they retain their shape and flavor when added to the sauce, and dried porcini mushrooms rehydrated, which give a fantastic depth and a dark, bosky aroma.
The combination of the slightly caramelized onions, the soaked porcini mushrooms, and the booze (I've used brandy here, but just use a slosh of whatever you have: sherry, madeira and marsala are all good) do a lot of the flavor-building leg-work that is normally provided by a slow-cook — and the addition of cream gives a glossy thickness to the sauce which will instantly coat the back of a spoon. Like the best of stews, you can really serve this with anything: it cries out for literally any kind of potato (mash, of course, but also boiled, pan-fried, or hasselback, and it makes an excellent and elegant filling for a jacket potato), and lends itself to just about every veg you can think of — I particularly like it with something green and leafy. But if I'm feeling lazy, which I often am, I'm more than happy to spoon it into a bowl, serve it alongside thick bread and butter, hunker down and wait for spring to arrive.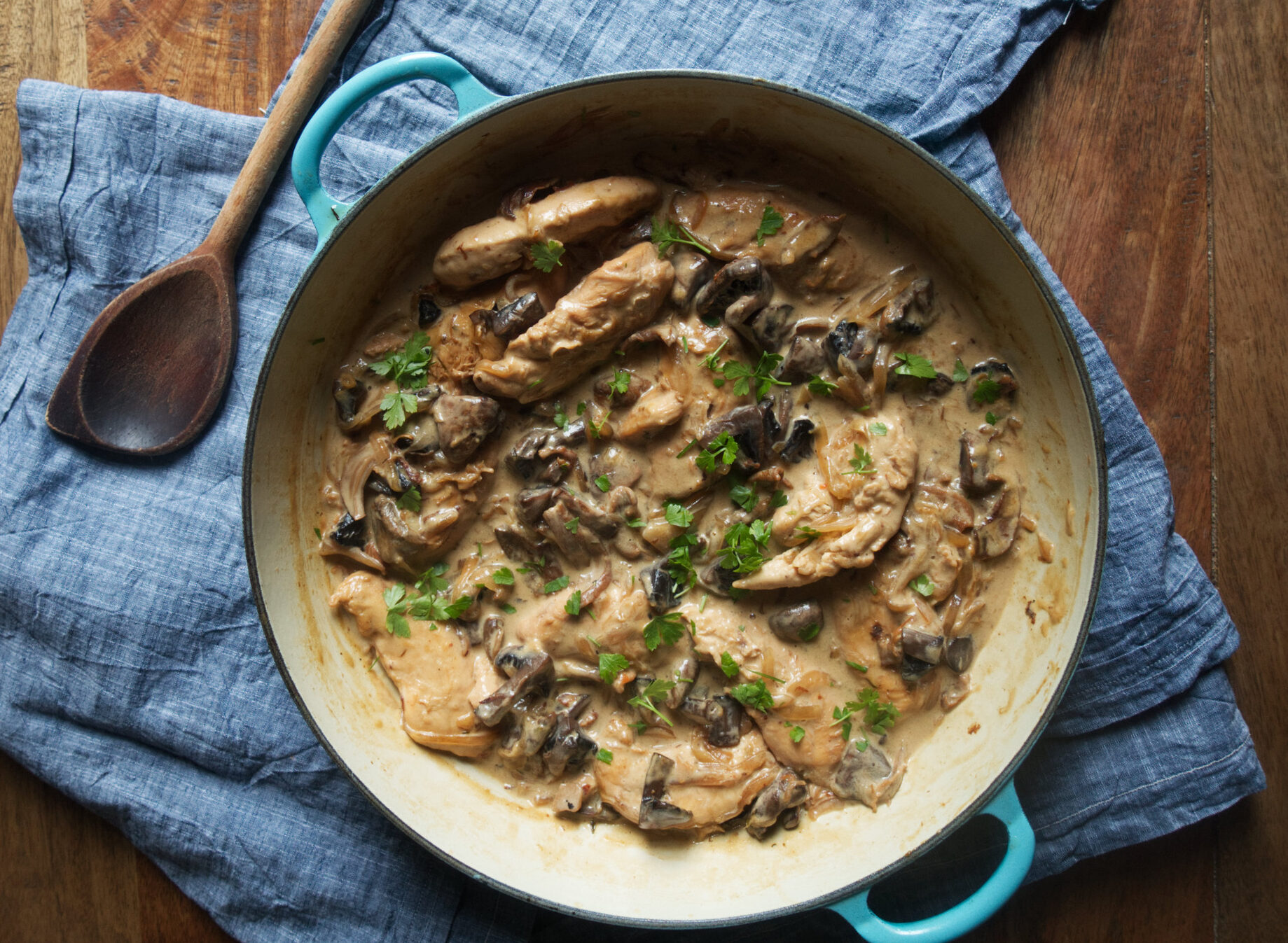 Chicken forestière
Makes: Supper for four
Takes: 1 hour
Bakes: No time at all
20g dried porcini or mixed mushrooms
2 tablespoons olive oil
1 large onion, sliced
650g chicken fillets
250g mushrooms (forestière or chestnut)
2 sprigs thyme
50ml brandy
150g Chicken stock
100ml double cream
1 tablespoon parsley, chopped
[special_offer]
Rehydrate the mushrooms in 50ml boiling water
Place one tablespoon of oil in a large sauté or frying pan over a medium high heat and brown off the chicken fillets. Set the chicken to one side
Lower the heat to medium low, and add the second tablespoon of to the pan, and add the onions. Cook until just starting to color, and then add the thyme, the soaked mushrooms, the soaking water, the chicken stock and the chicken. Cook for 20 minutes over a low heat
Add the brand and the cream and cook for another 30 minutes
Slice the mushrooms and sauté them in a dry frying pan until they have given up their liquid and colored, but not until they look dried out. Transfer these to the main pan, and give the whole thing a final couple of minutes, before sprinkling with finely chopped fresh parsley, and serving
This article was originally published onSpectator Life
.