Guys and Dolls
, the musical loosely based on the Broadway stories of Damon Runyon, premiered on Broadway 70 years ago on November 24, 1950. It ran for 1,200 performances and has been frequently revived ever since. The film version, starring Frank Sinatra as Nathan Detroit and Marlon Brando as Sky Masterson, appeared in 1955. Last year, entertainment-industry bible Variety reported that a remake is in the works from TriStar. Runyon's world, and his characters, live on.
Even on the page, never mind in 1950s Technicolor, Runyon's characters can sometimes seem larger than life. But many of them are, in fact, based on real people that Runyon knew on the Broadway of the 1920s and 1930s. His first biographer, writing in 1948, two years after Runyon's death, said that any competent New York detective would have recognized most of the gamblers and gunmen. But if they have mostly faded from both memory and myth these days, it's still possible to connect some of them to their reputed real-life counterparts.
Nathan Detroit/The Brain
Nathan Detroit isn't a big figure in Runyon's stories, but the man on whom he is modeled was big enough for Runyon to trace not one, but two characters from him. That man was Arnold Rothstein, a still-legendary underworld figure, responsible more than anyone putting the organized into organized crime: under his guidance, the families and syndicates of criminal America were moulded into professional, quasi-corporate enterprises. 'He don't want to be known as a tough guy,' fellow gangster Owney Madden said. 'Rothstein wants to rob people sitting down.'
Above all, Rothstein was a financier — people called him The Big Bankroll — backing everything from Prohibition-era bootleggers and the nascent drugs trade to small-time debts and loans. The biggest bookmaker in the country, Rothstein thought he could fix anything, from the 1919 World Series baseball tournament to the city's politicians and police. The floating crap game, Nathan Detroit's signature enterprise, which involves moving the game's location every night to make it hard for the police to shut down, was a Rothstein idea; every kind of floating game was. He had been running such things since 1911.
In a couple of stories, Runyon gave Rothstein the name Armand Rostenthal, and another nickname too: The Brain. Like The Brain, Rothstein conducted much of his business from a table at Lindy's 24-hour restaurant at 1626 Broadway, between 49th and 50th Street — thinly disguised as Mindy's by Runyon — where he reportedly drank nothing stronger than milk.
Rothstein died of gunshot wounds in November 1928 after a dispute about a large gambling debt. Runyon was one of the last people to speak to him alive before he left Lindy's that night; he made the evening the subject of one of his first stories, 'The Brain Goes Home'. (It's a curious fact of literary history that Rothstein was also immortalized by F. Scott Fitzgerald as Meyer Wolfsheim in The Great Gatsby.)
Sky Masterson
One of Sky Masterson's real-life counterparts is easy to spot. That's Bat Masterson, a sometime gambler, sheriff, gunman and journalist who Runyon first encountered in his days as a junior reporter in Colorado. Masterson fought alongside Wyatt Earp in the gunfight at the OK Corral, although by the time Runyon knew him, his badge-holding, gun-blazing days were past.
But Sky has other counterparts too. One of the anecdotes told about Masterson's gambling in the stories is of him sitting eating a bag of peanuts while watching a baseball game and betting that he could throw a peanut from second base to the homeplate on a baseball field. 'Everybody knows that a peanut is too light for anybody to throw it this far,' Runyon writes. Sky wins the bet by using a peanut weighted with lead.
Jo Swerling and Abe Burrows, who wrote the script for Guys and Dolls, make Nathan Detroit say he once saw Sky bet on which raindrop on a window pane would reach the bottom first. That bet was actually made in New York's Waldorf-Astoria by a long-forgotten industrialist named John Warne Gates, popularly known as Bet-A-Million Gates for just such reasons.
Miss Missouri Martin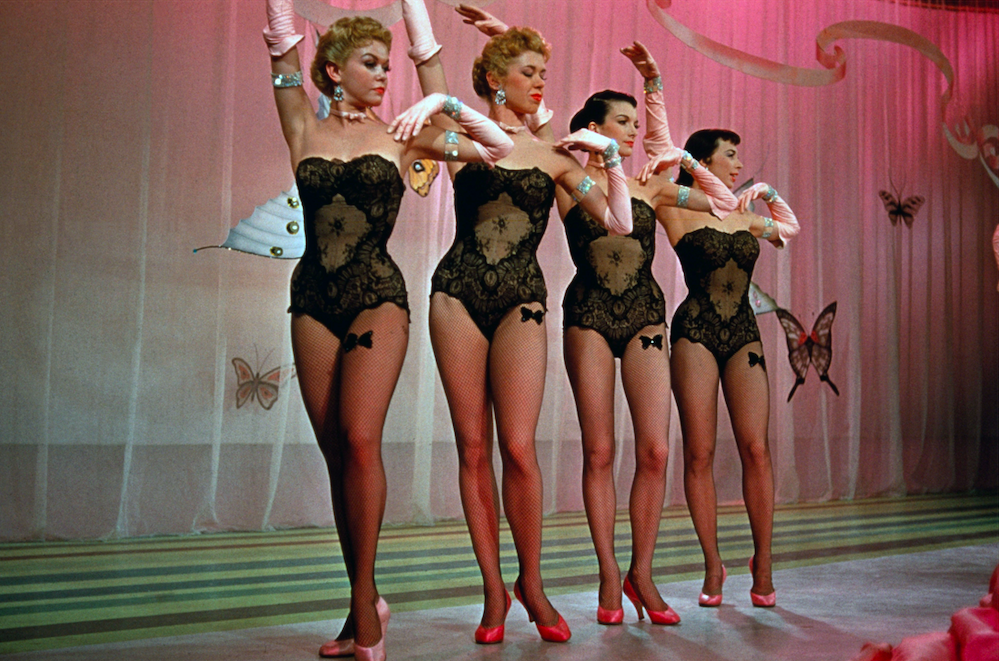 Some of the most common recurring locations in the stories, besides Mindy's, are the nightclubs run by Miss Missouri Martin — 'Mizzoo' for short — who 'tells everything she knows as soon as she knows it, which is very often before it happens'. The inspiration for her character is actress, entrepreneur and star of the New York nightclub scene Texas Guinan. Guinan ran various clubs during the 1920s, including the El Fey Club at 123 West 45th Street — alongside gangster Larry Fey, bankrolled here by Rothstein; the Texas Guinan Club at 117 West 48th Street; and the 300 Club at 151 West 54th Street. This last one turns up unfictionalized in Runyon's Bloodhounds of Broadway story, featuring 'many beautiful young dolls who dance around with no more clothes on them than will make a pad for a crutch'.
Guinan's clubs typically didn't really get going until after 3am — the time at which clubs were meant to close. She was arrested on numerous occasions — so often, in fact, that her band were instructed to break into 'The Prisoners Song' every time it happened. Sometimes she was charged with violating the Volstead Act — the law that introduced Prohibition to America; and sometimes, rather charmingly, with 'maintaining a nuisance'. But she rarely spent much, if any time, behind bars. Her defense was always that she was merely an employee, and the authorities could never prove otherwise.
The Lemon-Drop Kid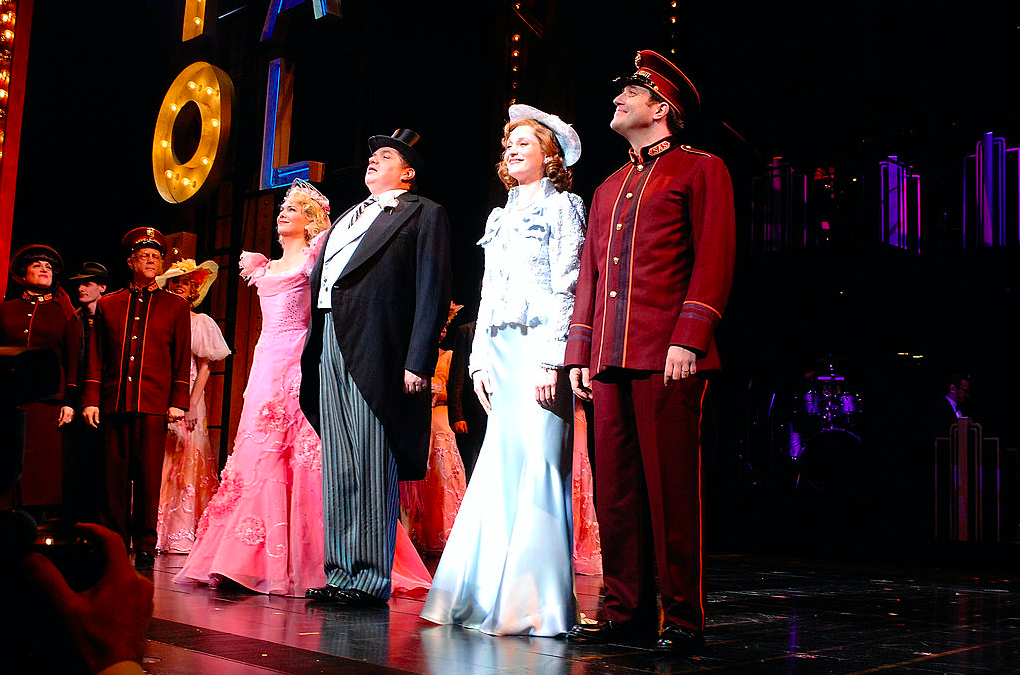 The plot of Guys and Dolls combines two Runyon tales: 'The Idyll of Miss Sarah Brown' and 'Blood Pressure'. But over 20 movies have been made from his stories, with 1951's The Lemon-Drop Kid, starring Bob Hope in the title role, being one of the best remembered. Based on the story of the same name, it's about 'a guy whose business is telling the tale'. A con artist, that is. "Nobody,' Runyon writes, 'can tell the tale any better than the Lemon-Drop Kid.'
The man Runyon had in mind was certainly a master of the craft. His name was Harry Morgan and he once took Al Capone for $2,000 and lived to talk about it afterwards.
The story goes that Morgan approached Capone one day with a proposition when the gangster was in a steam bath. There was a business deal, Morgan told him, a home run, that he just needed the money for momentarily. Capone would have it back with interest quick as anything. Capone gave Morgan the money. Morgan did not give it back.
Incensed, the man they called Scarface, sent some men to bring the trickster to him. They brought Morgan to Capone's home. 'Why did you pick on me?' Capone asked. 'I didn't pick on you,' Morgan replied. 'You picked on yourself.'
Capone, a man not used to being told he was a sucker, was so impressed by the man's audacity he asked him to stay for dinner.
On another occasion, Morgan asked the actor George Raft — who himself in his early years was a driver for gangster Owney Madden — for the loan of pair of initialed cufflinks. A little baffled, Raft agreed. That evening, Raft was dining with a wealthy lady friend. Raft left the table briefly. Morgan slipped by and sold the cufflinks to Raft's date as the perfect gift for her host.
[special_offer]
Johnny Brannigan
The police detective Johnny Brannigan in Guys and Dolls, who, according to the stories, 'is known to carry a blackjack in his pants pocket and furthermore he is known to boff guys on their noggins with this jack if they get too fresh with him', is very clearly the New York police officer 'Broadway' Johnny Broderick, who, his New York Times obituary said, 'earned his fame by beating up the toughest of the hoodlums who strutted on Broadway in his gaudy era'.
Gangsters, it was said, would rather go to jail than face Broderick in a fight. Jack Dempsey, the one-time heavyweight champion of the world, said that Broderick was 'the only man I wouldn't want to meet in a fight outside the ring and its rules'. President Roosevelt, visiting New York in 1936, insisted on Broderick being his personal bodyguard. After retirement Broderick sold his life story to RKO for $75,000 under the title 'Broadway's One-Man Riot Squad'.
Away from work, Broderick was said to be 'the gentlest of men'. He wore monogrammed, cream-colored silk underwear and enjoyed nothing more than listening to his wife play the piano at home. At such moments, a friend said, his face bore the expression 'of a spanked altar boy'.
In an irony of which Runyon would surely have approved, Broderick was eventually drummed from the force for associating too freely with gangsters.
Despite the current theatrical hiatus caused by COVID-19, Guys and Dolls is certain to grace the stage again, especially if the latest film version reinvigorates its legions of fans. Until then, Damon Runyon's stories — and the compelling characters within them — are well worth a revisit.
This article was originally published on Spectator Life.