An elementary school in Chesapeake, Virginia, will allow an "After School Satan Club" hosted by the Satanic Temple, according to a flyer for the program.
B.M. Williams Primary School will hold the monthly event starting December 15 in its library. The flyer states that children will work on science and community service projects, puzzles and games, nature activities, and crafts. It includes a cartoon of Satan dressed as a professor and claims that Lucifer is merely a literary figure who represents the human mind and spirit. Children who attend the program, the group says, will learn "critical thinking" skills.
"The Satanic Temple is a non-theistic religion that views Satan as a literary figure who represents a metaphorical construct of rejecting tyranny and championing the human mind and spirit," the flyer states. "After School Satan Club does not attempt to convert children to any religious ideology. Instead, the Satanic Temple supports children to think for themselves."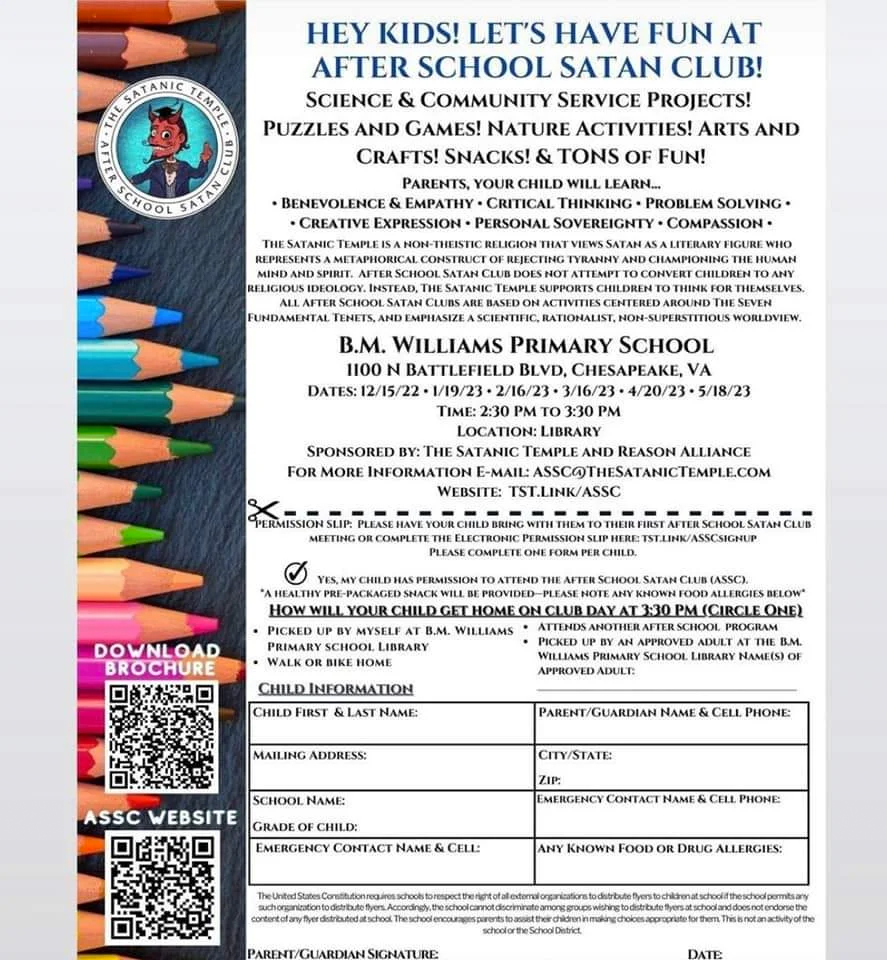 An email to parents from the Chesapeake Public School System seemed apologetic about the event, explaining that they are legally required to provide use of public facilities to various organizations. A copy was posted to the Norfolk, Virginia, Reddit forum.
"Over the years, different religious groups have requested and been allowed to rent our facilities after hours. By law, CPS cannot discriminate based on beliefs among groups wishing to rent our facilities," the email stated. "Consistent with the law as detailed above and the criteria set out in the CPS Board policy, the School District has approved a building use request from an organization known as the 'After School Satan Club.'"
They added, "It is important to note that CPS does not endorse any of the activities or content of groups that host events on school district property outside the instructional day."
Parents have to sign a permission slip in order for their children to attend club events.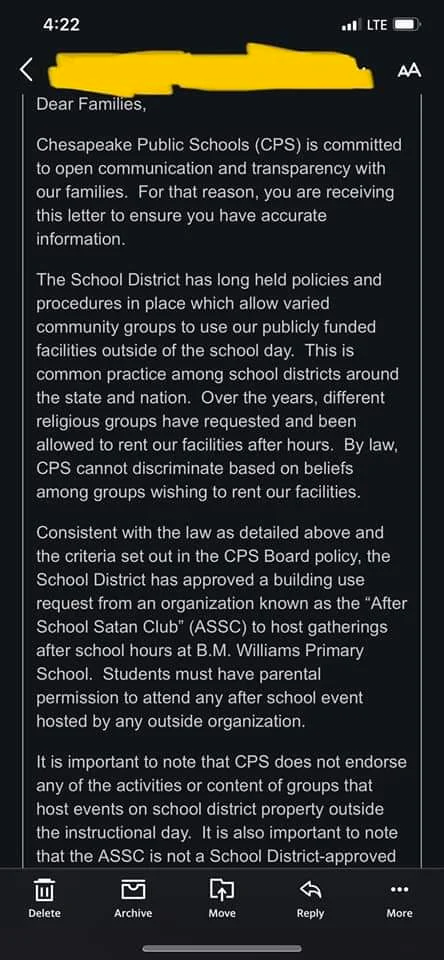 The After School Satan Club has also been approved to hold events at another elementary school in Kern County, California. Parents of children attending Golden Hills Elementary School slammed the local school board for approving the club.
Proponents of the Satanic Temple's efforts claim that it is only fair to offer an alternative to Christian after-school programs, and argue that the club doesn't actually teach students to worship Satan. While the Satanic Temple claims to be a religious organization and receives tax-exempt status from the IRS, its primary purpose seems to be antagonizing Christians and stretching religious liberty laws to their limits.
"So several people have told me that the new Satan after school club at Golden Hills elementary is not a religion, but a philosophy club… Then why did they choose Satan? Why not the Jean Paul Satre [sic] existentialism club? Why not the Descartes club?" a parent named Joe Lathrop wrote on Facebook. "They put Satan in the name for a reason. People should stop being intellectually dishonest and just own up to the fact that they want kids to worship Satan as a secular god."
The upcoming After School Satan Club in Chesapeake has especially bad timing, as the city was rocked last week by a mass shooting at a Walmart in which the perpetrator left a death note stating he was "led by the Satan."
B.M. Williams Primary School did not immediately respond to a request for comment.