The war in Ukraine has become a testing ground for new technology, an opportunity to develop weapons and find different ways of fighting. Nations that are supposedly neutral have been sending weapons to the front line to find out just how they work in the heat of battle.
This is a relatively new trend in the history of warfare, one that first emerged in the 1936-39 Spanish Civil War. The backers of both sides treated the war not just as a testing range but also a showroom. The Germans, supporting Franco's nationalists, first tried Blitzkrieg on the Spanish peninsula. Hermann Göring saw the civil war as a chance "to test my young Luftwaffe." The German Condor Legion fielded Messerschmitt fighters and Heinkel medium-range bombers, later used by the Germans in the Blitz attacks on London.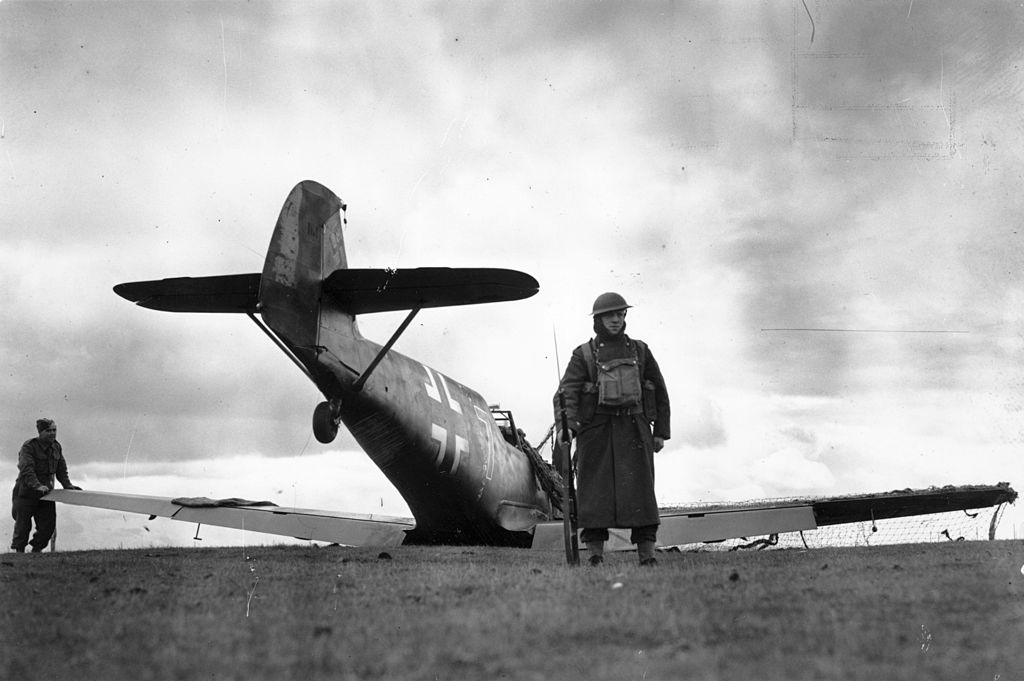 Also present in Spain was Germany's new 8.8cm Flak cannon, whose real-world use helped sell the powerful weapon to Italy and Finland. The Soviets were less strategic in their support for the opposing Spanish republicans but even so, thousands of soldiers and airmen gained combat experience and learned what Blitzkrieg felt like from the losing side.
Since Vladimir Putin's invasion, Ukraine has become a similar showcase for arms exporters as well as something of a proxy war between international rivals. From the very start of the war, Ukraine's so-called "Alibaba army" of commercial, off-the-shelf drones bought from the Chinese wholesaler offered it an unexpected edge. The drones were first used for surveillance but were soon modified to drop grenades or be packed with explosives to slam into Russian targets.
The capacity for turning what they had into what they needed has proven to be something of a Ukrainian characteristic, also reflecting their command structures. Whereas the Russians have retained an almost Soviet-style model of rigid, top-down command, the Ukrainians have adopted a flexible style akin to NATO's "mission command," whereby the senior officer sets the objective but gives subordinates much greater scope to decide how to achieve it.
A similar commitment to innovation in drone warfare could be seen in last weekend's attack on Russia's Black Sea Fleet at Sevastopol where, for the first time ever, aerial and maritime drones were used in a combined attack. Those water drones were reportedly custom-made using commercial parts, including a motor from a jet ski.
It's not just technology that is changing but tactics too; the introduction of roaming-strike teams with anti-tank weapons has severely undermined the Russians' reliance on tanks and armored vehicles. The Ukrainian defense minister Oleksii Reznikov has gone out of his way to tout weapons and tactics testing as a reason for NATO states to send support. "We have a combat testing field in Ukraine during this war," he has said, allowing "competition between systems" to find advantages and test defects.
Many have taken up the offer. Latvia's AtlasPro surveillance drone received its first field test in Ukraine, as did the US's secretive new Phoenix Ghost loitering munition, which flies in circles above the battlefield until it finds a target and crashes into the unsuspecting soldiers below. The US military has also been able to pit its latest electronic warfare systems against the Russians', which one Pentagon official described as "priceless… It's impossible really to know how this kind of kit will measure up until it's given a real shakedown against a real opponent."
From a military perspective, the loss of munitions is well worth the information gathered in return. In 2020, a British officer involved in Operation Orbital, the UK capacity-building mission in Ukraine, admitted to me that his men were also learning from the Ukrainians. "No one else has the same experience in fighting a modern, peer rival in conventional war. I've seen action in Iraq and Afghanistan; I've been under fire. But I've never faced a tank."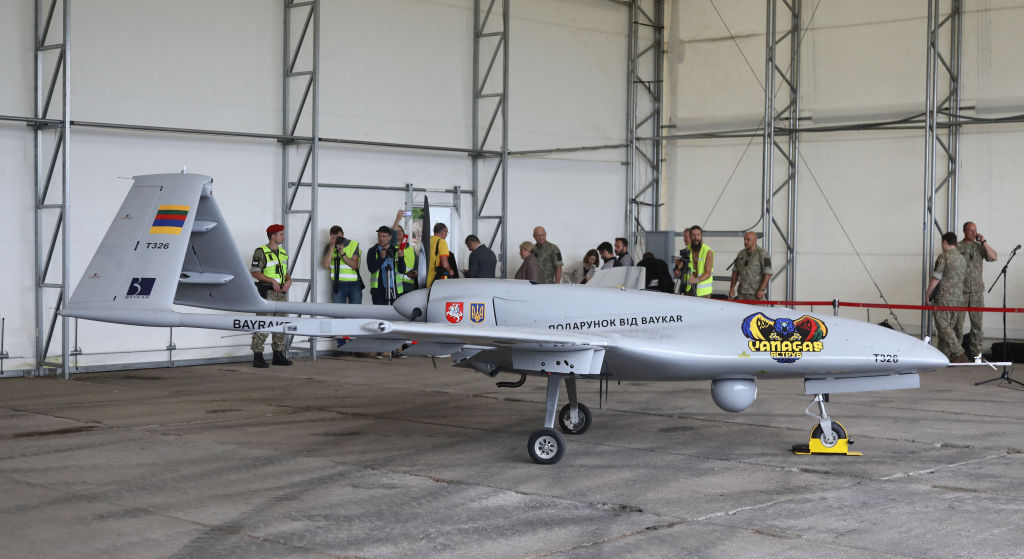 New forms of warfare have created new markets for arms manufacturers. Turkey's Bayraktar TB2 attack drone was already hailed as the decisive weapon in the 2020 war between Azerbaijan and Armenia; now it has achieved near-cult status as the first star weapon of the Russo-Ukrainian war. So successful was the TB2 in blunting Russia's initial armed thrust towards Kyiv that it became the subject of a catchy little patriotic folk song, penned by a Ukrainian soldier at the defence ministry's request.
Since then, the US-supplied Javelin missile and the lighter British-supplied NLAW anti-tank missile have also acquired cult status. Saint Javelin — an image of the Virgin Mary cradling a missile launcher rendered in the style of an Orthodox icon — has become a meme. There is now a website selling the image on patriotic stickers and clothing to raise money for humanitarian relief in Ukraine. You can't buy advertising like that.
On the other side, Russia's deployment of Iranian-built Shahed loitering munitions against the Ukrainian electricity grid is proving a marketing opportunity for Tehran. Sanctions have forced Iran to build its own arms industry, and while it is still limited, it is growing. Traditionally, Iranian weapons sales have suffered because of a lack of market profile and a belief that its relativelysimple systems have little use in modern war. However, according to Tehran, since the Shahed's use in Ukraine, twenty-two countries have expressed an interest in buying it.
Suddenly, cheap and cheerful looks tempting. A Shahed costs around $20,000. In its first month using the drone, Russia's swarm bombardments cost Moscow around $11-16 million. However, the cost to Ukraine of trying to counter these Iranian drones was an estimated $28 million in anti-air defences. Similarly, part of the Bayraktar's success is its price. Ukrainian forces are willing to risk a drone costing as little as $1 million on missions that the British or Americans, with their multi-million-dollar equivalents, wouldn't dare attempt. Price changes the calculus.
Nor is this confined to drones. Russia is reportedly running out of the Iskander short-range ballistic missiles it has used to pummel Ukraine's cities. It has ordered at least 200 Iranian Fateh-110 and Zolfaghar missiles to replenish its stocks. Perversely, this may save Moscow money: an Iskander has a unit cost of around $5 million, but a Fateh-110 just $2.1 million. If they also prove effective on the battlefield, Tehran hopes these too will find new markets.
Arms sales are often a part of proxy conflicts. As in other wars, where Iran goes, Israel follows. The Israelis, conscious of their historic relationship with Putin and his regime, have been reluctant to get too directly involved. Nonetheless, last month, following Russia's Iranian shopping spree, the Israeli defense minister Benny Gantz agreed to send Ukraine early-warning systems for missile strikes. The two countries' intelligence agencies have begun co-operating too, particularly on the performance of Iranian weapon systems. Israel can test its own understanding of Iran's capabilities in someone else's war.
The final irony is that just as the Ukrainians are degrading Putin's war machine, the West is learning more about how to defeat it. Beijing is undoubtedly taking note. US intelligence sources are claiming a greater degree of co-operation between Chinese and Russian defense attachés, with Beijing observing the successes of western systems and also trying to evaluate how to foil them. Washington was keen for the Ukrainians to use their anti-shipping missiles — including the attack by US-made Harpoons that sank a resupply tug in June — precisely to show the Chinese how vulnerable their ships could be were they to attack Taiwan. We are not the only ones learning from this war and looking to what might come next.
This article was originally published in The Spectator's UK magazine. Subscribe to the World edition here.