The 45th president of the United States of America — and the leading Republican contender to win back the White House in 2024 — may or may not be arrested today or tomorrow.
According to his former-lawyer-turned-legal-nemesis Michael Cohen, Donald Trump should escape the indignity of handcuffs but could well be "fingerprinted, swabbed [and] mugshotted." Cohen insists he doesn't want to see images of Trump doing a "perp walk" because, he says, "he respects the institution of the presidency."
Cohen, a convict himself, is hardly the most credible source. But because he's a witness against Donald Trump, the media and, it seems, Manhattan district attorney Alvin Bragg, a Democrat, still take him seriously. 
Trump denies having an affair with, as he calls her, "Stormy Horseface Daniels" and any wrongdoing over payments to her or another woman, Karen McDougal. The whole Daniels saga is a strange one: the Southern District of New York used to call it the "zombie" case. It seemed to have gone cold as New York prosecutors decided a better way to "get Trump" — apparently a legitimate goal of the state's judicial system — was through his opaque financial records. Besides, Daniels's former lawyer, Michael Avenatti, turned out to be even dodgier than Cohen. He was sentenced to fourteen years in jail for fraud and other misdemeanors. Avenatti used to go on TV a lot to rant about the evils of Trumpism and was once hotly tipped to be a future presidential candidate. Things change. 
But then Alvin Bragg, who was elected as the 37th District Attorney of New York County in 2021, appears to have deprioritized the financial case against Trump's taxes, choosing instead to pursue the Daniels "hush money" allegations with gusto. His efforts will come to a head this week, which is why Trump went public over the weekend, telling his followers on Truth Social that he expects the "weaponized" justice system to move against him today, though NBC News reports that prosecutors will not press charges until tomorrow at the earliest. We don't yet know exactly what charges will be brought against Trump, but it's expected he will be accused of falsifying his tax records in breach of New York state law.
As for Stormy Daniels, she just keeps using the publicity to flog her wares. "Had so many orders come in today," she tweeted a few hours ago, pushing another promotion at her online store: "only twenty-four more hours left to get free gift with your order." Trump may despise the woman, but he would surely respect the hustle.  
The only thing we can say for certain is that Trump will not give up his 2024 presidential campaign over the Daniels story — charge or no charge. He'll probably use his jailbird mugshot as a campaign poster. President Trump's great genius is for publicity — the grubbier the better — and he appears to be firing on all cylinders at the moment. Yesterday, on Truth Social, he re-posted a picture of Ron DeSantis partying with young girls, playfully warning his rival about the perils of fake news while also implying that DeSantis was gay.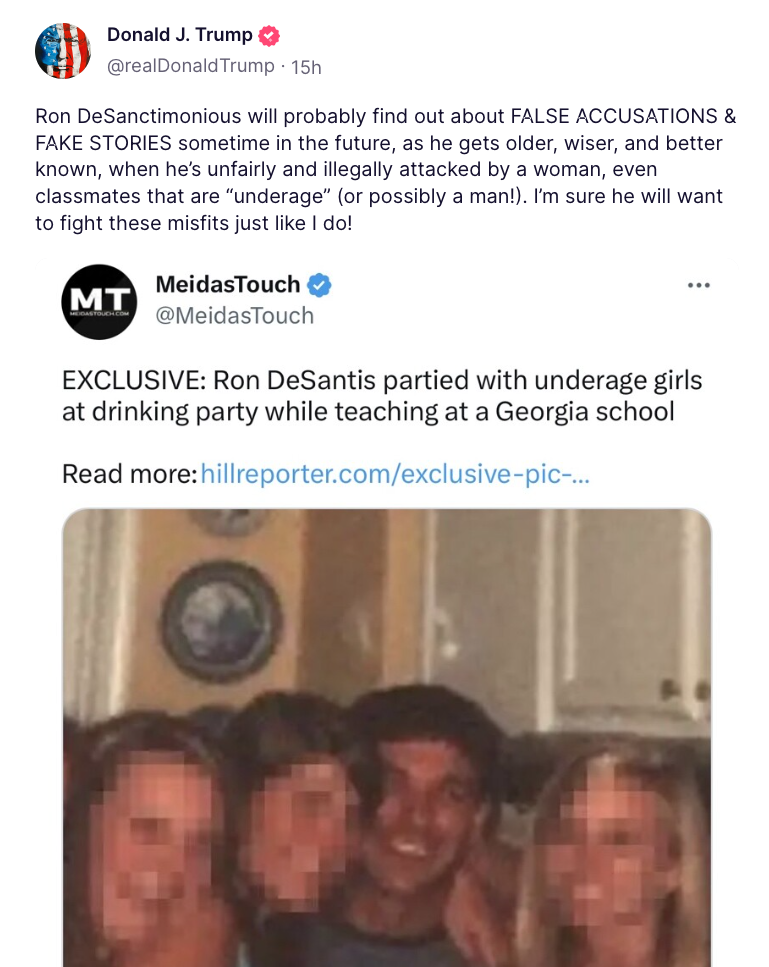 That's vintage Trump. His "Truth" was probably a reaction to DeSantis's rather pointed response to the reports of Trump's imminent arrest. "I don't know what goes into paying hush money to a porn star to secure silence over some type of alleged affair," said DeSantis. "I just, I can't speak to that."
At the same time, however, he did parrot the Trump campaign's attack lines against George "Soros-funded" Alvin Bragg and the "manufactured circus" of the potential criminal charge.
That's DeSantis's pitch. He puts himself forward as the grown-up Trump, someone who is willing to hit the Democrats where it hurts, but isn't drowning in sleazy allegations and online scuttlebutt. He's so far not risen to the bait of Trump's name-calling, which is probably wise. Trump, we can be sure, will keep going in the opposite direction, whether he is arrested today or not.
This article was originally published on The Spectator's UK website.