Manchester, New Hampshire
Sorry fellas: GOP girlboss Nikki Haley is going to be the next president. At least according to former New Hampshire candidate for Senate Don Bolduc, who knows a thing or two about calling elections.
Bolduc introduced Haley at two New Hampshire town halls in the week she entered the 2024 Republican primary. The second was held Friday at Saint Anselm College in Goffstown, a regular stop for candidates visiting the early primary state. The packed room was treated to a soundtrack of late-boomer classics from Blondie, Tom Petty and the Detroit Spinners. On her way in, Haley stopped by the overspill area in the foyer to thank the surplus guests for coming. "Next time we'll have a bigger room," the candidate promised.
"It doesn't get any better than this, I'm tellin' ya," Bolduc said of Haley, who he met after she parachuted in to help him late on in his Senate run.
"I like the fact you live free and die," Haley told the New Hampshire crowd, before reheating some leftovers from her Wednesday launch speech in Charleston, South Carolina. These early town halls offer candidates the chance to workshop material and hone in on the killer lines. Haley started in full swing, playing up her ethnic background to the overwhelmingly white crowd — "weren't white enough to be white, weren't black enough to be black." It's worth assessing this line alongside another from her Wednesday address, where she said, "This is not about identity politics. I don't believe in that. I don't believe in glass ceilings either." Considering the Haley candidacy often requires being asked to hold two ideas in your head at the same time. Often those ideas contradict each other.
Haley only mentioned Donald Trump in relation to her work under him as UN ambassador, describing her remit in his administration, including revising foreign aid for countries that worked against American interests. Some of her supporters endorsed this tactic. "The Republican Party needs to move on from Trump," Caroline, a twenty-year-old Saint Anselm student, said.
This arm's-length approach might suit moderate voters such as those in New Hampshire, where an open primary allows constituents to change their party affiliation on primary day at the polling station. But how will it play with the Republican base?
Meanwhile, her opponents on the left are keen to use her work under Trump as a cudgel. "After spending years working for Donald Trump, singing his praises, and admitting she has no policy differences with him, Nikki Haley is trying to repackage her MAGA extremism in hopes New Hampshire voters forget who she is," New Hampshire Democratic chief Ray Buckley told the Portsmouth Herald this week.
As for the other Republican contenders, Haley appeared to strike out against Ron DeSantis on Critical Race Theory… from the right. Talking about the "Don't Say Gay" bill (she opted to use that phrase, rather than calling it the Florida Parental Rights in Education Act), Haley said it "didn't go far enough." This was a curious choice: why use the Democrats' chosen language for DeSantis's bill that leaves teaching about sex, gender and sexuality to parents, if you're only going to criticize it for not being strict enough?
In the course of her speech, Haley rattled through a list of kitchen-table moderate concerns: crime, open borders, fentanyl. She called the Chinese spy balloon debacle a "national embarrassment."
But she also offered a number of lines that would delight any conservative voter hoping for a return to "Republican Classic." On the debt: "Our kids are never gonna forgive us for this spending… They're spending like drunken sailors in DC…" alongside pledges to "balance the budget." On Iran: "You don't get into a deal with a country that says 'death to America'." She warned of the threat of "socialism-creep" under the Democrats and recounted how her octogenarian Indian immigrant parents always asked her, "are there people still crossing the border?"
The candidate restated the proposals she'd floated in her announcement speech: term limits — and mental competency tests for over seventy-fives. That would include both President Biden and former president Donald Trump. To ensure she didn't come across as ageist, Haley detailed how there was a difference between "young seventy-five versus old seventy-five" and pointed out that "you look at DC and you see a whole lot of old people decision-making."
"And they're getting rich," a heckler pointed out.
"I'm doin' this because of my kids," Haley said of her decision to run, before segueing into a nostalgic appeal to the older voters present, inviting them to recall a more decent America from the tail-end of the last century and asking, "don't you want that again?"
"Aren't you bored of the chaos? Isn't it hard to watch TV?" Haley offered. "I will do this in a way that makes you proud"
In the Q&A session, Haley found herself flummoxed by a question about teachers. A female educator asked what the candidate's plan was to stop teachers leaving and expressed that it "felt like everyone hates us."
"Not everybody hates you: we hate your school boards," Haley replied. She faced further questions about how to implement term limits and reopening the KeystoneXL pipeline. She handily dealt with a heckle about record oil industry profits during the pandemic from one guest, a bearded and bespectacled man in a brown suit and flame-patterned sneakers called David Bacon from Madbury. Bacon, who "sells ephemera" for a living, wasn't a Haley supporter but had come because "I live in New Hampshire and like to take advantage of that."
Then, for a full forty-five minutes, she posed for photos with politics nerds. A large picture of Kamala Harris loomed over Haley as she gave out hugs and signed everything from boxing gloves to placards. She looked polished and picture-perfect in her purple blazer as a ripe flock of Granite Staters sporting beards and bandanas made a beeline for her.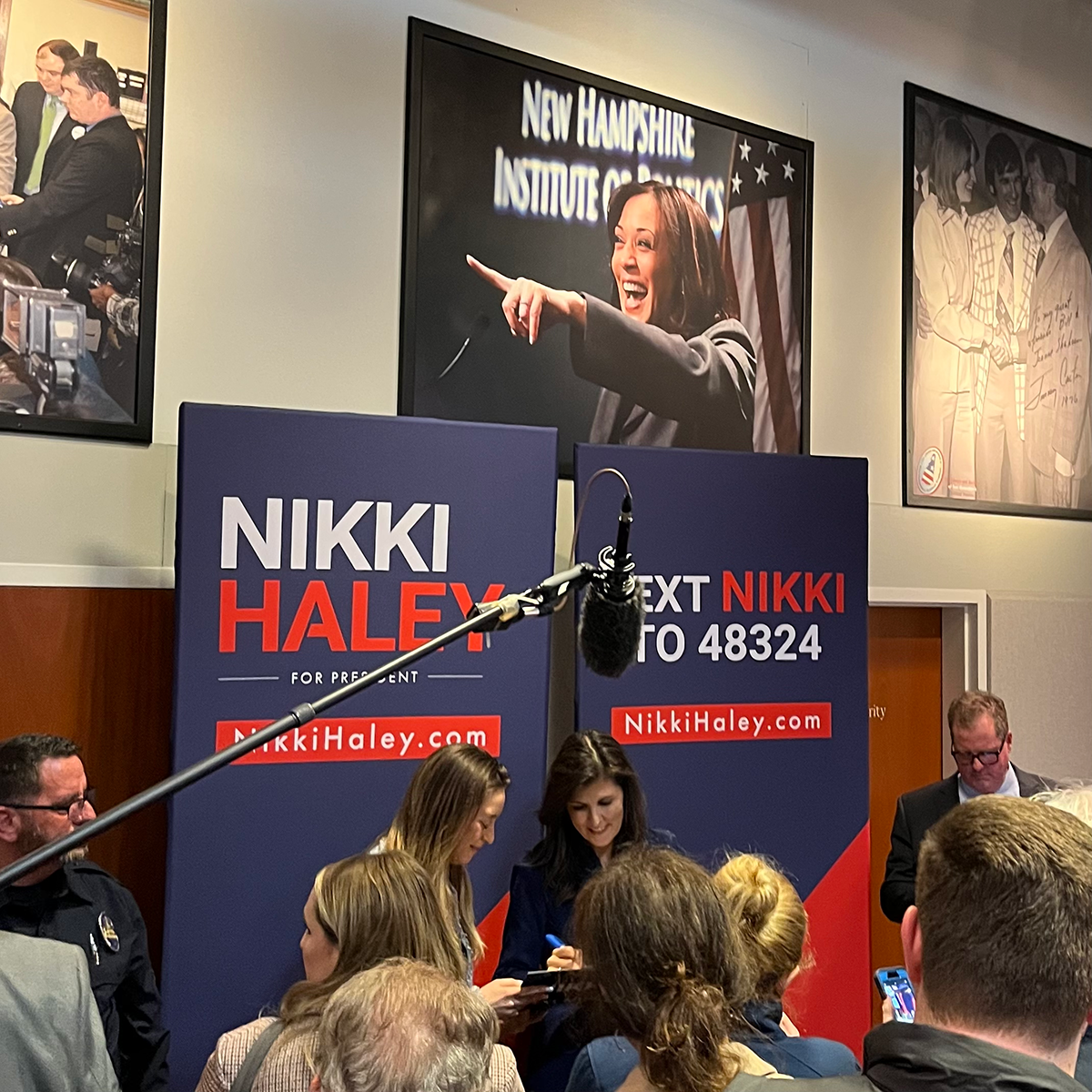 So what do the voters think? "I prefer governors to lifelong congressmen," Andy Merrill, who works in sales in New Hampshire but hails from Maine, told The Spectator. Merrill said he "liked what Trump did" but would trust Haley to "keep it professional" in a primary debate against her old boss.
Despite being mentioned as a presidential prospect for the best part of the last decade, Haley has only broken double digits in New Hampshire polling once in that period: in an aberrant December 2020 survey in which Mike Pence was the most popular candidate. The most recent UNH poll from the Granite State has her at 8 percent, behind DeSantis on 42 and Trump on 30.
The GOP's only female candidate claims that "when you kick back, it hurts them more when you're wearing heels" (while her campaign staffers have adopted the curious strategy of posting her feet pics). But given that the first primary won't be for another year, she'll need a more practical pair of shoes for the long road ahead.