In modern Turkey, as in ancient Byzantium, the factions and passions of the stadium crowds are a key bellwether of the people's true mood. Last month the terraces of Istanbul's Şükrü Saracoğlu stadium — home to the Fenerbahçe team of which Turkey's President Recep Tayyip Erdoğan has been a proud member for twenty-five years — echoed with chants of "Erdogan, resign" and "Lies! Lies! Lies!"
The same weekend, the home crowd of another major Istanbul club, Beşiktaş, had filled the pitch with a heartbreaking, minutes-long hail of soft toys thrown from the stands in memory of the thousands of children who lost their lives in the devastating earthquake of February 6. "The Sultan is hollow, he is a thief," said Muslim Aydin, an Istanbul restaurant owner who is a lifelong Fenerbahçe fan and erstwhile Erdoğan supporter. "We don't believe his lies any more."
Over his two-decade rule, Erdoğan's electoral superpower has been to repeatedly reinvent and renew his image as a man of the people. Despite years of well-documented charges of graft not just by his ruling AK party but by close members of his family, he has maintained his appeal as a working-class kid from the Black Sea town of Rize made good as a champion of the common man.
So far, he has been the most successful populist of his generation. But a fatal combination of economic mismanagement and gross corruption in the construction sector, which played a major role in the estimated 50,000 deaths in the Kahramanmaraş earthquake, means that in the presidential elections in May Erdoğan faces the most serious threat to his reign yet. In the aftermath of the quake he seemed to have lost his touch by dismissing the tragedy as "part of destiny's plan."
Erdoğan's one clear chance for political survival is the fractured and bickering nature of Turkey's opposition. This month, after weeks of closed-door horse-trading, six opposition parties finally settled on a single candidate: the bookish seventy-four-year-old economist and political veteran Kemal Kılıçdaroğlu.
As leader of the center-left Republican People's Party, Kılıçdaroğlu has taken his followers through four general elections and two referendum defeats. In choosing Kılıçdaroğlu as a compromise candidate, the united opposition was forced to pass over the fiery mayor of Istanbul, Ekrem İmamoğlu, the only Turkish politician who has managed to score a palpable win over the ruling AK Party, when in 2019 he successfully challenged a contested mayoral vote and won the rematch by a convincing margin. But the fifty-two-year-old İmamoğlu fell victim to a classic piece of Erdogan political jujitsu when he was convicted last year of "insulting electoral officials" after calling the Turkish Supreme Election Council "fools." If confirmed by a higher court, that conviction will land Imamoglu in jail for nearly three years — and pending a final judgment, he is banned from participating in politics.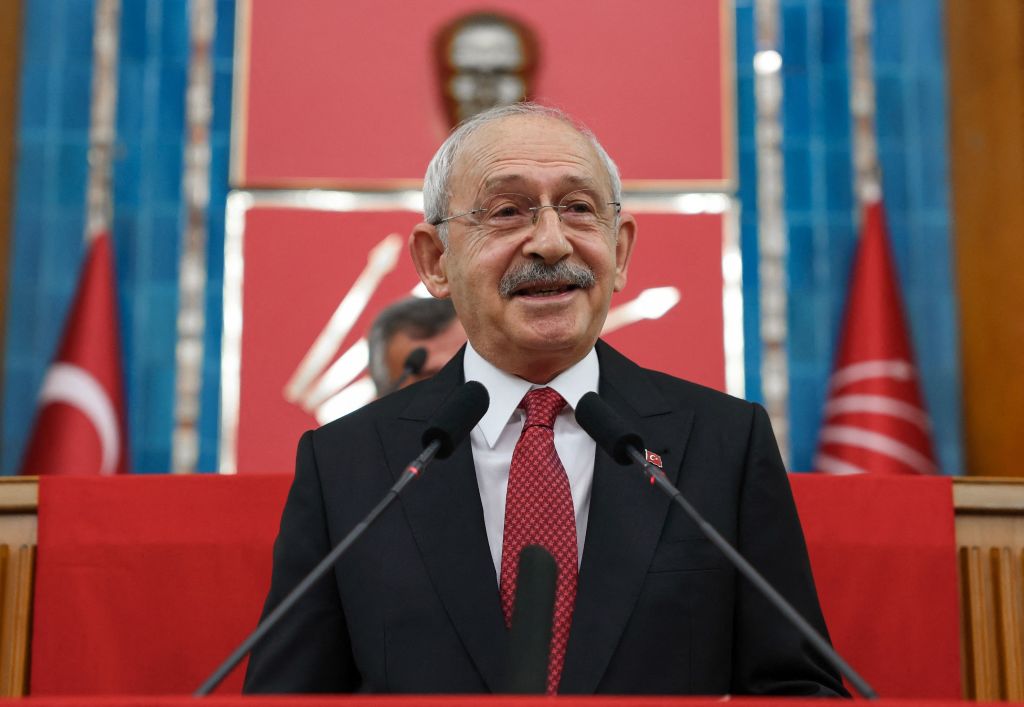 To many, the takedown of İmamoğlu was a textbook example of everything that is wrong with Erdoğan's Turkey: a blatantly biased judiciary unchallenged by a press muzzled by years of Vladimir Putin-style takeovers and criminal charges.
Turkey has been profoundly transformed under Erdoğan. When he came to power in 2002, the wearing of Islamic headscarves was officially banned in universities and government offices. Now headscarf-wearing has become a sign of belonging to the country's religious-conservative elite. Graduates from religious İmam Hatip schools gain preferential entry into universities and government jobs. A years-long vendetta over the political dominance of Turkey's ultra-secularist military — which removed Erdoğan's Islamist political mentor from power in a soft coup in 1997 — culminated in a bloody showdown in 2016 when elements of the military attempted an armed putsch that left more than 300 dead. In the aftermath of the coup, Erdoğan jailed more than 100,000 opponents, including journalists, opposition politicians and lawyers, while using emergency powers to crack down on the remaining elements of the independent press, and won a referendum granting him sweeping presidential powers.
Over the same period Turkey's GDP more than tripled. This brought enormous prosperity to Erdoğan's working-class base and funded massive infrastructure projects.
The unspoken social contract of the Erdoğan era has been that people are willing to surrender their freedom in exchange for security and prosperity, as in Russia under Putin. But the flip side of glorifying a strong state is that the state has to work. The reluctance of Erdoğan to mobilize the army in the aftermath of the February earthquake — apparently in part because he feared the politically suspect military would take credit for coming to the rescue — has been part of a wider perceived failure of the state to protect its people.
The second half of that contract, prosperity, is something that Erdoğan's incompetent monetary policy has seriously undermined by causing a currency collapse that didn't need to happen, given the underlying strength and functionality of the Turkish economy. Inflation is running out of control at more than 50 percent, wiping out purchasing power and savings. "I was a supporter of Erdoğan's AKP in their early years in power," wrote a longtime AK Party supporter, Mustafa Akyol, a political scientist. "They were modest, clean, reasonable, politically reformist. But power corrupts, and absolute power corrupts absolutely. They ended up being absolutely corrupt and shamelessly authoritarian."
Yet despite all these monumental jeopardies, Erdoğan remains a formidable candidate. Recent opinion polls put Erdoğan's party and their nationalist allies at close to 45 percent, neck and neck with the new opposition bloc. Turkey's economic peril could, paradoxically, make some Turks cling to the devil they know rather than return to a pre-Erdoğan era of unstable coalition governments. Erdoğan also commands the loyalty of the millions of AK Party supporters whom he has raised and promoted to control all of Turkey's institutions and who now dominate the judiciary, police, education at every level, and local and national government.
Decades of corruption and state confiscation of opposition-owned businesses mean that a class of businessmen have everything to lose from the hard rain that will come under a new administration. They'll fight tooth and nail to avoid that happening.
Erdoğan is also a past master at mobilzsing the politics of fear. For years he has fed his electorate with tales of foreign plots of Jewish bankers scheming to undermine Turkey. The interior minister Süleyman Soylu — a leading anti-American voice in the AK Party — refused US condolences after a recent terrorist attack in Istanbul.
There are some signs that these external enemy narratives aren't working as well as they used to. One example is a video that circulated widely online in the aftermath of the quake which showed a local AK Party official trying to tell rescuers that Greeks and foreigners were "hurting Turkey" — only to be shouted down by angry people protesting that hundreds of foreigners have rushed to help with disaster relief. Soylu was put in charge of co-ordinating relief with the very donor countries he and Erdoğan had abused. Countries that Ankara had sought to label sympathizers with Kurdish terrorism — Erdoğan's excuse for blocking Sweden's entry into NATO — poured in aid, undermining the scapegoating of "allies" as Turkey's real enemies. Erdoğan's one-time friend Putin, meanwhile, had little to offer.
But the real wild card in the coming election is the eternally vexed question of the Turkish state's — and ordinary Turks' — relations with the 15-million-strong Kurdish minority that makes up 18 percent of the population. Once again, it's the soccer terraces that have given a sinister indication of rising tensions. At a home soccer match at Bursaspor's stadium in the northern Turkish city of Bursa on March 5, players and fans of the visiting Amedspor team from largely Kurdish Diyarbakır were subjected to torrents of racist abuse and showered with sharp objects. On their return home to Diyarbakır the team were welcomed as heroes by crowds of thousands who chanted: "Kurdistan will be a graveyard for fascism. Stand tall, don't bow down!"
The Bursaspor hatefest was seen by many as a warning of possible ethnic strife to come. Stickers with the slogan "Either speak Turkish or get out" have appeared on the steps of schools in Bursa, a textile and agricultural city of three million with a 200,000-strong Kurdish minority. But the Kurdish vote will be pivotal in the coming presidential elections. The Kurdish-based Peoples' Democratic Party is Turkey's third-biggest political group and a key swing player in the election, as it is neither a member of the opposition coalition nor Erdoğan's Justice and Development party's alliance with the Nationalist Movement. Though not Kurdish himself, Kemal Kılıçdaroğlu is, like the majority of Kurds, a member of the minority Alevi sect in what is a mainly Sunni Muslim country. Unlike Erdoğan, he has never flirted with anti-Kurdish nationalist rhetoric.
Kılıçdaroğlu's soft-spoken and courteous personal style has earned him the nickname "Gandhi Kemal" — a stark contrast to the macho bombast of Erdoğan, who has always gone out of his way to prove that he is the "reis," or chief, of his followers. Erdoğan mocks his opponent by sarcastically calling him "Bay Kemal," an honorific usually reserved for privileged foreigners, but Kılıçdaroğlu is in fact just as much of a working-class kid as Erdoğan, growing up in a family of seven children of a local tax officer in the remote province of Tunceli.
The kitchen of Kılıçdaroğlu's home is conspicuously worn-out and modest — unlike the 1,000-room presidential palace Erdoğan built for himself in Ankara. Erdoğan has spent his career centralising power and crushing opposition, while Kılıçdaroğlu favours reducing the powers of the presidency and reviving Turkey's long-suppressed parliamentary democracy.
The two contenders for Turkey's presidency could not be more different, both in personal style and policy. Can the scholarly, mild-mannered bureaucrat Kılıçdaroğlu beat the ruthless and unscrupulous populist Erdoğan? It depends on how deep Turks' disillusionment is with the populist Sultan of the past two decades.
This article was originally published in The Spectator's UK magazine. Subscribe to the World edition here.