At least Kamala Harris managed to avoid the dreaded phrase that we should harness AI's "potential."
But that was just about the only blessing in the vice-president's impressively trashy speech yesterday at the US Embassy in London.
Artificial intelligence, it is generally agreed, is the most important issue facing humanity, yet all we had was fourteen minutes of waffle from the veep. Still, it was nice of her to turn up.
Joe Biden has put Harris in charge of artificial intelligence. You can read that one of two ways: either Biden thinks that Kamala Harris is perfectly suited to grappling with the gravest existential threat, or that he thinks this AI malarkey is all a bit airy, so that looks like a good one for giving Kamala something to do.
It was nice of her to turn up
Diplomats, journalists, philanthropists, a former prime minister and a Michelin-star chef were all escorted down to Nine Elms to see the consequences of Biden's delegating, at the newish American embassy. The architect Bertrand Goldberg once said that no right angles exist in nature, so none should exist in buildings. The US embassy is not a natural place, then. Every edge looked like it could injure. Half an hour before the speech, interns flocked about, ironing the many Stars and Stripes. Outside, it was somehow raining upwards.
Harris was a little late on stage: not Axl Rose late, but enough for everyone to worry she was having an attack of nerves, or maybe dusting off the speech. She spoke very slowly, in the hazy inflection of her native California, and looked all misty-eyed.
She acknowledged within the first few minutes of speaking that AI could kill us all. Not explicitly, though: that's too much to think about on a Wednesday morning. Just that it could make bioweapon-engineering and cyber-attacking a bit easier. The upsides, Harris said, are great: it could cure illness, empower farmers and help us tackle climate change. But, she said, we need to address "the full spectrum of AI risk." So that means being alert to discrimination:
Consider, for example, when a senior is kicked off his healthcare plan because of a faulty AI algorithm. Is that not existential for him? When a woman is threatened by an abusive partner with explicit deepfake photographs? Is that not existential for her? When a young father is wrongfully imprisoned because of biased AI facial recognition. Is that not existential for his family? And when people around the world cannot discern fact from fiction because of a flood of AI-enabled myths and disinformation, I ask, is that not existential for democracy?
There's a problem with that, though. Humans are already pretty rotten at all of those things. Seniors are accidentally kicked off their healthcare plans all the time. Disinformation is a permanent evil: it hasn't been magicked into existence by AI. And we don't need much help wrongfully imprisoning people. AI is meant to compensate for human error, whereas Kamala Harris seems to think it will create errors out of nothing. There was nothing about AI being a good thing for democracy: like widening human knowledge through ChatGPT, for example. I have found AI pretty democratic. For example, I was able to make this picture of Kamala Harris playing in a ball pit: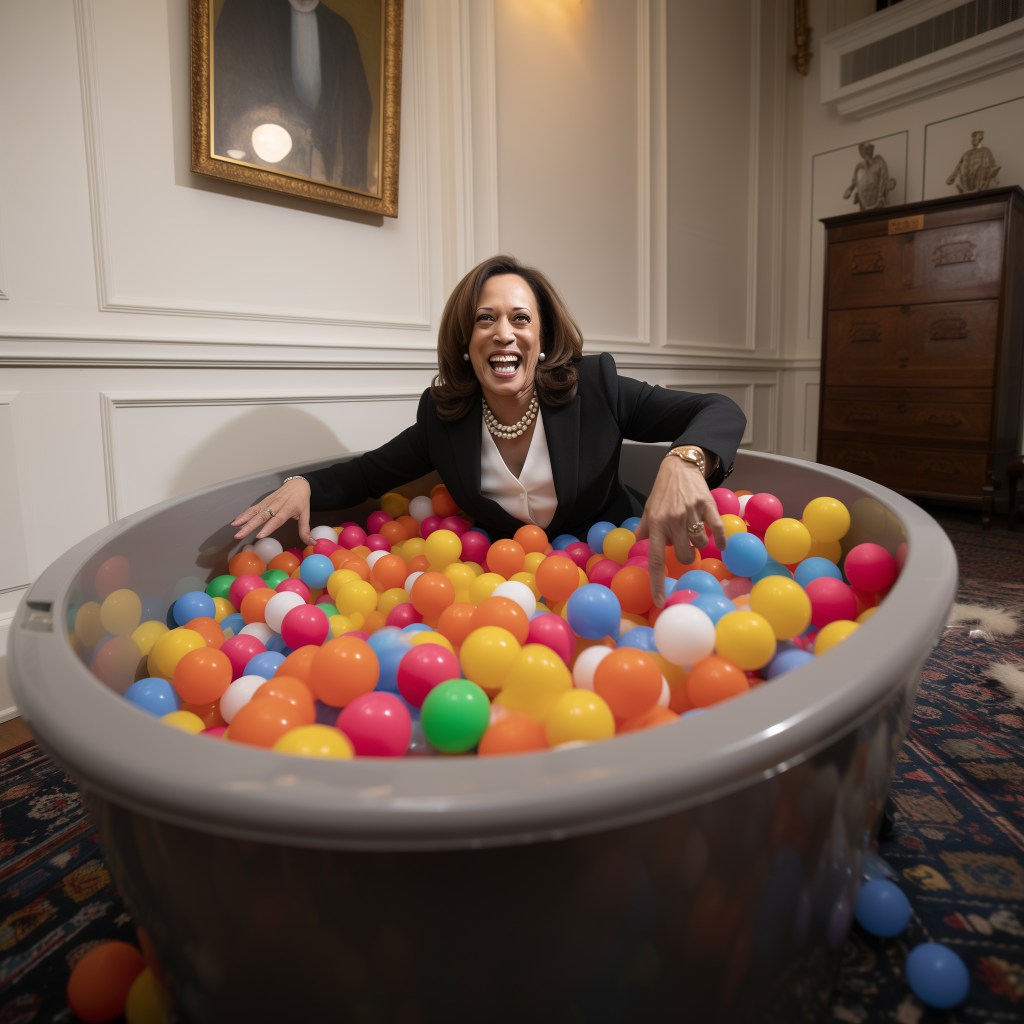 The whole speech, terrifyingly, showed that Harris hasn't really got to grips with AI. She used the language she is comfortable with. She talked of making sure the benefits of AI would be shared "equitably," and that "history will show that this was the moment that we had the opportunity to lay the groundwork for the future of AI." She talked about civil rights, which is what she has done throughout her career, often very well too, but not everything is about civil rights. Sometimes the issue really is that this poorly-programmed technology might kill all of us, everyone, damn our rights.
She also announced the launch of an AI Safety Institute, which she will no doubt chair, and said that the US would demand that AI companies submit their safety tests to the government, so that Joe and Kamala can mark their homework.
This is how former politicians are going to fill the hours for the next century. In 2033, the Rishi Sunak Foundation for Harnessing Artificial Intelligence will host a joint summit with the 75,000 staff of the Tony Blair Institute. The researchers from the European Union's Regulation Unit will fly in, flanked by former president Emmanuel Macron's École d'Intelligence Artificielle. They'll all sit down to listen to the "keynote" speech given by Kamala Harris, in her second year as chair of the Kamala Harris Foundation for Equitable AI.
AI has so far avoided becoming partisan. But at Nine Elms, we got a good sense of the camps to come. There's Elon Musk and Dominic Cummings and the tech-y right, who think that it really could kill us all. Then there's the people who don't like those people, like Kamala Harris and Nick Clegg, who think that's a cover for the real problems of AI entrenching bias. Pick your side, folks. Kamala has picked hers.
This article was originally published on The Spectator's UK website.