Elon Musk has been at Twitter's helm for barely twelve hours and he is already causing havoc.
Musk took over the site on Thursday night — and by the looks of it, he wasted no time. The new boss immediately fired several top executives, including CEO Parag Agrawal, CFO Ned Segal and head of legal policy, trust and safety Vijaya Gadde. Then he posted, "the bird is freed."
A source told Fox Business that the billionaire accused Agrawal, Segal and Gadde of misleading him over the number of bots on the site.
Cockburn had a scan over the platform to see what people were saying about the takeover, and all is… not well.
Some posters are reacting to what, in the soberest terms, is a change in leadership at a website as if it were The End of the Free World As We Know It. For the app's most hooked addicts on the left, Musk's takeover is 9/11, the Princess Diana crash, the Kennedy assassination and World War Two rolled into one. Here's Cockburn's sample platter of the most tragic tweets.
One poster said, "Bring on Elon… Shitler… or any other man-baby… I ain't going anywhere."
Tristan Snell, apparently a lawyer who apparently has appeared on MSNBC, commented: "Stay. Hold your ground like a Ukrainian."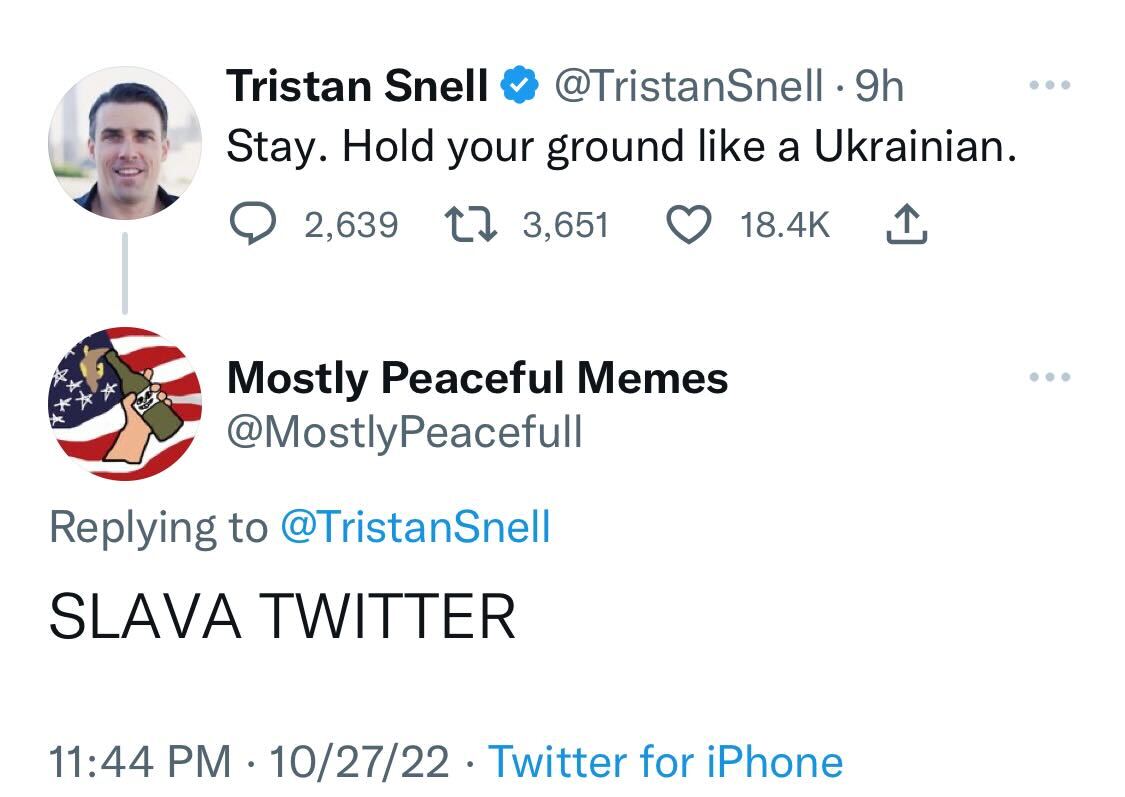 This followed his earlier call-to-arms:
Don't quit — unite!  For the next 24 hours:
– If you follow me, I'll follow you back.
– If you already follow me, RT and I'll follow back!
Let's do this!  #FBR
Former Hillary Clinton lawyer Marc Elias, channeling his inner Churchill, said: "I am here until he kicks me off. #resist"
I am here until he kicks me off. #resist

— Marc E. Elias (@marceelias) October 28, 2022
Mary L. "Donald's Disgruntled Niece" Trump stood alongside him on the barricades, writing: "We need to stop ceding ground. Stay."
John Pavlovitz, whose bio, in late 2022, reads, "Love your neighbor: get vaccinated. This is about more than you," sees the Musk purchase as "authoritarian": "If people immediately abandon a social media platform when authoritarians take over, I wonder what they'll do when it happens to their country."
This is Spinal Tap director Rob Reiner wrote, "Rumor has it that one Sociopathic Pathologically Lying Criminal Racist Misogynistic Fascist is returning to this platform. Let's celebrate by drowning him in a Blue Wave."
Then there are Ron Klain's favorites. The terminally online White House chief of staff invited a number of his favorite Twitterers to the White House last week:
If you're wondering why Twitter is so quiet today. @JoJoFromJerz @meidasjordy @itsJeffTiedrich @caslernoel @cooltxchick @CalltoActivism @heathergtv @natsechobbyist @TexasPaul @funder @AaronParnas @NickKnudsenUS @grantstern @atrupar @ethanmwolf @TheRealHoarse 1/ pic.twitter.com/IeOiNKR4ZL

— Mueller, She Wrote (@MuellerSheWrote) October 21, 2022
There seems to be a split in this camp between whether to leave Twitter "so close to an election" (because that's all that matters). Angry_Staffer sums up the sentiment: "Everyone realizes the GOP *wants* you to leave Twitter, right? It's one of our most effective messaging platforms."
How are Klain's guests responding? "I'm not going anywhere. Fuck trump and fuck Elon," wrote BrooklynDad_Defiant!☮️, er, defiantly.
Scott Dworkin tweeted: "No one should leave Twitter before an election. That's for sure. Stay focused. We'll get through this. Onward."
@JoJofromJerz joined the chorus:
Don't leave.Be smart.
We got this guys.
Fuck 'em. Let's goooo.
And Democratic grassroots activist Nick Knudsen, another Klain invitee, concurred:
Is Trump coming back on Twitter? Yep. Sounds like it.
Is the platform gonna change? No doubt.
Does that all suck? Probably.
Is it the end of democracy? Nope.
But you know what could be? Losing the midterms.
So saddle up and get to work. We have 12 days.
On the flipside, whoever runs the Occupy Democrats account is promoting a "build-your-own-Twitter" lefty alternative: "BREAKING: Twitter users report a sharp rise in racism, homophobia, & sexism on Twitter in the 24 hours since @elonmusk bought Twitter and gave Trumpers the green light to 'speak freely.' In response, many seek refuge at @TribelSocial, a new pro/democracy Twitter alternative. RT!"
Aaron Rupar also saw the potential exodus as an opportunity to hawk his wares: "Followers: I hope you don't leave Twitter but IF YOU MUST, please sign up for the free version of my newsletter. "
So what are Twitter's more progressive users so scared of? One account summed it up: "The reality of Elon Musk's "the bird is free" – holocaust denial, racism, disablism, conspiracy theories, rape and sexual abuse threats, threats of violence, misogyny, sexism, transphobia, LGBTQ+ prejudice, eugenics, will now go into overdrive with no accountability."
Tech "reporters" and "misinformation journalists" are also clutching their pearls. "It's like the gates of hell opened on this site tonight," tweeted the Washington Post's Taylor Lorenz. "I would be so happy if I'm wrong. But the all the red lights are flashing here," said NBC's Ben Collins.
One person on Twitter claimed that "NY times and WaPo tech reporters" were "hosting a space [Twitter's livestreaming function] and saying people are terrified of even posting in slack." According to this user, the Twitter Space included comments such as "It's like the Joker taking over Arkham Asylum and releasing all of the supervillains back into the world" and "This is a really scary time for Twitter employees. These are their lives. They worked really hard on this app." Cockburn can't verify those quotes himself, but is filing them under "too good to check"…