Who is Perry Johnson? It is a question not many American voters can answer. He has a grand total of 16,000 followers on Twitter and recently pulled in precisely zero votes in a poll in Des Moines, Iowa. He describes himself as a "self-made businessman, problem-solver and quality expert from Michigan." Nevertheless, this slightly cadaverous-looking businessman has joined the running to be the Republican Party's candidate for president.
There have been so many upsets in American politics of late that almost everybody thinks they have a chance
Does he stand a chance? Nope. The main way through he has found so far is by buying up advertisements on the right-wing channel Newsmax. There are claims that the channel has offered him favorable coverage — or indeed any coverage at all — in return for this largesse. Claims that Newsmax denies.
But is his case completely hopeless? Well, for any hopeless optimist the answer these days can always be "not necessarily." Because there have been so many upsets in American politics of late that it's understandable that almost everybody thinks they have a chance.
Take Vivek Ramaswamy, a thirty-eight-year-old entrepreneur and author of several anti-woke books. When he announced his candidacy for the presidency in February many people assumed it was just an exercise in profile-raising. I admit I thought along those same lines. I know Ramaswamy and like him. But it felt slightly like Lionel Shriver or Rod Liddle putting themselves forward for the job of UK prime minister. Yet Ramaswamy swiftly pulled ahead of some of the more obvious candidates, and this sort of breakout in turn gives everyone hope. Including false hope.
All polls still show Donald Trump way ahead in the field. His closest challenger is Ron DeSantis of Florida. But in some polls Ramaswamy is even pulling ahead of DeSantis, a testament partly to the uncertainty at the heart of the DeSantis campaign.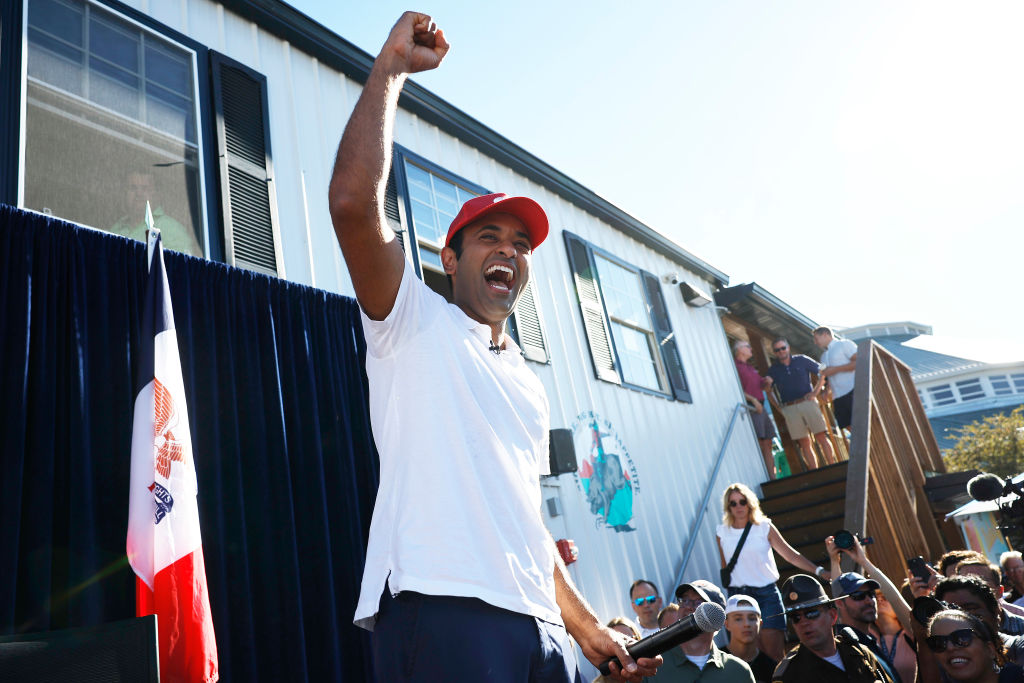 Ramaswamy has plenty going for him, but then almost everybody who puts themselves forward for the presidency believes they do too. One of the joys of recent months has been watching people with almost zero name recognition portentously announcing, before some hastily arranged flag, that they too are willing to serve. Among them are such non-household names as Doug Burgum and Will Hurd, two candidates whose announcements I suspect are designed to trip people like me up on television and make us predict, to a bewildered nation, that we should not forget about Douglas Hurd.
These people all linger below the 1-2 percent group. But what is strange is that the 1-2 percent group itself contains many of the people thought of as plausible candidates. It includes Senator Tim Scott, the former American ambassador to the UN Nikki Haley, and the former vice president Mike Pence. Obviously it is a group that Perry Johnson and others dream of getting into. But even they look as though they are fighting a battle they know they must lose.
Chris Christie is fighting an impressive campaign, the main aim of which appears to be to take out Trump. By now there isn't a person on the planet who doesn't know Trump's weaknesses. But Christie (who prepped Trump for past debates) knows how to press Trump in a way not many people do. Still, it seems a kamikaze mission, for even if Christie were successful in taking out Trump, it is not clear how any of the resulting benefits would haul him above his current 2 percent position. Yet it is in that dream of a post-Trump world that some hope lies for all. Pence, because of his one-time proximity to Trump, seems similarly well placed to wound him. But it is equally unlikely that he would be the beneficiary of the votes which would come free if Trump didn't make it to the finish line.
The oddity of US politics is that it is remarkably locked-in. The party structures have a stranglehold which seems unbreakable. Except that every now and then someone does break it. Barack Obama did it in 2007, when the then relatively unknown junior senator announced his vision for America, rolled over the Clintons and went all the way to the White House. In 2016 Donald Trump performed a similar disruption when he insulted his way past the other Republican candidates and (once again) rolled over the Clintons. How everyone laughed at Trump's candidacy, until they didn't.
The thought that such one-offs are in fact semi-regular is what gives those languishing at the bottom of the polls some hope.
But still it takes an unusual person to pull it off — and unusual in at least some good ways. At a campaign meeting in Iowa last week Perry Johnson gave a performance so unhinged that it made Howard Dean's famous 2004 scream seem positively hinged. As he tried to rally the crowd, Johnson screamed about Iowa and at the top of his lungs started belting out: "Let's do it. Let us do it. Now! Now! Noooooow!" At which point he almost fell off the stage and then remarked as much to the crowd.
Having failed to make this week's debate stage, there will be an attempt to persuade people like Johnson to stop unnecessarily crowding an already overcrowded field. Yet here is the unspeakable thing. Even if you add all those zeros together, throw in all the 1-2 percent contenders and ask everyone to stand behind a unity candidate, nobody even approaches Trump in the polls. Indeed Ramaswamy, DeSantis and everyone else could pool their support and still not get near Trump. And that is where the real challenge lies. The success of Trump's 2016 strategy has given inspiration to a lot of other contenders. But it also highlights what a singular phenomenon the Trump phenomenon was — and continues to be.
This article was originally published in The Spectator's UK magazine. Subscribe to the World edition here.