Newly-minted Maryland Senate candidate David Trone threatened to "execute" a delivery worker at one of his business locations in Tempe, Arizona, according to a police report exclusively obtained by The Spectator.
Trone, who has accumulated millions of dollars as the founder and co-owner of the country's largest independent wine and spirits retailer, Total Wine & More, was in Arizona on December 15, 2021. It was there that he allegedly threatened to execute Crescent Crown Distributing merchandiser Cody Huard, who was at the time making a delivery at the Total Wine Tempe location; Huard called the police following a heated run-in with Trone.
According to the report, Huard and fellow Crescent Crown employee Hunter Olsen were assisting with a delivery of merchandise in the Total Wine location when he was accosted by Trone, who according to the police report, threatened to "execute" and "fucking end" him.
"Cody said the owner of the store, David Trone, began yelling and cursing at him because he was angry that merchandise was stacked on the floor. Cody said David threatened him, stating 'I will fucking end you,' 'I will execute you,' 'you're not on my payroll, I will end you right now,'" the police report reads. The Tempe Police Department confirmed the report's authenticity to The Spectator.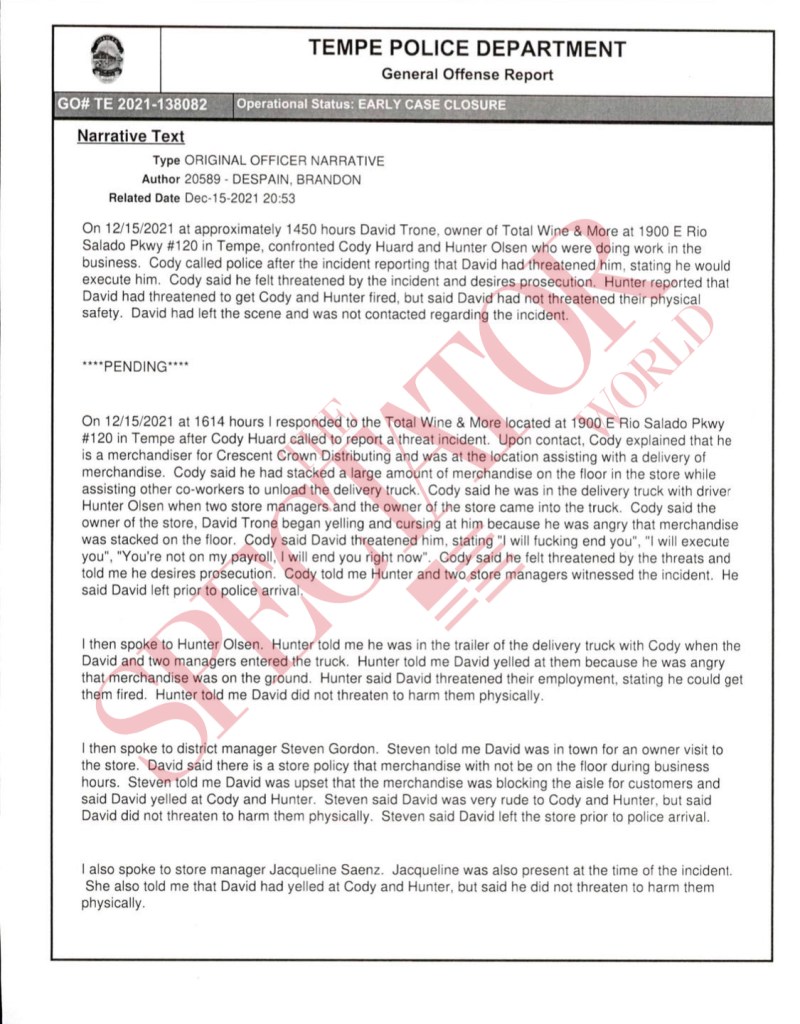 Every witness interviewed by the police confirmed that Trone "threatened to get Cody and Hunter [another employee] fired," "threatened their employment," "was very rude to Cody and Hunter" and "yelled at Cody and Hunter."
Arizona law enforcement sources tell me that Trone would have been charged under 13-1202, which is a misdemeanor defined in part as when "a person commits threatening or intimidating if the person threatens or intimidates by word or conduct: To cause physical injury to another person or serious damage to the property of another."
Trone was a sitting member of the US Congress for Maryland's 6th congressional district at the time of the altercation, a role in which he continues to serve today. (Full disclosure: I stood in the Republican primary for the same district in 2022.)
The incident could prove problematic for Trone, who he is set to navigate a crowded Democratic primary, and has the potential to undercut the everyman image he has long sought to hone. Trone is among the wealthiest members of Congress and is a top Democratic donor to his own campaigns and others; he has told associates that he's willing to spend up to $50 million of his own money to secure the Senate seat.
The incident in Tempe isn't the first run-in with the law for Trone, who has been arrested for everything ranging from criminal solicitation to tampering with public records. When Trone ran in a bitterly-contested Democratic primary against now-Representative Jamie Raskin in 2016, Trone's long record of run-ins with the law was a constant thorn in his side. In April, Trone and Delaware Democrat Lisa Blunt Rochester re-introduced two bills to streamline the sealing of arrest records, saying that current practices perpetuate "systemic racism."
Raskin hammered Trone for his business practices when they clashed seven years ago. Raskin, who is in remission following cancer treatment, is taking the month to determine whether he will challenge Trone in the primary for the open seat being vacated by Senator Ben Cardin.