Atlanta, Georgia
Georgia's leading political candidates crossed swords earlier this week at the Georgia Public Broadcasting studios for the Atlanta Press Club's Loudermilk-Young debate series.
Well, most of them did. A few contenders — from both parties — decided to swerve the chance to engage with their opponents, the public and the press. At least two of them — Lucy McBath and David Scott — are incumbent Democrats whose districts cover the Atlanta suburbs. Yes, the traffic is bad and their seats are basically locks, but those are hardly reasons to skip an opportunity to prove that the Dems are the "party of accountability" that "respects the press" rather than scorns it.
Another no-show was Heisman trophy winner Herschel Walker, though perhaps his absence was more explicable: the Republican Senate candidate was fresh off the back of a better-than-expected debate performance against Senator Reverend Raphael Warnock on Friday. Any athlete knows that not blowing a lead is a great way to win.
Blisteringly, viscerally present on Sunday night was Marjorie Taylor Greene, who monstered her Democratic challenger Marcus Flowers. Flowers has been characterized by the national press as "a new hole to throw money into" (the Intercept) and "assuredly hopeless" (Tim Miller in the New York Times). He's raised over $14.5 million, the vast majority of it from small individual donations. That's more than incumbent candidates such as Greene, Jim Jordan and AOC. It's no exaggeration to say that a single number on a roulette wheel would offer a higher chance of return on investment for Democrats than Flowers. The New Republic bothered to pore over his divorce filings to try and learn more about this veteran and former security contractor. It seems like a largely pointless exercise: Greene accurately described Georgia's 14th as a "blood-red Republican district."
Flowers attempted to distinguish himself early on as the double-negative candidate: "Not running as MTG has never been my platform," he said in his opening remarks, before clarifying that he was "not the 'not MTG' candidate." He also explained that he'd gotten into the race because of January 6 and said Greene's rhetoric "drove those people to the Capitol with [her] lie." Greene let that slide and the debate continued according to the Press Club's strictly laid out rules…
…did I fool you? Of course she didn't. MTG is a human buzzsaw, and anything and everyone in her path is plywood: podium, opponent, the moderators and their desk were dashed into chips. Questions? Questions are for schmucks. Instead Greene snatched at single phrases she liked the sound of and barreled full-pelt at enemies present and absent. It was "FOIA evidence of election fraud" this, "the Democrat party is the party of child abuse" that. Her performance landed somewhere between her beloved Donald Trump's caterwauling first clash with Joe Biden in 2020 and the final scene of Scarface. It was a marvel to behold and likely the liveliest event on public-access television of the year.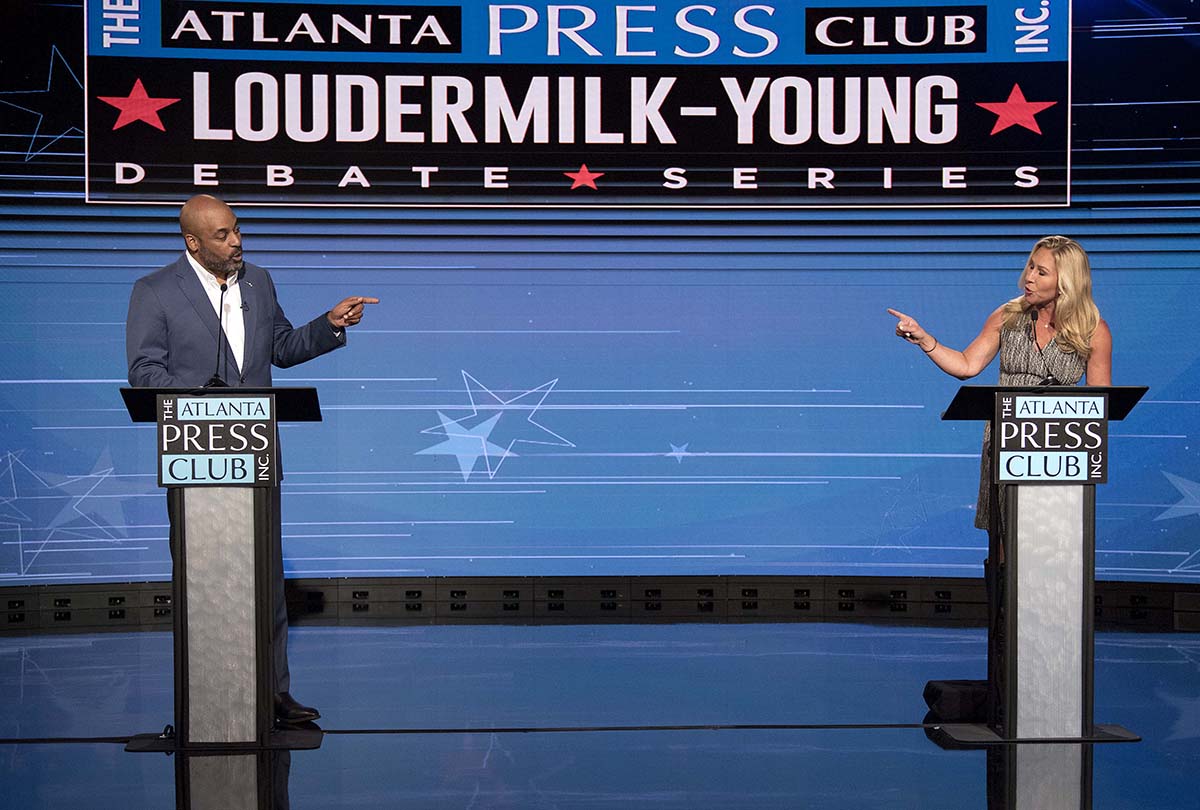 A cursory glance at Greene's website offered a flavor of what to expect. The opening scrawl blares: "STAND WITH MARJORIE TAYLOR GREENE TO SAVE AMERICA AND STOP COMMUNISM!" Elsewhere Greene's site describes how "the Democrat Communist Party is wielding its authority over the great people of America" and "Marjorie believes in common sense and putting American's [sic] first!" Prior to the debate, a Greene staffer popped into the press room — where conversation was substantially more focused on fantasy football than on Georgian affairs — to find out where all the reporters had come from.
Amid the cacophony, one soundbite stood out: after Flowers accused Greene of causing January 6, she said, "I was a victim of the January 6 riot," an assertion she repeated later on. This seemed intriguing: aside from the text messages that she's handed over to the January 6 Committee, there's not much record of what was going through her mind that day. It obviously would not be politically expedient for her to describe how the events of the riot made her feel. It was her third day on the job. Was she afraid? Threatened?
The MTG who arrived to answer that question at the podium following the debate was a different woman than the one who had appeared on stage minutes prior — beaming, upbeat, penetrating eye contact. The Spectator asked what her experience of January 6 was like.
"Well, I've been very vocal about riots, as a matter of fact I'm against all of them," she said. "I'm against the one on January 6, but I'm also against all the antifa-BLM riots that happened in 2020. You see, BLM…" She continued for a minute or so along that theme. No answer to be found, but hey, it was worth a shot.
The Spectator also asked Flowers if felt he sorry for his opponent as a "victim." The Democrat was dismissive, decrying her claim as "utter nonsense." Does this constitute victim-blaming?
The other debates, it will no doubt shock you to hear, were much tamer affairs. Senator Reverend Raphael Warnock and Libertarian candidate Chase Oliver found themselves locked in a Beckettian scrimmage with Walker's empty podium. "I think part of being a senator is showing up — this is a job interview and you gotta show up for an interview," Warnock said late on, before dodging the opportunity to speak with the gathered press after the debate.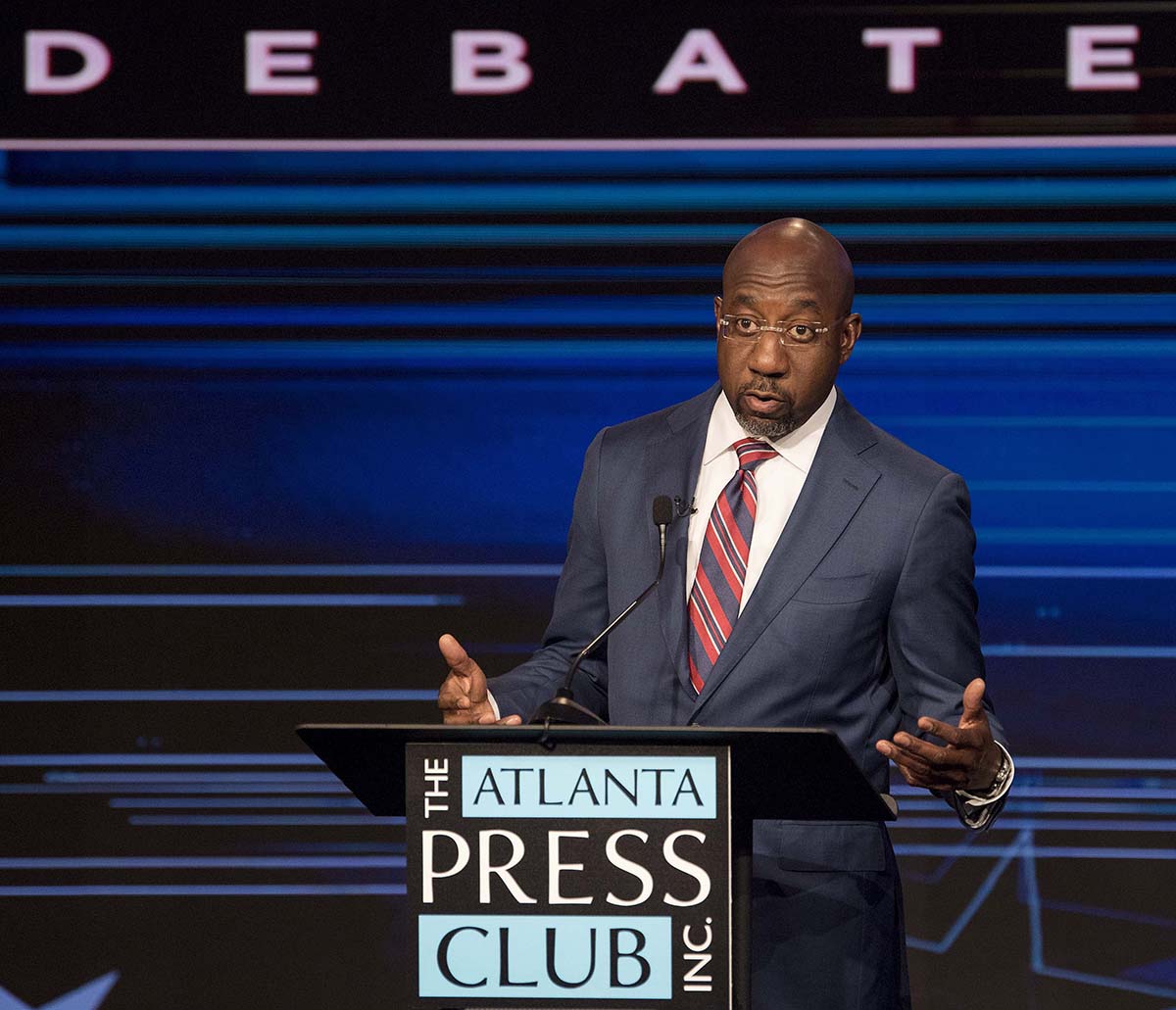 One curious quirk of the Senate debate was how the candidates were required to ask a question of their absent opponent — and then answer how they imagine their opponent would have answered it. Curiously, Warnock chose this moment to raise Herschel Walker's history of domestic abuse, as opposed to when both men were in the same room on Friday.
Oliver, who had previously garnered 712 votes (out of almost 35,000) in a 2020 special election for Georgia's 5th district, had a lot to be happy with on Sunday night. "Oh my God, I've got like fifty notifications," he was overheard saying outside the GPB studios while looking at his phone.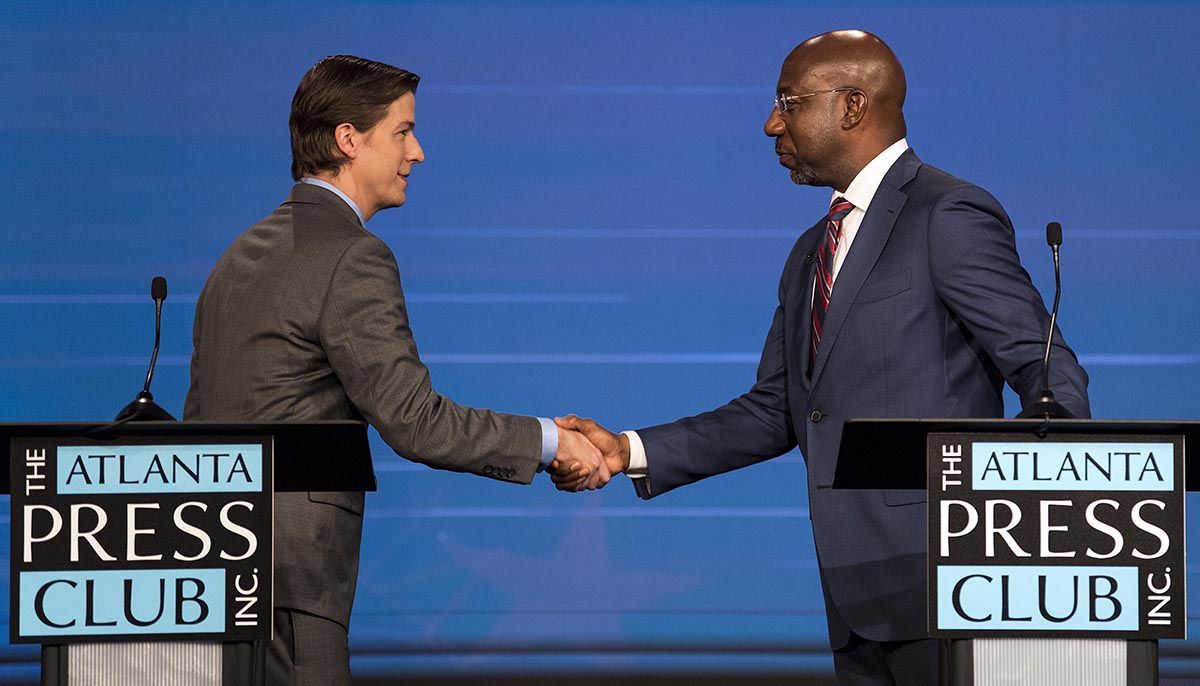 Showing substantially less decorum was the Libertarian candidate for governor, Shane Hazel, who did his level best to upset Monday's flagship clash between Republican incumbent Governor Brian Kemp and Democratic challenger and Star Trek actress Stacey Abrams. Hazel was a bridge troll, lobbing rhetorical grenades such as asking Kemp if he had "anything to apologize for" over his handling of the pandemic and declaring that "the vaccine has killed people" in an apparent effort to get kicked off Twitter.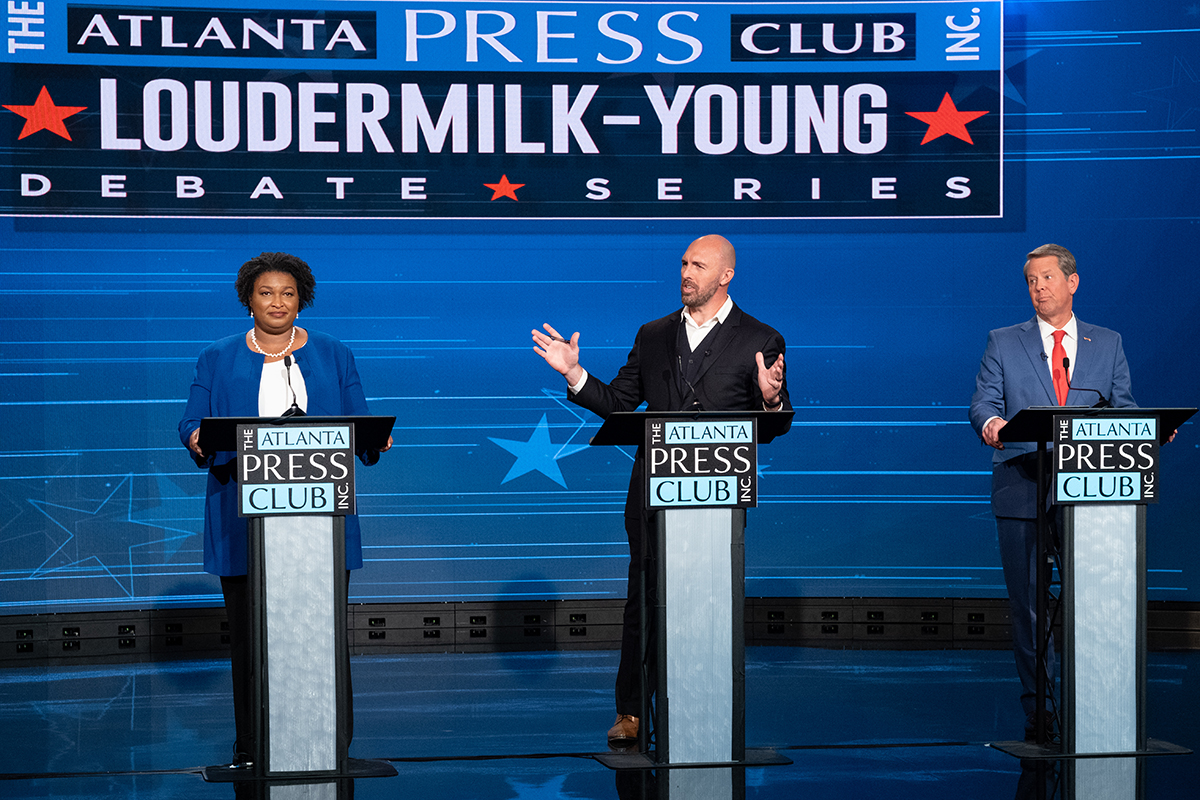 Hazel aside, the gubernatorial clash was pretty reflective of polling: nowhere near as close as when Kemp and Abrams last danced four years ago. The candidates' respective records go some way to explaining this.
Brian Kemp was governor through the pandemic and oversaw Georgia's earlier-than-most reopening. Schools and businesses were open as a result of his bold approach, standing in stark contrast to states with Democratic governors. Kemp also talks the talk on issues that resonate with swing voters such as Critical Race Theory in schools and crime.
Meanwhile, Stacey Abrams was cementing her role as a national political figure, authoring books, auditioning to be Biden's VP and advocating for his administration's policies. Undeniably her Fair Fight organization and others like it have played a huge part in ensuring Georgia is a purple state — but the drive to generate that ballot access derived from Abrams's refusal to concede the 2018 election to Kemp. Her reluctance to do so has become a whataboutist cudgel with which to beat Democrats who wish to depict Republicans as "election-deniers."
When asked about this by the moderators, Abrams alleged that in 2018, she had begun her speech "by acknowledging that he had won" and pledged to "always acknowledge the outcome of the election." These comments seem alien to anyone who's paid attention to Abrams in the years since she came to national prominence.
Like Warnock, neither of the high-profile gubernatorial candidates could make the time to speak to the press afterwards, leaving the gathered reporters to suffer through more of Shane Hazel. (He began his answer to The Spectator's question about ranked-choice voting by saying, "Democracy is gang rape…) Abrams instead dipped out to pose for a video with a small group of supporters outside. It's hard to blame her for seeking friendlier company…