Donald Trump's ninety-one felony charges can't keep him down, nor the thunderous applause of his fans. The former president and well-known mixed martial arts fan was given the celebrity treatment at UFC 295 at New York's Madison Square Garden on Saturday night, complete with his own walkout song.  
Kid Rock's "American Badass" blared as UFC announcers turned their undivided attention to Trump's arrival. The 20,000-person stadium erupted in cheers as Trump made his way to his ringside seats flanked by his entourage — UFC president Dana White, Kid Rock, Tucker Carlson and Don Jr. 
Despite a busy schedule between his two federal trials, a criminal trial in Georgia and separate civil and criminal trials in New York, Trump still had time to enjoy his Saturday night. Just a few days prior, he had taken the stand in the New York Supreme Court. Even with a $250 million charge of fraud against the state, Trump showed no signs of stress at the Garden.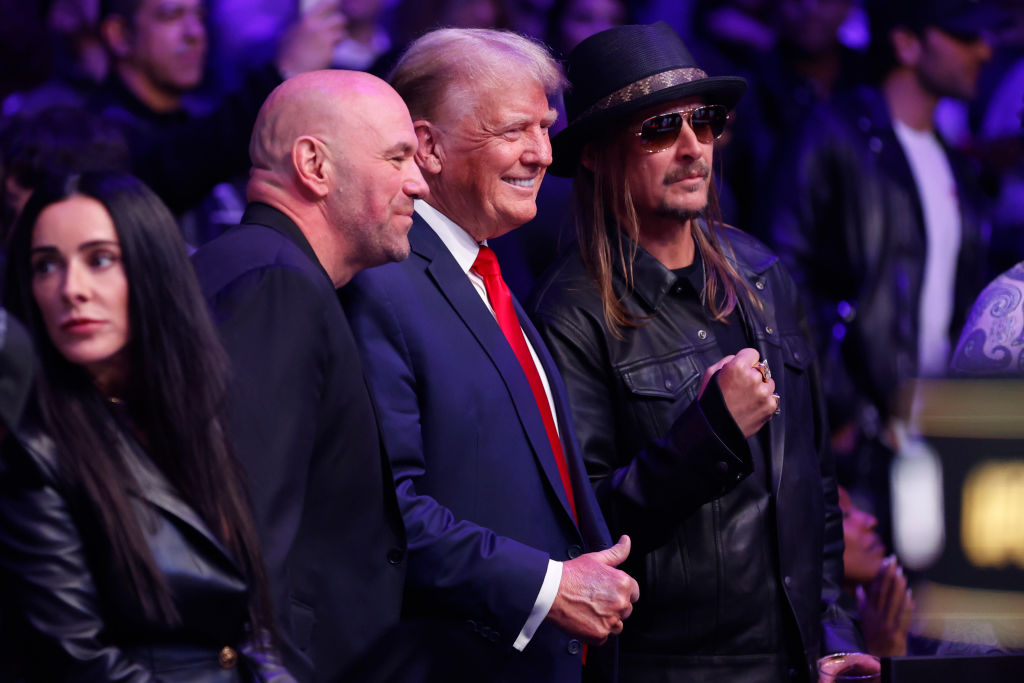 Of course, even among the thousands of cheering fans, not everyone was happy to see the former president. Nia Hill, wife of comedian Bill Burr, was caught on video apparently giving Trump two middle fingers from the row behind him.
Trump had come to the fight from a campaign rally held in Claremont, New Hampshire, earlier that afternoon. But that didn't stop him from turning the stadium into his stump.  
"I am being indicted for you. Never forget, our enemies want to take away my freedom because I will never let them take away your freedom," Trump told the crowd. "In the end, they're not after me, they're after you; I'm just standing in their way."
Trump also weighed in on the current wars in Ukraine and Israel.
"If you don't want your nation wrecked; if you don't want your economy destroyed; if you don't want American blood or American treasure squandered in a needless global war, you have to vote for a gentleman named Donald J. Trump,"