Sources: Trump 2024 team forming
After Axios's report that Trump is set to announce a 2024 run on November 14 — and his own tease at yesterday's rally — sources tell Cockburn that the campaign team is firming up. As Cockburn reported last week, Chris LaCivita is being strongly considered for campaign manager. Cockburn also hears that Michael Glassner, who was the COO of Trump 2020, will return, along with advisor Boris Epshteyn and Steve Bannon associate Alexandra Preate. Epshteyn is said to be particularly close to Trump and has advised him on major legal issues. Carl Higbie is also said to be under consideration for a high-level role. Trump is supposedly already making calls about jobs in his future administration. Time to update your résumés!
***
Who needs a social media manager?
Speaking of the job hunt, the mischievous young man who smeared the New York Post last week is "looking for job opportunities," according to his LinkedIn. Miguel Gonzalez, who served as a digital producer at the Post for three years, went rogue and posted stories with headlines such as "We must assassinate AOC for America" and "Zeldin: I will rape and batter Hochul's sorry ass pussy." If your brand needs a revamp, Miguel is your man.
***
Ickle me, pickle me, tickle me too
Pickleball is the latest fad sport taking America by storm, as Rosie Gray details in a feature for the upcoming edition of The Spectator World. Rosie mentions how "the New York Times seems to churn out pickleball-friendly pieces on a near-weekly basis these days." One such article from late last month included a curious revelation: that dinkheads.com, a leading website for pickleball enthusiasts, is "owned by the conservative commentator Michelle Malkin." The Times's designation of Malkin as a "conservative commentator" is a tad generous: Malkin has unsqueamishly embraced the nastier recesses of the far-right, praising Nick Fuentes and coming to defense of his groyper movement. Cockburn relishes the chance to face down Malkin and her frogspawn down his local tennis courts.
***
Campaign cringe
Mercifully, we only have one week left before the 2022 midterms. Only for a few more days must we suffer the wince-inducing get-out-the-vote efforts of panicking candidates. Take a look at this deeply sinister TikTok of Beto O'Rourke and a young female staffer:
AAAAHHHH pic.twitter.com/474quYDkYZ

— Nate Hochman (@njhochman) November 3, 2022
Marvel at how Dr. Oz decided to bludgeon head trauma victim John Fetterman further by driving a screen playing their debate past a Fetterman event: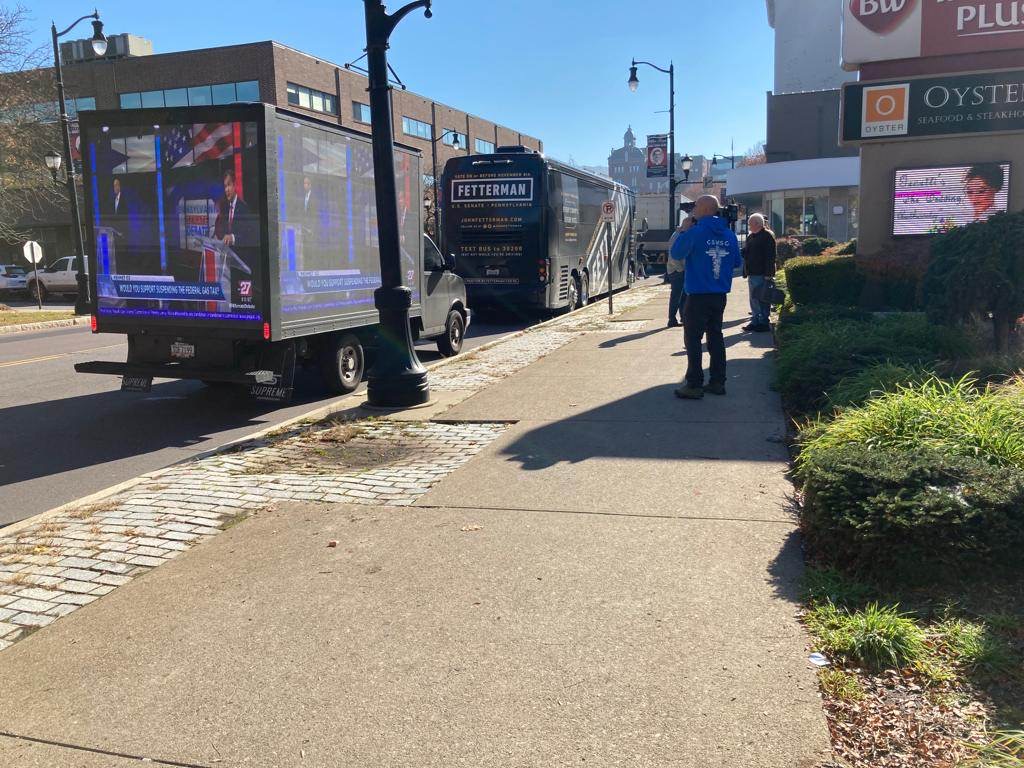 Enjoy this suspiciously named farmer in an ad for Susan Mendoza, who is running for comptroller in Illinois:
excuse me pic.twitter.com/onxOTS3hBj

— Timothy Burke (@bubbaprog) November 3, 2022
Then watch Ohio Senate candidate Tim Ryan fight back against claims that he has "big divorced guy energy" (claims from Cockburn, among others) with his Modern Family-style campaign ad featuring his wife and kids:
When people talk about needing to agree with their politicians 100% of the time, I ask them: are any of you married?pic.twitter.com/HApO97dpkx

— Tim Ryan (@TimRyan) November 2, 2022
Ryan takes the prize for most desperate candidate move of the season: borrowing from the Adam Levine playbook, he slid into the DMs of Cockburn's employer on Wednesday, asking The Spectator World to "join our team."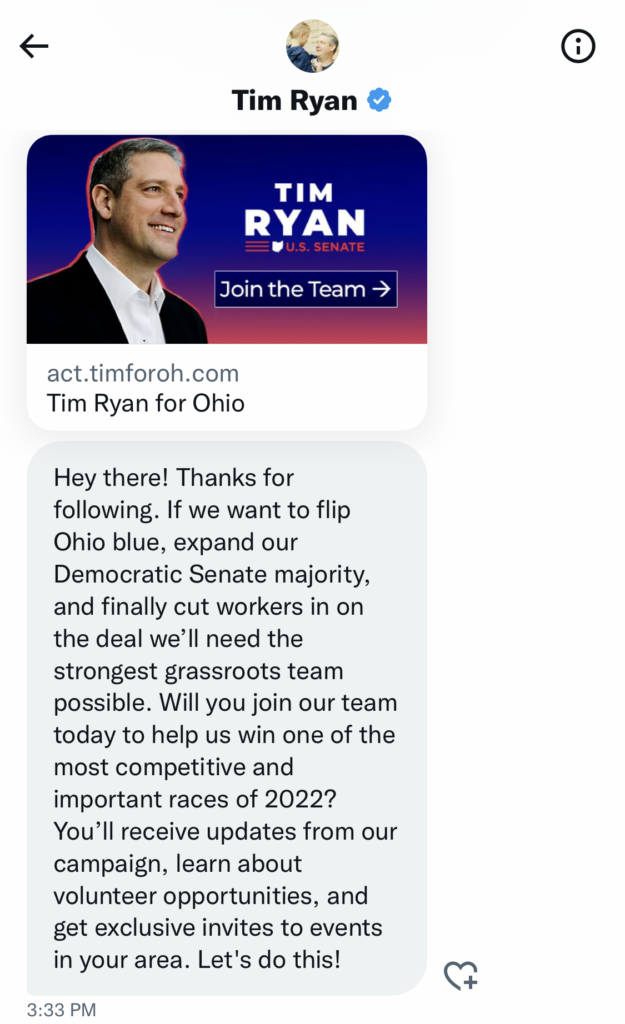 Not only that, he double-messaged, sending the same prompt at 3:33 p.m. and 3:34 p.m. Yikes.
***
Pierce-ing looks
Fashion news now, where Cockburn was enthralled to read a gushing profile of UK ambassador to America Karen Pierce in the Washington Post style section. Pierce is one of DC's most striking dressers — but unusually, considering where it appears in the paper, the piece contains just a single paragraph on what Pierce wears: "Unlike her dark-suited predecessors, Pierce favors colorful, eye-catching clothing like the bright orange ensemble she wore when she presented her credentials to President Donald Trump or the baby pink satin evening gown she wore to this year's White House correspondents' dinner. (And shoes: 'Too many to count; not enough, obviously.')"
Instead, Roxanne Roberts breathily intones about the historic nature of Pierce being the first female envoy from the United Kingdom and grills the ambassador on her approach to diplomacy. "Being in the center of something that's critical globally, that means something in the real world, and is on the front page of the newspapers," Pierce tells Roberts. This outlook does not surprise Cockburn: like him, Pierce is a mainstay of the DC social scene, appearing in the "spotted" section of Politico's Playbook with a metronomic regularity at various Washington soirées. By Cockburn's count, she's been spotted twenty-four times this year alone — a number of them at events she's hosted. Can Cockburn come for a cocktail at the next one?