It's finally here: the Donald Trump mugshot, already one of the most iconic images of the twenty-first century. Trump scowls into the camera at the Fulton County Sheriff's Office, clad in his trademark navy suit and red tie, eyes brimming with contempt. And his campaign is well aware of the image's power.
"If you are a campaign, PAC , scammer and you try raising money off the mugshot of @realDonaldTrump and you have not received prior permission …WE ARE COMING AFTER YOU you will NOT SCAM DONORS," Trump 2024 senior advisor Chris LaCivita posted on X Thursday. This follows the Trump campaign announcement a week ago of Trump's new "Seal of Approval": "The purpose of the Seal is to help President Trump's donors distinguish between authorized uses of his name and likeness, and unauthorized uses including oftentimes outright scams," the press release reads.
Of course, the photo belongs to the Fulton County Sheriff's Office, meaning anyone can use it in their merchandise free of repercussions. That's why the likes of Barstool Sports and Friday Beers were quick off the mark selling T-shirts bearing it last night… though the latter brand appears to have pulled their "Almost Friday" Trump mugshot tee from their online store.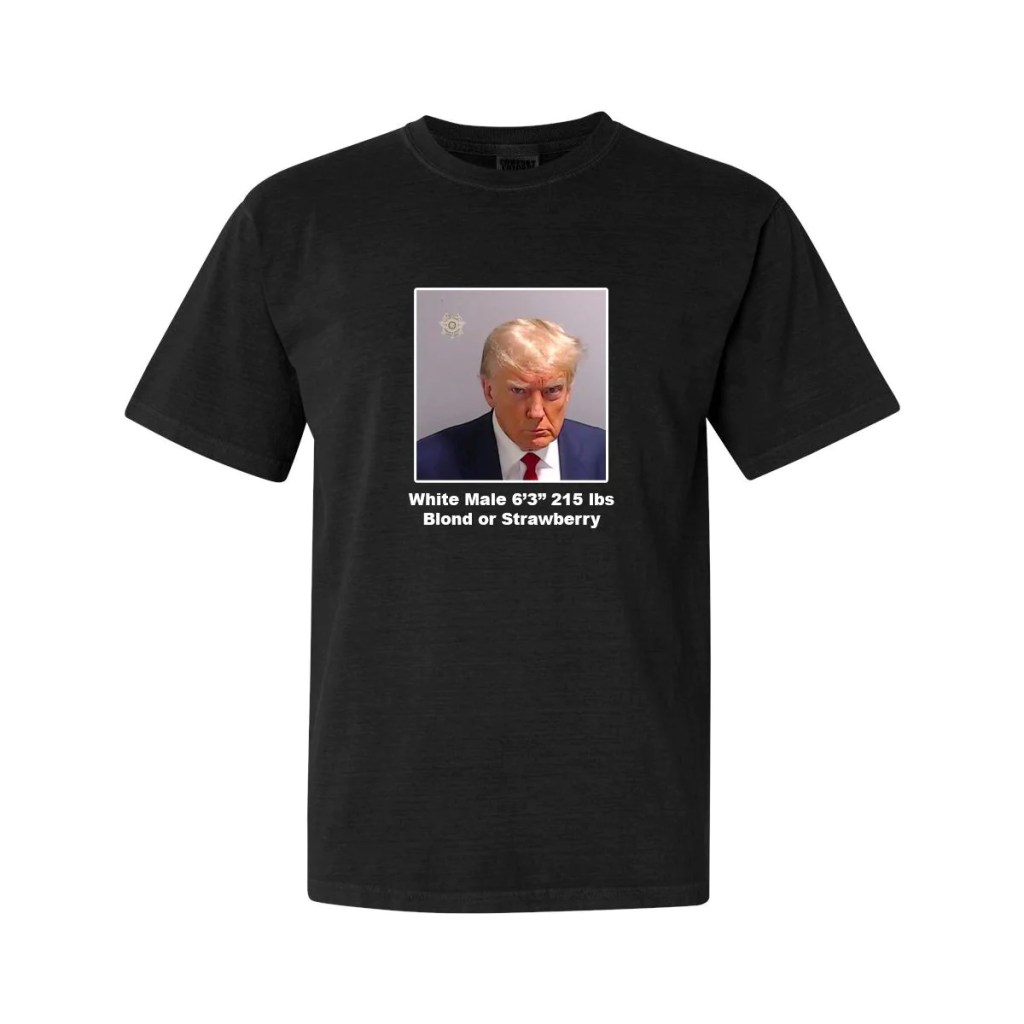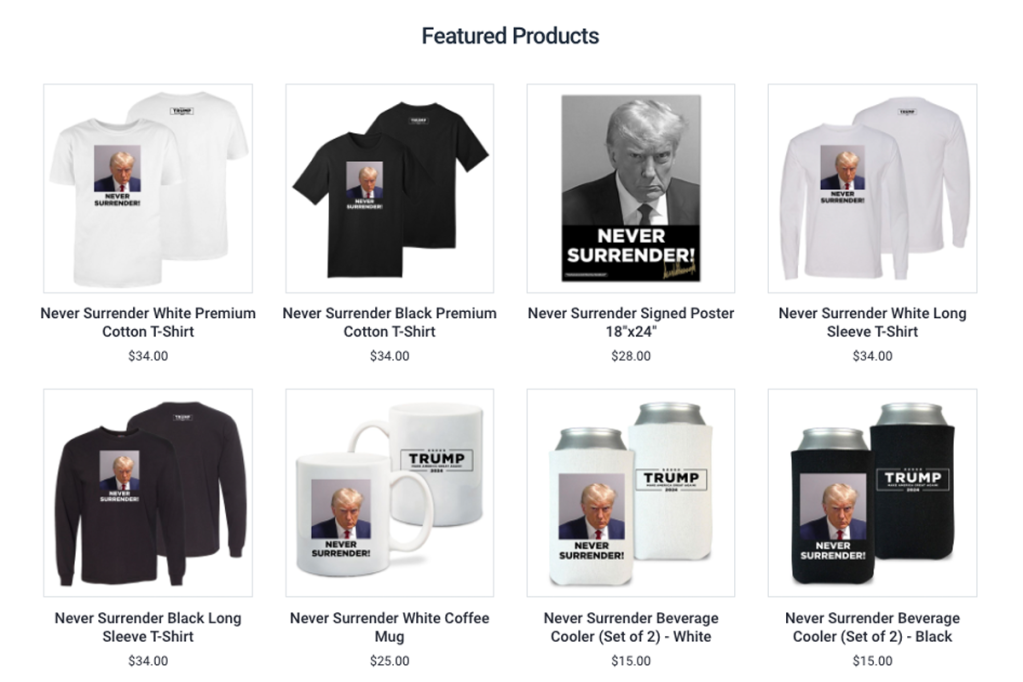 Donald Trump, elite athlete
Another noteworthy detail from Trump's booking in Georgia: his height and weight are documented as 6'3" and 215 lbs. This puts him at the same dimensions as Hall of Fame quarterbacks Terry Bradshaw and John Elway in their prime — and one inch taller and the same weight as Baltimore Ravens quarterback Lamar Jackson. At 215, he reported a weight twenty-five pounds lighter than when he was booked in Manhattan in April. A fib? Or another Ozempic miracle?
Thrown the Trone bone
David Trone leads an understated life in the House. Yet on Monday twenty-seven of his colleagues endorsed him in his quest to replace Ben Cardin in the US Senate.

The Democratic congressman for Maryland's 6th congressional district is better known for running booze franchise Total Wine & Liquor and his panicked January 6 selfie than he is for his legislative work — in fact, when Cockburn's Spectator comrade Matthew Foldi ran in the GOP primary to take Trone's House seat, Foldi made a point of highlighting just how many of Trone's regional offices remained closed to the public. There were even rumors that Trone's constituents had found their needs were better tended to when they contacted the office of neighboring congressman Jamie Raskin.

So why are his DC comrades so eager to see him kicked up to the upper house? The secret could well lie in his previous (some argue current) role heading up Total Wine: Trone is absolutely loaded as a result — and is a top Democratic donor.

Dig into the finances of the twenty-seven members of Congress to endorse the wine merchant, with an assist from OpenSecrets, and you'll discover that over half — fifteen to be precise — have taken campaign funds from Trone or his wife June. What a coincidence!

The magnificent twenty-seven representatives are:
Colin Allred, Texas's 32nd district: $14,800, six donations 2018-21
Ami Bera, California's 6th
Brendan Boyle, Pennsylvania's 2nd
Matt Cartwright, Pennsylvania's 8th: $33,200, eleven donations 2020-23
Ed Case, Hawaii's 1st
Gerry Connolly, Virginia's 11th
John Garamendi, California's 8th
Josh Gottheimer, New Jersey's 5th: $5,800, two donations 2020
Jeff Jackson, North Carolina's 14th: $2,900, one donation 2020
Jonathan Jackson, Illinois's 1st
Annie Kuster, New Hampshire's 1st: $14,400, five donations 2019 and 2022
Greg Landsman, Ohio's 1st: $12,000, four donations 2022-23
John Larson, Connecticut's 1st
Susie Lee, Nevada's 3rd: $30,116, fourteen donations 2018-23
Mike Levin, California's 49th: $20,400, seven donations 2019-23
Joe Morelle, New York's 25th: $2,900, one donation, 2022
Frank Mrvan, Indiana's 1st: $21,800, seven donations 2020-23
Wiley Nickel, North Carolina's 13th: $9,100, three donations 2022-23
Frank Pallone, New Jersey's 6th
Bill Pascrell, New Jersey's 9th
Chellie Pingree, Maine's 1st: $4,000, four donations 2002
Mike Quigley, Illinois's 5th
Pat Ryan, New York's 18th: $9,100, three donations 2022-23
Adam Schiff, California's 30th: $13,200, four donations 2023
Eric Swalwell, California's 14th
Norma Torres, California's 35th
Susan Wild, Pennsylvania's 7th: $28,600, ten donations 2018-23Handbags and GLAADrags
Handbags and GLAADrags
GLAAD, the special interest organization that advocates for LGBTQ folx, is pushing even further into the territory of fringe anti-science activism. Their most recent target is the notoriously right-wing New York Times for publishing what was, Cockburn notes, a rather tepid story on the gigantic surge in teens flooding into "youth gender-affirming clinics" and accusations they may not be providing adequate mental care services prior to transition. In response, GLAAD parked a van outside the remote-work-heavy NYT headquarters in Manhattan with a sign accusing them of "questioning trans people's right to exist."
Cockburn isn't sure how a single billboard van outside an empty office building constitutes holding anyone "accountable," but is heartened to see GLAAD has taken tips from PETA on effective advocacy tactics.