We need to deep-clean the halls of Congress
January is a month for shedding the pounds — and the latest fitness fad for Capitol Hill reporters is chasing around disgraced congressman George Santos. In a show of collegiality, the staffers of other representatives have been alerting the press to Santos's whereabouts. Take deputy chief of staff Aaron Fritschner, whose boss Representative Don Beyer, a Democrat from Virginia, shares a hallway with Santos. "I've done it twice now," he told Politico's Huddle newsletter. "I'm gonna keep on doing it for as long as he's there. And it seems like he's not going anywhere."
Cockburn is delighted that Fritschner has found a fun new hobby to plug the hole left by his last one: explaining why Don Beyer is inadvertently employing Chinese spies. "Congressman Beyer was totally unaware of these activities prior to being contacted by the House sergeant-at-arms," Fritschner told National Review back in October. "As soon as he learned of them, he followed every directive he was given by security officials. The staffer in question is no longer employed by the office of Congressman Beyer."
Wired for sound
Controversy in the conservative podcastsphere this week as Stephen Crowder, the guy from those "change my mind" memes, locked horns with the Daily Wire. Ben Shapiro's site had offered Crowder a $50 million, four-year contract — but Crowder griped about the fact that this money could be reduced if he found himself banned from YouTube or other platforms. (It seems fair to ask: if the Wire is on a crusade against anti-woke corporatism, why would they punish a conservative host for being deplatformed by Big Tech, which can happen on an arbitrary basis?)
At a time when other media companies are making layoffs, how can the Daily Wire find a potential $50 mil for Crowder so easily? Their phenomenal Facebook traffic thanks to Shapiro's page and various products surely help — but Cockburn hears the Wire is set to have more cash on hand by letting another of their high-profile conservative talents leave at the end of their contract…
No field of dreams for Trump
Ahead of his first Trump 2024 event in South Carolina next week, Cockburn hears that his presidential campaign has been reaching out to potential staffers in early primary states. It's not going great: a number of prospective operatives have rebuffed the Trump campaign's advances, as they see greener pastures elsewhere…
Blind item: they tried to make me go to rehab…
Cockburn stands in solidarity with the struggling conservative tech honcho currently getting the help he needs in a rehab facility. Recovery is a long journey — as Cockburn knows all too well — and it's important to take it one sniff at a time…
In Vogue
Love is in the air at Balthazar this week, the famous New York restaurant that banned-unbanned-then-banned James Corden. While the highly-strung host may have been shown the door, two other celebs were seen rekindling their romance. Tucked into a corner, exes Anna Wintour and Bill Nighy were seen smiling and laughing over a steak frites. Cockburn was sent this pic: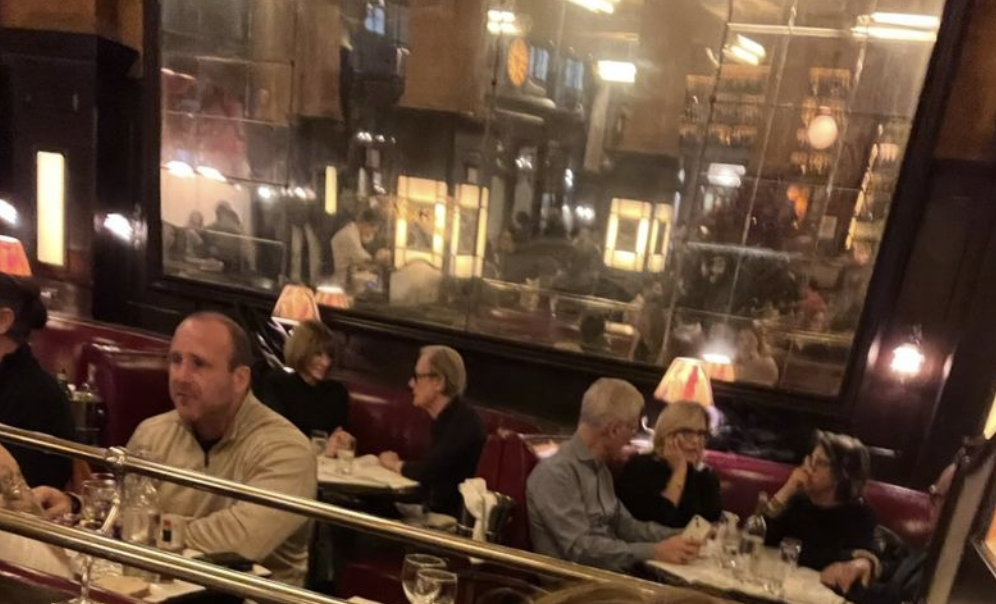 Cockburn's spies say that it looked like "the happiest day of their lives."
Before Bill turned up fashionably late, Miss Wintour, not wanting to be alone, made the owner, Keith McNally sit with her.