Halloween traditions might hail from All Hallows' Eve, the Christian celebration preceding All Saints' Day, but that has roots in Samhain — a Celtic pagan festival. Long before Westerners carved pumpkins come fall, the Scots were sticking knives into "neeps" (turnips). Disguised children ("guisers") warded off evil spirits on the streets of Scotland centuries before brats in Gryffindor scarves demanded Twinkies.
There could hardly be a better place to spend the spookiest time of the year than Edinburgh, with its reliably moody weather and litany of imposing buildings. Those seeking to be truly disturbed need simply research the capital's very real history of witch hunts, public executions and plague. A tour of the labyrinthine underground village of Mary King's Close ought to do it, eight layers of exceptionally haunted passageways lurking below street level.
After sixty minutes of gore and grime, tour guides dressed as long dead merchants cheerfully spit you back out onto the Royal Mile — another essential stop on your passage to the capital's underworld. Walking the streets "witches" once tumbled down in spiked barrels, you'll pass the dark depths of the Witchery; sexy enough to recalibrate anyone's sensorium. The spooky restaurant with rooms enjoys mythical status in the hospitality world, an enigmatic treasure trove dripping with accolades — and the odd ghost.
Fifteen years after first mooning over the magical entrance — as a teenage Potterhead on a fledgling summer vacation — I sauntered in with a group of journalists. We wasted no time immersing ourselves, exploring the buildings dating back to 1595.
It's still as sumptuous, as maximalist as the day hotelier James Thomson cut the ribbon — on October 31, 1979. It's a riot of bric-a-brac, painted wood and velvet.
"Very Harry Potter, isn't it?"
"Harry Potter is very the Witchery."
We climbed winding stone stairs to explore each other's rooms in wide-eyed wonder. The Vestry's bateau bed could easily fit three (I think that's rather the point), silk-upholstered walls screaming indulgence. The Inner Sanctum features a huge bust of Queen Victoria and a tartan-lined study. The Heriot looks out over the Old Town, towards George Heriot's school — the very same said to have inspired the idea for Hogwarts. This particular room's harlequin patterned, curved ceiling drew a Potter-loving movie star a few weeks back. I won't share who, but cleaners allegedly found a Barbie pink ring around the tub.
"I'll meet you by the pumpkins," I said, running up the stone spiral staircase to find my room for the night.
"If you want no hassle, hang up your tassel", said the sign on my door, more adequately described as a threshold to another realm. A tapestry-lined entrance festooned with antlers led me to a huge sitting room decked out in lacquered red leather. I found a four-poster bed draped in thick fabric, a large dining table set for breakfast, and double doors leading to a giant silver bateau bath.
"Alexa, play the Harry Potter soundtrack".
"Hedwig's Theme" jarringly filled the room, that haunting celesta solo quickly replaced with the distant blast of bagpipes wafting up from Princes Street.
Thoughts couldn't help but turn to J.K Rowling's wizarding world, the place oozing that grand, otherworldly feel. But the writer had not yet wandered the Old Town wynds, dreaming up the boy who lived, when James began conjuring magic.
A Cancerian, nest builder, and somewhat of a local celebrity, James fell in love with the theater of hospitality while polishing silverware at Crawford's Tea Rooms. He picked up an antiquing habit after rescuing his great-aunt's belongings from a skip.
Amassing a collection of wondrous items spanning the centuries, he needed an equally magnificent place to keep them. Ideas bubbled as he climbed the ranks from a chef position at The Witchery's previous iteration. One day, he got the keys, and set about conjuring a space that'd make Tim Burton's fever dreams look vanilla. Each of the nine bedrooms would be a suite, he decided. I love this man.
Meeting James for dinner in the Secret Garden (so popular, he once found himself on the waiting list during the Fringe Festival) we were thrilled to find more whimsy. Trained ivy decorates walls and ceilings. Tall candles and wintery sunlight makes shadows dance on the white tablecloths. Come fall, stairs are adorned with the appropriate amount of gourds, and kooky objet d'art is everywhere one casts a glance. All seventy-eight tarot deck images decorate the wooden roof.
James's food is exquisite; Scottish langoustines and lobsters are sourced from the waters of East Lothian. Pacific oysters come from the West Coast. Only the freshest game comes direct from the Highlands, including the Balmoral Estate, and the star dessert is a Pink Lady apple tart tartin. Even the mocktails are good, Witchery iced tea muddling cranberry, apple and lime juice, and black tea syrup.
"We just had to serve the tart at Rhubarb, too".
It was as good of an excuse as any to visit the restaurant at Prestonfield House, the Witchery's posh older sister. Sure, she's a little haunted, but the Autumn Harvest afternoon tea is worth the nightmares, and the ten minute drive out of town. James took over in 2003, the hotel's third owner in 350 years. Few custodians could have been better qualified; he seems like the sort of man who'd know just what to do with a poem and thank you letter left by Benjamin Franklin following a stay in 1759. Stick it in a freezer bag, as it turns out.
The hotel evokes those storied hotels overlooking New York's Central Park, but with Highland cows mowing the grass. When the late Queen Elizabeth II visited in 2005, James built a Gothic Tea Room in the garden, honoring her eightieth birthday. For spooky season, we saw it piled with autumn leaves.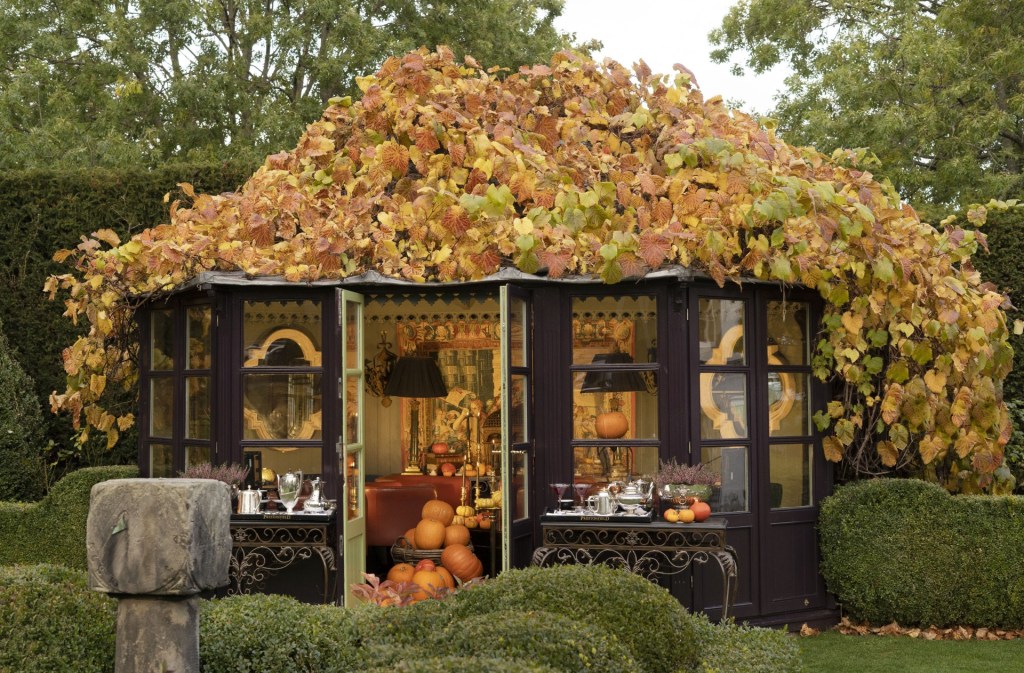 Peanut butter and jelly sandwiches, savory pumpkin cheesecake, and roast onion royal with crystallized fig distracted from the ubiquitous ghost stories (the lad who drives the spectral horse-drawn carriage has a good sense of humor). The hotel's bespoke cocktails helped matters, drawing from the sprawling surrounds (rhubarb abound), and nearby Pickering's Gin distillery. For party members still shaken, the sizable whiskey selection proved a balm.
After a brisk walk, we gathered around the fireplace in the Leather Room, walls gilded in seventeenth-century hides from Cordoba. As one particularly chilling tale reached its crescendo, a jet black cat streaked across the room. Our host admitted to some "unexplained" occurrences. I said my goodnights, dodging the hocus-pocus, then tried to ignore the cat sitting diligently outside my bedroom, tail swishing.
Rhubarb health shots and a gargantuan Scottish breakfast proved a great distraction from superstitions: steak Lorne sausage "morning rolls," with caramelized onions and HP brown sauce, "boiled egg in a cup," omelets served "Arnold Bennett" (as per the author's famed order at the Savoy, with cheese and haddock) and of course, porridge.
Then, I spotted that damn cat outside my room again. Pretty cute, with somewhat of a threatening air. If bad luck looks like a stomach ache from gorging on twice-baked soufflé at 8 a.m., you might find me in Edinburgh every October.
Amy was a guest of Prestonfield House and the Witchery.