Arriving to spend a month in Denver, Colorado, decision-paralysis hit me like a ton of bricks. Almost as hard as the altitude. And the jet lag.
I'd dreamed of downing tools come the weekend, hopping in the car to explore different ski towns at the tail end of the season. What a life locals have, so close to some of the best skiing in the world. But with thirty-two resorts, how to choose? And more importantly, get there?
Local friends quickly schooled me on the (insane) highway traffic to the mountains and reminded me to check for snow storms up top. Denver weather is famously mercurial during the springtime. "What should I pack?" I'd phoned to quiz my host, surrounded by thermal leggings, bikinis, summer dresses and snow boots. "Everything," came the reply. Right then.
The small matter of not having access to a car made some decisions for me. Short of jumping on Tinder and climbing in a Dodge Ram with the next Chad stating "IKON Pass holder" in his bio (really), I was out of options. Horror stories of getting stuck on the motorway in ninety degree heat or thick snow were enough to put me off altogether. And with Chad showing me fly-fishing selfies? I'd stick to Meow Wolf.
Then, I discovered Union Station, a 1914 beaux arts-style transport hub, and the "ski train" heading straight for Winter Park's 3,000 acres of terrain. Now that sounded promising (train Chads optional). Two hours, fifteen minutes, fifty-six miles, $118 including luggage. Pricey, but I was sold. I'd go the very next weekend.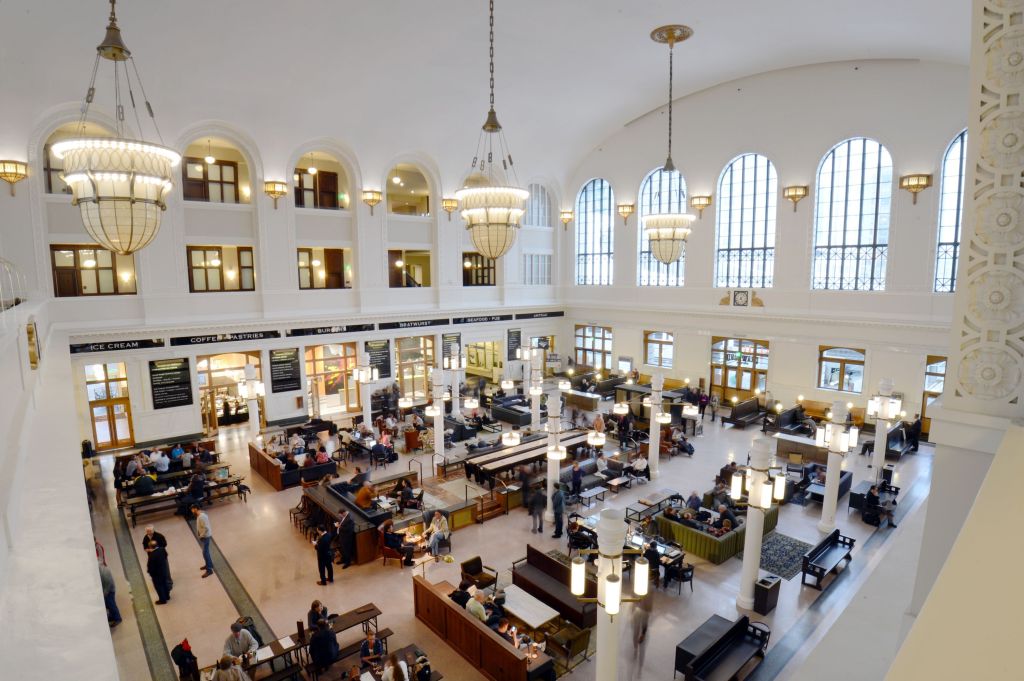 Of course, trains ran to the end of March this year — the weekend before I resolved to get on board. My long-suffering friend finally agreed to schlep me up the mountain, if we left mid-week, brought Arthur the dog, and she could meet a work deadline while I skied. I promised hot chocolates, crackling fires and a pretty W.A.L.K at the town's base. Everyone was happy; not least Arthur's owner upon discovering a Starbucks (who knew "puppuccinos" are a thing?).
It's a funny little town, with a handful of eateries — just enough to feed and water the diehard locals rushing past in pursuit of fresh powder. It almost feels like an outdoor mall, kids running around waffle spots and taco joints utterly devoid of mink coats and Gucci sunglasses à la Aspen and Vail.
I had a blissful time getting brutally sunburned, eating green chili soup and bombing down the Mary Jane trails on the back side of the resort. Named after the astute businesswoman who ran brothels in this valley to service workmen building the Moffat Tunnel, the skiing is varied. Runs are wide open and thick with trees. Mary built the adult playground that morphed into this one; surely the true definition of a legend.
Slushy conditions meant I was late for my pickup; my comrade set on leaving before dinnertime and getting home in under two hours. Standstill traffic lined the Winter Park exit. "See?!" my friend seethed. I cowered in the passenger seat, regretting that one last ride up the Panoramic Express, not wanting to leave. Half an hour later, we deduced that something wasn't right. Our hotel's receptionist confirmed. "Avalanche. It'll be clear in twenty minutes."
We waited. And we waited some more. The sun beat down on my side of the car, Arthur panting in the backseat as I stripped down to my thermals and our driver took out her iPad. Water drained, snacks gone, things looked bleak. We Googled nearby sustenance.
"Thai green chicken tacos were not authentic. One star."
I phoned again.
"It's worse than they thought. Looks like it'll be several hours until you get off the mountain… then there'll be the traffic from other resorts getting back into Denver. You might be home by midnight," came the advice. We pulled the car around.
I remembered a trendy-looking new hotel I'd spotted online, the A-Frame Club. It looked like a slice of London's Shoreditch, but with trees, and more taxidermy. Hours earlier I'd wistfully noticed the road sign pointing in its direction, wishing we'd checked it out. "Sleepover?" I grinned, hoping a comfy bed and a cocktail might get me out of trouble.
"We got rooms," said chef Nic, surprised to get a call this late in the day. Twenty minutes later we were propping up the bar with a gin, Arthur chomping on a beef short rib. The only accommodation accepting of our four-legged friend besides The Vintage, it was our lucky day — never mind the fact the wood cabins are ultra stylish and decked out with every modern convenience. Even better, there's a saloon-style restaurant — and Nic is serious about his food.
"I had to have you try this," he said with a shy smile, plonking down an appetizer of baked feta and warm bread. "I'm not saying I manifested an avalanche," I said, "but I'm not unhappy with how this day turned out." To follow, we shared a double breast of juniper-roasted duck with a cherry and Cognac glace and a campfire banana split.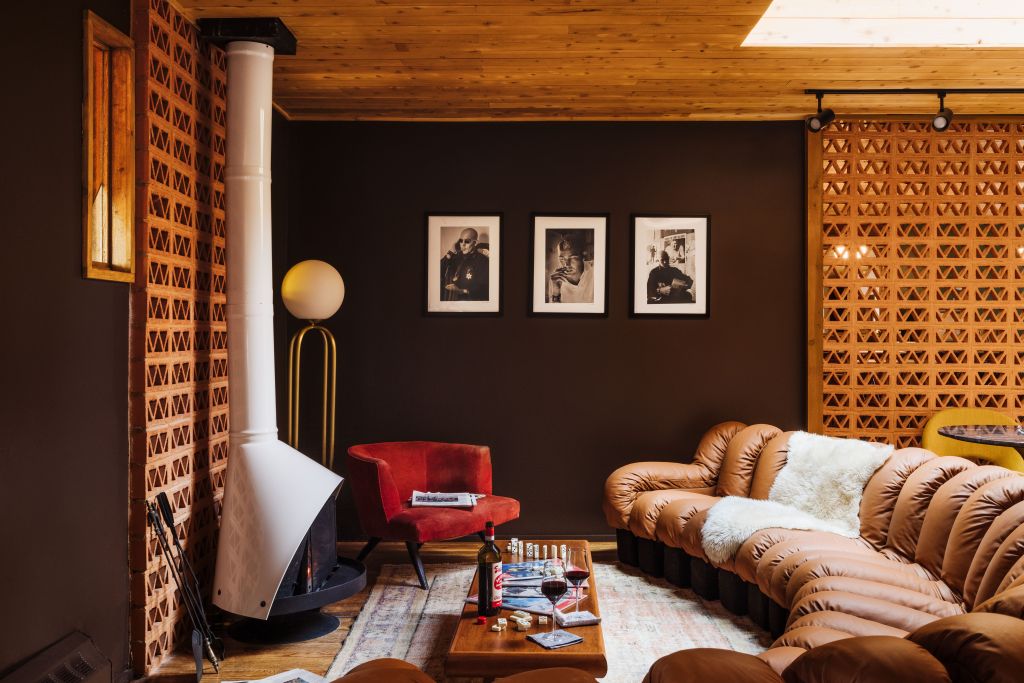 A long soak in our room's deep bath rendered me unconscious in seconds, waking nine hours later to attempt Groundhog Day in a post-ski stupor. Road still closed, we took the scenic (very scenic) route home through Granby, Silverthorne and Georgetown — this time with water, snacks, and half a duck in a doggie bag. Next time, I'll take the train — but it won't be half as fun.