I have never been a huge fan of cold soup. It has always seemed to me to be contrary to everything good about soup: soup is inherently warming and cheering. It demands large portions and an accompanying doorstep of bread. Who on earth would want to chill it down and serve it in tiny portions — and without bread and butter? Madness!
Historically, I have made an exception for gazpacho and salmorejo on the basis that they hail from hot countries and that they aren't thickened with dairy. But I drew the line at what I thought of as hot soups served cold. Vichyssoise was doubtless the worst of them: give me a vat of hot leek and potato, but spare me the cold stuff.
Sometimes, we don't get what we want, we get what we need. And during a recent heatwave, I had to make vichyssoise for work. I bought the ingredients, followed the recipe, but was making it under a certain level of duress. I wasn't interested in it; I couldn't see the appeal. But, greed getting the better of me, I absent-mindedly dipped my spoon into the finished soup. I'm not sure if you can have a Damascene moment with a potato-based soup, but I reckon I came as close as you can. It was impossibly refreshing — and completely delicious. So now, I take it all back. Cold soups, forgive me. I was wrong. Vichyssoise and hot leek and potato soup share the same qualities of being soothing and comforting, only one is made for the hottest days of the year and one for the coldest.
Although leek, potato and onion soup in its hot incarnation has a long history (often called potage Parmentier after Monsieur Parmentier, a nutritionist, who popularized the use of potatoes in France in the 18th century), Vichyssoise's origins and age is a little more up for debate. Julia Child, who gives a recipe for the soup in her Mastering the Art of French Cooking, calls it an American invention. There is an apocryphal tale that Louis XV of France so feared being poisoned that he had a battalion of tasters; by the time the soup reached him, it was cold and he preferred it that way. In 1950, Louis Diat, a French chef living in New York, claimed credit for the soup, recalling his childhood summers where he and his brother would cool the traditional, hot leek and potato soup with cold milk.
When it comes to bringing richness to the soup, I take a leaf out of Rowley Leigh's book: Leigh rightly points out that if you used lots of butter — like you would in a hot leek and potato soup — as the soup chills down, the majority of the butter will solidify and make the soup greasy. Using a smaller quantity of butter and introducing cream to the soup to compensate for the lost richness and flavor is a far smarter move for a chilled soup. That cream has the added advantage of making the soup thick, rich and impossibly smooth, as well as giving it the most beautiful pale pistachio hue.
Vichyssoise should, of course, be served fridge-cold and in small portions (although I could eat a gallon of the stuff). Serve it with an extra grinding of black pepper and some little snipped chives, if you fancy.
A word of caution: I recommend letting the soup cool to at least lukewarm before blitzing it — and using a hand-held stick blender. Using a lidded blender is surprisingly risky with hot soup: make sure you don't feel the jug more than half way up, as steaming hot liquid combined with the blending motion can create a pressure which will pop the lid off the blender — and trust me, you really don't want hot soup burns.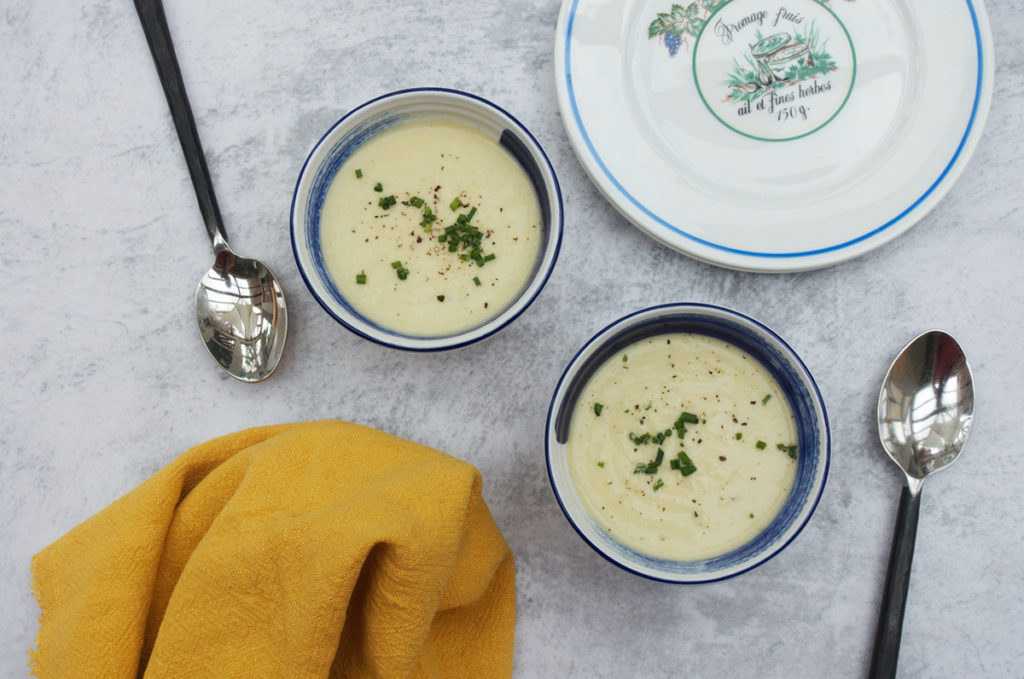 Vichyssoise
Makes: 68 fl oz of soup
Takes: 40 minutes, plus chilling
Bakes: No time at all
1 oz butter
1 small onion, roughly chopped
4 leeks, topped and tailed, roughly chopped
21 ooz potato, peeled and roughly chopped
34 fl oz chicken stock
6¾ fl oz double cream
Place the chopped leeks under running water, agitating them to remove any dirt between the layers. Drain well
Melt the butter in a large saucepan over a medium-low heat. Add the onion, leeks and potatoes, stir to coat all the ingredients in butter, place a lid on the pan and cook for 15 minutes, until the vegetables are beginning to soften
Add the chicken stock, bring up to a simmer and cook for a further 20 minutes, until you can easily crush the potato against the side of the pan. Leave to cool
Blend thoroughly with a stick blender (if you're using a lidded blender, don't fill more than half way up its capacity, blend in batches and please follow the guidance above), until completely smooth. Add the cream and blend into the soup with the stick blender. Season, taste and season again with salt and black pepper. Transfer to a container and chill down in the fridge until completely cold
This article was originally published on Spectator Life.