What happens to a fashion brand when the founder leaves?
Or, to be more direct, what is Tom Ford without Tom Ford? That was the question hovering over Milan last month as the brand held its first runway show since the famed designer stepped down in April. The man on the marquee wasn't even in attendance; apparently bad weather left him stuck in London (there was a little thunder the day before, so it's plausible, if unconvincing).
The House of Ford arrived with an enormous splash in 2006, creating enormous hype through its hyper limited, hyper expensive apparel, which Ford and business partner Domenico de Sole spun into obscenely lucrative accessories and perfume licensing deals. You can't pass through an international airport without being besieged with posters for his signature sunglasses.
Though a great start, Ford's label fizzled over time, with competitors beating him for season-by-season creativity, and Ford's eye drifting to other mediums — namely, the two films he directed, A Single Man and Nocturnal Animals. With the death of his father during Covid and the death of his husband in 2021, he seemed to have finally had enough. Ford retired from fashion, sold his namesake brand to Estée Lauder for $2.8 billion, and now plans to spend his days focusing on his young son.
In his stead, the creative direction of Tom Ford is now handled by Peter Hawkins, a relatively unknown designer who worked beside Ford for twenty-five years (stretching to his days at Gucci), and — if this collection is anything to go by — clearly knows the Ford style very well.
From the first look onward — a black double-breasted trench made from mock crocodile leather, paired with big glasses, tall black boots and a small black clutch— it was a parade of Ford's signature elements.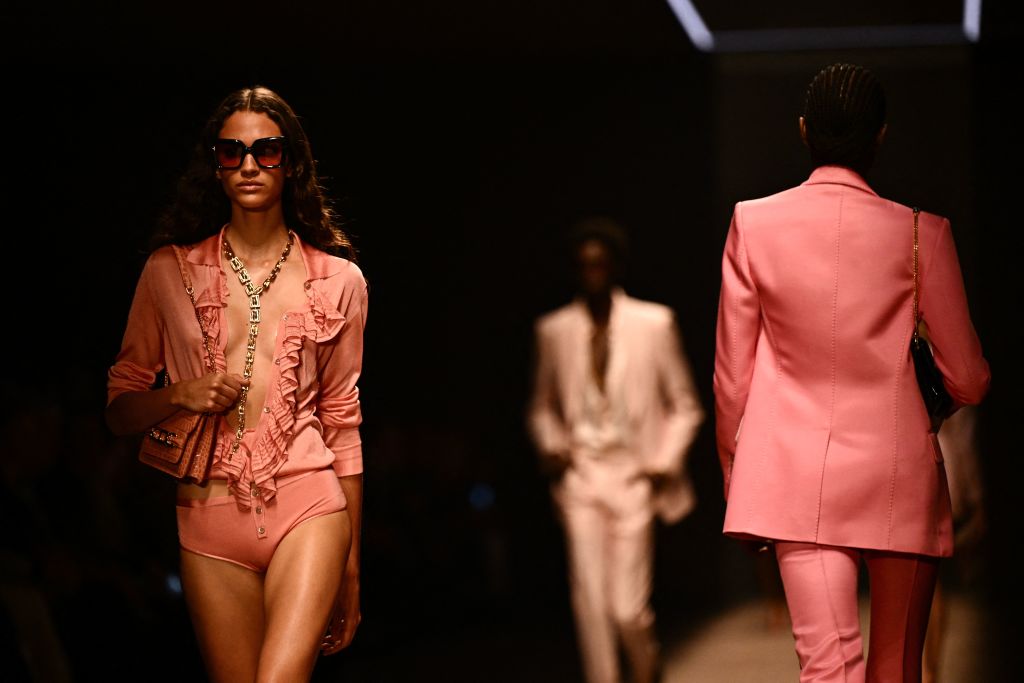 There were deep plunging necklines and uber-short shorts; leather blazers with slim trousers and a cowboy feel; velvet suits with large lapels; dangly necklaces and small clutch; gloss black, pink lamé and gold on gold on gold; and brown sunglasses everywhere. It all feels very off-trend — more 2000s bling than 2023 runway — but in a good way. It doesn't feel outdated, and though it's largely predictable, it's unmistakably Tom Ford. Some looks are oddly reminiscent of Hedi Slimane's Celine, and others that wouldn't seem out of place at a Chanel show, but even these feel like "What would Chanel by Tom Ford look like?" His homage to his mentor can be found in referencing details, like the large gold buckles that pay tribute to golden G Gucci belt buckles.
The stand-out designs from the show are Hawkins's sheer dresses. They're not as ambitious or beautiful as Bottega Veneta's chainmail dress — the greatest sheer dress ever, by a million miles, as worn by Dua Lipa for the LA premiere of Barbie — but they have real personality in their tailoring, which is depressingly rare for a style that exists mostly for lazy attention-grabbing.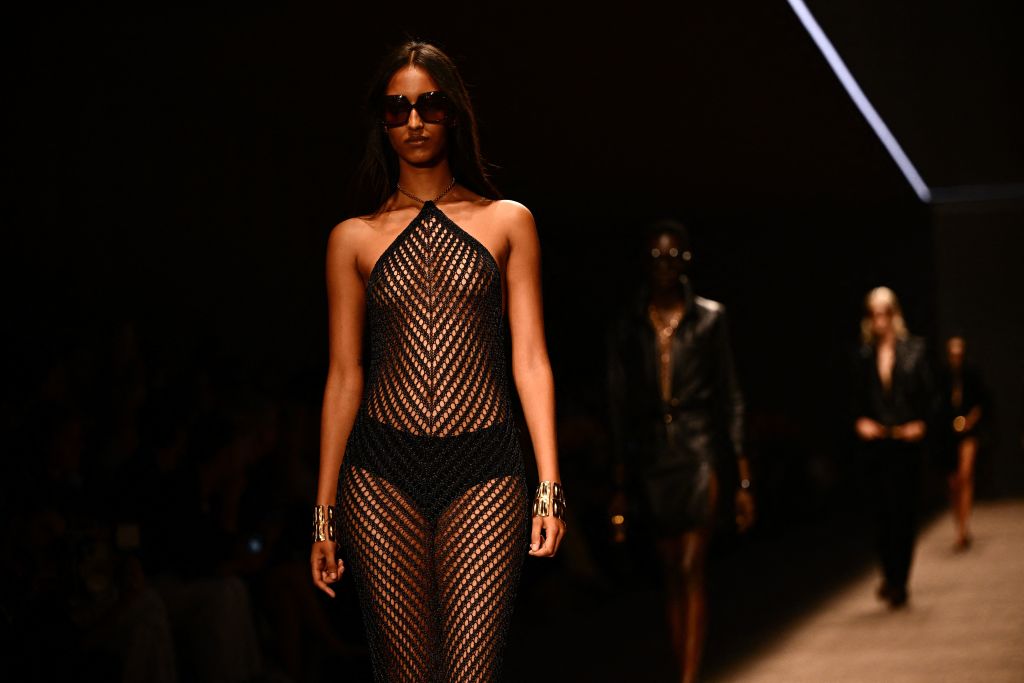 To return to the question, what does this mean for Tom Ford? It's too early to tell; but when a founding designer leaves their name brand, it either rejuvenates, stagnates, or collapses.
Chanel for example, was rejuvenated under Lagerfeld, and has stagnated under Virginie Viard.
But — though she couldn't have done so without his codes — Alexander McQueen has been better under Sarah Burton's creative leadership than it was under McQueen; and when the Guccis' stepped back from the creative reigns, a gay Texan was able to make their brand legendary.
Tom Ford was boring before Ford left, and Hawkins has made me care about the brand again. It's everything Ford wanted the brand to be; to fit his codes of "glamour, sexiness, elegance and beauty," as Hawkins told Vogue. I hope, in the collections to come, we see Hawkins take a new direction — to make his own signatures won't be enough in the fast world of fashion.
I know what I love about Tom Ford. Now Peter Hawkins needs to continue to show why I should care.