I am a Party City Bavarian: wearing Doc Martens, pulled-up cotton socks, a polyester smock and pair of buttock-hugging lederhosen. Drowning men have more breathing room. My range of motion is limited to a ceremonial waddle. Thankfully, I do not have far to travel — and there is plenty of beer.
Allow me to explain: this weekend I took the trip ninety or so miles north of Atlanta to Helen, a small city not far from the North Carolina state line. In the late 1960s, city officials passed a zoning regulation to turn Helen into a replica of a Bavarian alpine town (hey, it was a weird decade). The result is a unique slice of Americana: an Oktoberfest in the foothills of the Blue Ridge Mountains, as Appalachian as it is alpine. In many respects, Helen is to Munich what Las Vegas's Venetian casino is to actual Venice.
This was my second time in Helen: I last went four years ago in the run-up to the first Kemp-Abrams contest to be Georgia's next governor. For many Atlantans, Helen Oktoberfest offers a blissful escape from the bombardment of political attack ads, cold calls and door-knocks that accompany midterm season. You would be hard-pressed to look for politics in the town… but I managed it. Tucked away at the back of one of the gift stores on the main drag, you can purchase a Confederate flag bikini, a camo hat bearing the message "When guns are outlawed, I will be an outlaw" or a "Miss Me Yet? Trump 2024" shirt.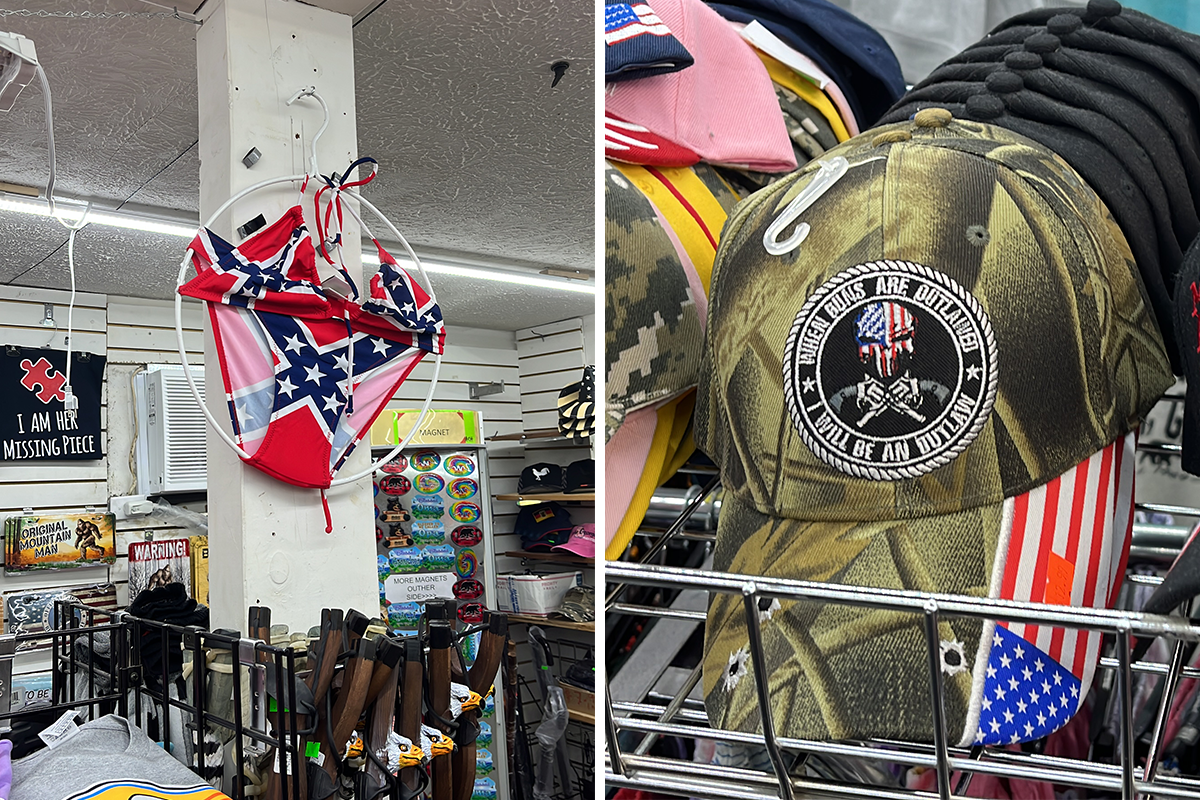 Helen is a big slogan tee town: while many visitors wear Trachten, or traditional Bavarian clothing, it was the messages emblazoned across the chests of various North Georgians that caught my eye. Here's a sample: "Make America Godly Again"; "Fet's Luck"; "I Stopped Giving A Schnitzel Three Beers Ago"; "Make Oktoberfest Great Again"; "Assholes Live Forever" and one in Arabic-style script that simply said "Fuck ISIS."
As for my clothing, during my first visit, I was able to borrow my father's echtes Lederhosen, which my German-speaking mother got him for their trip to das echte Oktoberfest. This time around, a restrictive baggage allowance led me to buy the cheapest, crappiest costume Amazon had to offer. In hindsight, I probably should have checked more carefully: the manufacturer's other wares include latex bodices, maid outfits and various gothic bustiers. Needless to say, I was very popular on Friday night.
If you're familiar with hearty Bavarian and Austrian fare, don't get your hopes up about the food: the Wiener schnitzel sandwich I had for lunch at one café in the center of town was in desperate need of condiments. Also, expect a wait: the line for our late Saturday lunch was an hour and a half. When we were finally seated at Cowboys & Angels, the service was terrific, as was the chicken Alfredo with a side of asparagus.
Dinner did offer one small distraction as a long line began to form outside the ladies' room. Frustrated women were left hammering on the door, wondering what was taking so long. After around ten minutes, a red-faced portly couple emerged, looking sheepish and flustered. The restaurant's slogan, by the way, was "A Taste of Southern Class."
Early evenings were best spent at the Festhalle, which is run by the Greater Helen Chamber of Commerce. For a small admission fee, guests can post up on a long Brauhaus-style table and take in a pair of alternating German polka bands.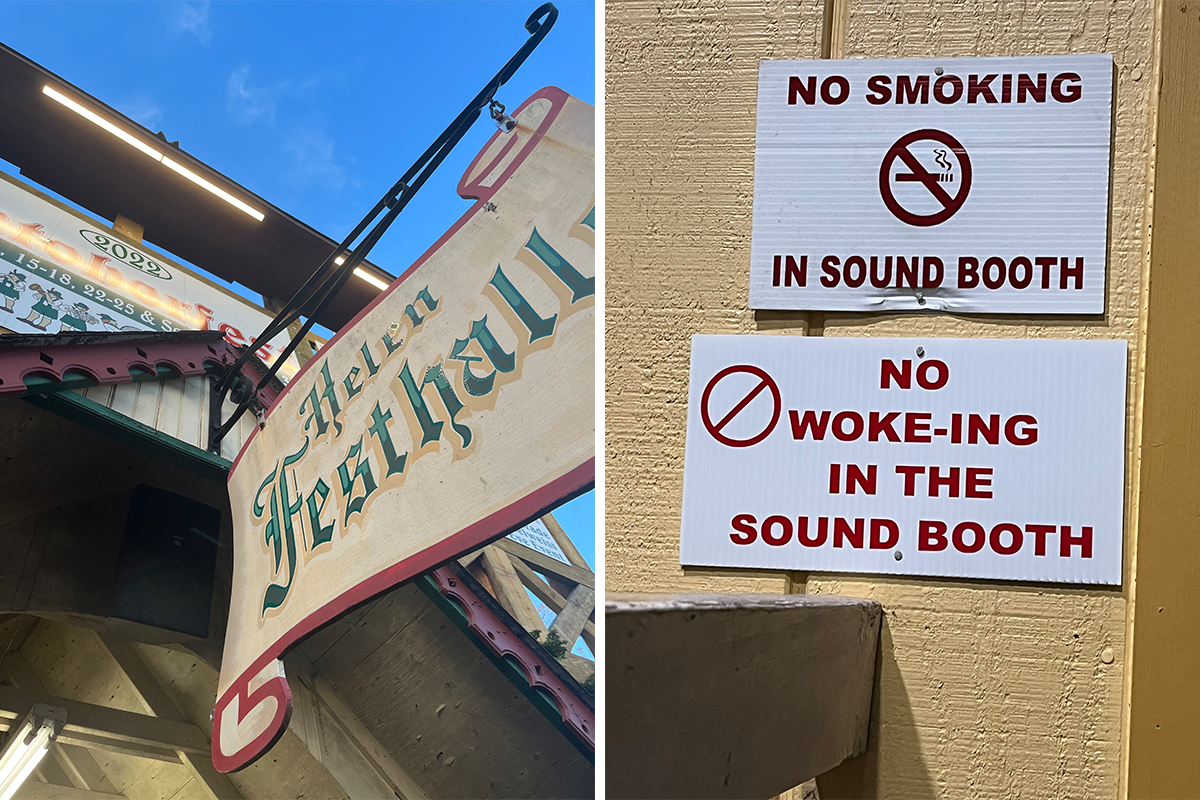 On our weekend, we were treated to the stylings of Duncan Schön — a family act from Cincinnati, Ohio, consisting of a father, a grandfather, two sons and a guest accordionist from Slovenia — and Alpenmusikanten, who hail from Dallas, Texas, but include a couple of German ringers, Wolfgang and Manfred, both of whom yodel tremendously. One gent was so taken by the music that he deigned to propose on the dance floor: she said yes!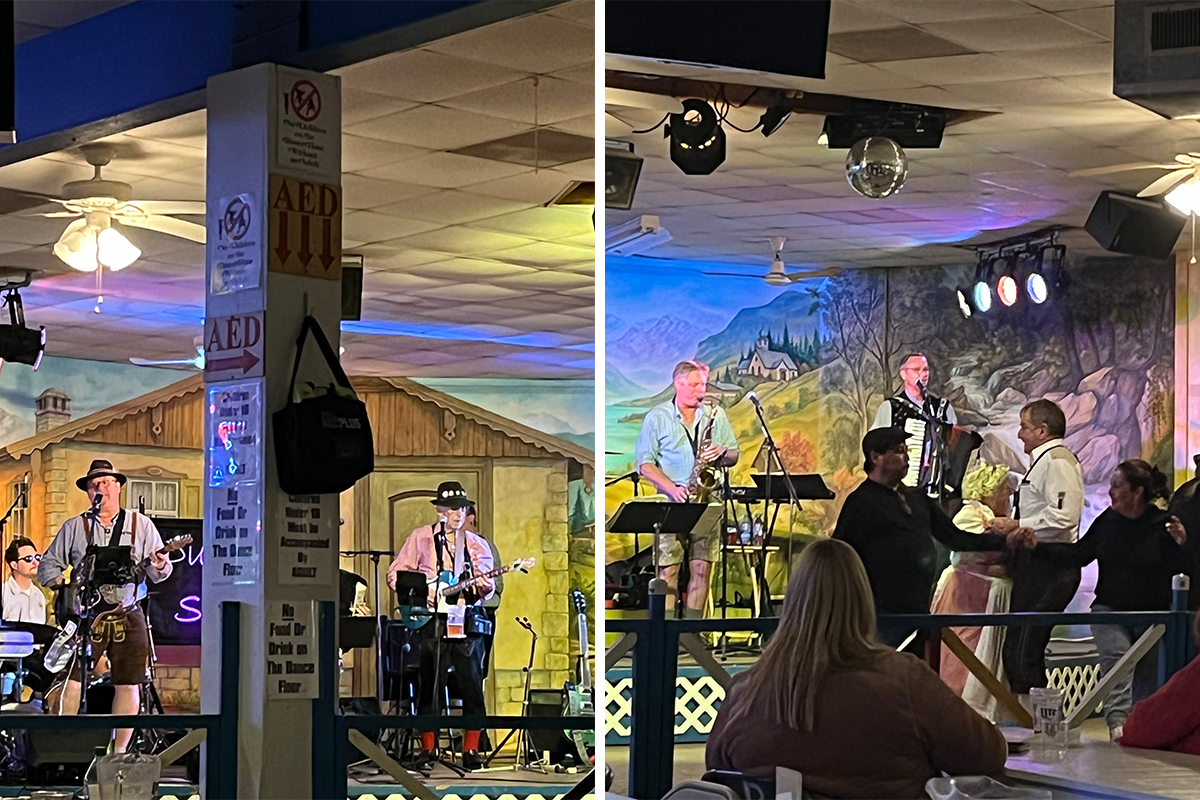 Then, of course, there is the beer. Twenty-four dollars plus tax gets you a 60-fluid ounce imported pitcher of Bavaria's finest: Erdinger, Hofbrauhaus, Paulaner. For the less adventurous, Miller Lite is also an option for a few bucks less.
The Festhalle winds down at around 9 p.m. Afterwards your best option is to head across town to Paul's Steakhouse, for karaoke on their outside terrace. Following hours of oompah, you'd be surprised how well a version of Big & Rich's "Save A Horse, Ride A Cowboy" goes down with the locals.
Paul's also has a margarita deck out back by the river, which stays open until 1 a.m. If you make it through there without falling over and splitting the seat of your lederhosen — you did better than me.