"What the f—"
"Don't look directly at it. I'm serious, that thing is cursed."
My childhood best friend Sofie has just scooped me up from the epicenter of weirdness that is Denver International Airport, one hand on the steering wheel, the other blocking my view of a thirty-five-foot, bright blue fiberglass horse rearing at nothing in particular. I'm sleep-deprived, but I'm not seeing things.
"Why are its eyes burning red?"
"Not sure. The man who built it died during construction. Blucifer fell on him and severed a main artery."
I've no energy left for questions. I'm fresh from nine hours in a tin can sitting next to an effusive new "friend," insistent on sharing conspiracy theories linked to our destination. Tales of underground tunnels, a colony of 'lizard people' and Freemason meetings make my head spin.
"I just came to ski, really." My response falls on deaf ears.
In lieu of busting open the emergency exit, I'd promised to keep an open mind in my acquaintance's multifarious city. Specifically, I agreed to look out for mysterious "Au Ag" — the abbreviation for the toxin Australia Antigen — inscriptions on the concourse. This, you understand, references the Illuminati's choice of poison. Certainly not the atomic symbols for gold and silver, an artsy nod to Colorado's mining history.
The state's gold and silver rush made many families their fortunes in the 1880s; success stories underscored by juicy tales of deceit, high-society scandals and murder. Titanic survivor and women's rights activist "The Unsinkable Margaret 'Molly' Brown" (Kathy Bates's character in the movie) was married to James "J.J." Brown, one such mining engineer. They bought a grand Queen Anne-style mansion designed by prolific local architect William Lang, now a museum we drive past on the way to Sofie's place.
Lang's red sandstone designs are dotted about the city, immediately recognizable once you know what you're looking at. Sof and I pull up, and I discover that she lives in one. And that, like many of Denver's historic buildings, it's "mega haunted." We're just off Colfax Avenue, "the longest, wickedest street in America" (a quote attributed to Playboy). It's dark, and I'm spooked.
"The porous stone draws in the spirits. Don't worry, they're friendly. Ooh, let's do a Denver ghost tour!"
I strike a bargain with my friend: on this trip I will suspend disbelief. I will turn and face the strange. If she drives me to "the last great ski town" of Crested Butte, currently enjoying the best snow conditions in years (where I can meet real, live humans, to boot).
The deal is done, and I book Taylor River Lodge, a high-spec but rustic cabin experience in jaw-droppingly beautiful Taylor Canyon. We spend an afternoon poring over Discovercars.com, finally landing on an SUV to get us through the five-hour drive across the infamously treacherous Monarch Pass, in a blizzard. Welcome to Colorado.
When we finally pull up at the resort, Sof's dog Arthur leaps off the backseat and into the thick blanket of uninterrupted snow. All sound is muffled, but the river gushing behind the cabins. It feels like breaking into a snow globe. We loot the all-inclusive snacks and booze.
There's a beautiful games room with beer on draft, but the glorious bathhouse beckons, with a huge motorized window that lifts to reveal expansive views of the crisp, wintery setting. We leave Arthur to acclimatize, then climb straight into the hot tub. This has got to be the best place to enjoy après, a plate of pâté and cocktails promptly delivered poolside.
We sip pre-dinner drinks on hickory chairs at the horseshoe bar, a bearskin laid out in front of a roaring fire. Hot apple cider, red wine and French onion soup soon lull us into a stupor. Next morning I'm driven forty-five minutes to the Alpineer backcountry shop, where I'm fitted with powder skis to tackle last night's ample snowfall.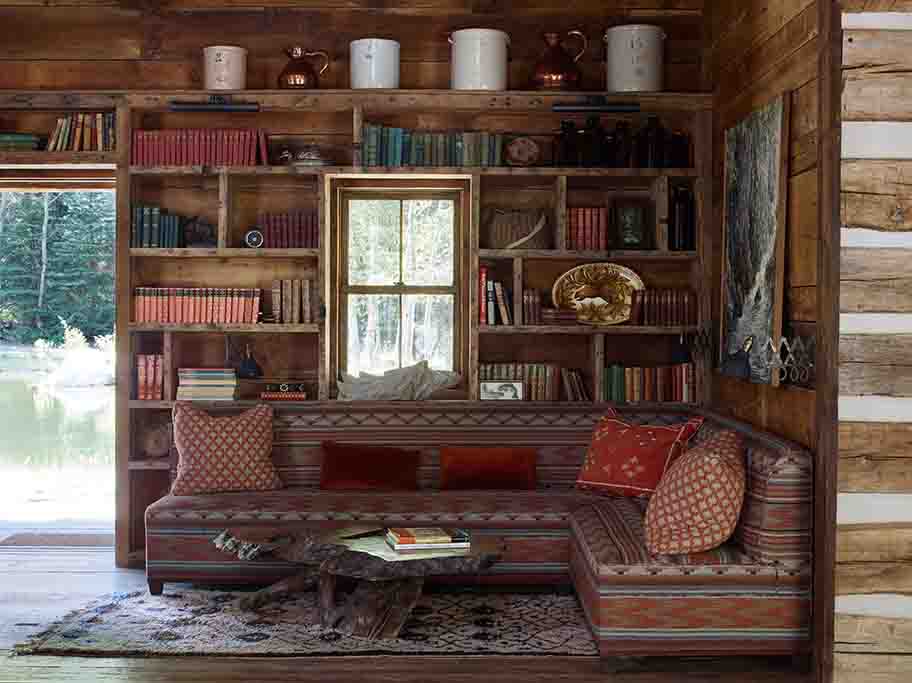 I throw myself down cliff edges cushioned by thick snowdrifts, my backpack stuffed with snacks from our fridge and an epic sandwich staff kindly make me. I'd managed to book the trip over Crested Butte's notoriously wild closing weekend, a riot of silly costumes that concludes with a pond skimming tournament.
For me, tutus are a no-no, but the festive atmosphere is contagious. On one lift I make friends with a cardiologist my father's age who's driven through the night in his scrubs for just a few hours on the hill in this weather. The $250 fine he received after pulling over for a nap was worth it, he assures me.
A yearly migration of elk has killed hopes of a season extension, and the crowd is rowdy. Joining the singles chair lift line is equal parts fun and tiresome as the beer starts flowing; come last lift, every other Chad is blasting speakers and offering me a puff on their vape. I high-tail it home to the steam room, sauna and a warm yoga session conducted beside the steamy saltwater pool.
A long drive back has me considering easier options for a weekend in the mountains, and weeks later I try Winter Park. The Amtrak Ski Train heads there directly from grandiose Union Station, where the Crawford hotel's rooms (and soft beds) are hidden away on the upper level. One can ride home for a post-ski shower then literally step out into the glamorous Cooper Lounge, where Ahi tuna tartare, pan-seared scallops and beef short rib await.
Back in town, we press on with our eclectic schedule and book an 8:30 a.m. appointment at the Beer Spa (when in Denver, somewhat of a beer mecca). Sessions include a private room for two, in which we alternate sauna and cold shower time before lowering ourselves into a lukewarm vat of hoppy water, slathered in products. No-contact massages have us strapped into chairs, projections of starry skies trained in front of us. My mind wanders. I daren't ask if there are aliens in Denver, too.
As promised, I book a Ghostly Emprise tour, our ardent guide Sheila donning a witch's hat to meet us by the Capitol building at nightfall. We stop at the Peabody-Whitehead mansion, where countless businesses have been thwarted by evil spirits. "It's been trying to become apartments," Sheila begins. "Tryin'! For years!" a stranger, walking his dog, chimes in. A chair is said to rock independently over at Molly Brown's house. There are sightings of strange figures at the window of luminous tourist trap the Marujiana Mansion, where there are numerous secret passages, and staff have reportedly been "pushed" down the stairs.
As Sof inevitably spends a portion of the tour telling Sheila chilling ghost stories about her own apartment, I look forward to checking in at Denver's grand dame, The Brown Palace. Research tells me it opened in 1892 and is famous across town for its rich history and esteemed visitors (Molly Brown was a fan). A British-inspired afternoon tea and the regal surroundings draw crowds — as well as, you guessed it — a convivial cast of full-body apparitions. My nerves are frayed, Denver.
The towering atrium lobby is decked out in onyx and marble, the scene of debutante balls, Christmas celebrations and, apparently, paranormal activity. Sof and I check into room 902, excited about the deep bath and cloud-like double bed awaiting each of us.
We take breakfast in a room decorated with Napoleon's actual pistols, hung with handpainted wallpaper that can also be found in the White House. Veuve Clicquot, finger sandwiches, scones and lemon curd follow to the tune of a live piano. It's preposterously pleasant, but we can't resist hounding resident guide Matthew for ghost stories.
He indulges us with tales now omitted from most historical tours of the storied halls. A long-gone ticket office clerk is said to float from his previous station toward the in-house bar (I don't blame him). Bell boys have to keep an eye on their newspaper delivery carts, lest a previous employee makes a hash of the job.
Then there's the ghost of Mrs. Hill, a full-time resident confined to her room by ill health, before her death. Matthew informs us she once disengaged the elevator before he reached her — our — floor, midway through a crowded tour, as a reprimand for airing her dirty laundry. Her room often smells of cooking soup.
"Which room was that?"
"904."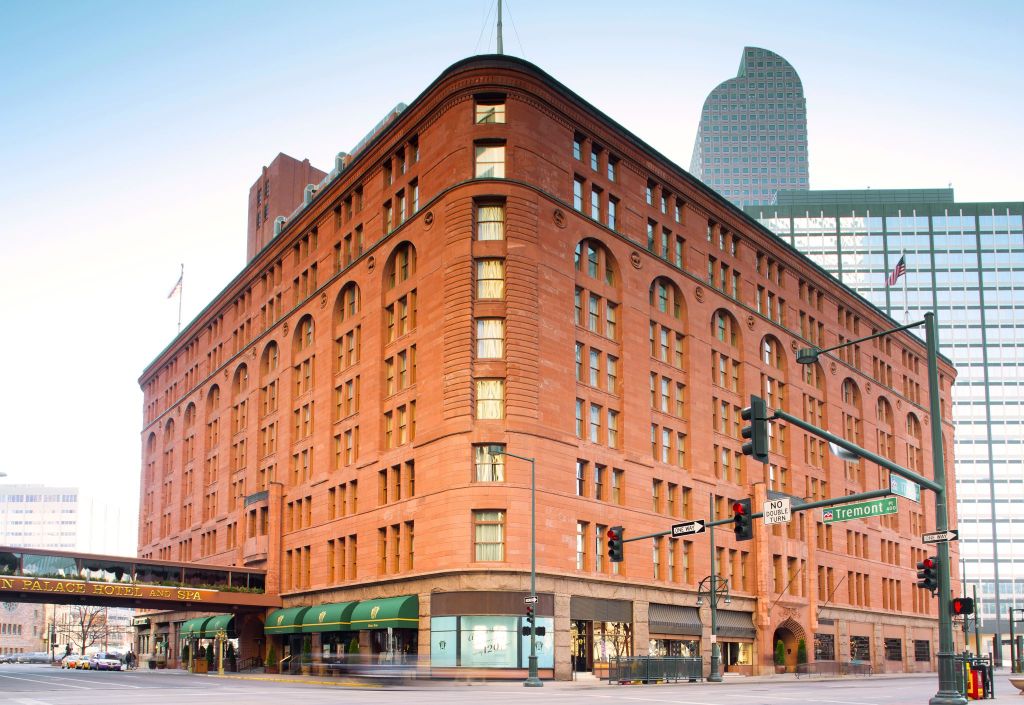 Two doors down from our double beds. Cold floods my body, while Sofie's eyes light up. Matthew has been whistled at, in empty stairwells. Front desk staff have walked out to greet non-existent guests visible on CCTV. He tells us the tragic story of a housekeeper who died jumping from the seventh floor of the atrium in the 1970s, then pulls out his phone to show us a recent picture of two visitors. They're holding babies, standing in the spot where she landed. A figure of a cloaked woman is undeniably visible in the corner of a glass pane behind them.
"Ah, I suppose that could be anything, it looks like they're wearing a hood," I muse, inwardly terrified.
"Yes. The housekeeper had wrapped herself in a sheet. She didn't want to make a mess."
Sofie immediately calls Sheila to book a paranormal activity detection session in her apartment, insisting I join. Guess I'll have to plan another trade-off. I hear skiing in Colorado runs until July…