Whisper it — but Cockburn can't help but love a funeral. Old churches, black clothes that take a few inches from the waist, the spread is always great and the wake is single-handedly the best after-party anyone, dead or alive, could ask for.
But there are a few rules. The first, one that should be glaringly obvious, is not taking smiling selfies for Instagram. Now, Cockburn knows that for a funeral such as Queen Elizabeth II's, photos are unavoidable. But it seems that the people at Meghan's Mirror, the style blog devoted to Meghan Markle, are lacking in basic etiquette.
A little over a month after the death of the Queen, Meghan's Mirror has splashed photos of Meghan's outfit at the events surrounding the Queen's death on their blog's homepage. The events include the "The State Funeral of Queen Elizabeth II," "Meghan & Harry Greet Well-Wishers at Windsor" and "Meghan & Harry Attend Start of Lying-in-State." The pages focus on "look details," before tagging the items with direct links to the shop. Do they make money from this promotion, you might ask?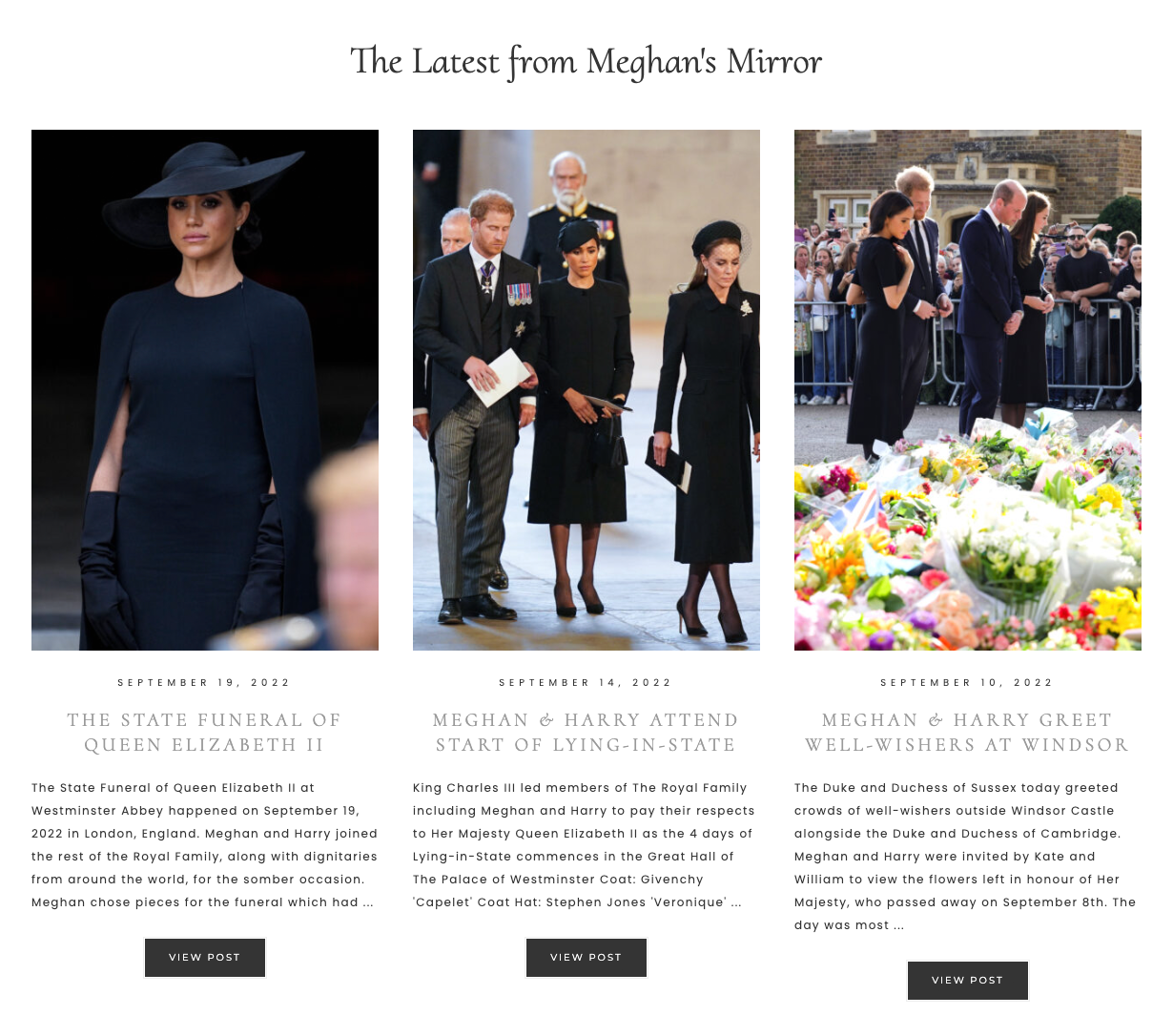 Meghan's Mirror has claimed the site makes a "small commission if you click through and buy" garments featured. Yet with hundreds of thousands of readers, this translates to a princely sum, alongside the advertising and brand collaborations on the site.
There have even been claims Meghan herself is linked to the site, due to the speed and accuracy of its fashion finds. Royal watchers have long wondered how it's possible for the site owners to know the brand and price of pieces when Meghan has, quite literally, just stepped out the door.
One commentator told Cockburn, "I've long suspected that she plays a role. It's likely she gets a cut for tipping them off. But merching from the Queen's death is a real low, whoever is involved."
Markle's association, however, has been denied.
Cockburn had a laugh reading one of the "look details," which begins "the day [Queen's death] was most certainly not about what anyone was wearing." The passage goes on to detail everything that Meghan Markle was wearing…