Monday night marks the fashion calendar's most overrated, overcovered event: the Met Gala. Each year it's the same. The outfits are underwhelming (unless they're worn Rihanna). The publicity stunts are boring. Its political outbursts are predictable and hypocritical. Most disappointing, the theme of this ultimate costume party is either uninteresting, completely ignored or both. But Monday promises something different, or at least above average. Its theme is "Karl Lagerfeld: A Line of Beauty," in tribute to the late fashion design icon, who revived Chanel and made it one of the greatest houses, and businesses, in Paris. An exhibition examining the work of Lagerfeld will run at the Met from May 5 to June 16.
Chanel has long been a name synonymous with luxury, with fashion, with style, with chic. The knitted woolen blazer. The 2.55 handbag. The Little Black Dress. The interlocking C (I want a tattoo of it). Chanel is iconic. No other house has a bigger couture budget — and you can see it in their sets.
But — these days — not in the clothes. Or their bags. Or really anything they currently sell. It's all pretty bad.
At this year's Paris Fashion Week, Anthony Vaccarello gloriously brought back power dressing at Saint Laurent, Sarah Burton's perfect tailoring blended Saville Row precision, gothic romance and classical elegance at Alexander McQueen, and Hermès showed how to find flair and creativity in classical elegance, in their layered, tonal looks.
Meanwhile, Chanel was boring. Its core ideas were "How do you plaster camellias into every item of clothing imaginable?" and "Aren't shorts fun?!" The collection was trapped within the confines of Chanel's very rigid, identifiable aesthetic, unable to do anything different, anything new. January's spring-summer couture collection was somehow even duller.
Vogue's latest cover shoot, celebrating the legacy of Lagerfeld, had ten different designers reinterpret his classic designs. They are all better than any contemporary Chanel collection.
How did it get so dire?
The House of Chanel had a rocky path to fashion royalty, potted with adultery, conspiracy and repeated failure
The House of Chanel had a rocky path to fashion royalty, potted with adultery, conspiracy and repeated failure. It's a "classic" brand because of its iconic items, and historic impact, but also fashion's extremely short memory. The glorious peaks of Chanel have always come with long, deep lows.
Gabrielle "Coco" Chanel founded her empire on the money of taken men; a poor girl who found love and luxury in the arms of textile heir Étienne Balsan, and more love and more money in his English friend, Arthur "Boy" Capel. It was on his dime that, in 1910, she founded her Parisian milliner boutique, Chanel Modes, and in 1913, started selling clothes from a new boutique in Deauville. Inspired by wartime scarcity, she rejected the "corseted silhouette" of the time in favor of something simpler, more casual, more functional and yet still unquestionable, self-evidently elegant. Her greatest commercial and artistic success came in the 1920s, introducing classically masculine elements — leather, jersey, tricot, details from military uniform — into womenswear. Chanel's work in the Twenties was one of the greatest runs in all of fashion history. In 1925, she debuted the classic Chanel jacket. A year later, she introduced the Little Black Dress; arguably the most important, influential garment of the past century.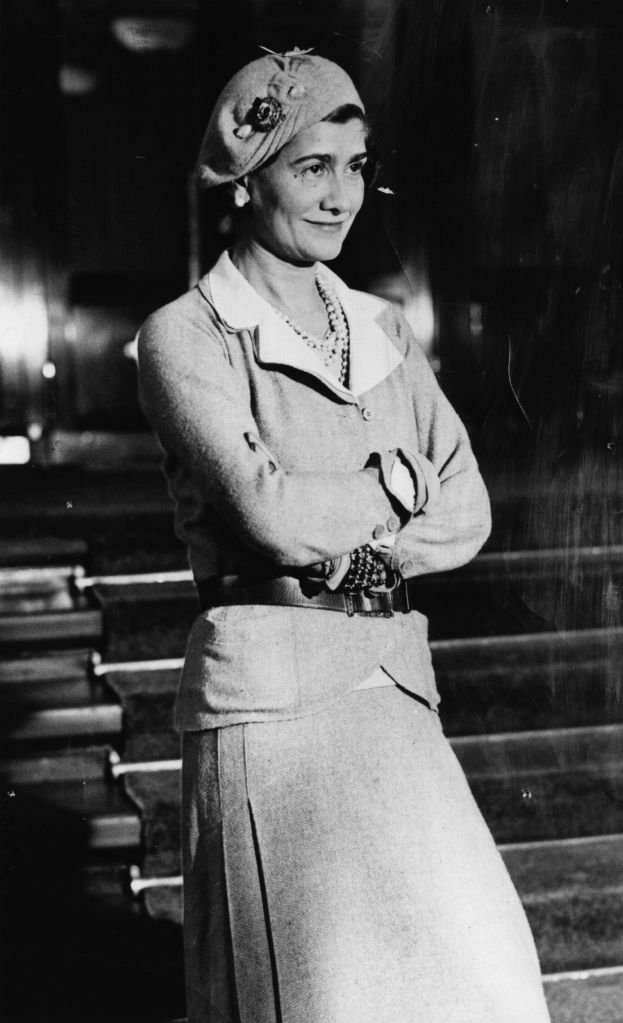 This success wouldn't last though. Her design took a steep decline in the 1930s, failing to match the playful prowess of Elsa Schiaparelli; and then it was World War Two. She closed her store in 1939, on the grounds of high-end fashion being inappropriate at this time. Some 4,000 women — who'd protested over poor work conditions and low pay — lost their jobs as a result.
During the war, French fashion went from a point of national pride to intense national shame. Its people starved under Nazi occupation — and the only women who wore beautiful clothes had sold out their bodies and country to afford them. Among France's traitorous whores, Coco was the most infamous, living it up at the glamorous Hotel Ritz, which was also headquarters for the Nazi military. A postwar pardon from Winston Churchill couldn't save her from intense unpopularity — and she fled France after the war, spending the next eight years in Zurich exile. She lived on perfume sales and the dime of her Nazi lover, Hans Günther von Dincklage. She would return to France in 1954, hoping to revive her famous brand; this time, financed by her former business partner, then vicious rival, now last resort, Pierre Wertheimer. Ironically, Wertheimer was Jewish.
Though now in her seventies, Coco turned out 1950s collections that were a glorious return to heights of her 1920s standard, pushing against the new, patriarchal couture of Christian Dior, Cristóbal Balenciaga and Yves Saint Laurent with an updated take on her classic style. She revived many of her iconic items — from two-tone pumps to the knitted woolen suit — but played with them, modernized them. It was here that she started the brand's association with pearls and gold-chain, and in February 1955, presented her iconic "2.55" quilted-leather handbag. This work is glorious. However, critics and consumers of the time disagreed. They hated it. They hated her. Who would have guessed; Nazis do not make for popular celebrities? (Somebody should have told Kanye.) The brand would continue its slow decline in the decades that followed. Coco died in 1971.
***
The brand only started to regain any momentum again in 1983, when Alain Wertheimer — grandson of Pierre — appointed a new chief designer to take over the brand; the high-collared count of couture, Karl Lagerfeld. His task was momentous — to bring Chanel into the present, make critics and consumers fall in love with it again, remember those iconic, classic designs, and forget the goose-stepping of its founder. And he did it. Using a young designer to reinvent an established but declining brand is hardly an exotic idea now, but Lagerfeld was among the first. He looked back to Coco's best work from the Twenties and Fifties, carrying forward signature items and details, but updating it with his own more experimental style, and sensual look. Just as Coco changed womenswear, Lagerfeld changed Chanel, making shorter skirts, taller heels, and bigger jewelry, and adding a new "CC" logo to 2.55, making it a bestseller again. It was controversial, but brilliant. Chanel, at its best, had to be classic. Lagerfeld also made it hot.
Just as Coco changed womenswear, Lagerfeld changed Chanel, making shorter skirts, taller heels, and bigger jewelry
By the 1990s, Chanel was one of the biggest and most profitable brands in fashion, loved by critics, consumers, and business alike. After eighty years of sharp ups and downs, they entered a new millennium as a fashion goliath: and, in the early 2000s, they started to vertically integrate their production, giving them greater control of materials, construction quality and profit margins.
And then nothing happened. The sorry state of today's Chanel is not because of any big mistake, or bold ambition that failed, or poor application of capital, or strategic miscalculation. It's because Chanel has done almost nothing interesting or innovative in the past twenty-three years.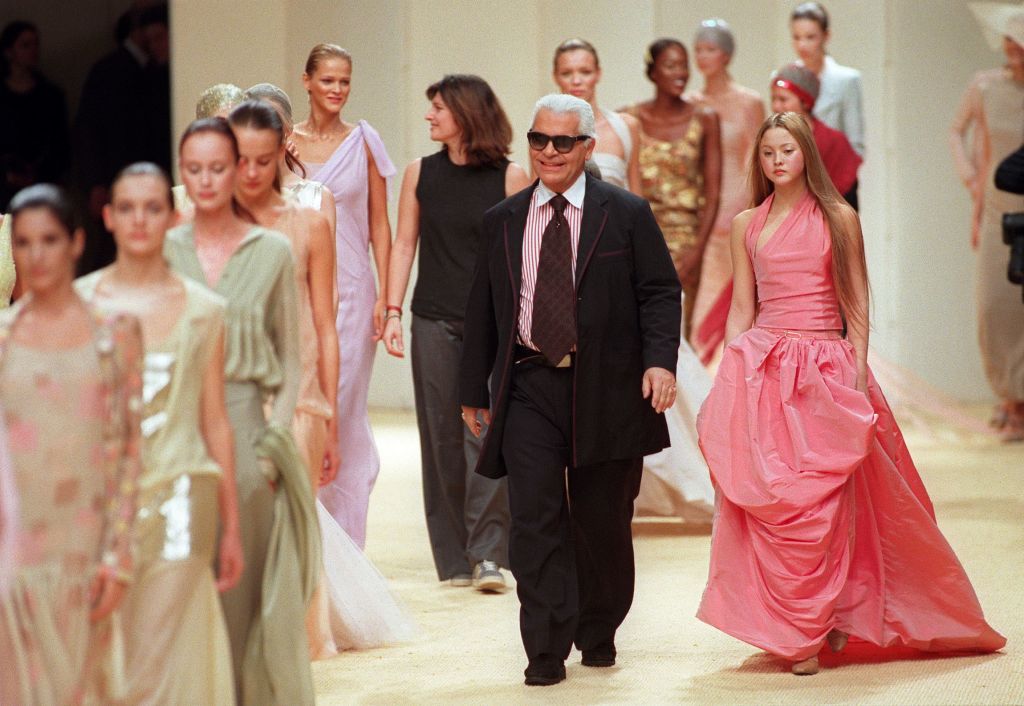 Lagerfeld's Nineties runway shows were an utter spectacle, with clothes, set and theme all in creative symphony; from his provocatively materialistic, street-inspired Fall 1991 ready-to-wear collection, to the corset-filled Spring 1993 collection, and fur-filled, fitness-inspired spectacular of the Fall 1994 collection. But, in the 2000s, he stopped trying. He'd made it. He was royalty. He didn't have to prove himself anymore, so he didn't. The fashion press — led by his friend, and fellow sunglasses aficionado, Anna Wintour — didn't pull him up on it. He was split across three brands, and though Fendi gave him the challenge of bringing a furrier into the modern era, Chanel was established, and his eponymous brand peaked with an H&M collaboration, before being creatively abandoned.
Management responded to Lagerfeld's lagging performance by squeezing profits from their hit items, using their vertical integration to drive up profits by decreasing quality. In 2008, they swapped gold hardware for gold toning. In the years since, high-grain leather was replaced with lacquered "action" leather, with the tumbled print embossed into it. All the while, prices have continued to creep up, and whispers of poor working conditions have returned to the brand.
Lagerfeld was so camp and dramatic — such a natural marketer — that few noticed this, or that, by 2010s, he hadn't made a hit product in a decade. The closest it gets are the "Chanel Pharrell" Adidas NMDs; a classy but unimportant pair of sneakers, whose $5,000 resell value is just down to their exclusivity. The enormous, overpriced sets of the 2000s Chanel shows were glorious, but the looks were forgettable. I remember the Fall 2008 carousel, and the Spring/Summer 2015 feminist protest, and — of course — the Fall 2014 supermarket. But the clothes? Ehh.
And then, in early 2019, two things happened that shook up Chanel's snow globe. One was the death of Lagerfeld, who died at eighty-five, and was replaced as creative director by Virginie Viard, who'd worked by his side at Chanel since the 1980s. The second was the newfound dominance of TikTok, particularly among the fashion focused youth. They would soon introduce affiliate links, allowing fashion "influencers" to truly compete with the fashion press: and they didn't share the same opinions as Vogue.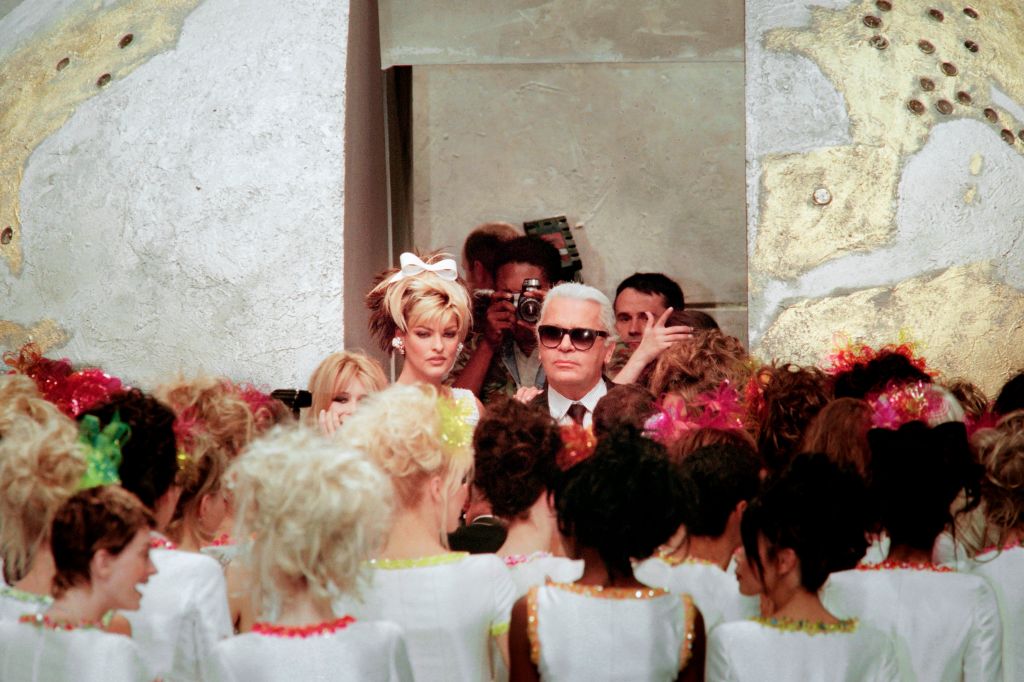 Viard's debut ready-to-wear collection was presented on a stunning Parisian rooftop terrace set, perfectly in line with 2010s Lagerfeld; but so were the clothes. What much of the fashion press politely described as "simple," "clean" and "traditional," fashion TikTokkers rightfully blasted as being dull and utterly predictable. This was a new era, with a new designer, and yet it looked exactly like what had come before. Where competitors like Prada (and Miu Miu), Louis Vuitton and Gucci have consistently pushed their designs forward, retaining their signature (high margin) pieces whilst also innovating on their signature look, Chanel hasn't.
Fashion TikTokkers rightfully blasted Chanel being dull and utterly predictable
Similarly, though the fashion press has largely ignored the declining quality of Chanel hardware — still happily recommending their bags in affiliate-link filled listicles — TikTok filled with videos breaking down its declining leather quality hardware and stitching. To quote user @tenickaB (425,000 followers), "If I wasn't in the Chanel store in Paris, and [hadn't] purchased this with my own eyes, and own money, I would think this was a fake."
Chanel has never acknowledged this complaint; the closest being a limp apology for their 2021 advent calendar. The limited edition, $825 holiday novelty contained little but samples and cheap trinkets (you could often get them for free in stores), and outraged TikTok videos raked in millions of views. To be fair, if you spend $825 on advent calendar, you deserve to get ripped off; but it's not very classy, or luxurious, to be the hustler doing that.
Chanel's current state is not surprising. In fact, it was borderline inevitable. They're stuck with the signature items of Coco, and legacy of Lagerfeld, too scared to risk moving outside them, even as stagnation slowly kills their brand.
One can keep hope though. Brands like Jacquemus have made the luxury handbag scene far more competitive — and the sheer dominance of the "Chanel is bad quality" meme may force the company to raise their standards. This could be a New Coke moment — and Chanel could reduce supplies, increase prices and dramatically increase quality, taking on Hermès and taking their margin-crown back. After all, they have the production pipeline to do it. Similarly, Viard is a deeply talented designer, and there have been hints of the great creative potential she could bring to Chanel. Last May's Resort collection was focused on sportswear — which Coco started with — making racing overalls in the Chanel house style, and it was glorious. Similarly, the crop-tops, low-waistlines and short-shorts of her Spring 2022 ready-to-wear collection recalled Tom Ford's debut Gucci collections in the very best way possible — and suggested a new, sexier, younger Chanel.
"Coco" reinterpreted the fashion of her age and became a legend. She did so by rejecting consensus and being unafraid of the risqué, just as Lagerfeld would do for the brand in the 1980s. The story of Chanel is that failure can only be broken by creative brilliance and risk taking; by messing with the iconic. Chanel is in a bad way. But if they could bring back that spirit, and make their product truly luxurious again, that would be a finer tribute to Lagerfeld than a fancy party could ever be