When Land Rover finally axed its "old" Defender in 2016 and promised to replace it with something better, traditionalists shed tears as readily as their beloved old-school Landys dripped oil. And the arrival of the "new" Defender in early 2020 did nothing to help: "too expensive," said some; "too complicated," said others. "Too precious," they moaned. "Not a real Defender," they concluded.
Oddly, it seemed, such people really did want to carry on driving a car based on a seventy-year-old design that was bereft of safety features, as aerodynamic as a breeze block, as drafty as a shed, rusted readily underneath and with the turning circle of a tanker.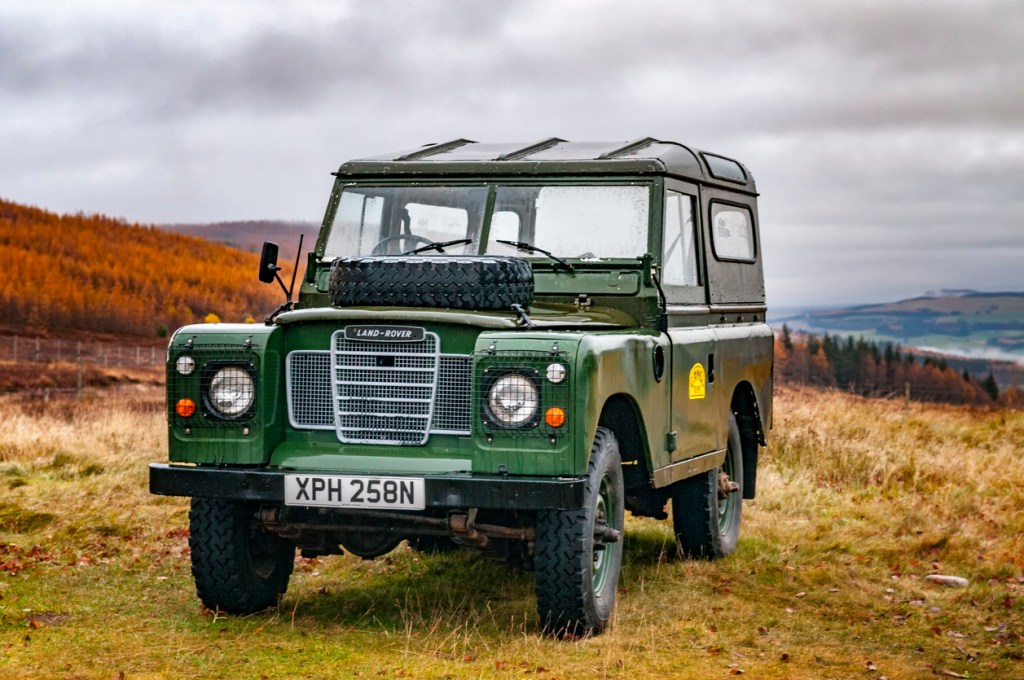 But one person decided to do something about the obvious gap in the market left by the demise of the old Defender — Sir Jim Ratcliffe, chairman of Ineos Group and often named as one of the UK's wealthiest people.
Initially Sir Jim offered to buy the rights and tooling to carry on building the old Defender, but Jaguar Land Rover turned him down flat. So in 2017, while indulging in a pint or two at the Grenadier pub near the Ineos offices in the London neighborhood of Belgravia, he decided to build his own off-roader that would be new from the ground up and would address all the shortcomings of the old Defender while retaining its rugged, utilitarian nature.
In honor of where the idea was conceived, the car would be called the Ineos Grenadier — and less than six years since those pints were pulled, it's up, running and in production as a more practical proposition for tackling roads less traveled than today's luxurious "soft roader" SUVs.
In keeping with the car's "Built on Purpose" mantra, first drives of the production Grenadier took the form of an event labeled "Expedition 1," in which a relay fleet of Grenadiers started at the Castle of Mey in northernmost mainland Scotland and ended up in Belgravia where it all began.
I was invited to take part in the second leg, which ran from Inverness to Glasgow amid snow, ice and bitter cold via a mostly off-road route — conditions that could hardly have been better for the launch of a vehicle specifically built to tackle anything that nature can throw at it.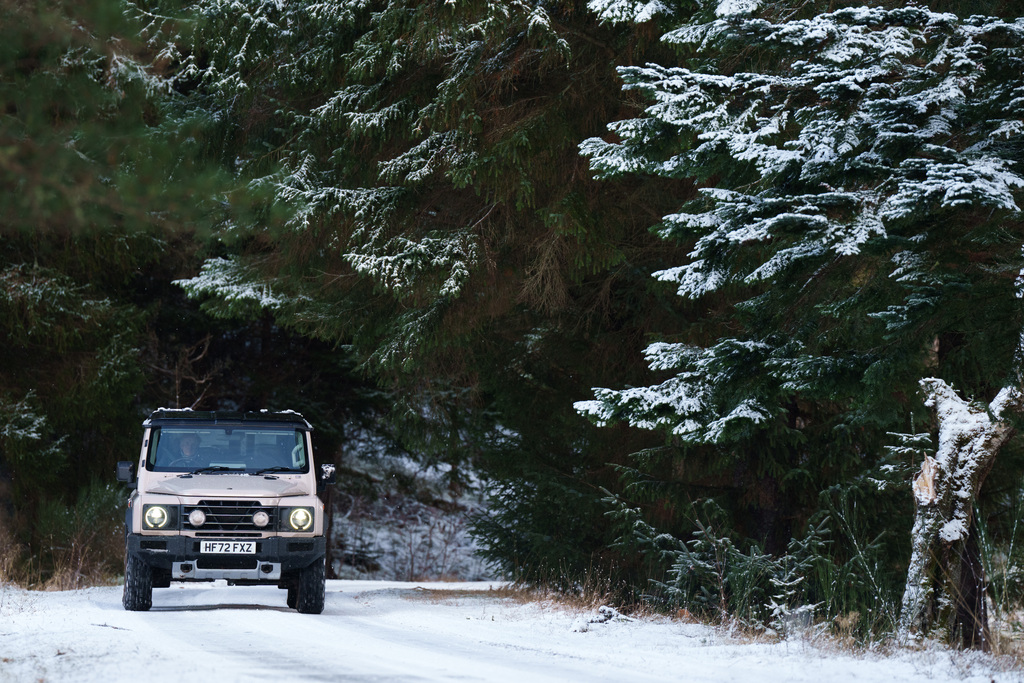 On first sight, the shape created by Toby Ecuyer (an automotive debut for a man best known for designing superyachts) appears to have been clearly inspired by the old Defender, albeit with a front end that has more in common with the celebrated Mercedes-Benz G-Wagen. Make no mistake, though: the Grenadier is no pastiche of anything that has gone before, but a completely new vehicle from the ground up.
Starting from the bottom, it has been given a massive ladder chassis, a pair of hefty beam axles and a set of good, old-fashioned coil springs rather than the hi-tech (but potentially troublesome) air suspension units found on many modern off-roaders. That set-up alone is enough to demonstrate that the Grenadier really is intended to take the (very) rough with the smooth, a fact backed-up by the three differential locks (front, middle and back) that ensure power goes to all four wheels at all times in tricky off-road situations.
Under the bonnet there's a choice of petrol or diesel-powered, three-liter, six-cylinder BMW engines that drive through a tried-and-tested ZF eight-speed automatic gearbox with manual override and a choice of high or low ratios.
Inside, the cab is rugged but comfortable with a choice of trim options and an innovative control set-up that's divided between a split dashboard (touchscreen infotainment above, business-like knobs and buttons below) and an aircraft-style overhead console that houses switches for activating features such as the differential locks, hill descent control, "wading" and "off-road" modes.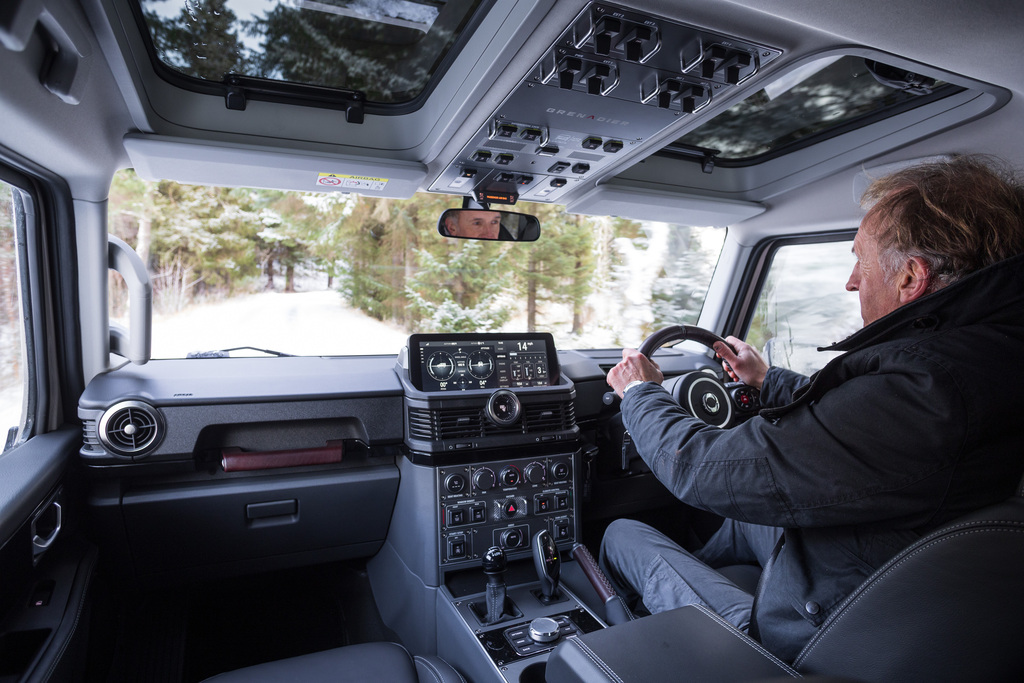 The overhead console is also fitted with a multitude of auxiliary switches which are wired-in to accept some of the many accessories that owners will likely want to add to their Grenadiers. Other practical touches that enhance the car's versatility include stout lashing points on the roof, ingenious clips along each side of the body for attaching accessories such as tables and tents and a 2,000-liter cargo area that can be configured in different ways and fitted with a range of accessories from an already fast-growing catalog.
The drive routes in the remotest parts of the 50,000-acre Ardverikie and Luss estates were designed to test the Grenadier's mettle without compromise, taking in boulder-strewn tracks, ice-covered ascents and descents, deep river crossings, extensive rutted tracks — and even a wade through Loch Lomond. The car certainly didn't disappoint, not least thanks to a feeling of invincibility that really does inspire an urge to pack it all in and head off on an adventure taking roads less traveled.
Almost as impressive as the Grenadier's off-road performance, however, was the way it goes on regular metaled surfaces. Anyone who has ever driven an old Land Rover Defender (or one of its even more basic predecessors) will know that the on-road steering was imprecise to say the least, and the ride could be bone-jarring. Add to that the wind that rushed through the door gaps at motorway speeds, the cramped driving position and the somewhat lumbering performance and the reluctance shown by many people to travel long distances in a Defender becomes understandable.
The Grenadier addresses those points with doors that actually shut properly, taught and precise steering and minimal body roll despite the pliant, off-road suspension. Top speed is only around 90mph, but the car will cruise comfortably at seventy.
So while the Grenadier is certainly no limousine and definitely not a sports car, it is exactly and unarguably what it was always intended to be: a tough and practical off-roader with sufficient refinement and performance to not only get you to the start of your next adventure – but to bring you safely home again, too.
Specifications
Engines: BMW three-liter, six cylinder, diesel or petrol
Power: 183kw (diesel); 210kw (petrol)
Torque: 550Nm at 1,250 – 3,000rpm (diesel); 450Nm at 1,750 — 4,000 rpm (petrol)
Transmission: ZF eight-speed automatic with manual override; mechanical center differential lock; electronic front and rear differential locks
Weight: 2.7 tonnes
Towing capacity: 3.5 tonnes
Length: 4.8 meters
Width: 1.9 metres
0-100kph: 9.9 secs (diesel); 8.6 secs (petrol)
Top speed: c. 99mph/160 kph
Coming to the US in 2023.
This article was originally published on Spectator Life.