I don't know about you, but I find that many of the things I enjoy eating most in the summer, those things I crave when the weather is blazing hot or just plain muggy, still require some level of cooking. Those chilled soups, or sticky ribs, or even ice creams still mean standing over a hob or a barbecue or turning on the oven.
Mostly, I embrace it: a hot means to a greedy end. As someone who finds relaxation in baking and cooking, I'm not big into no-bake dishes. I'm willing to turn the oven on if it means soft, baked fruit that I can chill and serve with swoops of cool softly-whipped cream, or to light my barbecue if it means beautiful, charred fish alongside a sharp, zingy dressing.
But sometimes even I lose my patience with it all, especially if it means turning my kitchen into a sauna, or standing sweatily over a hob for hours at a time. And that's where coconut ice is perfect: a true no-cook dish, it's perfect for warm summer days. It takes under 15 minutes to make, doesn't need refrigerating or freezing and won't melt or spoil or curdle in the heat.
Its only downside, I suppose, with the word 'ice' in its title and it is, in fact, in no way chilled, which seems cruel during a heatwave. With one hand I giveth, with the other I taketh away. In fact, the 'ice' in the title is without clear historical justification; the only proffered explanation is that the desiccated coconut does make it look a little icy in texture.
If you're put off by the perils and complexities of confectionery, then coconut ice is the answer: three ingredients, no cooking whatsoever and no technical temperatures or techniques to contend with. When coconut ice became popular during the late Victorian period, it was usually made with a boiled sugar syrup and desiccated coconut, rather than the condensed milk, icing sugar and coconut that is now the norm. The modern recipe is more flexible, more tolerant; it is less likely to seize or crystallize, or turn rock solid as it sets.
Coconut ice is not a grown up treat: soft and slightly sticky and unabashedly sweet, it even looks cheerful with its literal candy stripe across the middle. Traditionally the sweet is half pink and half white; while I like it pale pink, but you can go as lurid as you wish — or swap out the pink for whichever color your heart desires.
It's also a great sweet to make with kids, as not only is it no-bake, but it's quick to bring together, uses bright colors and is best brought together by hand, squidging the coconut into the mixture and then flattening it out into the tin. It has a decent shelf life too, sitting happily in an airtight container for several weeks — not that it'll last that long once people spy it.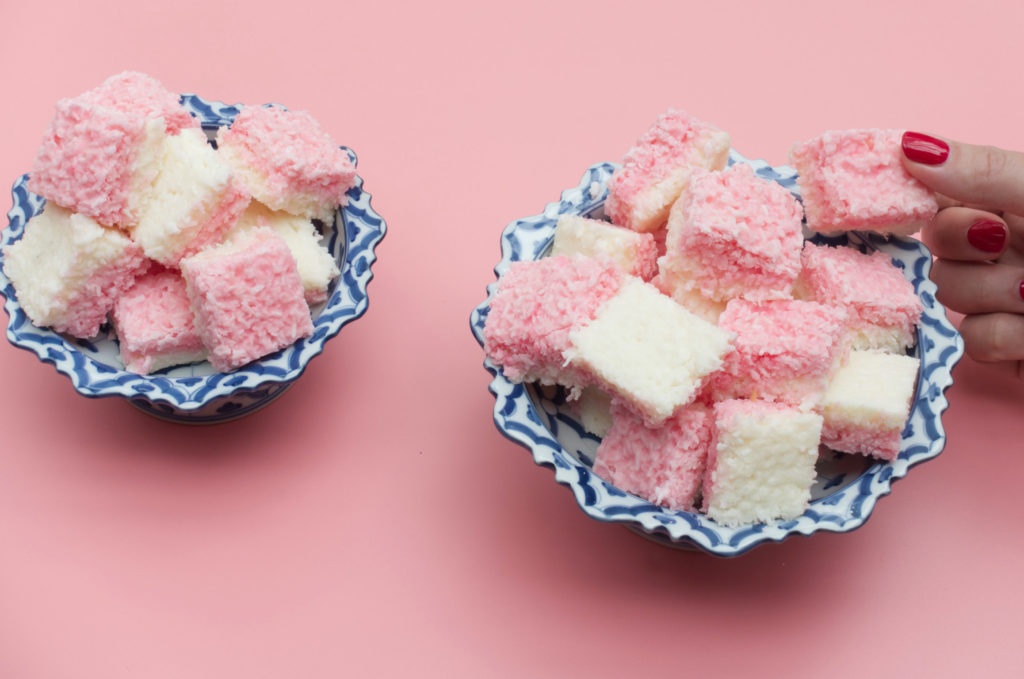 Coconut ice
Makes: 36 pieces
Takes: 10 minutes, plus resting time
Bakes: No time at all
14 oz condensed milk
12⅓ oz icing sugar
10½ oz desiccated coconut
Pink food coloring
If your icing sugar is lumpy, sieve it into a large bowl; if it's fresh and smooth, just pop it in the bowl. Beat together the condensed milk and icing sugar until well combined
Squidge desiccated coconut into the mix: you can use a wooden spoon, a spatula or clean hands to achieve this.
Take half of the mixture and place it in an 8×8 inch square tin with a removable bottom. If your tin doesn't have a removable bottom, you'll need to place a strip of baking paper with overhanging edges along the length of the tin to help you remove the confectionery when it is set
Spread the first half of the mixture evenly across the base of your tin, easing it right to the edges
Add a couple of drops of pink food coloring to the remaining mixture in the bowl and use a spatula or wooden spoon to distribute
Tip the pink mixture into the tin and press it down on top of the white mixture into an even layer, spreading right to the edges
Leave at room temperature for at least four hours, ideally overnight, so that the mixture can dry out a little and set
Once set, ease a knife around the edge of the tin, to loosen the coconut ice. Lift out using the removable base of the tin, or the ends of the greaseproof paper. Slice into six vertical and six horizontal columns to create 36 square pieces. Slide a knife under each piece to release it from the base of the tin. Enjoy straight away or store in an airtight container
This article was originally published on Spectator Life.