The Cerberus heatwave is as fierce as they said it would be. I feel like I'm being microwaved on a low heat, my phone hot to the touch inside my pocket.
A friend and I heave suitcases into the imposing stone lobby of a.d. 1768, then slump on chairs, dizzy. A palatial, historic residence hidden in plain sight, I'm gratefully swallowed up by its high ceilings and cool shadows. We've navigated Italian roads (and road rage) from Catania to Ragusa Ibla in 107.6 degrees Fahrenheit to seek out one hotel, and one man: Ciccio Sultano.
Our month-long road trip through southern Italy is finishing in the late Baroque towns of UNESCO World Heritage Site Val di Noto, collectively rebuilt after a huge earthquake on January 11, 1693. For me, this embarrassment of architectural riches is the secondary draw; it's the food I'm here for.
We've slurped almond granita for breakfast at Noto institution Caffe Sicilia (worth every ounce of the hype, since 1892; watch the Chef's Table episode). Browsed chocolate shops across Modica (Bonajuto is the oldest in Sicily, and the best). And now I've copped a booking at Ciccio Sultano's two Michelin star outfit, Duomo.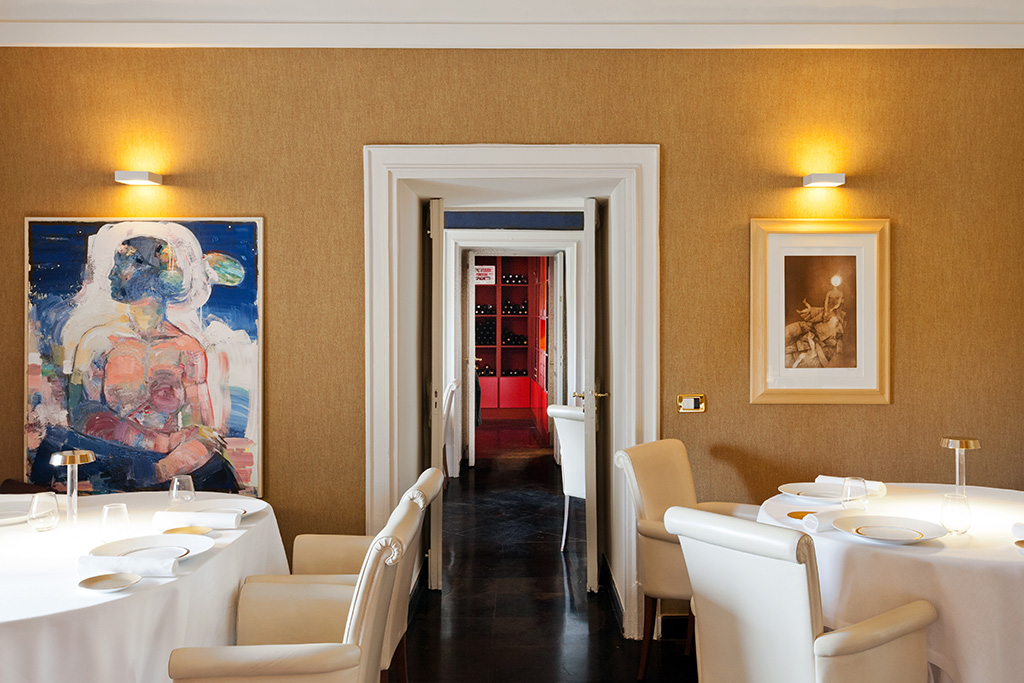 Thousands of tourists make their way to Ragusa Ibla each year, Sultano's unique take on Sicilian gastronomy putting the city's ancient area on the map.
"Ciccio is my friend. You'll try his bread tomorrow at breakfast. But my Sicilian eggs are the best! I tell him all the time!" laughs Giusy, the surprisingly young proprietor of our spectacular digs.
We're shown upstairs to Donna Agnese, a twenty-seven-square-meter room awash with pinks and greens. Converted from a place of worship, the ceiling is high and the details pitch perfect; the wrought iron bed passed down by Giusy's family.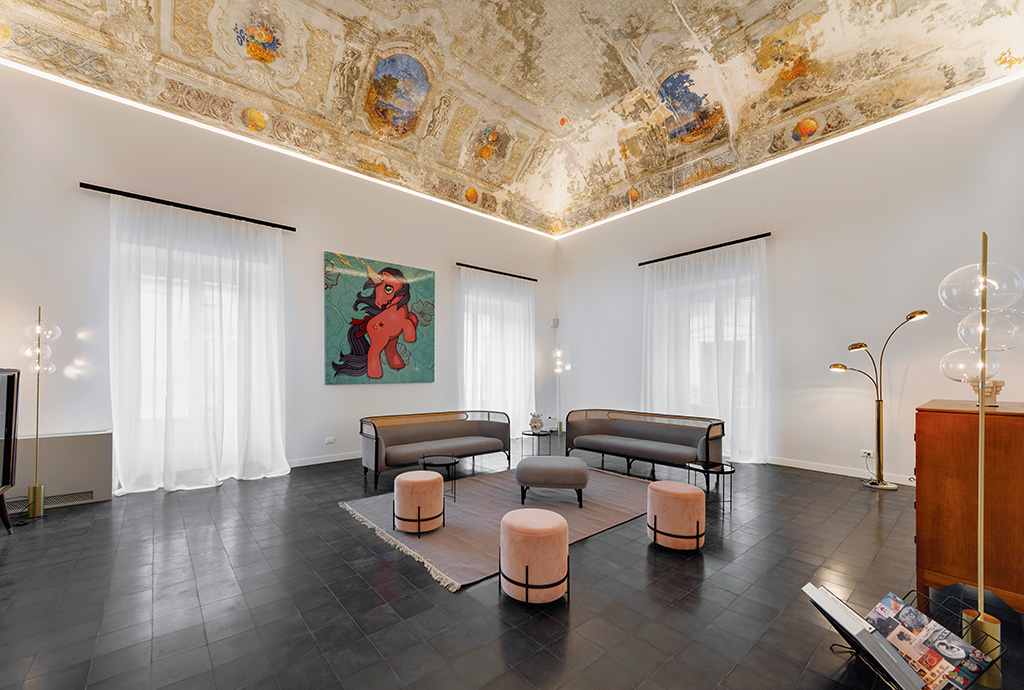 Modern art adorns most surfaces, striking against the building's ancient walls. Elton John's "Rocketman" blasts from the speakers, and a huge portrait of a unicorn in the shared living space distracts from views of the street leading directly to the Piazza Duomo.
Giusy pours her heart and soul into this project, splitting time between here and Milan while practicing as a lawyer. "Lots of people stay here when they're eating at Duomo. You're going to love it — and my eggs. Don't cry from pleasure!"
A shower and a lie down affords us the energy to walk five minutes to Sultano's elegant restaurant, swollen feet stuffed into our heels. We pass the Catalan-Gothic-style portal of Duomo di San Giorgio. Tick. It's too hot to attempt the stairs to peek inside.
Halfway down an incredibly narrow via, Duomo's signage lights up a peeling wall. We jump at the offer of an aperitif; a Barnum cocktail — served to look just like a crisp glass of white wine — helps us shake off the drive.
What follows is the most technically impressive meal we've been lucky to savor in Sicily, a palimpsest of influences showing off centuries of unique culinary history — Arabian and Moorish most obvious.
Proceedings begin with fresh mackerel, crunchy seaweed and a refreshing dashi of red tuna. Layers of flavorsome vegetable "meat" are piled up to make "Leaves lasagna." We try "Capidduzzo," Sultano's famous pasta dish combining a black tea and Talisker Whisky sauce, with oysters and caviar. Black truffle ice cream is a savory surprise, before lamb, cherry and seaweed appears with green beans.
A trolley stuffed with Champagne and wines circles the refined dining room. We go for Zibibbo Barraco, from grapes grown on sandy soils. Then I get the chance to ask Chef Sultano how he got here.
"Destiny. I thank God every day for making me born Sicilian; otherwise, I could not have been the chef I am."
"This place was and still is at the center of the Mediterranean Sea, cradle of cultures, on routes from north to south and east to west. It's enough to remember that Archimedes, Frederick II and Goethe have passed here. The whole island is worthwhile to explore and discover.
"I used to come to Ragusa Ibla to smoke a cigar in peace, surrounded by beauty! Before opening my restaurant, I did my civil service in Emilia Romagna and later worked in Germany and New York. I think I have, up to now, honored my debt of gratitude towards this place, that I admired as a young man."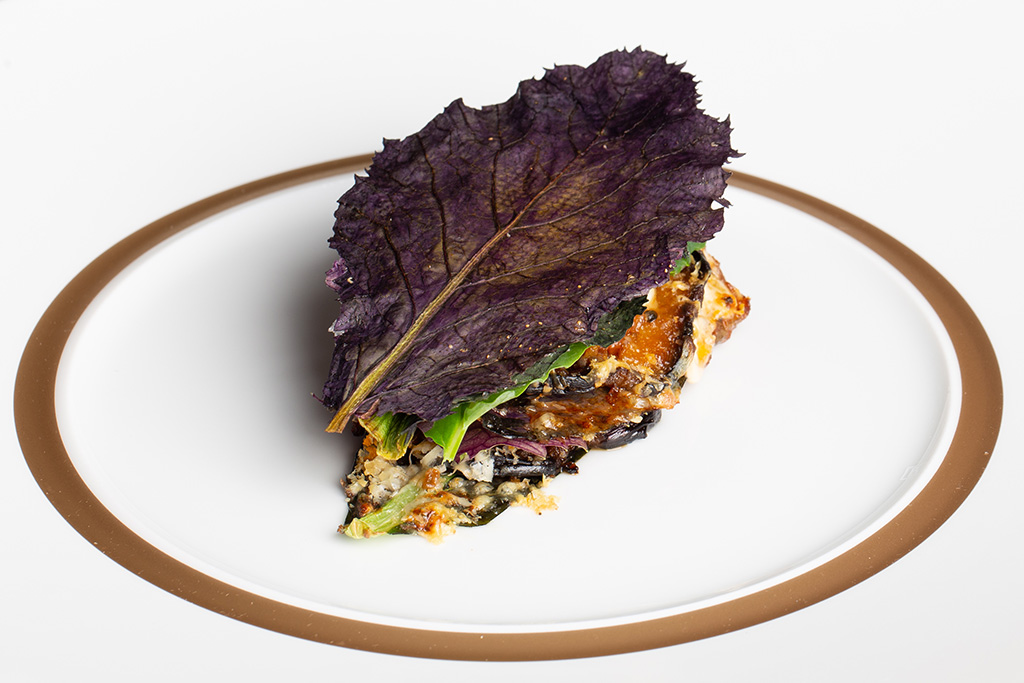 Midway through the meal, an enormous home-baked Sicilian loaf lands on my plate — ah, Sultano's famous bread baked with ancient grains. With regret I opt out, saving room for double dessert. "Milk" conjures up sweet, nostalgic cereal milk flavors, and "Pistachio 100 percent" is an intricately crafted display of pistachio sweets.
Sultano is beyond proud of the two Michelin stars on the wall, and he's gunning for a third.
"The goal is to add the third star. but more broadly speaking, to live, continuing to love and understand life for what it really is, without moralizing."
Of course, he does this best through food. "First and foremost, I love to eat. Everything starts from the stomach and goes up to the brain, turning into technique. I would say that, for me, cooking responds first to a need and then becomes a language."
Sultano's cuisine is mindful — he remixes various genres of Sicilian tradition, using "the gifts coming from the sea and the land."
I take the chance to ask him which sights he thinks we shouldn't miss. Archaeological treasures top his list.
"There's the Palatine Chapel in Palermo, and the sites of Agrigento, Selinunte and Segesta," he starts. "Then an excursion to Mount Etna or the Irminio River Reserve, or the underground cathedral of Salt in Realmonte. Go to Rabbit Island, Donnafugata Castle, or the Roman Villa del Casale in Piazza Armerina."
I need to know where he eats, too.
"In Sicily, go to MEC in Palermo, the Shalai in Linguaglossa, Sapio in Catania, the pizzeria La Capinera in Ibla, and Martina Caruso's table at the Signum Hotel in Salina."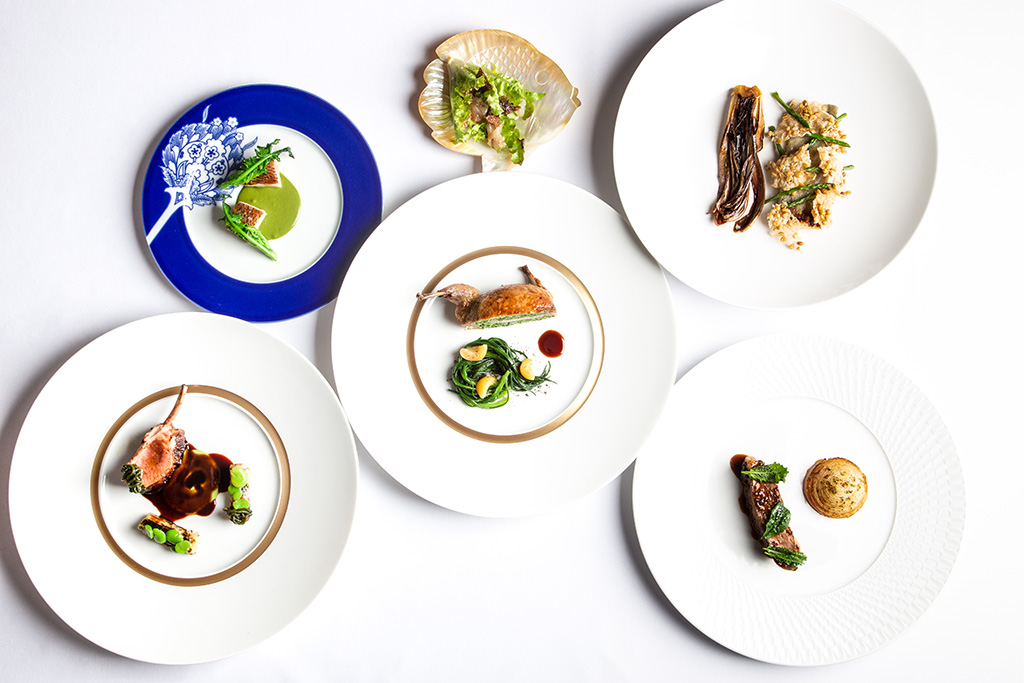 What should everyone try before they fly?
"Anything fish-related. Centuries-old mastery. And I could neither live nor die without wine."
Next morning, as well as Sultano's (sensational) bread, we discover a dizzying array of sweet treats on Giusy's breakfast menu. When in Sicily.
And the feast isn't over, because of course, Sultano runs an unmissable modern trattoria a short walk down the road. Hours later we arrive at I Banchi intending to stick to acqua frizzante, but are soon convinced to switch to sparkling from Terre Siciliane.
A quick look around Sultano's pastry counter-restaurant-deli-gift-shop drives home that everything this chef does is with intention. The on-site bakery pumps out several varieties of scacce ragusane, a typical Ragusan bread made with leavened dough. We gorge on iterations stuffed with tomato, eggplant, grated cheese and spinach before the tasting menu is served on a beautifully informal outdoor terrace. Grilled octopus with potato salad, spaghettone with tuna bottarga and lemon sauce, and glazed pork neck with cantaloupe melon count among our favorite dishes. To finish, ricotta cannolo with pistachio sorbet and a zingy orange sauce. We get our daily pistachio fix via a couscous with pear sorbet.
When we finally roll home, Giusy presumably mistakes the rivulets of sweat running down our faces for tears of joy. "Don't cry from pleasure!" she reminds us.
Reader, we almost did.