Open Bryna Pomp's wardrobe and you'll find a uniform of near identical navy blue and black dresses. Yet squirreled away in dozens of boxes in her closet-cum-office are more than 500 pieces of contemporary jewelry: the bolder the better.
For the last thirteen years, Pomp has curated MAD About Jewelry, the Museum of Arts and Design's popular annual pop-up that sees makers from across the globe travel to the Manhattan institution to show and sell their wares. In the process, she has built her own vast collection, ranging from brooches to earrings to necklaces.
"My signature is very much a necklace," says Pomp, holding up one deliciously extravagant piece of art after another
"My signature is very much a necklace," says Pomp, holding up one deliciously extravagant piece of art after another against her simple black t-shirt. "To me, [clothes are] simply a backdrop for the necklace."
I meet Pomp at her home in the village of Tuxedo Park, a gated community an hour's drive from Manhattan, nestled around three lakes in the Ramapo Mountains. Built in the nineteenth century to serve New York's fabulous and wealthy, the park exudes Great Gatsby vibes. Perched on the edge of a steep hill, Pomp's sunlit house overlooks a canopy of trees.
Raised in New Brunswick, New Jersey, Pomp is the daughter of a plastic surgeon. It was a scientific, rather than artistic, household, and her homemaker mother's taste was traditional: Tiffany and Cartier gold chains, studded with diamonds, many of which Pomp still has, wrapped in their original dust bags.
At Wheaton College, Pomp studied French and art history before joining America's top executive training program for retail, run by Federated Department Stores in New York. There, she got randomly assigned to the jewelry department, and a love affair was born. "I had no interest in jewelry at that point," she laughs. "Yet here we are more than forty years later, and I've spent my entire career in that field."
Pomp eventually became product manager of the storied Trifari brand, working with manufactures in Rhode Island, then America's costume jewelry hub. Her job took her across Europe, where she shopped for inspiration, and to factories in Seoul, Hong Kong, Taipei and Bangkok. Her hands-on, broad-based experience — ranging from design to product development to merchandising and marketing — has given her a unique position as curator.
Today, Pomp has five criteria for the jewelers she asks to participate in MAD About Jewelry: originality, outstanding design, meticulous craftsmanship, a mastery of material and wearability.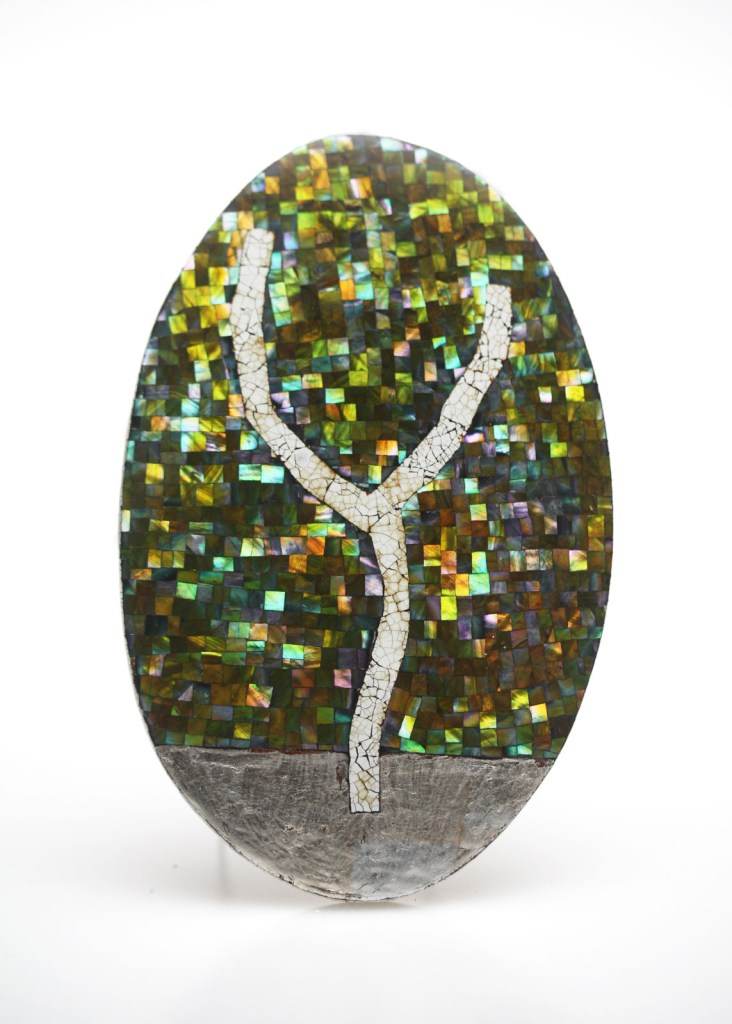 "All of the jewelry that I curate and present at the museum has to be wearable," she emphasizes. "I see a lot of jewelry I like very much, [but] it's not wearable. That's not the goal of the maker; they are more focused on the final piece of art. They are perhaps very happy to have the final piece used as an object or a wall hanging. I want them to be worn."
Which is not to say that the artists can't experiment: close to half of the works are made up of alternative materials, found objects and textiles. This year's examples include Yumi Kato, who repurposes silk from used Japanese kimonos, and Deborah Beck, who collects discarded plastic bags and recycles them by hand, before setting them within silver structures.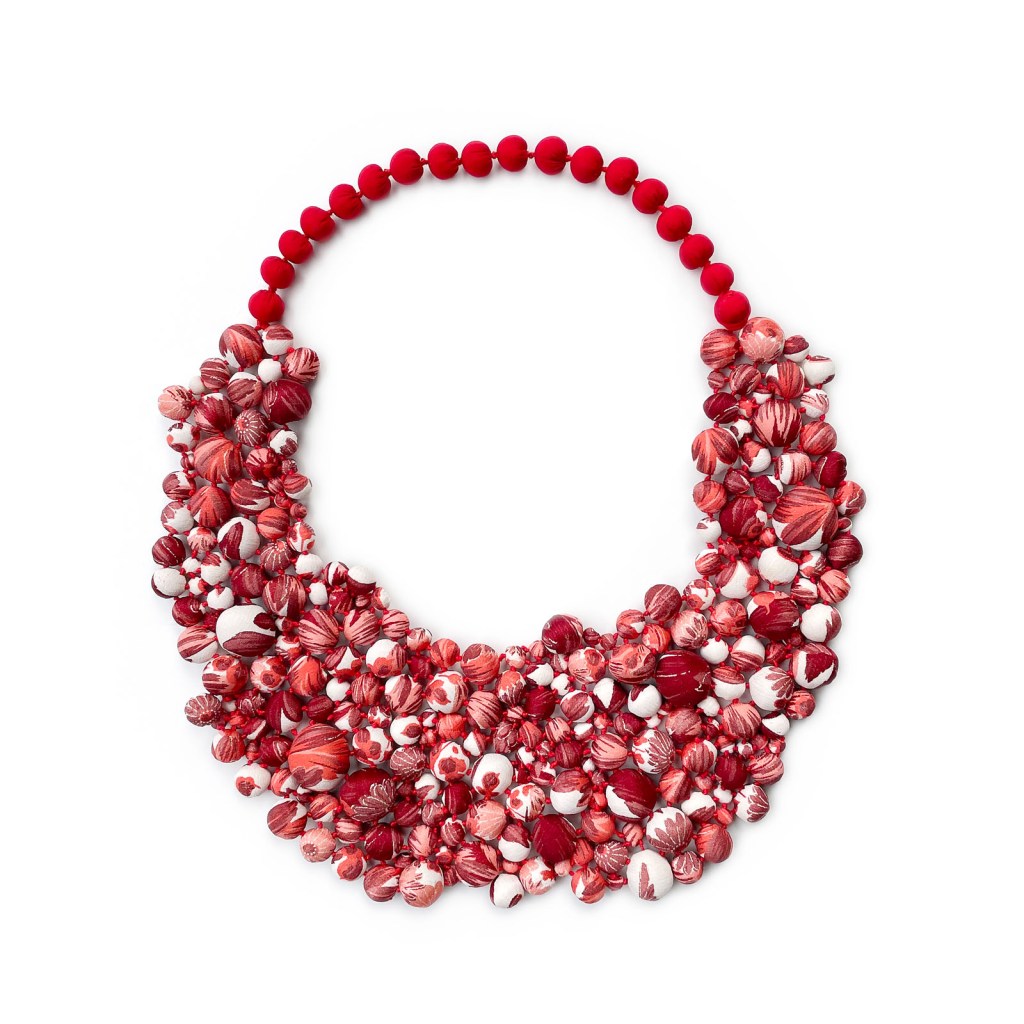 Often the makers have had other careers before segueing to jewelry design. "The most prevalent transition is from architect," says Pomp. "Because they have that kind of [problem-solving, technical] mind, but I think they want something that has more immediate gratification, something that's more hands-on and is their own personal process."
MAD About Jewelry often marks a major milestone in a creator's career and fills a large hole: with no other street level contemporary jewelry galleries in New York City, this is the only event of the year where artists can publicly present their work on such a large scale. As such, "to get on my radar and to get an invite is big," says Pomp, who looks at thousands of makers before whittling down the final selection to fifty.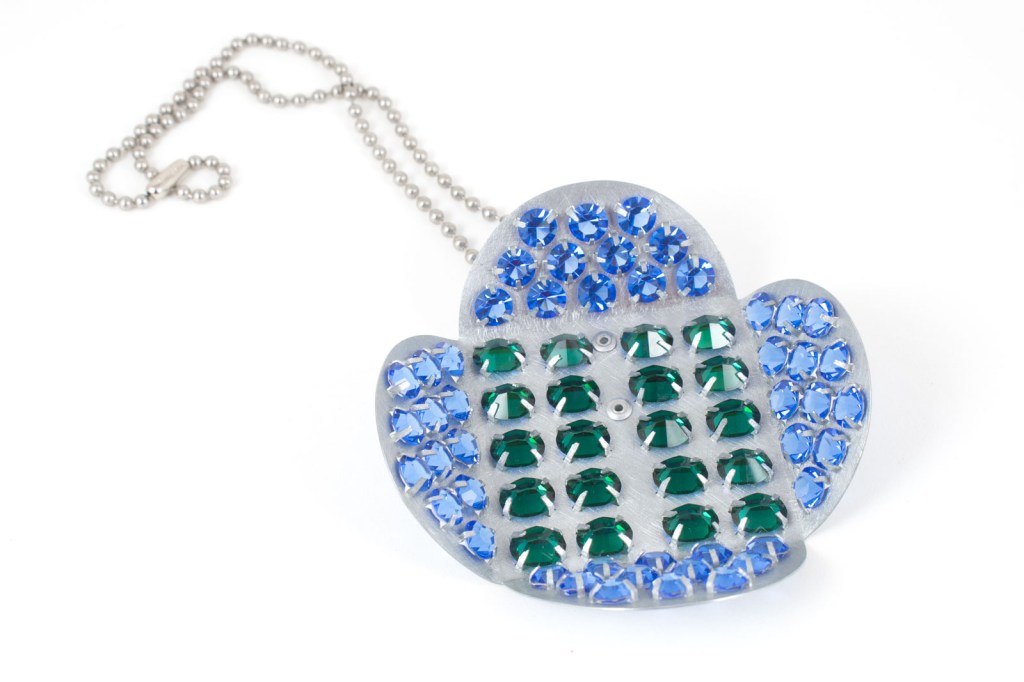 Pomp is attracted, above all, to an element of surprise. Maija Vitola-Zitmane's brooches, carved from bone, horn and wood, are both subdued and erotic, depicting naked female torsos. Ute Decker's sculptural gold and silver pieces are reminiscent of Japanese calligraphy. Yoojung Kim carves semi-precious stones into the shape of pills; sterling silver represents the peeled foil.
Dutch duo Jiska Hartog and Michiel Henneman make their brooches from walnut shells, onto which they painstakingly create characterful faces; when they aren't being worn, the faces hang on vintage photographs printed onto metal, making whimsical portraits. The collection is titled "Are You Nuts." "I just love jewelry with a sense of humor!" exclaims Pomp.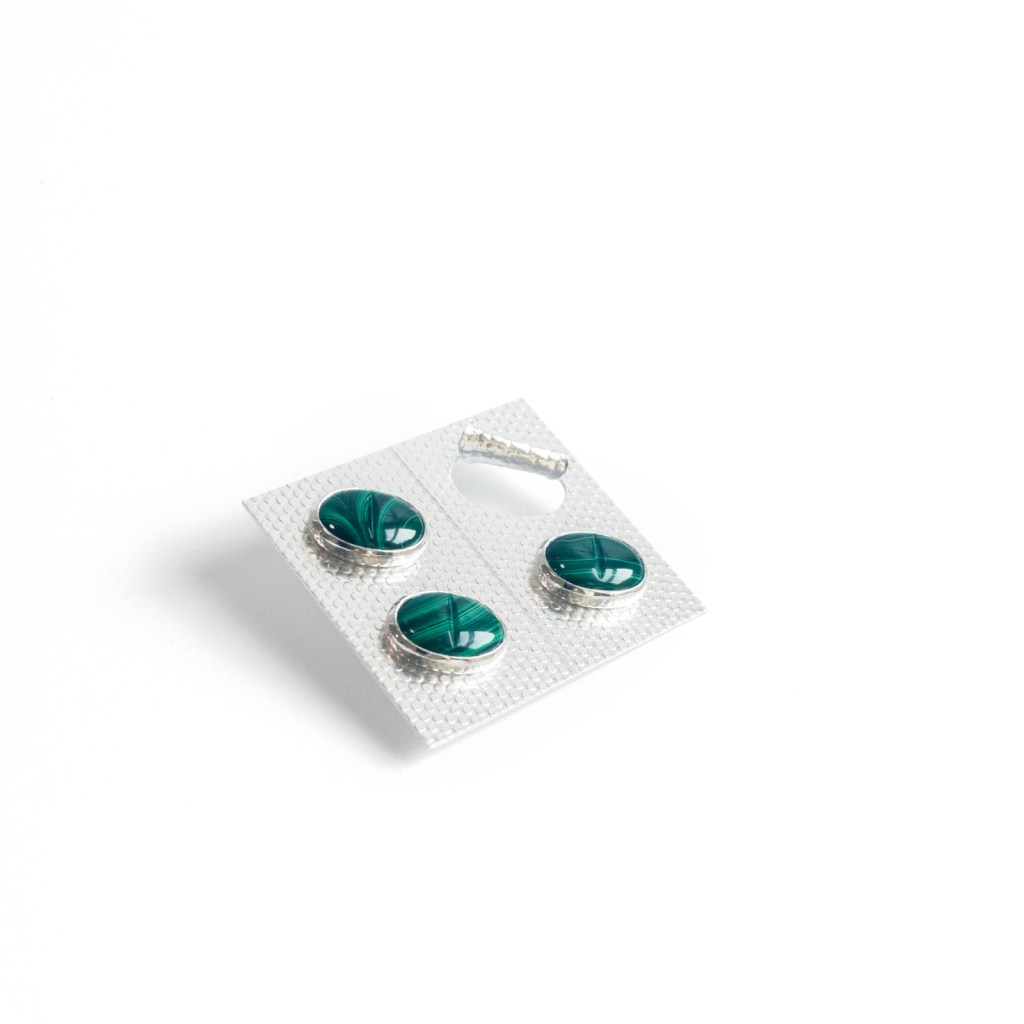 Prices for the pieces range from $25 to $20,000 with the majority under $1,000. Proceeds are divided between the artist (who must attend in person) and museum. Many of the pieces are Instagram-worthy, with bright candy pops of color and unique shapes. But Pomp is as interested in how jewelery feels and sounds as in how it looks.
Her jewelry is eclectic, contemporary, and, while statement-making, also simple
For this reason, her personal collection features several glass necklaces whose heavy beads winningly chink and clink as she moves; another necklace, made from beige silk, looks like champagne bubbles and feels so light it is almost as if one is wearing air. Her jewelry is eclectic, contemporary, and, while statement-making, also simple. "They boil down to the essence. I don't like extraneous overdone pieces at all," she says.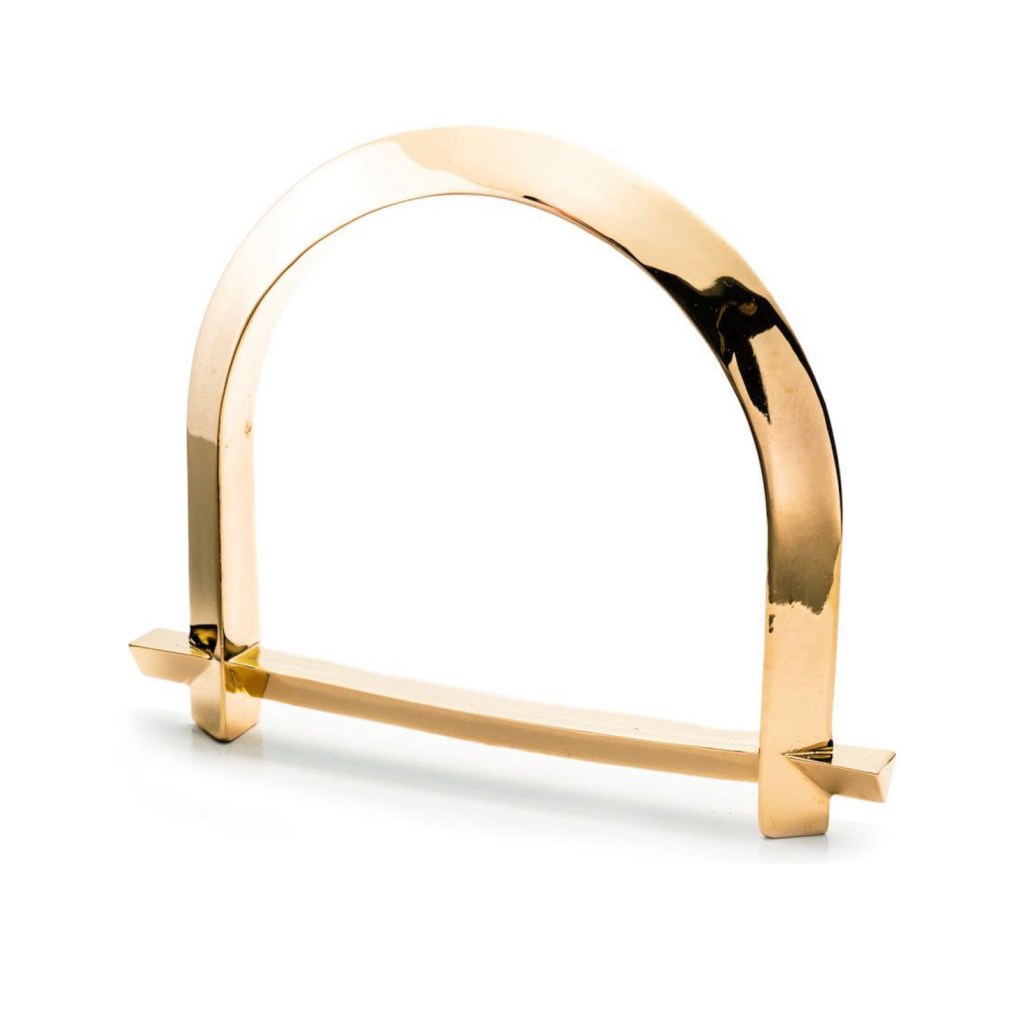 Pomp is unsure what will become of her collection, which she adds to each year. Her husband, Martin, who works in finance, now collects brooches too — pinning them to his blazer when he lunches at the Tuxedo Club. Pomp's daughter, Charlotte, prefers to keep it classic, layering an 18K gold Tiffany teardrop and key on two chains. Her mom's jewelry, she jokes, is "weird."
For Pomp, weird is good: she loves how each piece tells a story and becomes its own heirloom. Her latest purchase, a necklace by Herman Hermsen, then, is all the more pertinent. Hermsen screen-printed real signs from the city of Munich onto stainless steel, which he then strung onto a chain. Many warn people away from doing certain things — no high heels, no strollers, don't feed the pigeons. But one is larger than all the others: "STOP ENJOY YOUR LIFE," it reads.
MAD About Jewelry 2023 runs at New York's Museum of Arts and Design from Wednesday April 26 to Saturday April 29 and is free with museum admission.