Half an hour or so into the new Whitney Houston biopic, I Wanna Dance with Somebody, two bros sitting next to me asked, "Why is gay Whitney in Black Panther?" They were in the wrong movie, but based on the other audience members screaming at the screen, the lone straight men weren't alone in finding director Kasi Lemmons's new film shocking.
Sony promoted I Wanna Dance with Somebody as the feel-good biopic of the year. The trailer starts with the hook of the titular song and goes on to show Houston (Naomi Ackie) dancing to "How Will I Know" and singing her iconic rendition of the "Star-Spangled Banner" at the Super Bowl. Houston rarely speaks, but when she does, she talks about music: "My dream," she purrs, "sing how I want to sing." There are no references to the crack-is-wack era Whitney, her tragic death, or her marriage to Bobby Brown, let alone her lesbian relationship with personal assistant Robyn Crawford. This is black American princess and singing legend Whitney Houston. The commercials and posters go out of their way to let you know Bohemian Rhapsody screenwriter Anthony McCarten wrote the movie as if I Wanna Dance with Somebody was the latest in the trend of cheesy, feel-good, sing-a-long biopics like Rocketman and Elvis or white-washed jukebox musicals like MJ: The Musical, which famously sidesteps the child molestation allegations against Michael Jackson.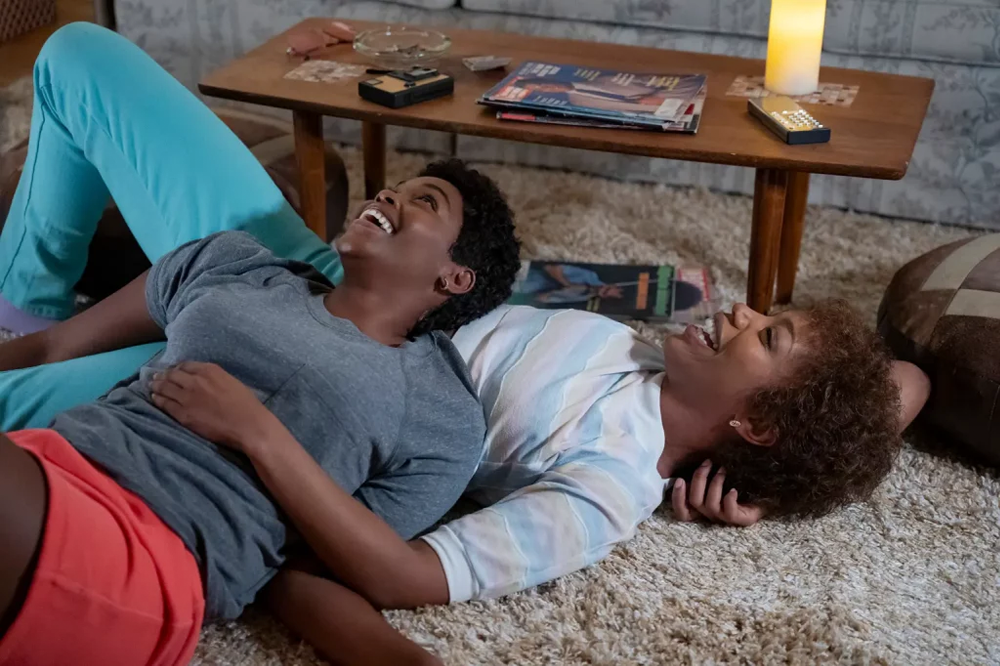 But I Wanna Dance with Somebody is far from authorized biopic sleaze. It's cinema of the first degree — and the rare successful Hollywood film about a queer character. Or, at least, a character with queer relationships who didn't identify with labels.
The audience shrieked at the screen, shocked by what they were seeing, but the advertising didn't exactly lie. Conceptualized with Clive Davis, the lawyer and Arista Records founder who discovered Houston and orchestrated her career, Lemmons and McCarten structure the film around music. It begins with Houston singing at the New Hope Baptist Church in Newark, New Jersey, continues through Houston handpicking songs and concludes with her preparing for a performance at Davis's pre-Grammy party at the Beverly Hills Hotel — a performance that wouldn't occur because Houston drowned in a bathtub before she took the elevator down to the stage.
In one standout scene of the film, after Bobby Brown cheats on Houston, a cocaine-fueled Houston shows up at Davis's hotel room late at night. She wears a bathrobe and demands Davis, played by Stanley Tucci, give her a new song to sing. He plays her a demo for "It's Not Right, But It's OK." Houston forces him to play the music repeatedly as she belts the break-up anthem and jumps up and down on the couch. In the wrong hands, the scene would be camp. In Lemmons's understated direction, the scene points to Houston's charisma, her problems and a conflict the audience may not want to grapple with: Houston's problems fueled much of the music we love.
Much of this drama slams against Houston's relationship with Crawford. Early on in the film, Houston meets a teenage Crawford. Houston maintains short hair, while Crawford's is nearly buzz-cut; Crawford is a dyke, while Houston looks like a chapstick lesbian.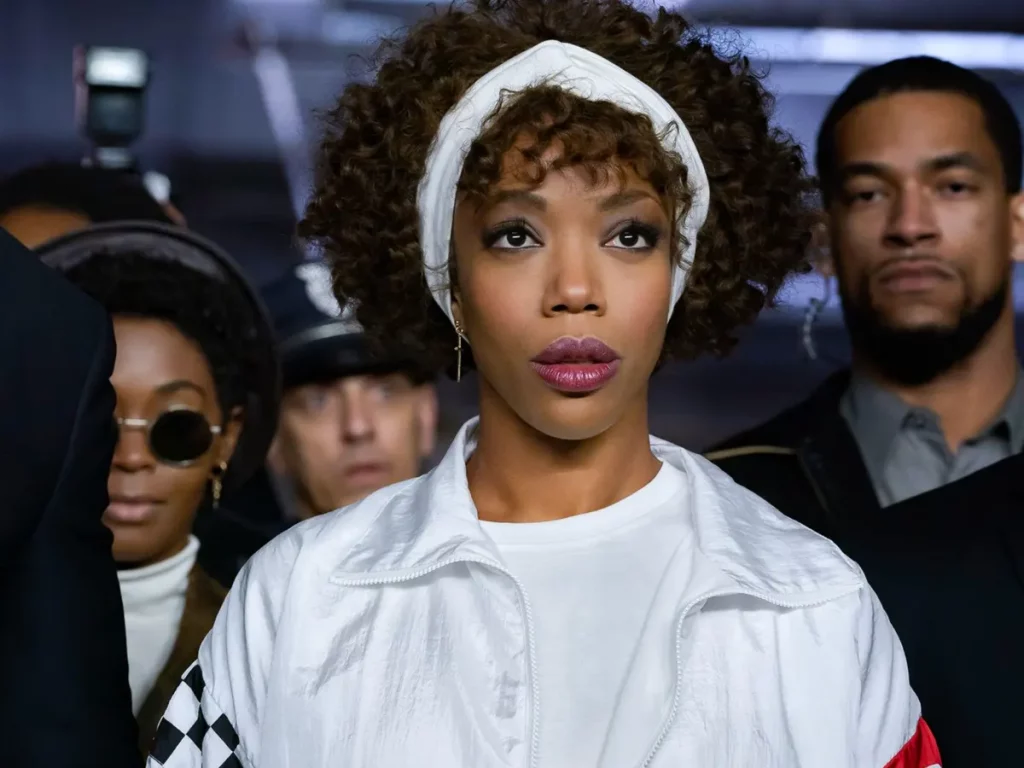 After Houston watches her parents fight for the umpteenth time, Houston identifies Crawford as the one person she can trust. Houston flees her parents for the sanctuary of Crawford's home. They become roommates, they dance, they kiss, but the phrase girlfriend is never uttered. It's the early Eighties; not everyone talks like that, and I Wanna Dance with Somebody never forces the dialogue to sound modern. It captures Houston in her era — producing a much more honest portrait of a queer person from the period.
Lemmons and cinematographer Barry Ackroyd shoot the scenes in grainy close-ups, sometimes behind furniture, reminiscent of Bruce Surtees's camerawork in the 1976 blaxploitation musical Sparkle (one of Houston's favorite films, written by gay Hollywood director Joel Schumacher). The visual captures the Eighties and makes the early coupling seem romantic, innocent and secretive.
The cinematography gets glossier as Houston becomes a superstar. After she signs her record deal, Houston elevates Crawford from confidant to employee. Houston's father flips, shouting homophobic accusations against Crawford, but Houston is the singer, not her father. Crawford stays. As she grows in popularity, though, Houston recognizes she needs to play the princess role. She tells Crawford they can stay best friends and business associates, but the romantic relationship must end. A fight ensues; Houston swaps her chapstick look for wigs and glamorous gowns.
Out of this tragic breakup comes the song that the trailer turns into an advertising jingle. Houston meets with Davis in his office, where he plays her a demo for a song called "I Wanna Dance with Somebody." He asks her what the song is about. Her response: "It's about wanting to dance with somebody so badly, but for some reason, you can't." Cut to a reenactment of the iconic music video intercut with scenes of Crawford and Houston: on a boat, working together — never kissing.
Like any queer person, of course, Houston's life was more than her sexuality. For much of the film, Crawford slides in and out, as anyone's sexual and romantic story would intercut with their professional and family life. The film acknowledges society forcing Houston to stray from her true self and contributing to her drug use.
The film also delves into the media critiquing Houston for sounding "white," as well as Houston's troubled relationship with her family, and how she responded by abusing drugs and marrying Brown. I Wanna Dance with Somebody isn't a movie about a queer person. It's a movie about a complicated person who also happens to be queer.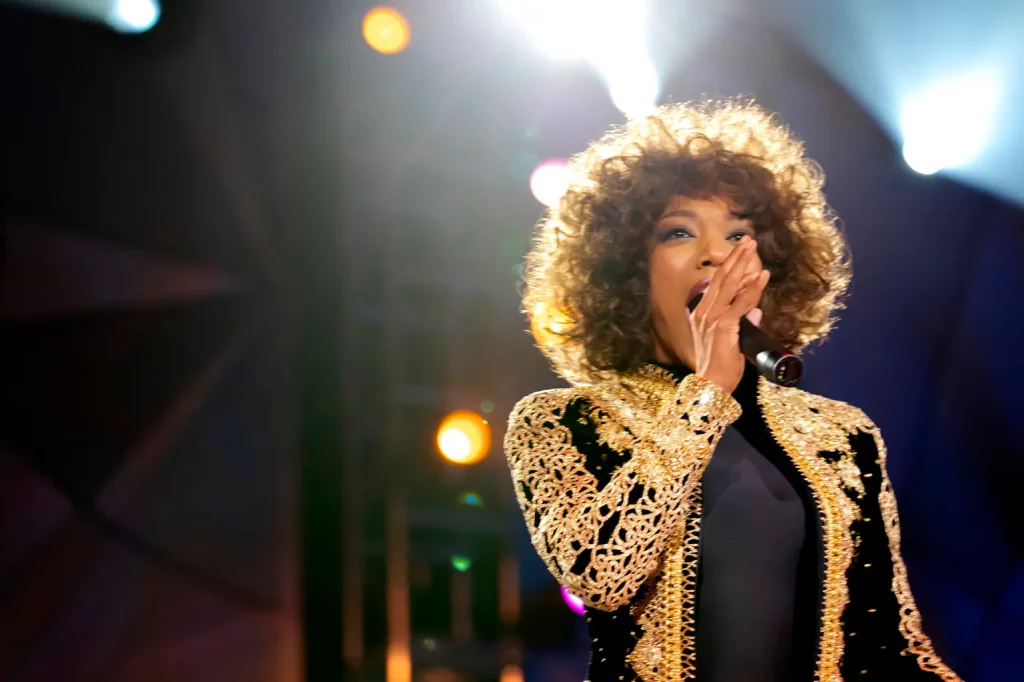 A lot of what we see in the film already in Gerrick Kennedy's brilliant 2021 book Didn't We Almost Have It All: In Defense of Whitney Houston. But the film subtly makes a sharp point that Houston's sexuality contributed to her greatest moment. Before her 1991 Super Bowl performance, Houston argues with her stylist, who demands she wears a dress. Houston insists on a checkered print white jacket, white pants and white headband — a chapstick lesbian ensemble. Houston's ensemble and "The Star-Spangled Banner" would become iconic because it was authentically Houston. As she tells her stylist, "It's the Super Bowl. Can I just be me for once?" Nobody says queer, but the message is clear.
Watching the film, it's sad to contemplate what would have happened if Houston had lived a few more years. She could have embraced her sexual fluidity in the mid-2010s. It's likely that honesty with her public could have helped her find sobriety; she inevitably would have received a documentary about how the media mistreated her, viva la Framing Britney Spears. Sure, drugs damaged Houston's voice, but on her failed comeback album, I Look to You, her raspy voice offered a different type of emotion on a few ballads like "A Song for You." Houston could have released a stripped-down album like Dolly Parton's back-to-basics Little Sparrow. As Gerrick Kennedy reminds us, America would have eventually embraced Houston's mental health troubles and queer sexuality. She died before that could happen.
Today's queer youth have tons of pop stars and TV shows to relate to, but they have few stellar films. Queer directors have created many great coded gay films (everything from the oeuvre of Vincent Minnelli to John Waters's crime comedies come to mind), but few great Hollywood films about being queer. Bros attempted the feat this year, but it was so obsessed with being queer and checking politically correct boxes (see: an entire subplot about building an LGBTQ history museum), its queer characters felt like political ads instead of people. By going for a subtle approach, letting Houston be who she was and showing all the dimensions of her life, her queerness comes across as real — and, more importantly, moving and watchable.